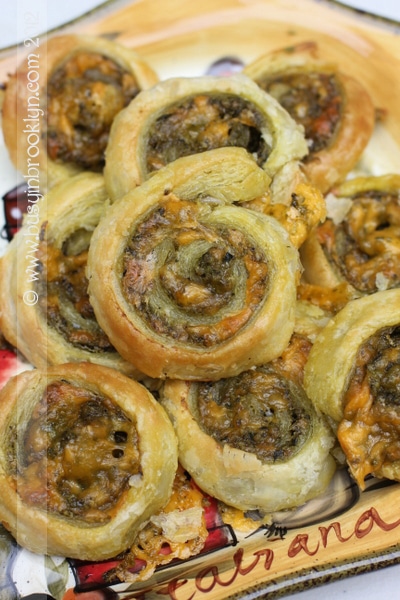 If you love pesto, you're gonna fall head over heels for these pinwheels. I mean, who doesn't love anything made from puff pastry? The light and flaky dough paired with sharp cheddar cheese and delicious pesto makes the perfect appetizer for your dairy Shavuous meal. You can even fill them with marinara sauce and shredded mozzarella to make pizza pinwheels, and serve a duo on the table.
The best part about making these is that you can prepare them in advance. Just freeze the puff pastry after you've rolled in the ingredients. When you're ready to make them, just thaw, slice, bake and serve!
Pesto Pinwheels
1 sheet puff pastry dough, thawed
1 egg, lightly beaten mixed with 1 tbsp water
2/3 cup pesto
1/3 cup cheddar cheese
Method:
Preheat oven to 350 degrees. On a lightly floured surface, roll out the pastry dough to form a large rectangle. Brush lightly with eggwash. Spread the pesto on the dough, leaving a 1″ border all around. Sprinkle with cheddar cheese. Starting from the short side of the rectangle, roll the puff pastry to form a log. Make sure the log is tightly sealed at the seam. Refrigerate for 1 hour (this will make it easier to slice). Brush with eggwash and using a sharp knife, cut into 1/2″ slices. Place on a greased cookie sheet and bake for 15-20 minutes, or until golden.
NOTE: You may prepare the pinwheels in advance and freeze the log. Just remove from the freezer when you are ready to use, thaw, slice and bake as above.
1 year ago: quick & easy individual trifles