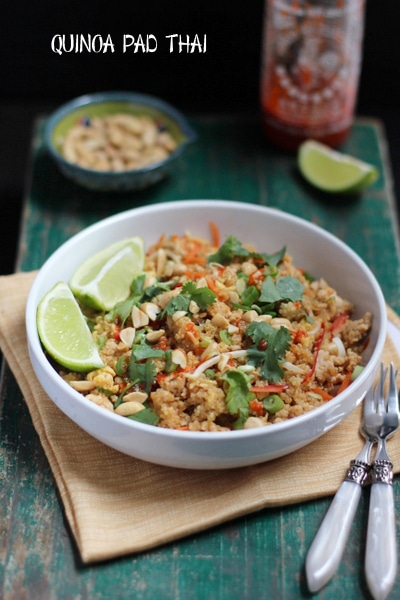 The first time I ever tasted Pad Thai was when I attended the Center for Kosher Culinary Arts, last year. It was pasta day, I think, and we were experimenting with different types – including rice noodles. We made our own chili paste from scratch and it was so hot, I cried just from blending it. I took one bite of the Pad Thai and my mouth was on fire! Even though my tongue could barely take it, there was just something about the stuff and I kept going back for more (and refilling my glass of water!). Even with cilantro (one of my least favorite ingredients) the stuff was just. that. good. It wasn't long before I was making pad Thai at home for my whole family to enjoy.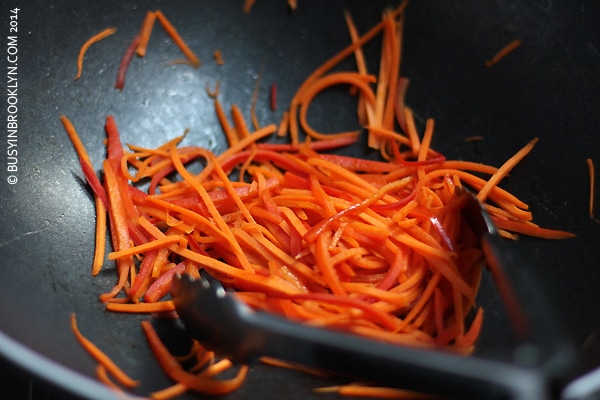 Now when I started to ease up on my carb-load, I knew I had to come up with a lower carb pad Thai recipe to enjoy. Enter quoina – the super grain. Or super seed, I should say! Quinoa, after all, is not a grain or legume – it's called a Pseudo-cereal and is botanically related to spinach and beets. So although some refer to it as an ancient grain, you can rest assured that this protein-rich superfood is a great low-carb alternative to pasta and rice.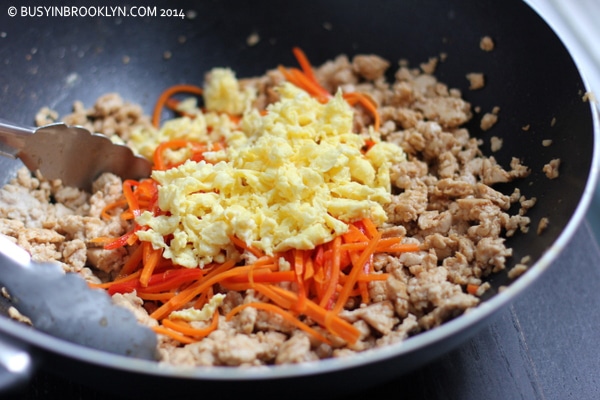 They may teach you to make pad Thai in culinary school. But they don't tell you the obvious things, like not to write your recipes on scrap pieces of paper. When I was developing this quinoa pad Thai dish, I hit the nail right on the head – it was perfect! I wrote the recipe out on the edge of my calendar, and what do you think happened? I promptly forgot about that golden combination of ingredients, and weeks later, when I went to look up something in the calendar, I decided to rip out all the old months that had already passed. And there my recipe went – crumpled up amid egg shells and dirty plates – right in the garbage.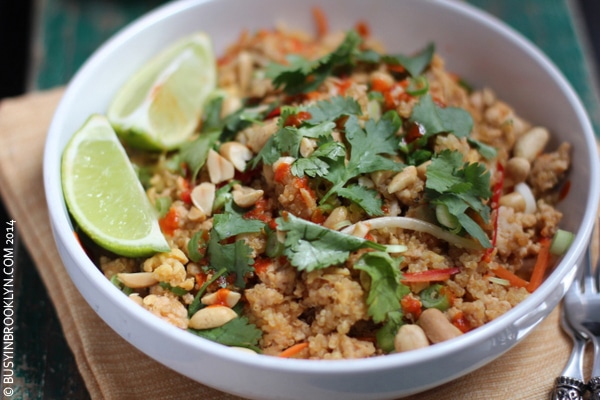 I realized the error of my ways the next day and I ran outside to see if the garbage truck had taken out the garbage yet. Oh yes, I was right about ready to put on some gloves and sort through the trash! No such luck, my garbage had already been picked up and my prized recipe was doomed for the garbage dump. So, I did what any pad-Thai-obsessed-girl-on-a-diet would do…I made it again. That'll teach me never to write my recipes on the edge of my calendar! (Did I mention this is not the first time this has happened?)
Quinoa Pad Thai
1 cup quinoa
1/2 red pepper, thinly sliced
1 small carrot, julienned (I use this julienne peeler)
3 tsp peanut oil, divided
2 eggs
2 cloves garlic, minced
1 lb. ground chicken or turkey (dark meat preferred)
3 tbsp soy sauce
2 tbsp honey
1 tbsp lime juice
1 tbsp sambal oelek (garlic chili sauce) or sriracha
1 cup bean sprouts
3 scallions, chopped
1/2 cup cilantro
1/3 cup peanuts
lime wedges, for garnish
sriracha, for garnish
Method:
Place the quinoa in a small pot with 2 cups of water. Bring to a boil, reduce the heat and simmer for 10-15 minutes.
In a small bowl, mix the soy sauce, honey, lime juice and sambal oelek. Set aside.
Heat 1 tsp of peanut oil in a wok and stir fry the carrots and peppers just until slightly softened, 1 minute. Remove from the pan. Whisk eggs, add a bit more peanut oil to the wok and scramble. Remove from the pan. Add a bit more peanut oil and add garlic. Saute just until softened and add ground turkey. Cook until turkey is no longer pink and add the soy sauce mixture. Return the carrots, peppers and eggs to the wok and stir to combine. Add the quinoa and bean sprouts and stir to incorporate. Sprinkle scallions, cilantro and peanuts over the top and garnish with lime wedges and a drizzle of sriracha.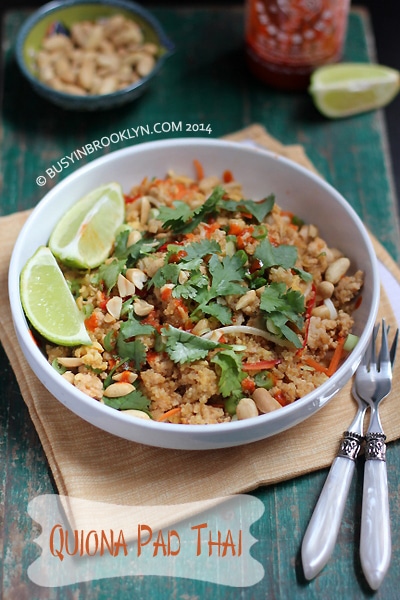 Related Recipes:
summer rolls with spicy dipping sauce
spicy roasted edamame