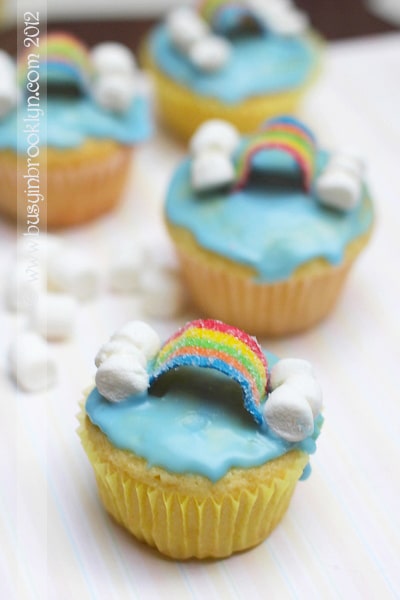 We all know I'm not much of a baker, but when my newsfeed got flooded with Noah rainbow crafts of all kinds, I was inspired to create something fun with my kids. All those multicolored rainbow cakes were definitely out of my league, mixing one batter is enough for me – forget 6! (not to mention all that unhealthy food coloring). Inspiration struck from my pinterest crafting board, where I pinned this cupcake idea a while back. I simplified the idea by using a simple glaze instead of a buttercream, as well as mini marshmallows instead of pastry cream. The results are absolutely adorable! Feel free to use your favorite cupcake recipe, or follow my easy no-mixer recipe below.
*In the story of Noah, G-d promised never to destroy the world again with a flood, and as a symbol of that promise, he made a rainbow appear.

Rainbow Cupcakes
3 cups flour
2 cups sugar
3 tsp baking powder
4 eggs
1 cup oil
1 cup orange juice
2 tsp vanilla extract
2 cups confectioners sugar
2-3 tbsp milk
blue food coloring
rainbow sour belt candy
mini marshmallows
Method:
Preheat oven to 350 degrees. In a bowl, whisk flour, sugar and baking powder to combine. In a separate bowl, mix eggs, orange juice, oil and vanilla. Add dry ingredients to wet ingredients and mix well. Pour the batter into cupcake tins filled with liners, until they are 3/4 full. Bake for 20-25 minutes, until toothpick inserted comes out clean. Set aside to cool.
In a bowl, combine the confectioners sugar with the milk and stir until smooth. Add a few drops of food coloring, until the glaze reaches a deep sky blue. Once the cupcakes are cooled, spread the glaze over them. Allow the glaze to set for a few minutes and prepare the decorations.
For each cupcake, set aside 1 sour belt and 3 mini marshmallows. With a knife, or using your hands, pull each marshmallow apart into 2 pieces (this will expose the sticky part and help them stick together). Press 3 marshmallow halves together to form clouds. Take the sour belt candy and gently press each side into the cupcakes to form a loop. Place the clouds on each side of the rainbow, pressing down to secure it in the icing.
Yields approximatley 24 cupcakes.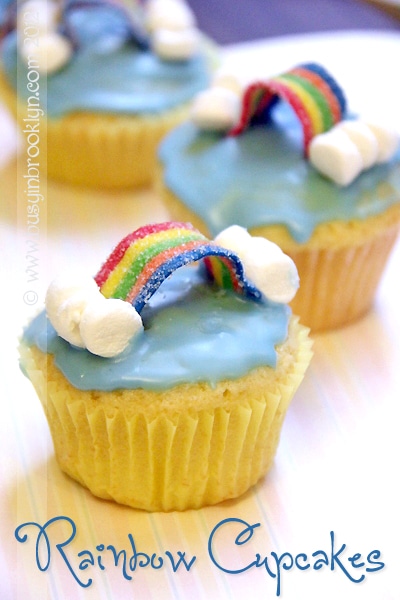 1 year ago: 3 layer chocolate cake martini