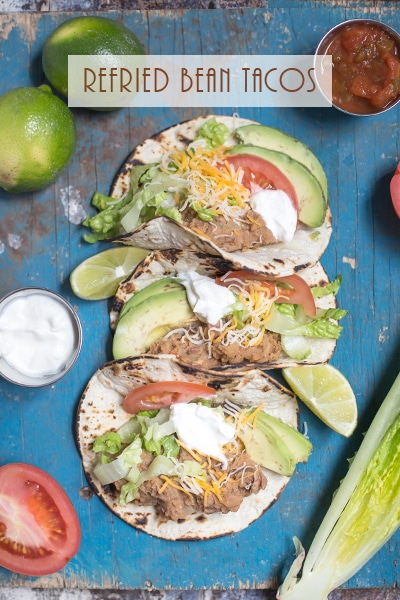 I hope you all had an amazing Passover, it feels like a lifetime ago! We spent the holiday in New Hampshire at the Arlington Hotel Passover Program. It was a wonderful experience filled with new friends, great food and beautiful scenery. I had never been to New Hampshire before and the small towns filled with old barns, antiques and mountainous terrain were a feast for the eyes. It was truly a magical holiday.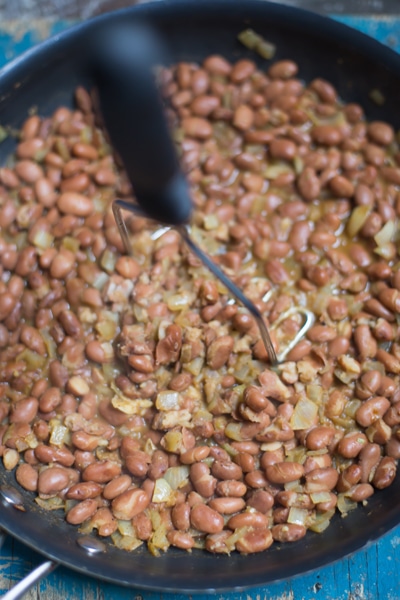 What was not truly magical was the number on the scale I saw when I got back! With three (sometimes four!) heavy meals a day and a 24 hour tea-room, Passover programs are not exactly figure friendly. Add matzo to that and you've got a recipe for weight gain [see what I did there? ;)].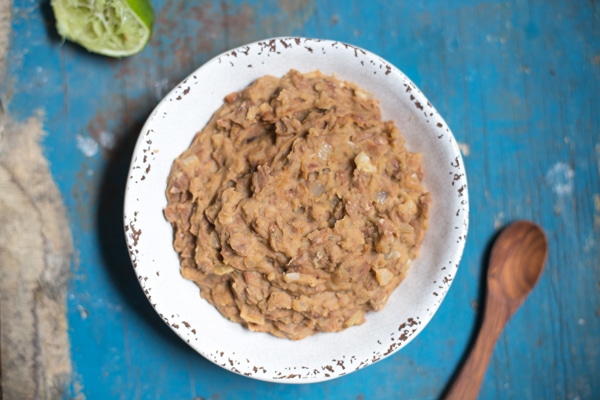 Even more than the weight though, I just felt heavy and gross from eating so much animal protein. When you have Chateaubriand for dinner one night, rack of veal for the next, and brisket the next, it definitely catches up with you! So I decided to take a little break from all that and go vegetarian – if only for one week. It's not really sustainable longer because with five little mouths to feed, I definitely need to be able to serve chicken and meat.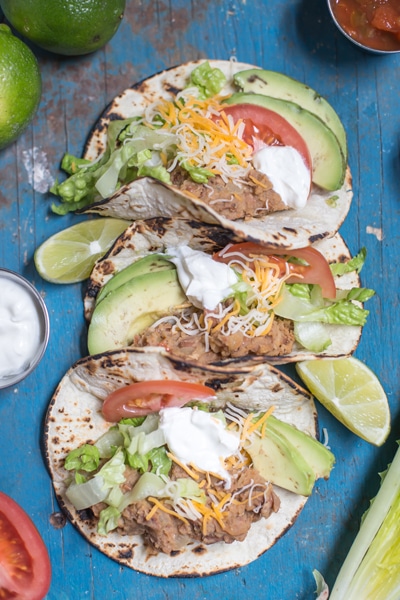 Our week of vegetarian fare has almost come to an end. I cooked up some of these amazing refried bean tacos, Moroccan salmon, Asian lettuce cups made from soy beef crumbles, lentil bolognese, spinach spaghetti lasagna and tonight we're having falafel. I have to admit that all these legume-based recipes are still quite heavy and I can honestly say ready for a good steak! So it's back to regular programming next week!
In the meantime, these refried bean tacos were definitely our favorite from our vegetarian week, I hope you enjoy them as much as we did!
Refried Bean Tacos
2 15oz. cans pinto beans
2 tbsp olive oil
1 small onion, finely diced
2 cloves garlic, minced
1 tsp cumin
1 tsp chili powder
3/4 cup vegetable stock
juice of 1/2 lime
salt and pepper, to taste
1 package soft corn tortillas
1 avocado, peeled and thinly sliced
2 plum tomatoes, diced
1 head lettuce, thinly sliced
8oz shredded cheddar cheese
8oz. sour cream
1 cup salsa
Method:
Drain and rinse the beans in a colander. Heat the olive oil in a large skillet and add the onion. Saute until translucent. Add the garlic and continue to saute until fragrant. Add the cumin and chili powder and saute until toasted and aromatic. Add the pinto beans and the stock and bring to a simmer. Cook the beans for a few minutes to soften and then mash with a potato masher until the beans are mostly smooth with some chunks of beans. Add the lime and season, to taste, with salt and pepper. For a smoother puree, blend the beans in a food processor or blender until desired consistency is reached.
To serve, heat the tortillas in a dry skillet (for a crispier taco, grease the skillet or for burnt edges, toast over an open flame) and fill with refried beans, sliced avocado, tomatoes, lettuce, cheddar, sour cream and salsa.
VARIATION: if you'd like to serve the tacos with melted cheese, place the corn tortilla in a the skillet for a minute so that it's pliable but not toasted. Add refried beans and top with shredded cheese. Cover the skillet and cook until the tortilla is toasted and the cheese is melted. Add additional toppings and serve.
NOTE: if you make the refried beans in advance and they start to dry out, just add a bit more stock to make them creamy again.
Related Recipes:
fish tacos
taco skillet
chicken fajita tacos
plantain tacos