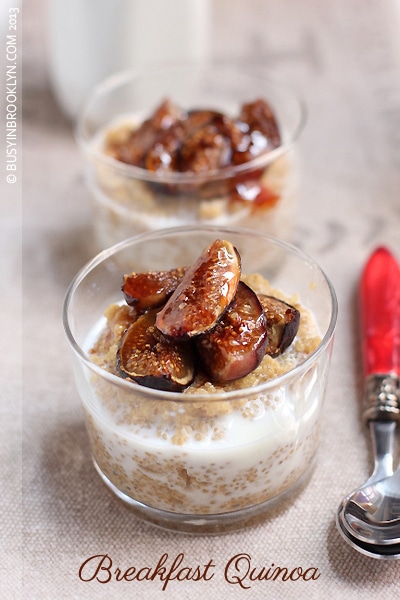 Unlike other fruits and veggies, figs have a relatively short season. They are usually available in late summer and early fall, but can also occasionally be found in short supply in early summer. They also have a short shelf life, which is probably why you won't find them imported throughout the year. Since fresh figs are so hard to come by, I am sure to pick up a carton whenever I see them.
Figs and honey are a natural pairing, but figs and silan are like a match made in heaven. Silan is a thick syrup made from dates that's like a cross between honey and molasses, with a taste similar to roasted sweet potato syrup (the sticky stuff that oozes out of the sweet potatoes when you roast them for a long time). Roasting the figs with silan just takes the whole fig experience to new heights, you'll never want to eat them any other way!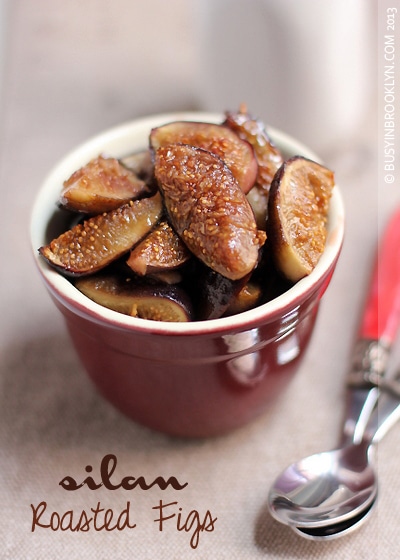 What's even better than silan roasted figs? Silan roasted figs over milky quinoa porridge! If you've never prepared quinoa as a breakfast cereal, you must give it a try. It's just like oatmeal or porridge, except it's got a bite to it. If you're a fan of quinoa, try preparing it with milk instead of water, and adding sweet additions like apple-cinnamon, maple-brown-sugar, or this fabulous topping of fresh figs & silan. You'll be making quinoa for breakfast a lot more often!
Breakfast Quinoa
2 cups milk
1 cup quinoa
pinch of salt
2 tbsp brown sugar
1/2 tsp cinnamon
silan roasted figs (recipe follows)
warm milk, for serving
Method:
Thoroughly rinse quinoa in a fine-mesh sieve and drain well. Bring milk to a slow boil, stirring occasionally to ensure that it doesn't burn. Add quinoa and salt. Cover the pot and simmer for 12 minutes. Stir in brown sugar and cinnamon and continue to cook for another 6-8 minutes until milk is mostly absorbed and quinoa is the consistency of creamy porridge.
Spoon quinoa into serving bowls and pour over some warm milk. Top with silan roasted figs and drizzle with additional silan.
Silan Roasted Figs
1 container figs, trimmed and halved or quartered
silan
sea salt
Method:
Preheat oven to 400 degrees. Drizzle figs with silan and sprinkle with sea salt. Roast for 20-25 minutes, until caramelized and browned around the edges.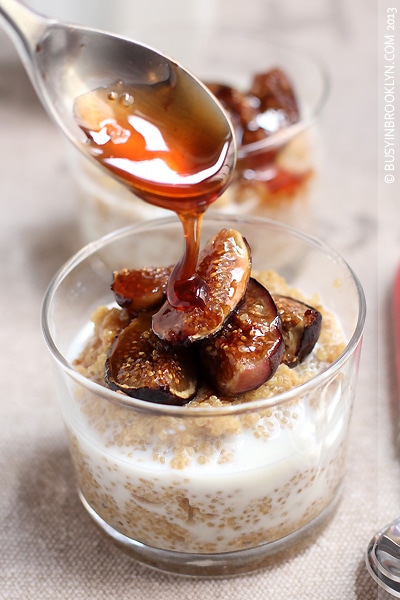 1 year ago: carrot muffins
2 years ago: berry sorbet with fresh pomegranates and blueberries