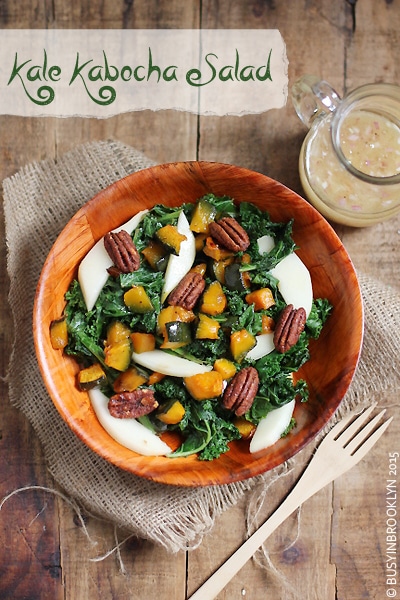 Kabocha squash seems to have gained popularity in recent years. When I was growing up, no-one ever seemed to know what it was. Maybe that's because my mom always called it kaboochie squash! She's not usually ahead of the trend, but she's been making it ever since I can remember.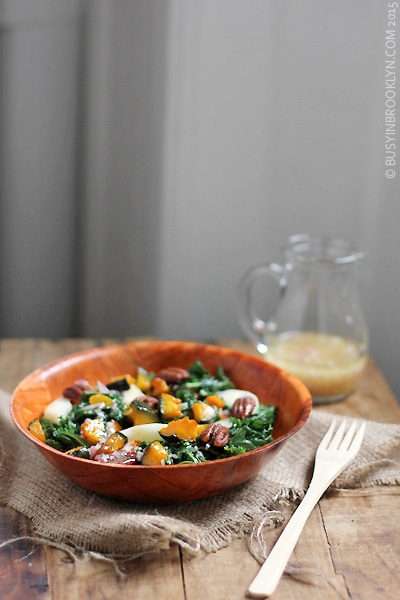 Kabocha is a winter squash that's grown primarily in Japan. It's often referred to as Japanese pumpkin. It's not the prettiest looking thing, and it's one of the hardest squashes to cut, but it's definitely worth the effort. Kabocha squash is sweeter than traditional pumpkin, with a creamy texture similar to sweet potato. My mom always roasted it with brown sugar, my favorite, but it's also wonderful braised with savory Asian flavors like soy sauce and ginger.  To make kabocha squash easier to tackle, I like to look for small ones that I can break open with one swing of my chef's knife. The best part about it is that it's got an edible peel, so there's no need to start fussing with the knobby skin.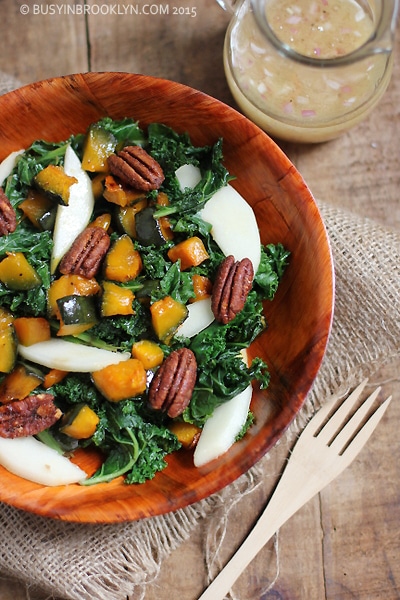 For this winter kale salad, I decided to roast the kabocha squash with maple syrup and pair it with seasonal pears and pecans. I'm not a fan of raw kale, so I wilt it down a bit to make it easier to eat. If you don't find raw kale to be tough, you can go ahead and skip this step.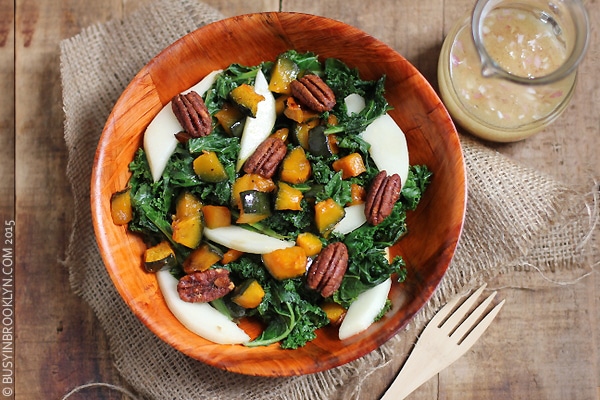 Wilted Kale & Kabocha Squash Salad
1 small kabocha squash, seeds removed, diced small
2 tbsp olive oil
3 tbsp maple syrup
kosher salt, to taste
1 bunch kale
2 tbsp olive oil
splash of stock or water
salt and pepper, to taste
1 pear, seeds removed, thinly sliced
1 cup candied pecans
shaved parmesan, optional
dressing:
1/4 cup grapeseed oil
2 tbsp minced shallots
2 tbsp apple cider vinegar
1 Tablespoon maple syrup
1 teaspoon dijon mustard
salt and pepper, to taste
Method:
Preheat oven to 400 degrees. Spread the kabocha squash out on a baking sheet and mix with olive oil, maple syrup and salt. Roast until tender and starting to brown, stirring occasionally. In the meantime, heat the olive oil in a saute pan and add the kale. Saute until heated through and add a splash of water or stock. season with salt and pepper and cover the pan. Cook until kale is wilted.
In a small bowl, whisk all the dressing ingredients besides for the oil. Slowly drizzle in oil, whisking as you go, until dressing is thick and emulsified.
Place the wilted kale on a large platter and top with kabocha squash, pear slices and candied pecans. Garnish with shaved parmesan (optional) and drizzle with salad dressing.
VARIATION: I find raw kale to be rather tough, but if you like it, you can skip the wilting step and just the massage the dressing into the raw kale (it helps to remove some of the bitterness).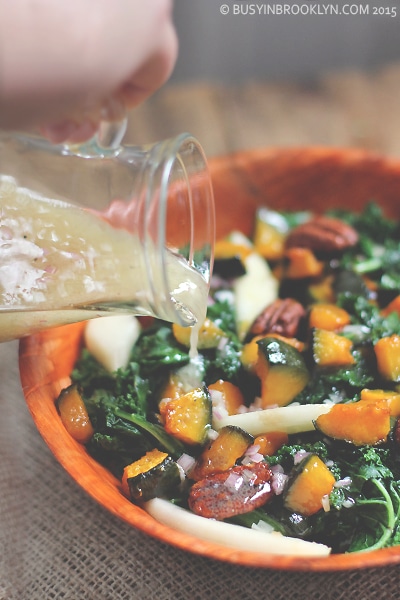 Related Recipes: