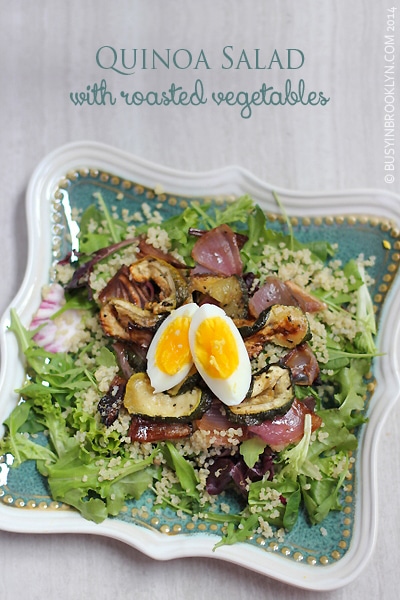 The best salads happen at the salad bar. It was Chanukah, and my sister in law and I made a run for Bagels & Greens to sample some of their amazing donuts. They had incredible flavors like Rosemary crunch, sweet basil, Oreo crunch, strawberry cheese cake, dulce de leche and even passion fruit. They were selling out fast so we made our way, babies in tow, and sat down for brunch.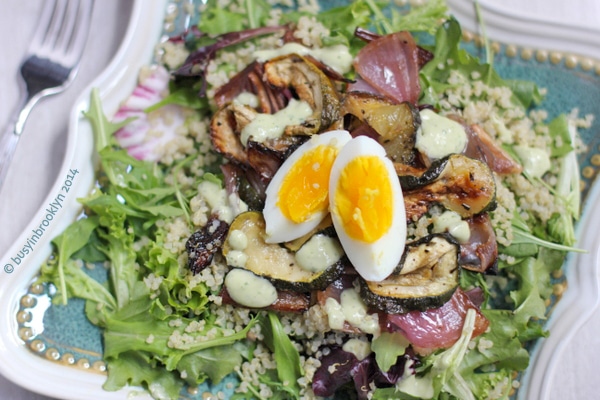 To deguiltify our donut binge, we decided to start with a salad. We packed in some roasted veggies, beets, and quinoa with a drizzle of honey mustard dressing. I was used to eating quinoa salads where the quinoa was the main attraction, but I loved how the healthy grains coated my greens and stuck to the veggies. I decided to bring the idea home and roast up some veggies for a healthy lunch that's packed with color and flavor.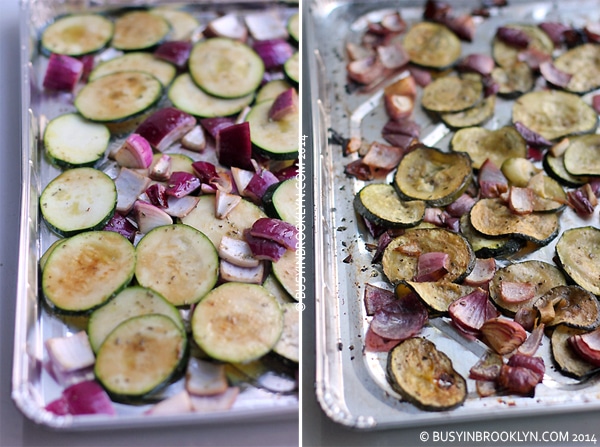 I start by roasting up some veggies – there are so many to choose from! Keep it simple with zucchini and onions or add in some eggplant, peppers or mushrooms. A hint of oregano and balsamic add amazing flavor – and your house will smell incredible too.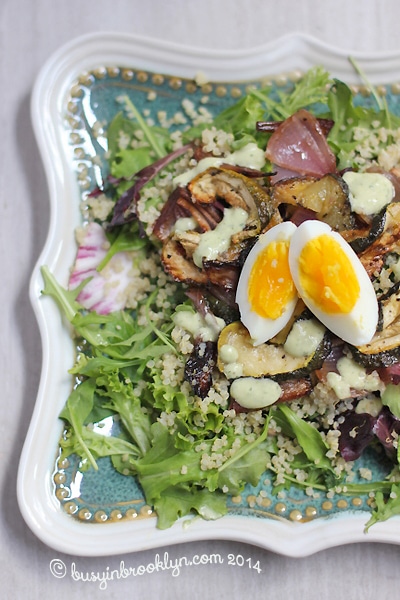 I love topping my greens off with a poached or soft boiled egg. The creamy yolk coats the greens in a rich sauce that's better than any salad dressing. Although, if you do want dressing (what's a salad without a good dressing, right?), I've got plenty of options for you too!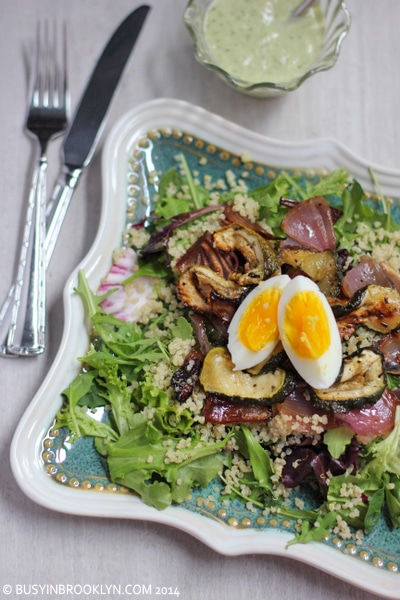 Roasted Veggie Quinoa Salad
1 bag arugula or Spring Mix
1 cup quinoa
2 cups water
1 large zucchini, sliced on the diagonal
1 red onion, roughly chopped
2 tbsp olive oil
1 tbsp balsamic vinegar
3/4 tsp oregano
kosher salt, to taste
soft boiled (or poached) eggs, for serving
green goddess, honey mustard, or balsamic dressing, for serving
Method:
Place zucchini and onion on a baking sheet and drizzle with olive oil and balsamic vinegar. Sprinkle oregano and salt and mix to coat. Bake at 400 degrees until tender and caramelized, about 40 minutes.
In the meantime, prepare the quinoa by thoroughly rinsing in a fine mesh sieve. Add to a pot with water and bring to a boil. Lower the heat and simmer for 10-15 minutes, until water is absorbed.
Spread the arugula out on a platter and sprinkle quinoa generously over the greens. Top with roasted veggies and soft boiled eggs. Drizzle with dressing.
VARIATION: Try roasting eggplant, mushrooms, grape tomatoes or peppers along with the other vegetables.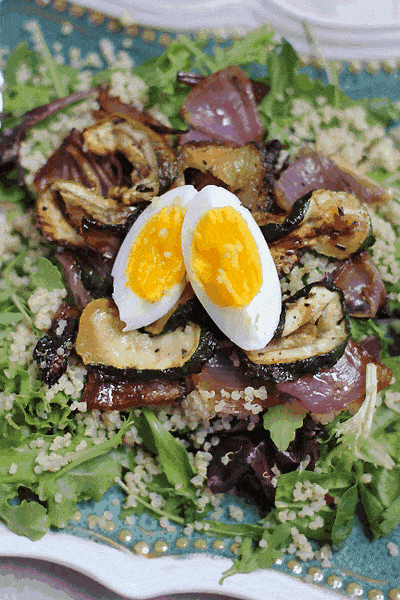 1 year ago: nut omelette
2 years ago: Bubby's challah kugel
3 years ago: perfect pareve french toast