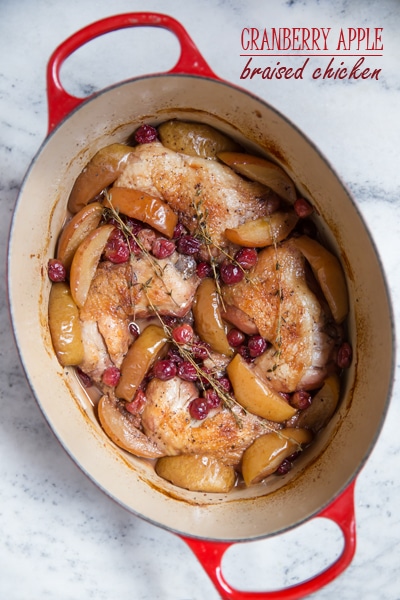 And just like that, summer is over. I'm starting to smell that fresh, crisp fall air and the nights have that slight chill that wraps me like a warm sweater. If I'm honest, I don't hate the winter at all, but I'll sure miss the carefree spirit of summer and the smell of freshly cut grass.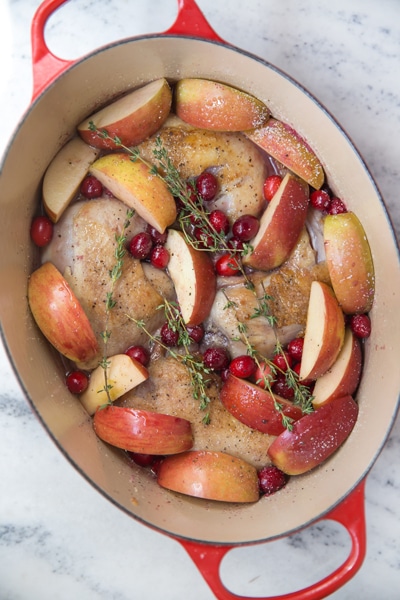 I'm excited for the fall flavors that are making their way into the supermarkets. Pumpkins, persimmon and pomegranates are just a few of my favorite things and I can't wait to see the seasonal produce on the shelves!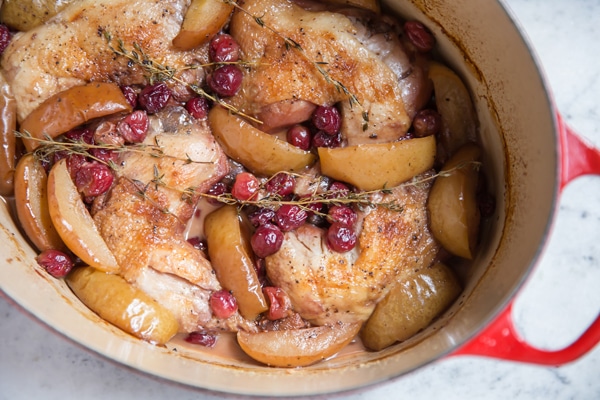 It's a bit early for cranberry season, but you can easily use frozen cranberries in this recipe. The tartness of the berries are a great contrast to the sweetness of the apples and honey, and they make for the most luscious sauce that you'll want to smother all over rice or noodles. Considering the popularity of my tart pomegranate roast, I think this chicken will be a winner as well!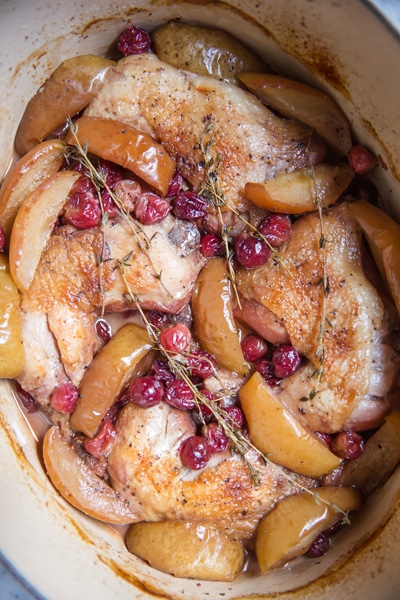 Serve with a side of sweet tzimmes and braised leeks and you've got a simanim-filled entree worthy of your holiday table.
Cranberry Apple Braised Chicken
1 chicken, quartered (skin-on)
1 tbsp grapeseed or other neutral flavored oil
salt and pepper, to taste
2 fuji apples, cut into eights
2 cup fresh or frozen cranberries
1 cup port or sweet red wine
heaping 1/3 cup honey
a few sprigs of thyme
Method:
Season the chicken generously with salt and pepper on both sides. Heat a dutch oven or oven-safe pot to medium-high heat and add the oil. Sear the chicken on both sides until browned. Add the wine, honey, apples, cranberries and thyme and season everything with salt and pepper. Bring the mixture to a boil, allowing the alcohol to cook off for a minute or two and transfer the pot, covered, to a 350 degree oven. Bake the chicken for 1 1/2 hours.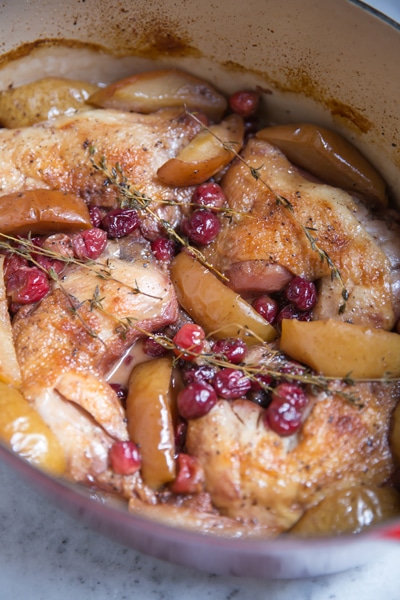 Related Recipes:
turkey meatballs with red wine cranberry marinara
cranberry sriracha green beans
honey roasted za'atar chicken with dried fruit
duchesse sweet potato apples