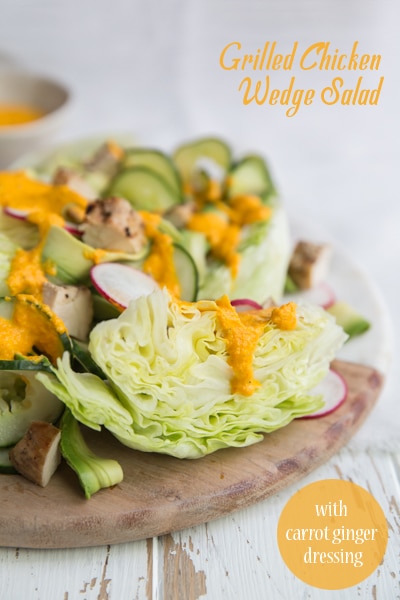 Grilled chicken salad is my dish of choice for summer. There always seems to be some leftover chicken in the fridge and I love the challenge of coming up with new ways to eat it – depending on what I have on hand. I typically go with Middle Eastern-inspired recipes when I use pargiot, or dark meat cutlets, and I go Asian or Indian with chicken breasts.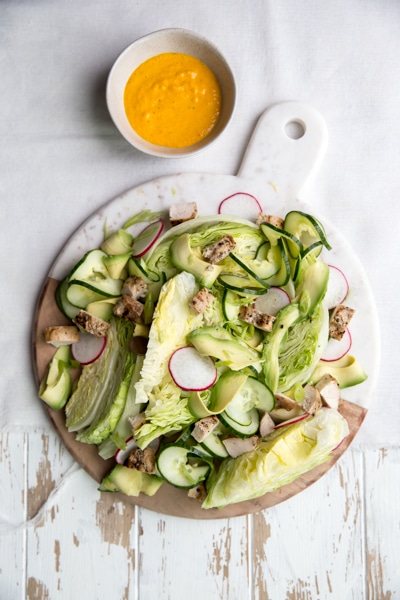 The iceberg salad with carrot ginger dressing is my favorite starter at Asian restaurants – it's just so light and fresh and really the perfect way to start a meal of heavy Chinese food. I'm always picking out the big chunks of iceberg that are wedged into each other, so I decided to make a salad that is all about the wedge!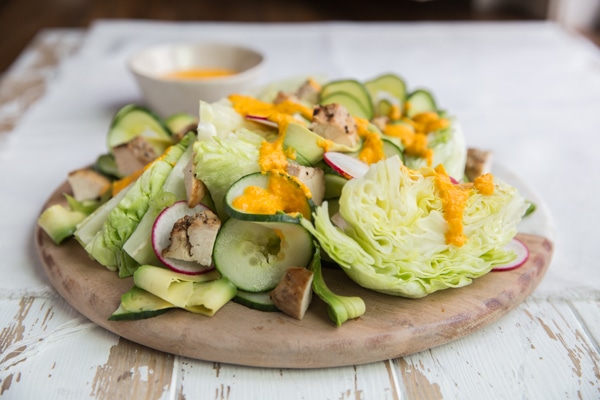 Traditional wedge salad is smothered in bacon and blue cheese dressing – and aside from the fact that it's not kosher, I'm not even tempted, because, well….blue cheese. I prefer not to eat food that tastes like stinky socks, you know? But this right here? This is I can get behind. With creamy avocado, peppery radishes and crisp cucumber, you don't even miss croutons and the dish will leave you feeling light and refreshed – just how I love my summer salads.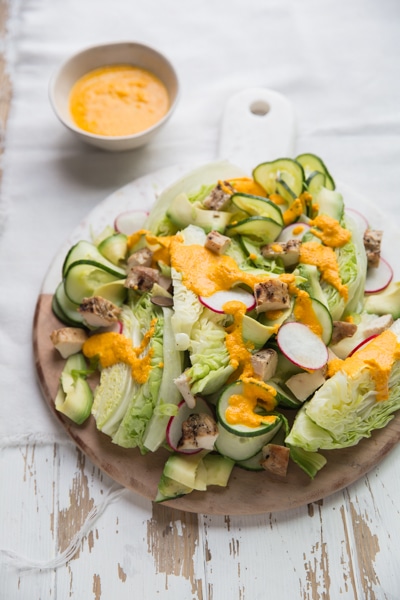 Grilled Chicken Wedge Salad
1 head iceberg lettuce, cut into wedges
1 cucumber, spiralized (or thinly sliced)
1 avocado, peeled into ribbons (or cut into chunks)
2 pieces grilled chicken, diced
3 radishes, thinly sliced
carrot ginger dressing (recipe follows)
Method:
Arrange all the ingredients on a platter and drizzle with dressing, to taste.
VARIATION: for a vegan salad, grill tofu using the same method as the chicken.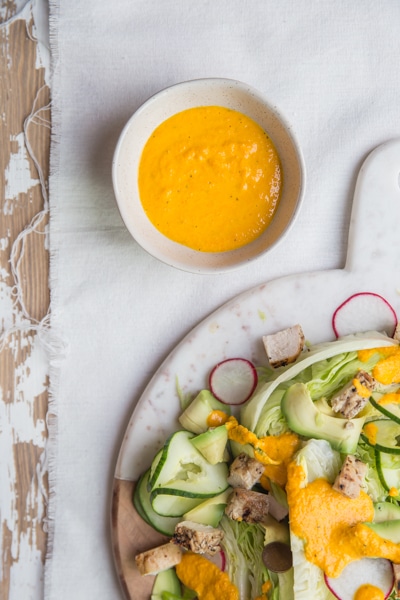 Carrot Ginger Dressing
1/4 c light olive oil
2 tbsp white miso paste (may substitute with tahini paste)
2 tbsp water
2 tbsp rice vinegar
1 tbsp lime juice
1 tbsp honey
1" piece ginger
1 tsp sesame oil
1 tsp sriracha
1 carrot, peeled and roughly chopped
salt and pepper, to taste
Method:
Add all the ingredients to a food processor or blender and process until smooth.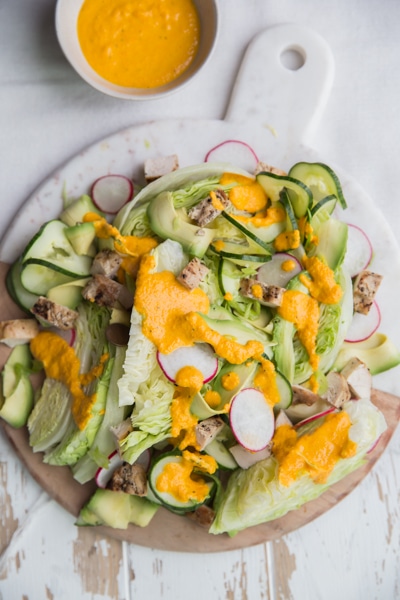 Related Recipes:
Asian lettuce wraps
grilled chicken fattoush with za'atar ranch
grilled chicken salad with jalapeno honey mustard dressing
grilled chicken shawarma salad