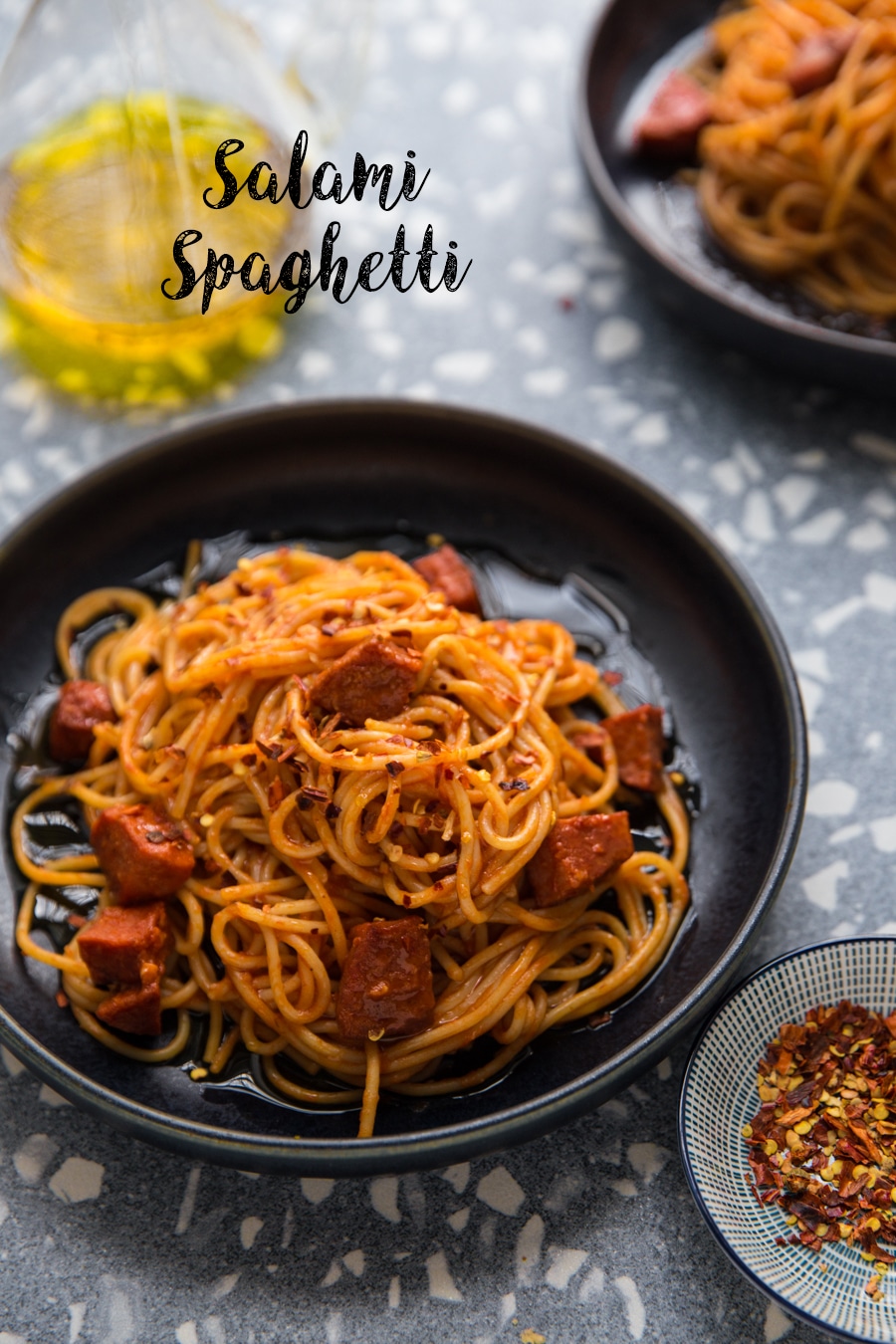 Once upon a time, in a land far far away, there was a Jewish blogger who happened upon a little-know-custom of eating salami on Purim since it's hung, like the evil Haman was hanged on the gallows. She loved to celebrate the holidays with fun spins on traditions but salami was knows to give her nightmares.
When she was a girl, said blogger was forced to eat salami sandwiches on Friday afternoons, which she promptly threw down the incinerator chute of her apartment building, horrified by the hard white pieces in the salami. She swore off the cured sausage forever.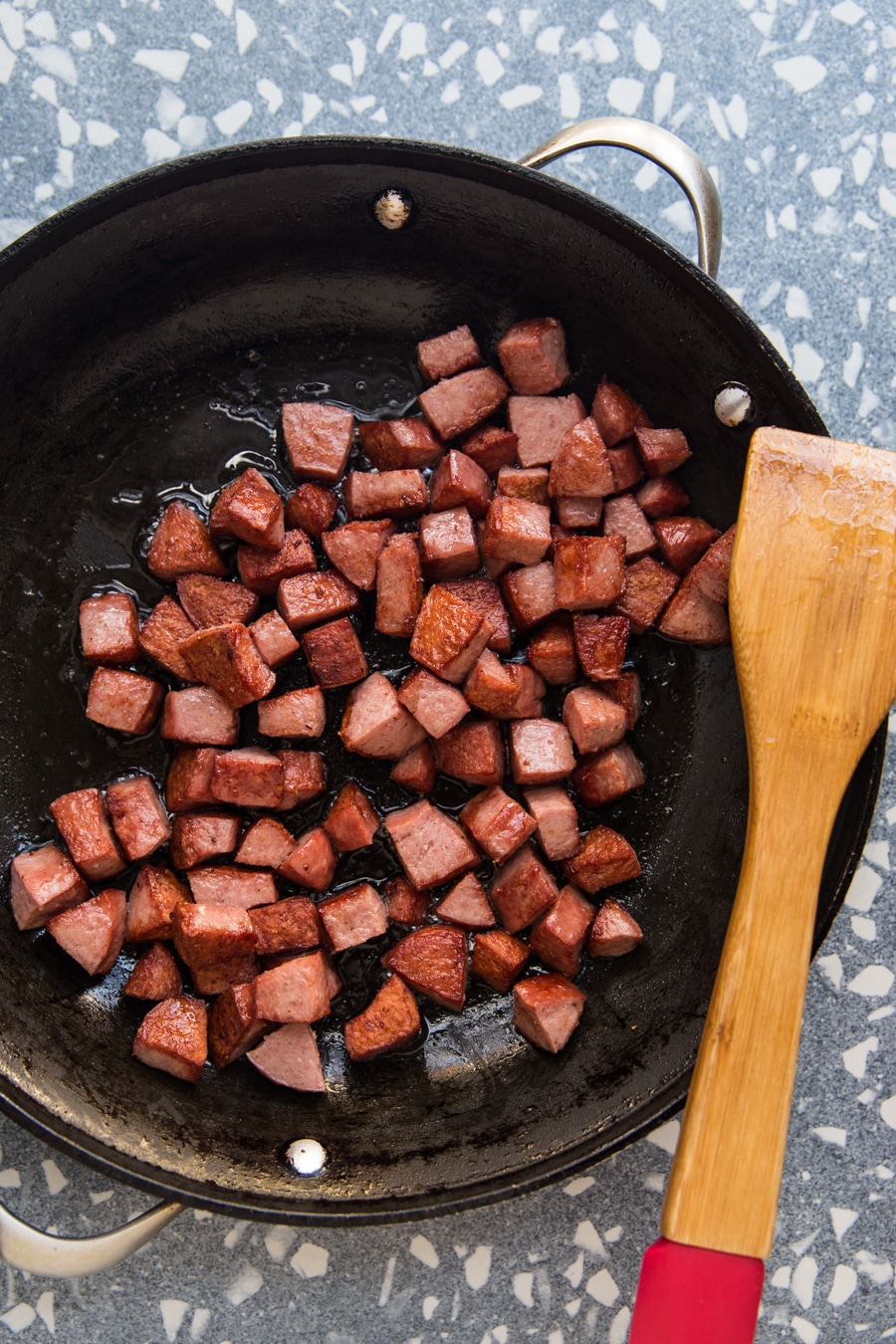 As a young bridge, not knowing how to cook, and on a newlywed budget, she was introduced to the humble dish of salami and eggs. She learned, that once cooked, the "hard white pieces" in the salami, rendered out into flavorful fat that crisped up the salami into crunchy bits of deliciousness. Intrigued, she hopped on board the salami wagon.
And so, each year, as an ode to her transformation, she puts a spin on salami dishes for the holiday. There was no outdoing her drunken hasselback salami, which has since graced the tables of thousands of Jewish households and deli counters worldwide.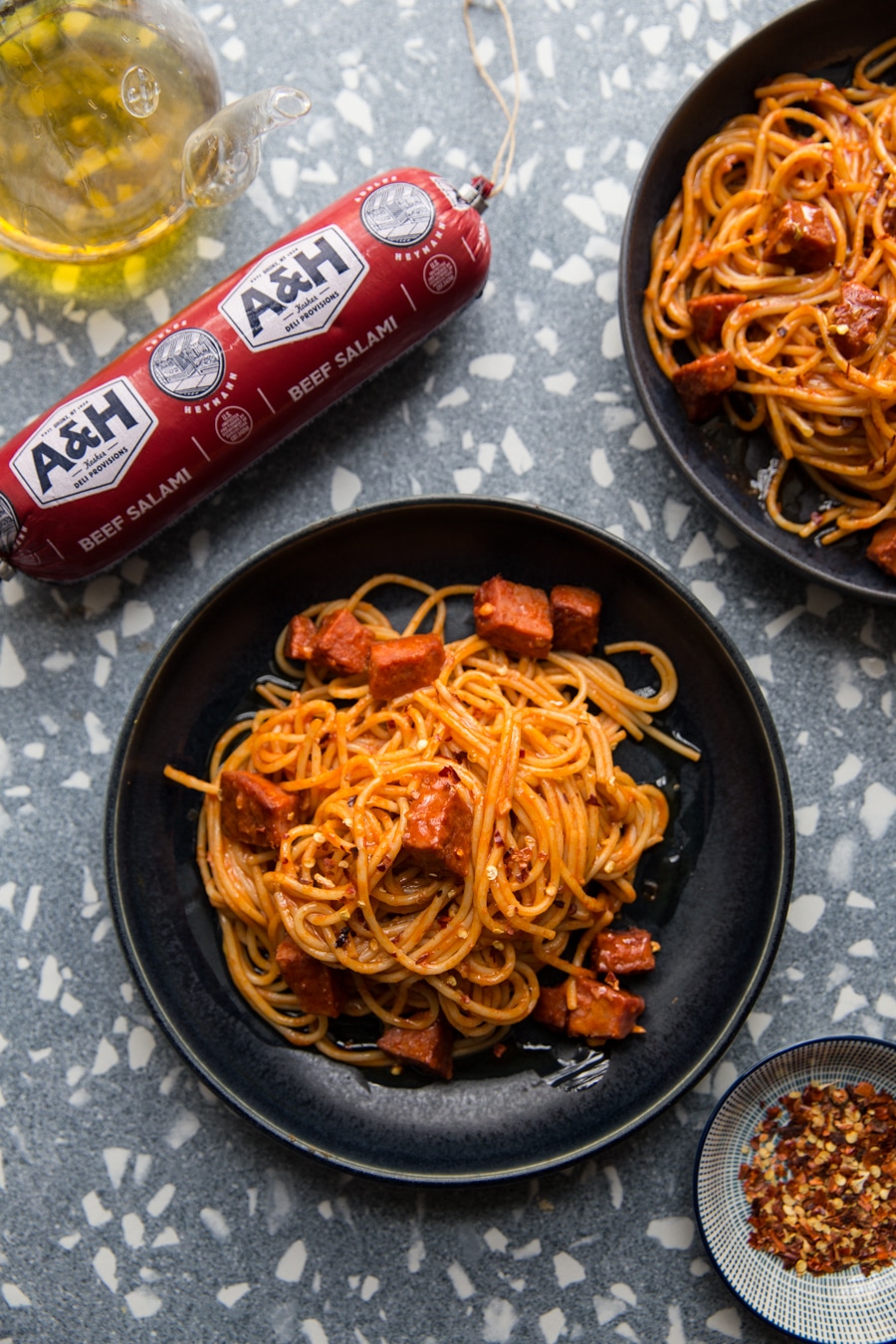 ….And now back to first person, I am spellbound that I have carried on this tradition for TEN YEARS here on the blog!! I couldn't be more proud! This year, my salami inspiration comes by way of Italy, a trip that continues to inspire my cooking on the daily.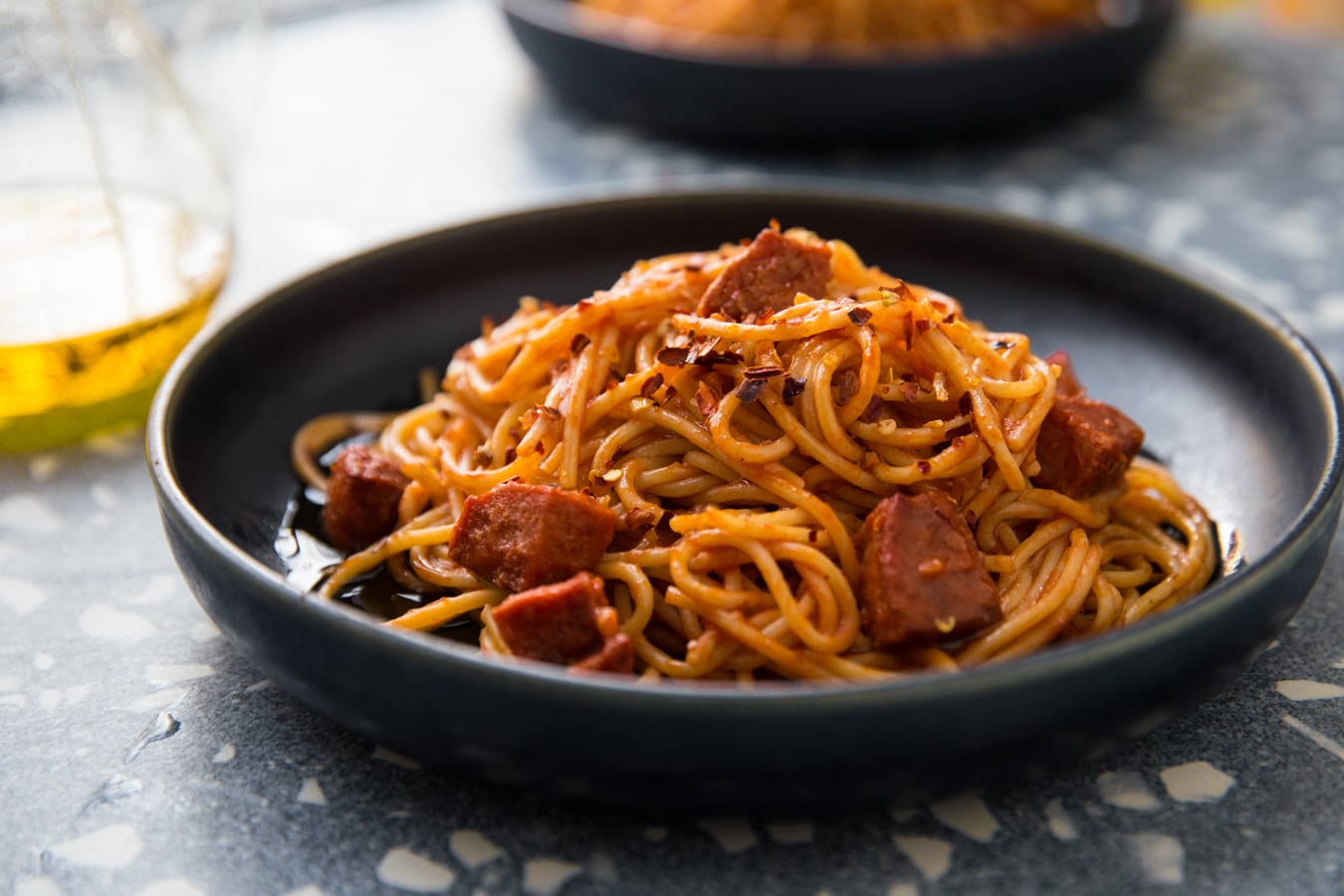 Italy is known for it's pasta, but equally for it's charcuterie, including salami. This flavorful yet humble dish, marries a garlicky tomato sauce with spicy chili flakes, and rich salami chunks that get crisped up to perfection. Truly worthy of your holiday feast!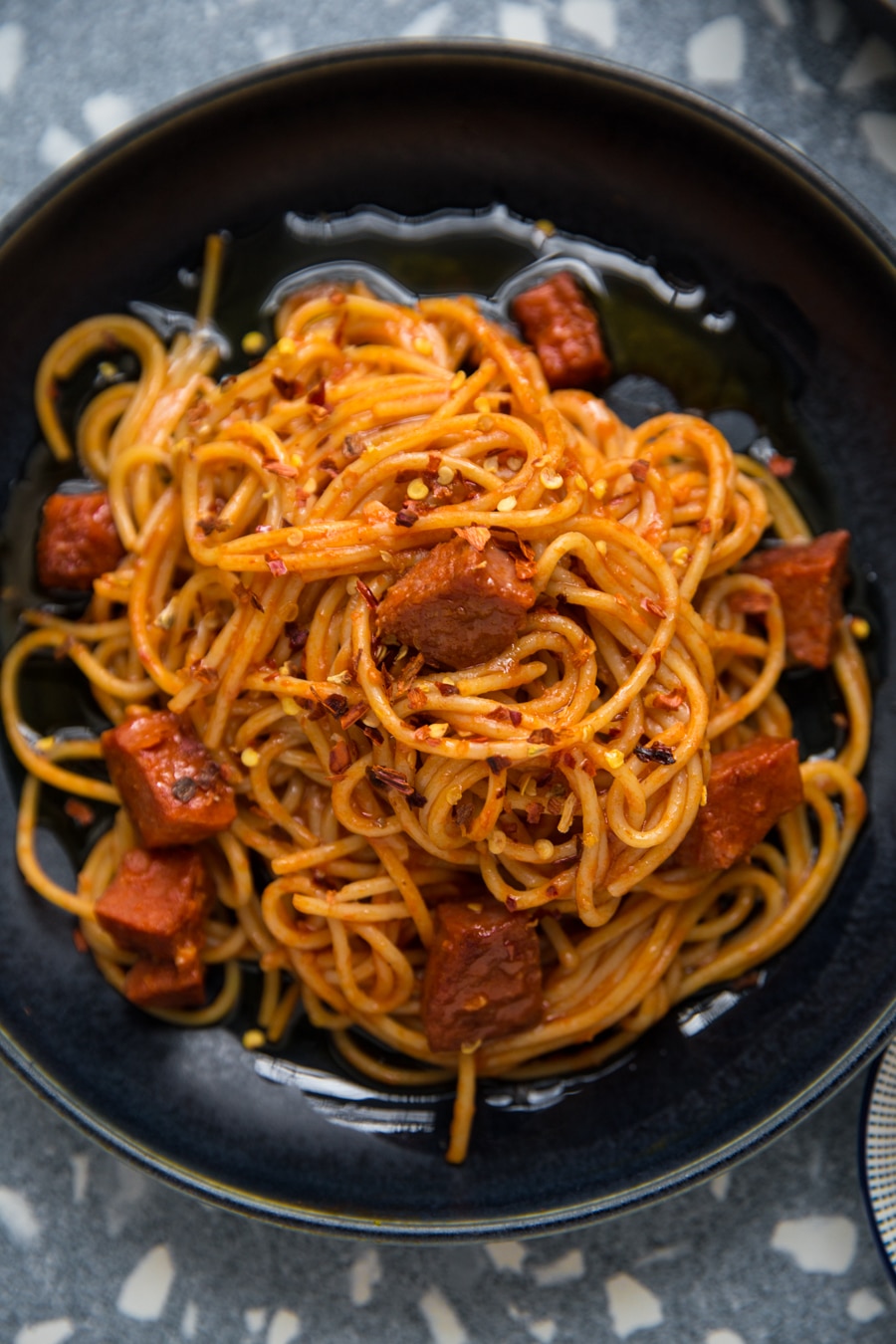 In true Italian style, this recipe makes use of the salty and starchy pasta water to build the sauce, so make sure not to drain it and read the full recipe before proceeding!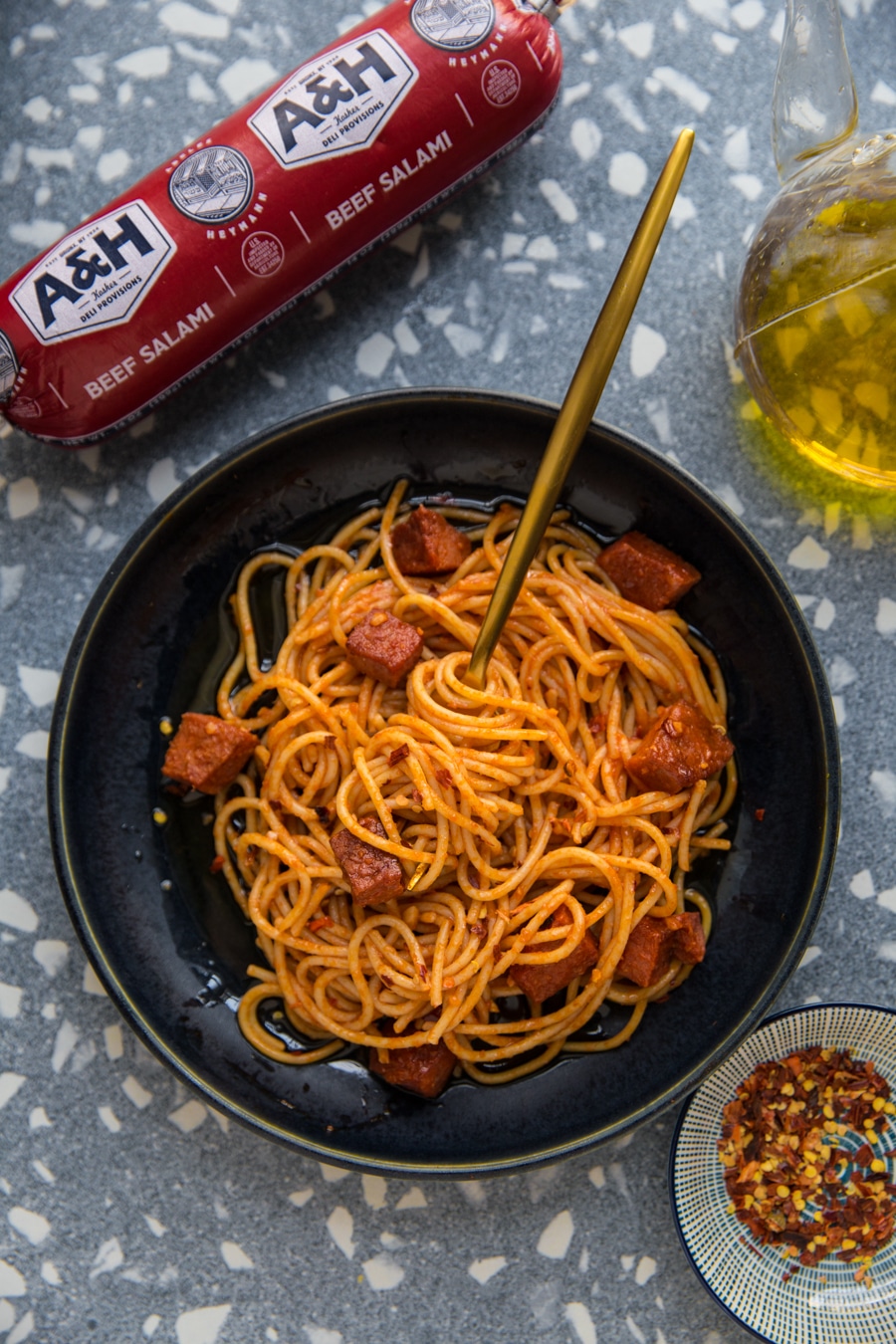 Happy Purim!!
Salami Spaghetti
YIELD: 8 servings
14oz. Abeles & Heymann salami, cut into chunks
2 tbsp olive oil, plus more for finishing
4 cloves garlic, minced
1/2 tsp red pepper flakes, or, to taste
6oz. tomato paste
16oz. spaghetti
kosher salt, to taste
Method:
Bring a pot of salted water to a boil. While the water is heating up, add the salami to a cold pan. Set the heat to medium and cook the salami until it's crispy and browned, 5-8 minutes. Remove from the pan and set aside. Add the pasta to the water and cook until just under al dente, about 9 minutes. (Read the full recipe first, do not drain the pasta as you will need the pasta water!).
Add the olive oil, garlic and red pepper flakes and saute until softened and fragrant, but not browned. Add the tomato paste and continue to cook until it darkens and caramelizes, stirring constantly, about 5 minutes. Stir in 1 cup of pasta cooking water and whisk until creamy.
Remove the spaghetti from the pot and toss directly into the tomato sauce, adding more pasta water, if needed, to thin it out. Add in the salami and serve immediately with a drizzle of olive oil and additional red pepper flakes for garnish.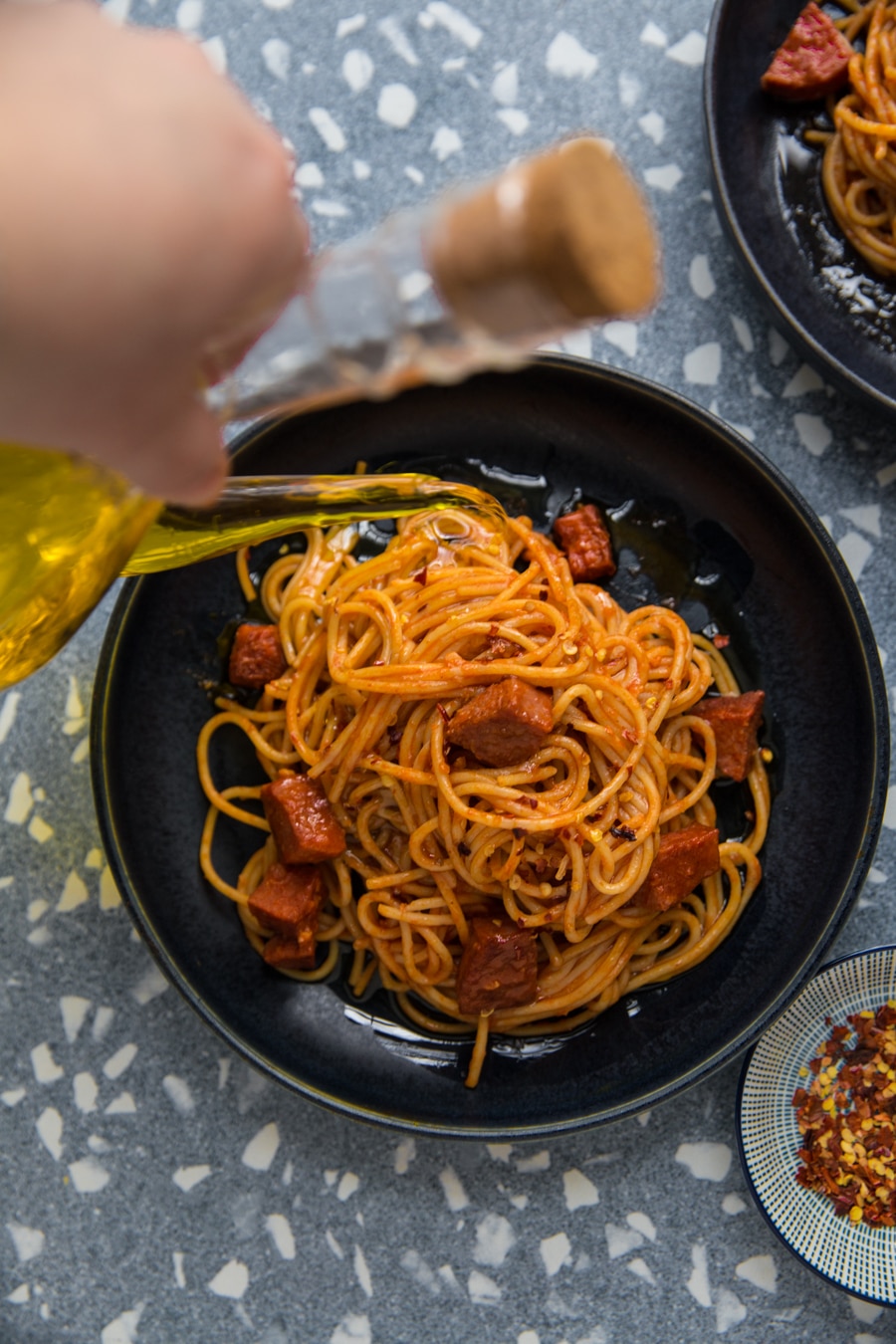 Other Salami Recipes:
last year: roasted antipasto salad
two years ago: salami nduja
three years ago: salami tarte tatin
four years ago: salami potato latkes
five years ago: salami babka
six years ago: salami quiche
seven years ago: beer battered salami chips with beer mustard
eight years ago: drunken hasselback salami
nine years ago: salami chips