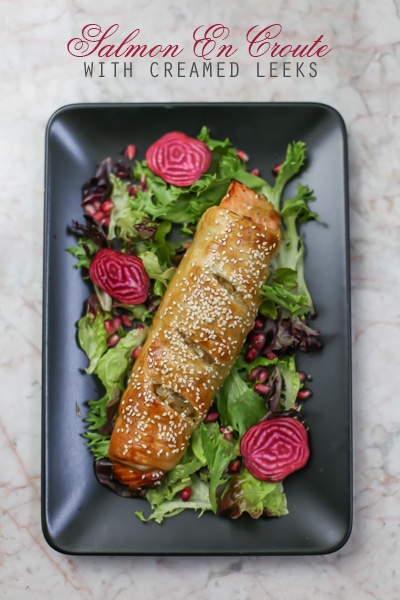 Salmon en croute is one of my favorite dishes to serve for the holidays. It plates up beautifully, it's so festive and it's a winning dish all around! I mean who doesn't love anything wrapped in buttery, flaky dough, amiright?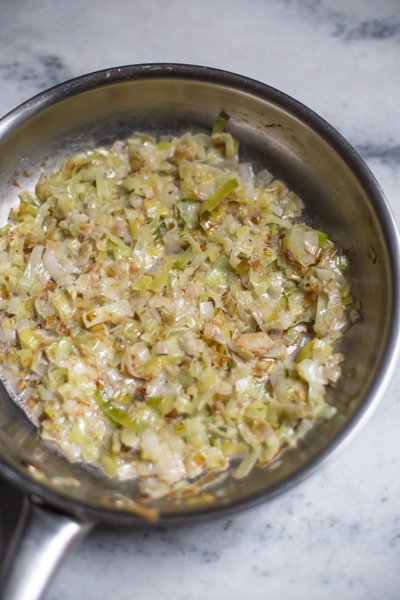 I usually go with a simple mustard and brown sugar mixture over the salmon, but I decided to take things up a notch using some of the traditional symbolic foods of the holiday, like honey and leeks. I love that you can incorporate more of those foods into the plated dish as well, and I went with pomegranate seeds and chioggia beets, 'cuz could you just look at them?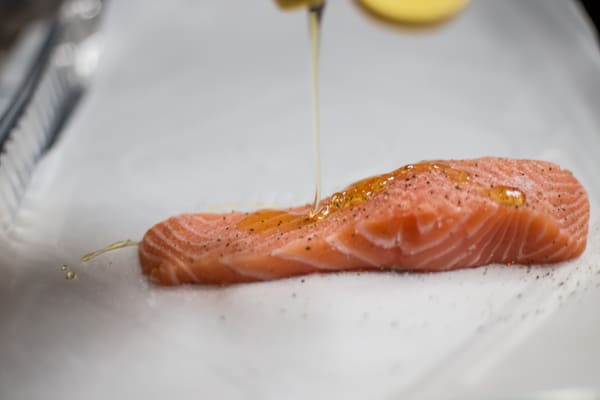 Just call this Simanim Salmon En Croute 'cuz it's not only tasty, but so fitting in every way. And if you need a recap on the symoblic foods of the holiday, read this. I've also got a handy simanim recipe roundup from a couple of years back and then of course there are my other great simanim dishes like this couscous, this angel hair pasta, this beautiful appetizer and this holiday salad.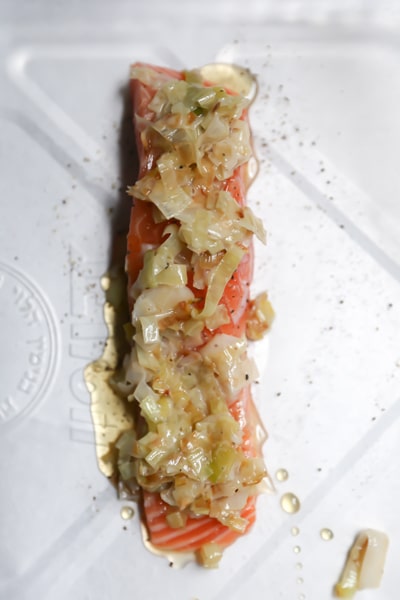 Growing up, Rosh Hashanah was a serious holiday and we always kept things intimate with just the family and a simple, traditional holiday meal. It's that one time of the year to really focus on self introspection and prayer and I like to follow suite without complicating my menu. I don't go all out with a bunch of different salads and desserts – I just keep my meal well-rounded with an appetizer (round challah with honey, fish and salad), entree (meat or chicken, tzimmes and roasted vegetables, beautifully plated) and a slice of honey cake with caramelized apples to finish the meal. Then I wrap things up and open my tehillim, because there is oh so much to pray for.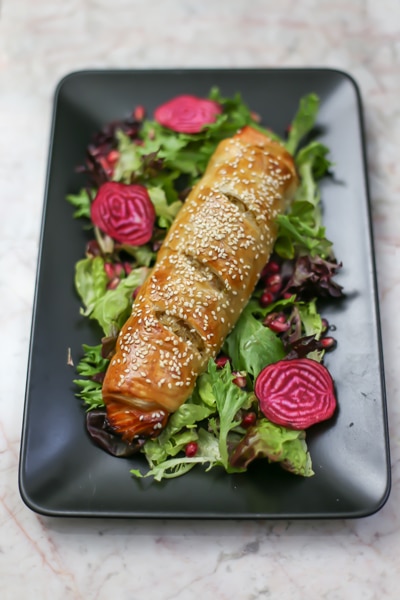 I find that there's no need to overdo your menu when you learn to serve composed dishes that complement each other. Sometimes, when you make too much food, the beauty and flavor gets lost because there is just too much to go around. When I was in culinary school, my teacher gave the example of a woman wearing a simple pearl necklace versus someone who in dripping in lots of (too much) jewelry. Which one makes a better statement? Sometimes clean and simple is the better way to go.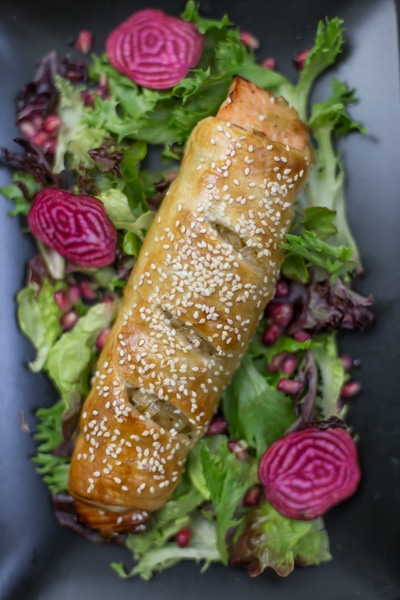 Salmon En Croute with Creamed Leeks
4 slices center-cut salmon fillet, skin off
2 tbsp honey
salt and pepper, to taste
1 large leek, or two medium, sliced into half rings
2 tbsp refined coconut oil*
1/4 cup coconut milk*
4 puff pastry squares, or 1 sheet cut into 4 squares
1 egg + 1 tbsp water, beaten
sesame seeds
Method:
Preheat oven to 400 degrees. Heat the coconut oil over medium heat and add the leeks. Saute until wilted and starting to brown and caramelize. Add the coconut milk and season, to taste, with salt and pepper. Simmer until creamy.
Season the salmon with salt and pepper and drizzle with honey. Spread leeks over the salmon and wrap in puff pastry, seam-side down. Brush the puff pastry with eggwash and sprinkle with sesame seeds. Cut a few diagonal slits in the pastry, taking care not to slice through the salmon. Bake for 20 minutes.
Serve warm over mixed greens with pomegranate seeds, shaved beets (chioggia beets pictured) and a light dressing of oil, lemon (or orange) juice, salt and pepper (or use this dressing).
NOTES:
* if you are sensitive to the flavor of coconut, you may use olive oil or trans fat free margarine in place of the oil and almond milk (or nondairy milk of your choice) in place of the coconut milk. Alternatively, you may leave out the milk for a less creamy texture.
** Feel free to add carrots, apples or any other simanim of your choice to the salad.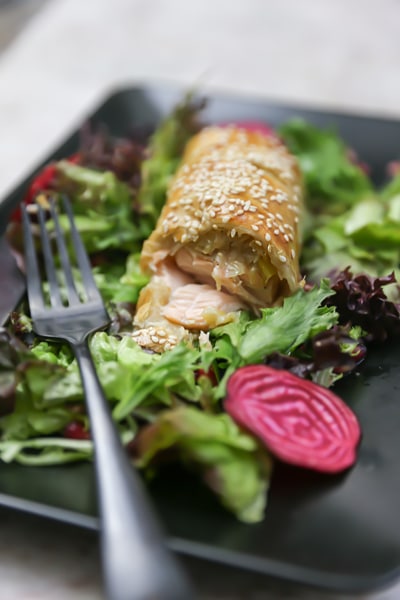 Related Recipes:
smashed potatoes with leeks
simanim fritto misto
honey fig roasted salmon
honey mustard salmon