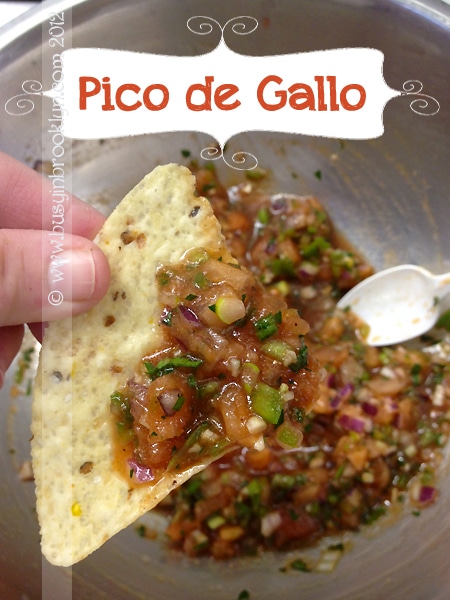 In case you don't follow my facebook page, you may have missed out on the exciting news that I started the Culinary Arts program at The Center for Kosher Culinary Arts. It was a great surprise from my husband, who signed me up for the program as a gift for our 10 year anniversary. Best. gift. of. all. time. Do I need to even tell you that?
Having to get three kids ready for school and be out the door by 8AM is not an easy feat. I come home exhausted beyond words, yet, I wouldn't trade it for the world. I've never been happier to go to school in my entire life. Or to do homework (lots of reading!) I feel so blessed to be able to do what I'm so passionate about, each and every day.
Over the past week, we've been doing a lot of work on our knife skills, so our instructor, Chef Avram Wiseman, had us make some pico de gallo. Pico de gallo is a raw Mexican salsa that is a great condiment for dishes like tacos and fajitas. It's also great on good old tortilla chips!
I can't wait to share more of what I'm learning, in the meantime, enjoy this recipe!  You can also follow my kosher culinary school journey on Instagram, via BusyInBrooklyn :)
CKCA Pico de Gallo
4 plum tomatoes, seeds removed, diced
1 scallion, cut in half lengthwise, diced
2 large cloves garlic, finely minced
1 small red onion, diced
1 jalapeno, diced (use some of the seeds and membrane for more heat)
2 tsp minced cilantro (I have an aversion to cilantro so I use parsley)
juice of 1 lime
1 tsp ground cumin
2 tbsp extra virgin olive oil
4 oz. tomato juice
salt and pepper, to taste
Method:
Combine all other ingredients, mix well and season to taste. You can adjust the consistency by adding more or less tomato juice.
1 year ago: cornbread scones
Post a Comment