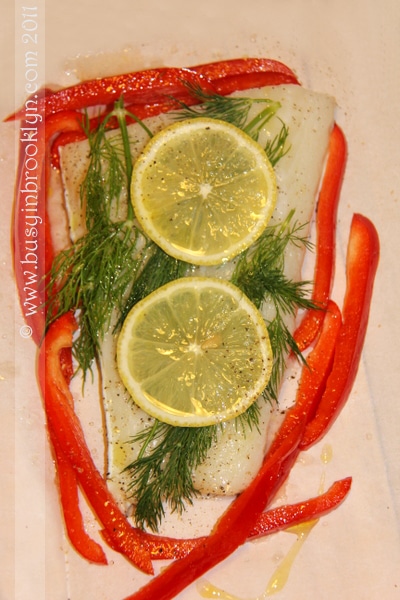 En Papillote is French for "in parchment." It is a popular method of baking fish by steaming it inside a folded pouch. Since the fish cooks in its own juices, all the flavors are concentrated, resulting in a light and tasty product. Typically, parchment paper is used to seal in the moisture, but foil can also work.
Classic en papillote preparation is done by folding the parchment paper over the fish and then sealing the edges by folding the parchment tightly all around. An assortment of vegetables is usually added, along with citrus and fresh herbs. You can experiment with different types of fish (whole or fileted) and veggies to suit your taste.
Sea Bass en Papillote
1 filet of sea bass (or any white fish)
1 bunch fresh dill
1 lemon
1/2 red bell pepper, sliced
extra virgin olive oil
dry white wine
salt and pepper
parchment paper
Method:
Preheat oven to 400 degrees. Cut a rectangular piece of parchment paper and fold it along the center. Rinse sea bass and pat dry. Place fish on one side of the parchment and season with salt and pepper. Top with fresh dill and lemon slices. Place red pepper slices closely around the fish. Drizzle peppers and fish with olive oil and a splash of wine and finish with a touch of salt and pepper. Fold the parchment over the fish and starting from either corner, begin sealing the pouch by twisting or folding the parchment all around. Place the pouch inside a pan and bake for 20 minutes. Remove from oven and cool for several minutes. Open the parchment (careful of the hot steam) and serve!