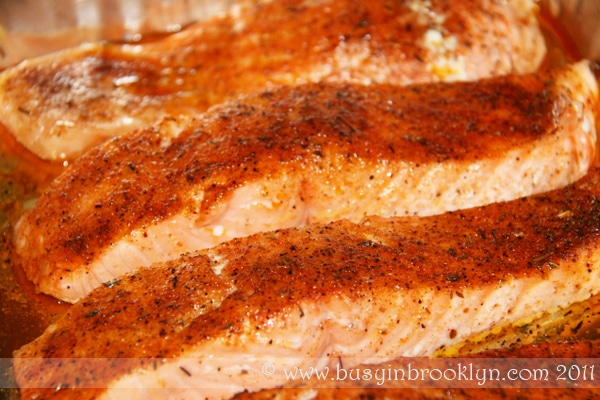 Even though we're not big dairy eaters around here, I'm so excited to cook for the Nine Days. It gives me a chance to think outside the box, and a rest from typical chicken dinners. I'm grabbing at the chance to make delicious and healthy fish recipes which are a great source of protein and Omega-3 fatty acids.
There are many different ways to prepare fish, but it doesn't have to be complicated. You can grill, pan-fry, bake, poach or steam fish in many different preparations, but it is best cooked quickly over high heat. If your fish is cooked right, it won't taste "fishy".
When purchasing fresh fish, it should smell like the ocean, not like fish. It should have a vibrant color. Pale fish or fish with discolored patches is not fresh. A great tip is to tell your fishmonger that you are making sushi with the fish. This will ensure that the fish is fresh enough to be eaten raw.
One of my favorite ways of preparing baked salmon and tilapia is using Chef Paul Prudhomme's Seafood Magic Seasoning Blend. The blend is exactly as it is named; pure magic. When baking fish, the key is to bake it at a high temperature for a short period of time. Your fish will be soft, tasty, and best of all, so incredibly quick and easy to prepare. Recipes follow below.
I have lots of ideas brewing for the upcoming week, so I thought I'd share some ideas for those of you who like to plan ahead:
Dairy Recipe Ideas:
– homemade pizza
– lasagna
– quiches
– risottos
– quesadilles
– stuffed shells
– eggplant parmesan
– fettucine alfredo
– penne alla vodka
– french onion soup
– cream of any vegetable soup
– stuffed mushrooms
– eggplant rollatini
– macaroni and cheese
– pancakes, waffles or french toast
– baked potatoes with broccoli and cheddar or other fillings
Meat-Lovers Recipe Ideas:
– vegetarian chili with cheesy corn bread
– portobello mushroom burger
– tuna steak
– grilled halibut
– fish tacos
– falafel
Light 'n Healthy Recipe Ideas:
– salad nicoise
– shakshuka
– portobello pizza
– sushi rolls or sushi salad
– chickpea patties
– cheesy stuffed mini peppers
– stir fry with tofu and rice
– steamed fish and veggies au papillote
– baked sweet potatoes with cottage cheese or other fillings
Other Pareve Recipe Ideas:
– tuna or salmon croquettes
– tuna casserole
– salmon pasta salad
– Crispy breaded fish sandwich or "fish and chips"
Please feel free to share your Nine Days Menu ideas in the comments below, I'd love to hear from you!
Quick & Easy Salmon or Tilapia
Preheat your oven to 400 degrees.
For salmon, rinse fish and pat dry. Sprinkle very generously with Seafood Magic spice and drizzle with olive oil. Bake for approximately 15 minutes, until flesh is opaque and flakes with a fork.
For tilapia, rinse fish and pat dry. Squeeze a lemon over the fish, sprinkle very generously with Seafood Magic and brush with canola mayonnaise. Bake for approximately 12 minutes, until flesh is opaque and flakes with a fork.