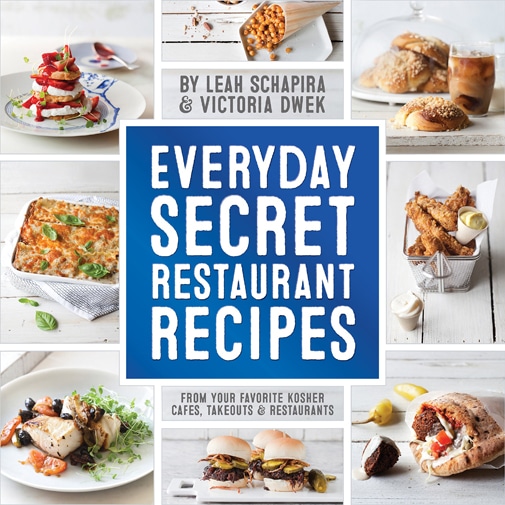 In the spirit of my Blogoversary last week, I figured it was about time for a giveaway. And I've been itching to review the latest cookbook in the Secret Restaurant Recipes series, so it worked out just perfectly!
Like all of the cookbooks by seasoned cookbook writers Leah Schapira and Victoria Dwek, Everyday Secret Restaurant Recipes does not disappoint. It's got the same beautiful graphics, breathtaking photos and clean-cut layout as it's original, but the recipes are a bit less glitzy yet not one bit less mouthwatering.
For this round, the writers went to everyday establishments – grills like the famous Fish Grill in LA (where I've noshed on their famous fish and chips), local favorites like Bagels 'n Greens (ever taste their insane donuts?!), Boeuf & Bun (loooove their bondi burger), Izzy's BBQ Addiction (I'm legit addicted, it's in my 'hood after all), Mendelsohn's (we love their breaded cauliflower) and Pizza Time (best kosher pizza outside of Israel IMHO). They've covered Miami hot spots like 26 Sushi & Tapas (lettuce wraps please!), China Bistro (love their spicy chicken and eggplant) and Zak the Baker (I'll have everything on the menu) and National must-haves like C  & R Kitchen (I'm till dreaming of the prime rib I had there), Milt's BBQ (I must get there soon!), And Nobo Wine & Grill (I've already booked my reservation). Of course we can't forget all the International spots like Aussies Milk & Honey (I had a great lunch there!), Israel's Rimon Cafe (great memories!), and eateries in Austria, Brazil, England, Panama and Uruguay.
When they say they've hit the little guys, they mean it. They've got supermarkets like Pomegranate and Breadberry in Brooklyn, heimishe bakeries like Zishes in Monsey and even stadium joints like Legends in Yankee stadium. My favorite though would have to be The Wandering Que, a BBQ trailer that hauls it's Texas-style BBQ rig around town. Leah & Victoria have indeed covered their tracks.
Of course I'm partial because my 'hood made it to the Kosher Food Trends list (we house the famous Basil Pizza & Wine Bar, Boeuf & Bun & Izzy's BBQ Addiction after all) and having my name on the shout-out list was a nice surprise (I shared some of my favorite hot spots). But the truth is – we have to let the recipes do the talking. The fact that roasted chickpeas are the first recipe of the Starters & Sides should say something. They're my absolute favorite nosh to date. But the kani poppers, beef fry apricots, buffalo cauliflower, tater poppers and smoked hot wings tickled my fancy as well. Soups & Salads are down to earth, with recipes like black bean soup, Asian nappa salad, harvest twist and peach glazed chicken salad. They've even covered basics like store coleslaw (haven't you always wondered how to get it just right?) and potato salad. Sandwiches are possibly my favorite chapter, and thankfully they've included the Morning Scramble from Boeuf & Bun, so when I don't feel like walking up the block to their hip joint, I can just make it at home! My husband is particularly excited about Essen's Sino Steak Sandwich, a dish he grew up eating! Pretzel sticks, honey mustard pargiot, chicken Pad Thai and Gotham glazed ribs are favorites from Chicken & Meat while the grilled fish taco, bourbon salmon and sushi pizza stood out from the Fish. They've even got Brunch & Lunch covered with recipes like Israeli breakfast, creamy home fries, and veggie chili, but I'll take the creme brulee freezer. They finish off with a bang with dessert goodies like Zak the Bakers chocolate rugelach, T Fusion's churros and Lula's halva parfait. Mmm mmm good.
So, should you buy this book? Well, if you live in a place that doesn't have too many eateries or you don't mind cooking up some restaurant fare that's not too intimidating, then this is the book for you. While the cookbook includes "everyday recipes" don't expect them all to be quick and easy. If they're good enough to be on a menu in a cafe somewhere, they're going to require some work. But it looks to me like it will be well worth the effort.
Purchase Everyday Secret Restaurant Recipes on Amazon.
Read a review of Secret Restaurant Recipes.
GIVEAWAY DETAILS:
So lets get down to business because I know you are waiting! To enter this fabulous giveaway, here's what to do!
1. Leave a comment on my Blogoversary Post letting me know your favorite BIB recipes of the past 5 years and/or what you'd like to see on the blog this year.
2. Leave a comment here letting me know your favorite kosher restaurant worldwide.
For an extra entry, follow Busy In Brooklyn via any of the channels below. Just be sure to leave a note in the comment letting me know where you follow.
Facebook
Twitter
Instagram
Pinterest 
Giveaway is open to U.S. residents (for international entries, prize can only be shipped in the U.S.). Winner will be chosen at random at 10:00 AM EST on Wednesday, February 3rd, 2016.
SAMPLE RECIPES: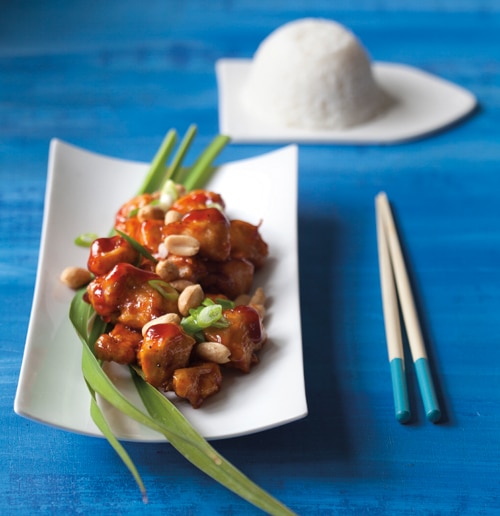 Gong Bao Chicken (Dini's Kosher Restaurant, Beijing, China)
from Secret Restaurant Recipes by Leah Schapira and Victoria Dwek
Reprinted with permission from the copyright holders: ArtScroll/Mesorah Publications http://www.artscroll.com/Books/9781422616475.html
1 lb chicken breast, cubed
3 Tbsp cornstarch
2 Tbsp water
pinch coarse black pepper
oil, for frying
2 Chinese leeks or scallions
3 Tbsp salted peanuts
Sauce:
2 tsp soy sauce
2 Tbsp sugar
4 tsp vinegar
2 tsp hot sauce
4 tsp ketchup
Place chicken into a small bowl. Sprinkle with cornstarch; top with water and black pepper. Mix to coat the chicken. Let stand for 2 minutes.
Meanwhile, heat oil in a wok or sauté pan over high heat. When oil is very hot, add chicken cubes in batches; fry for 4-5 minutes. Remove from pan and drain on paper towels.
Drain oil from the pan. Add soy sauce, sugar, vinegar, hot sauce, and ketchup. Cook until sauce thickens slightly, 2-3 minutes. Add chicken and scallions; toss to coat. Top with peanuts.
NOTE: We've tested this with all different types of hot sauce and they've all been successful. Halve the quantity if serving this dish to children -L.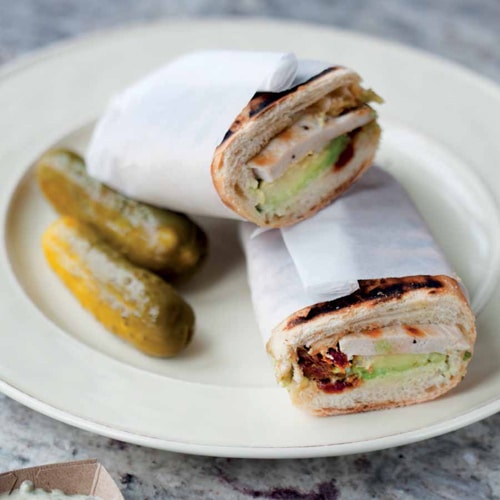 Cali Love Panini (Holy Schnitzel, NY)
from Secret Restaurant Recipes by Leah Schapira and Victoria Dwek
Reprinted with permission from the copyright holders: ArtScroll/Mesorah Publications http://www.artscroll.com/Books/9781422616475.html
3/4 lb. boneless skinless chicken breast, thinly sliced
1 tbsp oil
salt, for sprinkling
pinch coarse black pepper
Roasted Eggplant:
1 eggplant, thinly sliced and quartered
salt, for sprinkling
2 tbsp oil
Pesto Sauce:
1/2 cup mayonnaise
2 tbsp chopped fresh basil (about 12 fresh leaves)
1 tbsp chopped fresh parsley (about 2 sprigs fresh leaves)
1 garlic clove
1 tsp lemon juice
1 oz. pine nuts, toasted
For Assembly:
1 avocado, sliced
8 sundried tomatoes
2 (10 inch) baguettes
1. Prepare the eggplant: Add eggplant slices to a colander; sprinkle generously with salt. Let sit for 30 minutes. Rinse and pat dry.
2. Preheat oven to 425 degrees. Add eggplant to a greased baking sheet; toss with oil. Bake for 20-30 minutes, until crispy and soft.
3. Prepare the pesto; In a food processor, combine mayonnaise, basil parsley, garlic lemon juice and pine nuts. Blend until smooth.
4. Prepare the chicken: Coat chicken slices in oil; season with salt and pepper. Heat a gril or grill pan and cook, about 2 minutes per side.
5. Assemble the sandwich: Cut open a baguette. Spread both open sides of the baguette with pesto. Add half the sliced avocado, eggplant, sundried tomatoes and chicken. Close sandwich; toast in a panini press. Repeat with second baguette and remaining pesto, chicken and vegetables.
NOTE: To have eggplant slices that fit nicely into a sandwich, first cut the eggplant into rounds. Then, slice the rounds further into quarters.