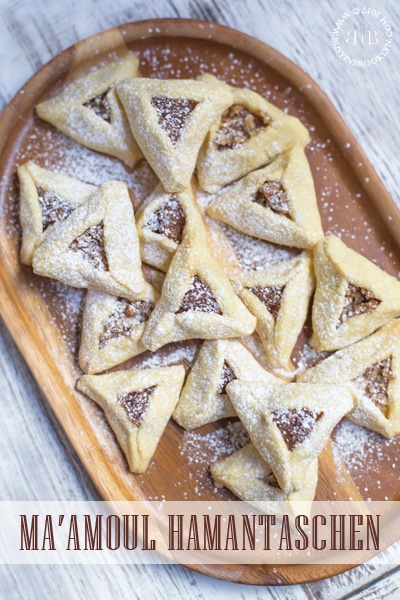 If I had one word to describe these hamantaschen, it would be #proud. Yes they're melt-in-your-mouth delicious, super buttery and also crispy, but the word I would use to describe them has nothing to do with how they taste. It has to do with how they make me feel.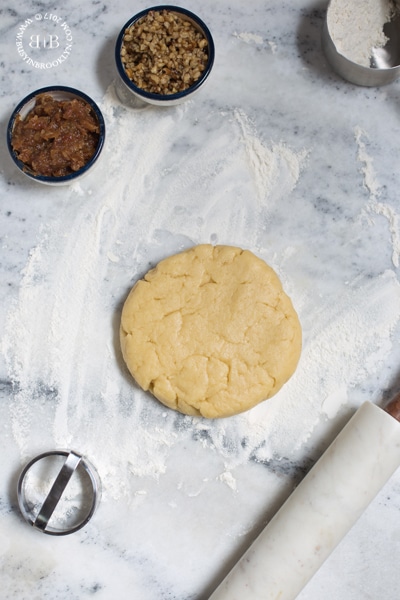 I've always felt that food does so much more than nourish us. It connects us to our past, our present and our future. Traditional food, especially, has the power to bridge generations. Preparing the same dishes that my mother made, and my grandmother before her, allows me to pass on the flavors and smells of my childhood to my children in a way that nothing else can.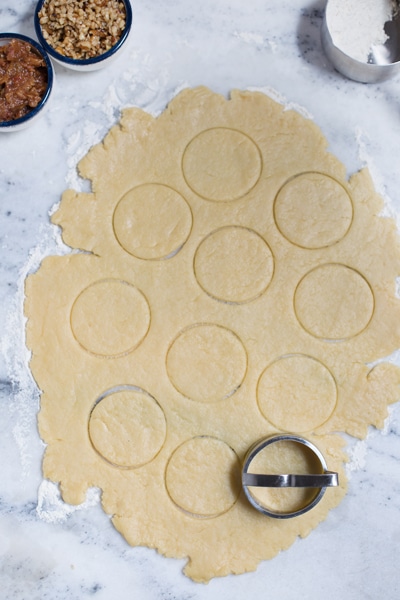 That's why these hamantaschen mean so much to me. Not only do they reflect the traditions of my Ashkenazic heritage, they also represent the flavors and culture of my husband's Sephardic hertitage.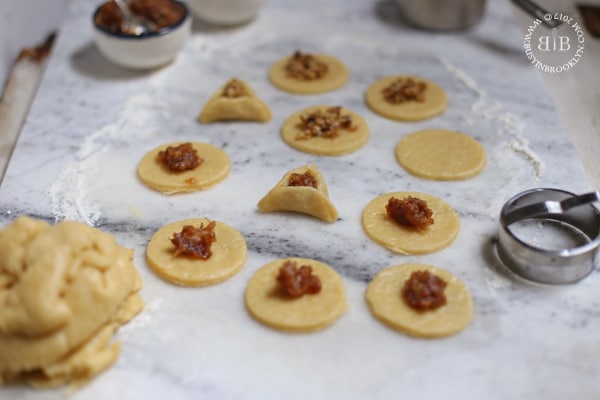 While my husband is Ashkenazi like me, his mother was born and raised in Argentina, but her roots trace back to Syria. She grew up eating ma'amoul, rosewater-scented cookies filled with either date or walnut filling. When I got married, ma'amoul always made an appearance at parties and simchot and their interesting shape always intrigued me.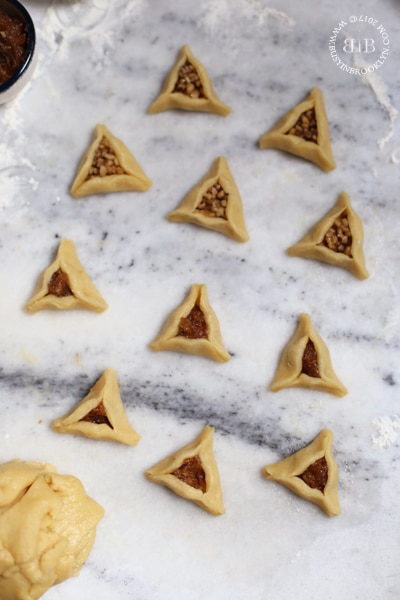 Traditional ma'amoul is molded into different shapes using a special cookie press. The cookie is shaped differently, depending on the filling. My mother in law always used tweezers to decorate her ma'amoul, which I found really interesting. When I came up with the idea to fuse the classic hamantasch with Syrian flavors, I went to my husband's aunt, Esther, for a cookie baking class.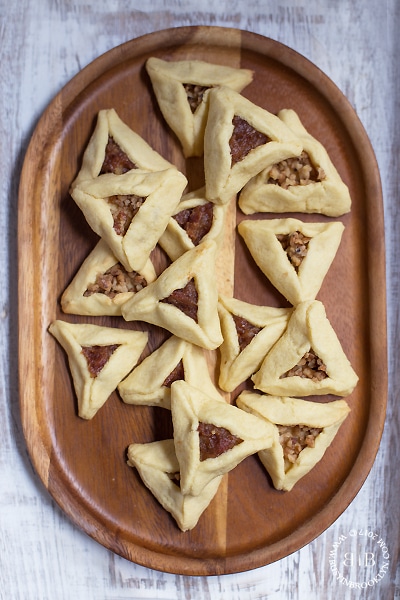 Esther is a cook after my own heart. She likes to do things simply, without fancy tools or supplies (which explains the tweezer method!). She mixed up the ma'amoul in no time, while I attempted to measure her pinches of spice and sprinkles of flour. She expertly shaped the dough faster than I could follow and before long, they were out of the oven and covered in a snowfall of powdered sugar.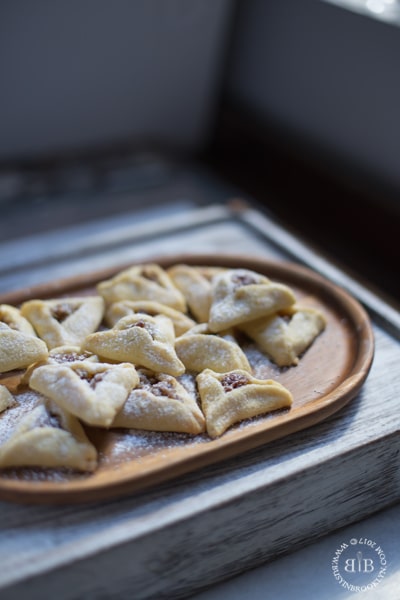 Of course I went back home and it wasn't all that simple. For starters, traditional ma'amoul dough does not have egg, so it wouldn't hold as a hamantasch. I was determined to make it work, and 6 batches later, I struck gold (or should I say rosewater?!). These ma'amoul hamantaschen are the perfect blend of buttery and crispy, thanks to the butter and semolina, respectfully. I'm super proud of this Sephardic-Ashkenazi fusion and I hope I've started a new trend in my family tree.
Now that we've got the Purim party started, stay tuned for lots of other exciting holiday recipes, coming soon!
Ma'amoul Hamantaschen
1 1/2 cups flour
3/4 cup semolina
1 tsp baking powder
1/4 tsp salt
2 egg yolks
1/2 c sugar
1/4 cup canola oil
3 tsp rosewater
7 tbsp butter or margarine, softened
powdered sugar, for dusting
Date Filling:
10 plump medjool dates, pit removed
1/4 cup hot water
1/4 tsp cinnamon
Walnut Filling:
1 cup chopped walnuts
3 tbsp sugar
1 tbsp orange blossom water
Method:
Preheat oven to 350 degrees.
To prepare the date filling, place the dates in a food processor with the S blade attached. Add the hot water and let it soak for a few minutes. Add the cinnamon and puree until a smooth paste forms. Add more water, if needed.
To prepare the walnut filling, mix the chopped walnuts with sugar and orange blossom water and set aside.
In a bowl, whisk the flour, semolina, baking powder and salt. In a second bowl, whisk the egg yolks, sugar, oil and rosewater. Add the dry ingredients to the wet ingredients and mix to combine. Add in the butter or margarine and gently knead until you have a soft dough. Don't overwork the dough.
Divide the dough in half so you can work with one portion at a time, and flour your surface. Cover the dough with a piece of parchment paper and roll it out until it's a little more than 1/8″ thick. Using a 2.5″ round cutter (or larger, if you prefer larger hamantaschen), cut the dough into circles and fill with about 1/2 tsp of your filling of choice (or make half a batch of each!). Fold the dough over to form a triangle and place on a parchment lined baking sheet.
Bake for approximately 12 minutes, until the hamantaschen are crisped and just starting to lightly brown underneath. Allow the hamantaschen to cool completely before removing from the parchment and dust with powdered sugar.
NOTE: If you prepare the dough in advance, you may need to add a teaspoon of water to soften it up before rolling.
VARIATION: If you'd like to omit the rosewater, use 1 1/2 tsp of vanilla + 1 1/2 tsp water instead.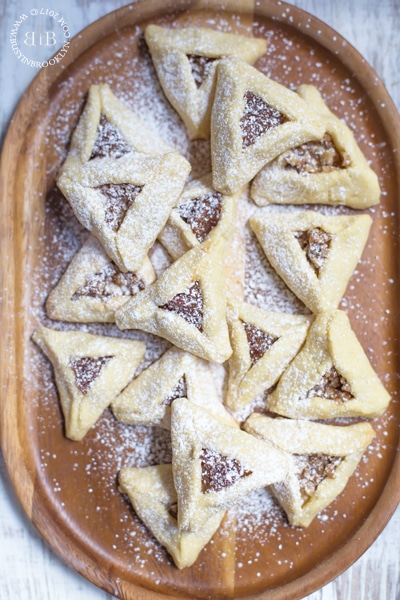 Related Recipes:
baklava hamantaschen
date and almond hamantaschen
healthy thumbprint hamantaschen