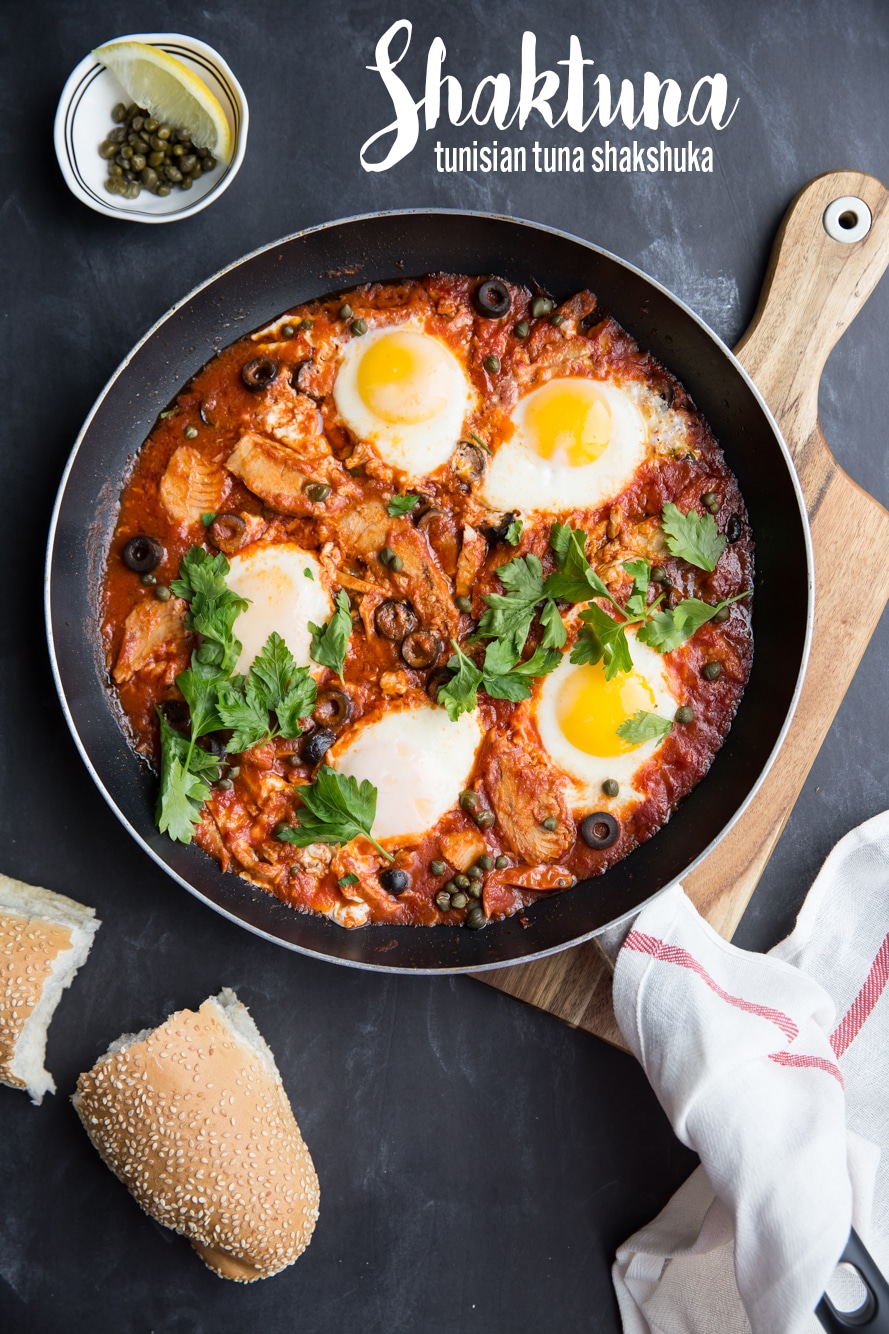 Having recently traveled to Paris, I have a newfound love of tuna – and not the type we mix with mayo and stuff in a bagel. But the kind that's canned in good quality olive oil and served with sesame bread. Or the kind that's stuffed into a teeny tiny sandwich with potatoes, eggs, capers and olives: the Tunisian tuna sandwich known as Fricassé.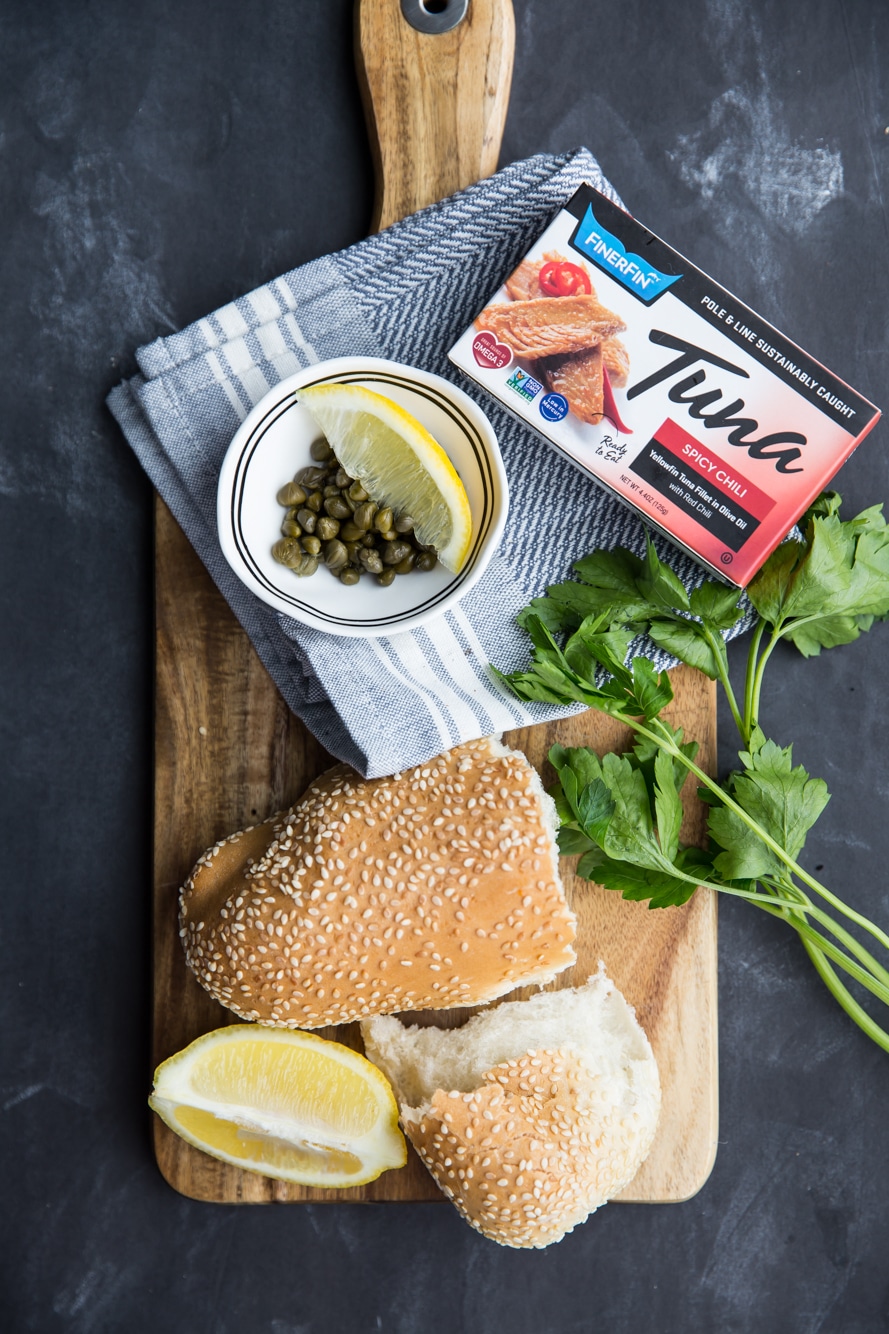 I made my way to Charles Traiteur, the popular kosher catering/take-out to taste their renowned Tunisian Tuna Sandwich, a soft sesame baguette stuffed with tuna, eggs, harissa, olives and a hint of mustard. It was good, but it didn't quite live up to the hype, maybe because the bread was soggy.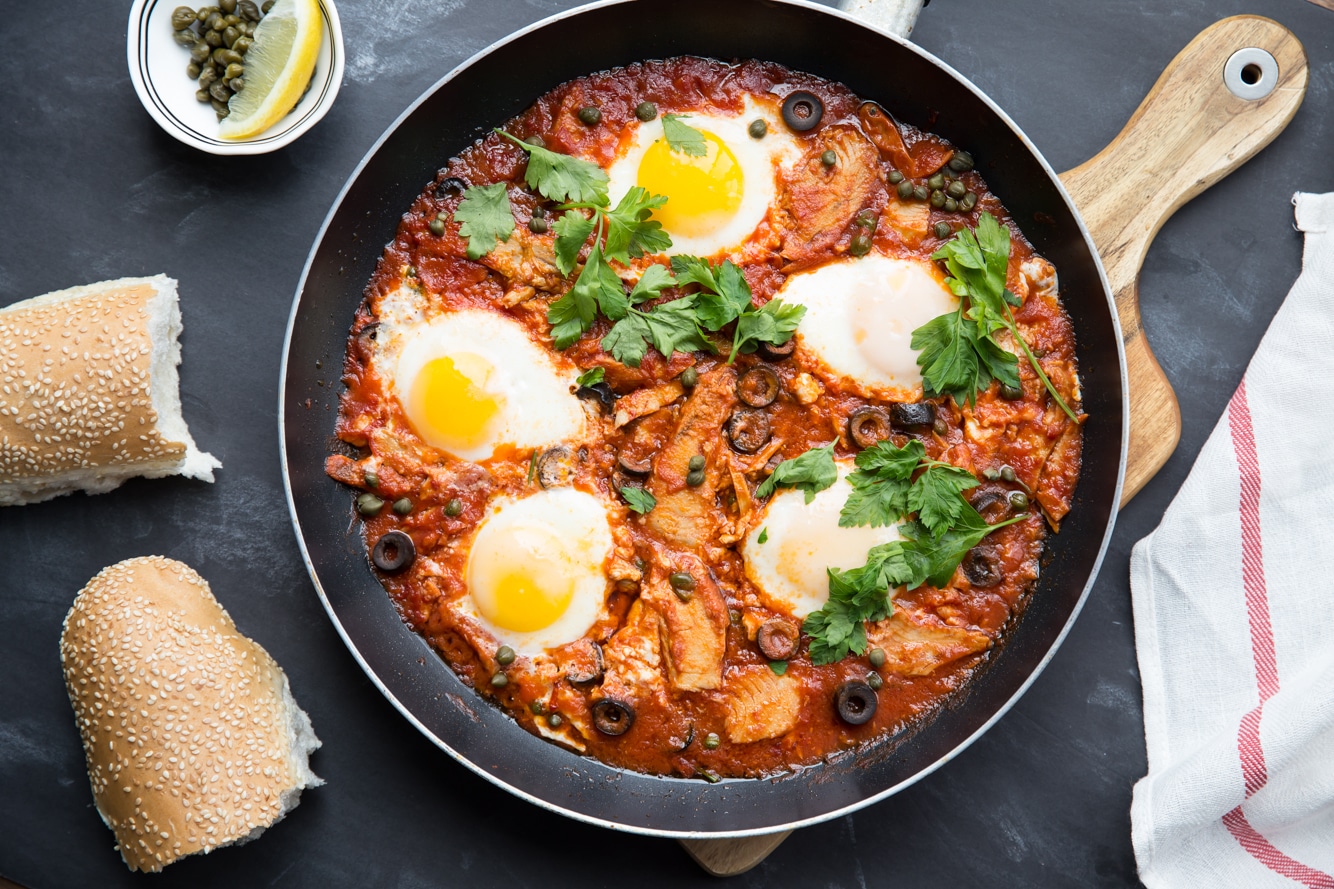 But then I went back before Shabbos and got their Tunisian Fricaseé sandwich – mini bites of heaven with the same ingredients of the tuna sandwich, only on delicious fried bread and I haven't stopped dreaming about it since!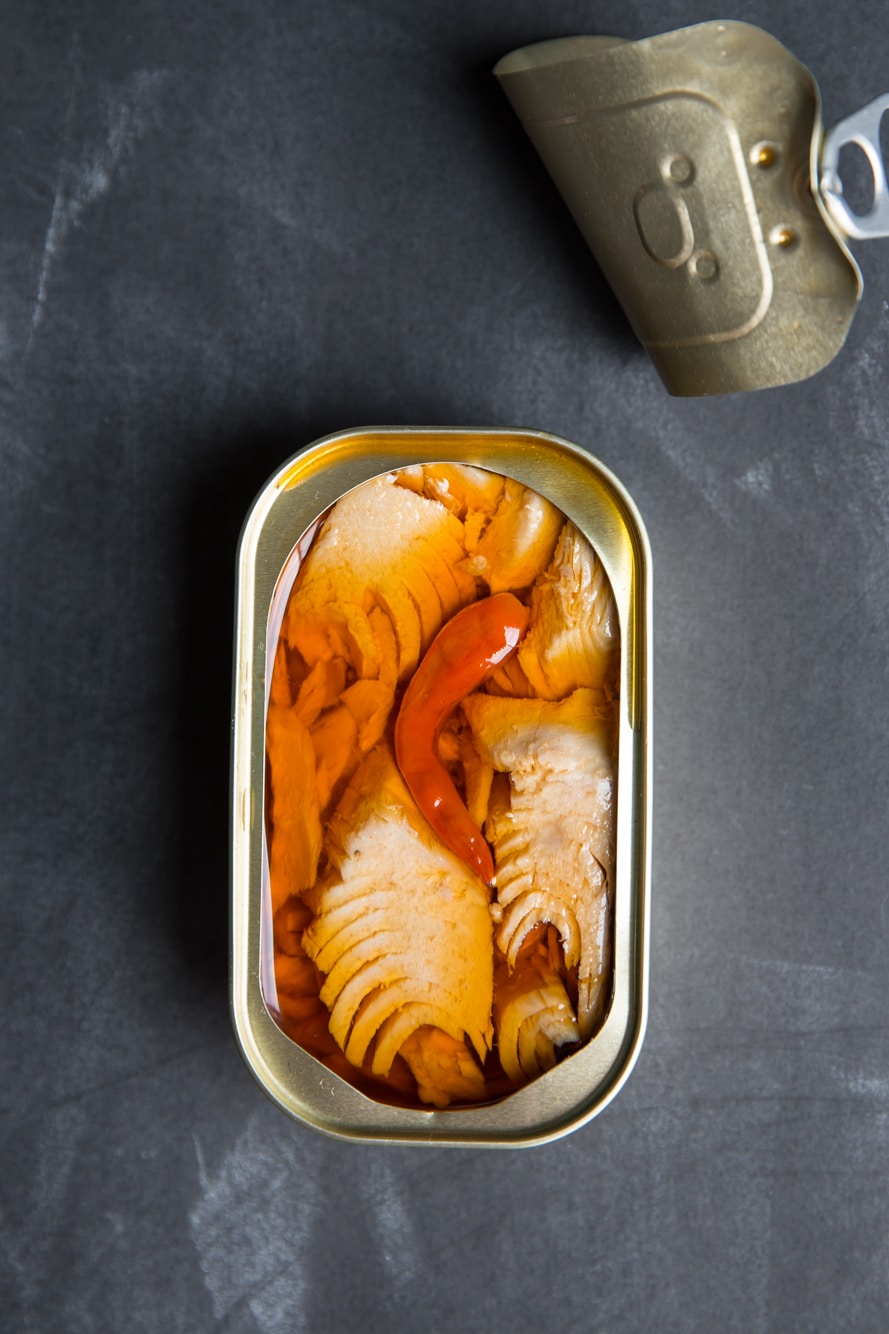 Now lets go back a couple of months, when I was introduced to Finer Fin tuna, aptly named because that tuna is FINE!!! I have been hooked on their amazing flavors, including Mexicana, 3-Bean, Zesty Lemon and Spicy Chili. Each filet is hand-sliced and packed in extra virgin olive oil. The tuna is wild caught, a great source of Omega 3, Non-GMO, low in mercury and sustainable caught. It basically sells itself!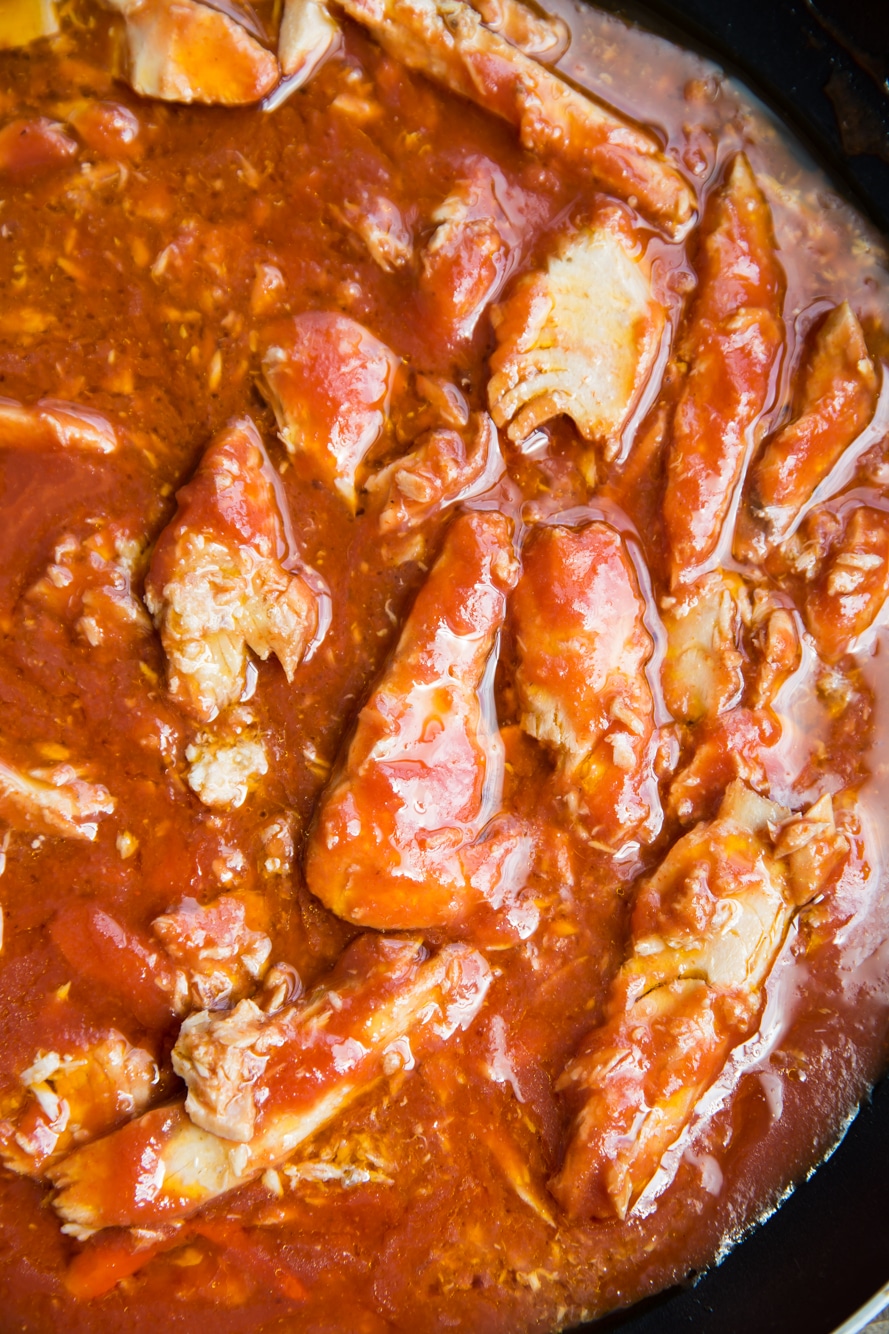 So, back to Paris, I came home re-inspired on the tuna front and decided to do a riff on shakshuka and the classic Tunisian Tuna sandwich and let me just say…WOW. Like seriously this makes the perfect breakfast, brunch, lunch or even dinner. It was just THAT good.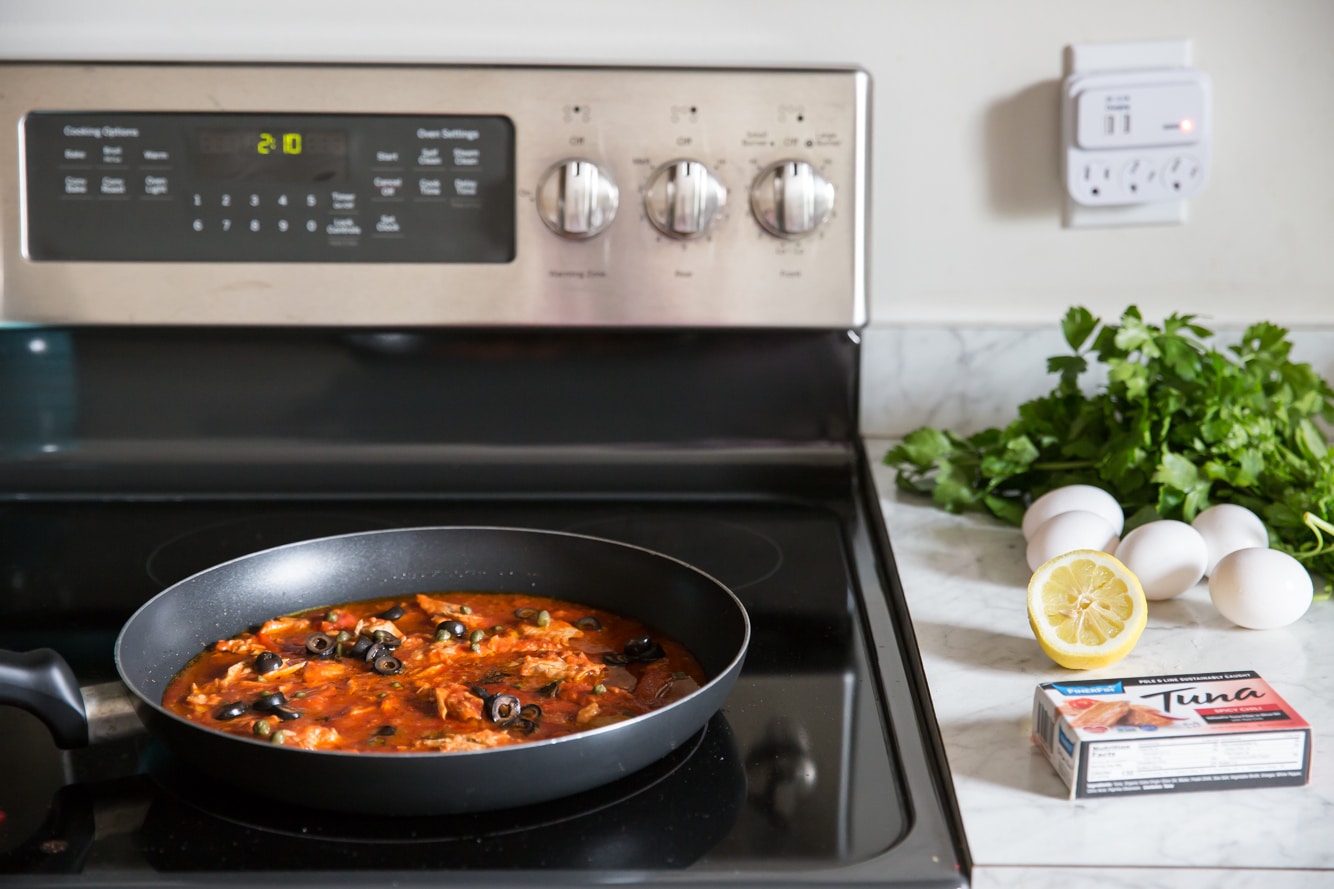 Because Finer Fin's tuna is already packed with flavor, it needed only a small can of tomato sauce to create a base for shakshuka. I added the other classic elements of olives and capers, but you can easily leave those out if you're not a fan of briny flavors.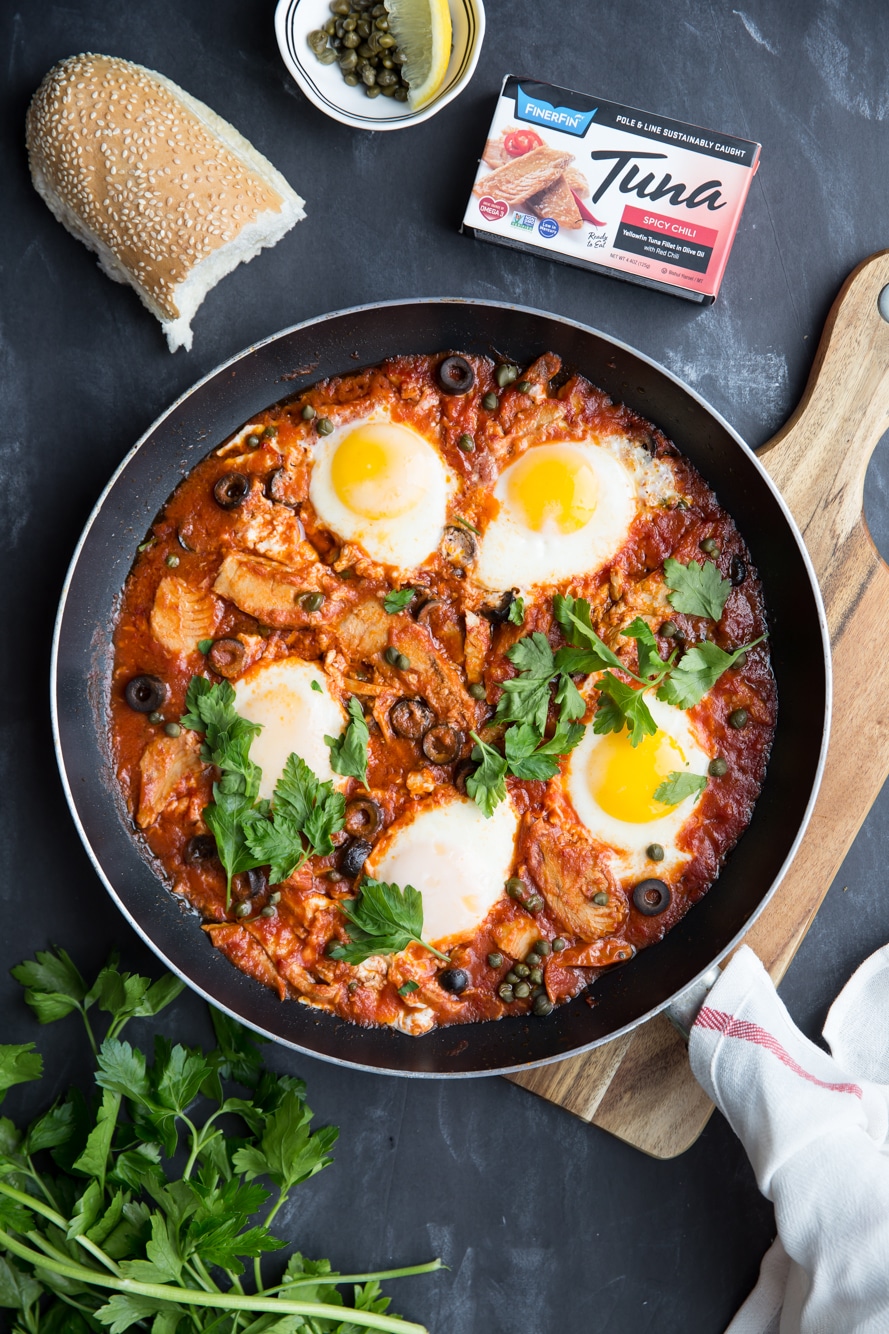 You can also throw in some spinach or kale into the mix if you'd like, which is really what I love about shakshuka – it's just so versatile! (see the gazillion different combos I linked to below, I can't get enough!).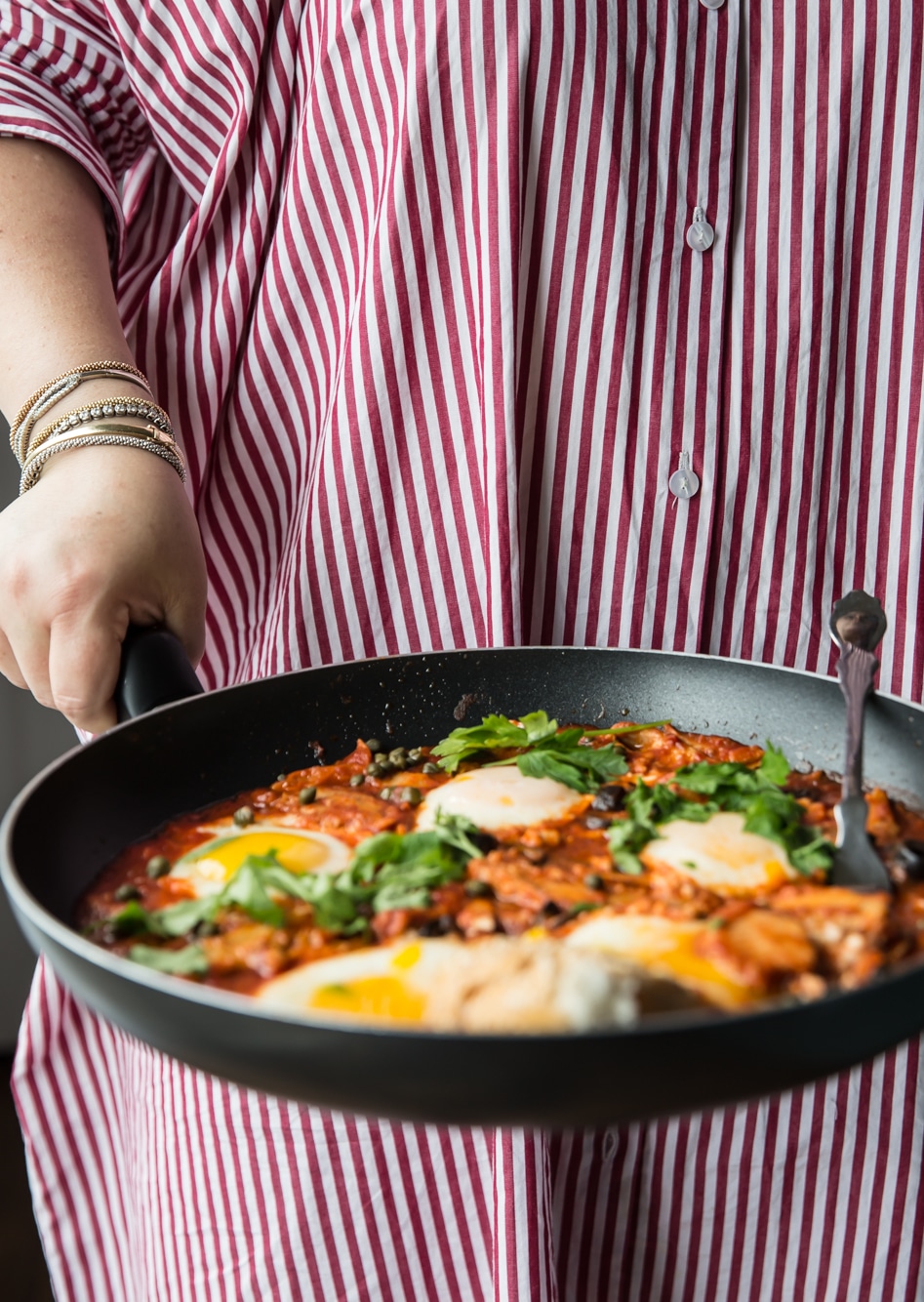 So if you're looking for a taste of Paris, or you just want a quick and easy dinner to get on the table, look no further than SHAKTUNA!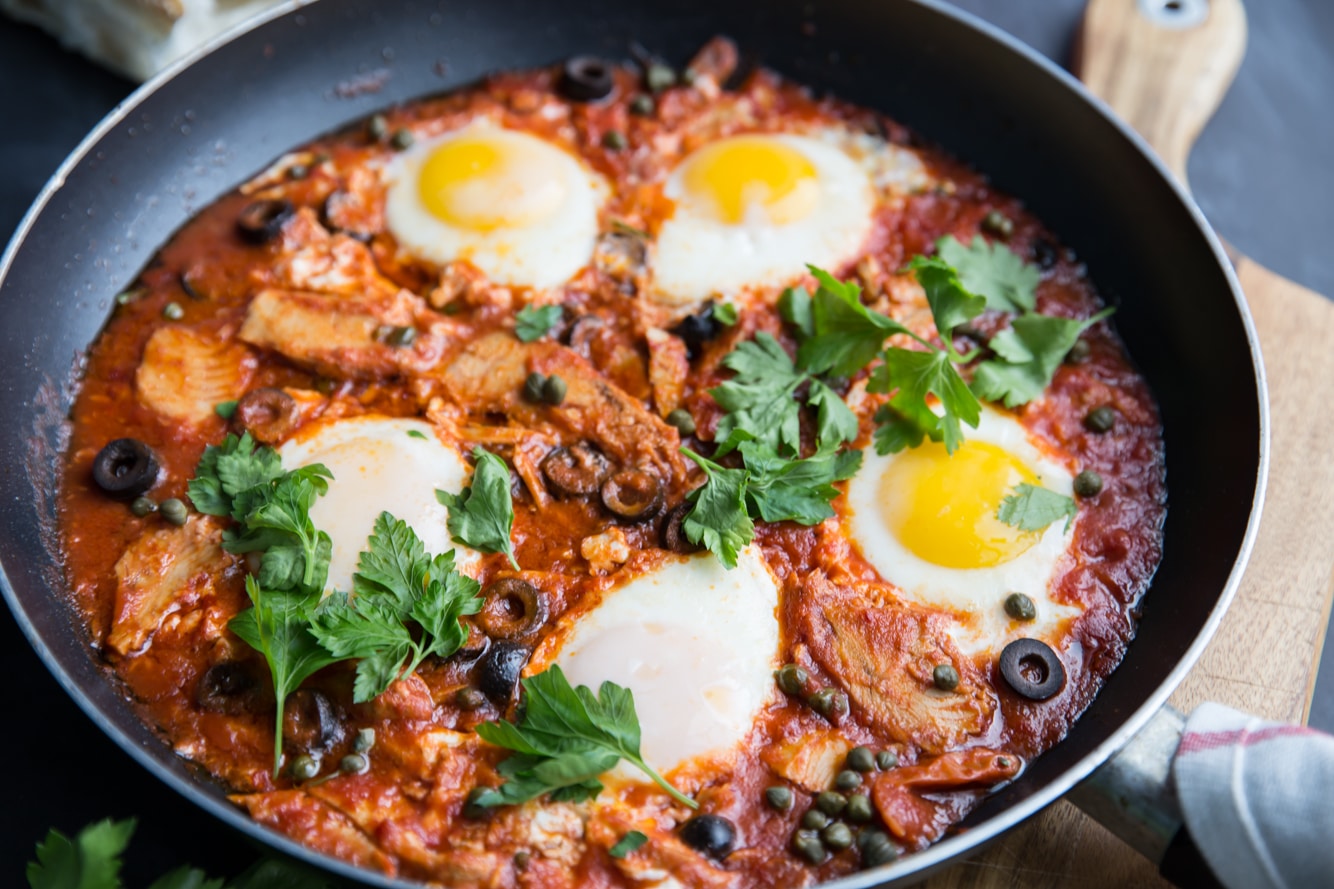 Shaktuna (Tunisian Tuna Shakshuka)
2 pkg Finer Fin spicy chili tuna
1 8oz. can tomato sauce
1 tbsp capers
3 tbsp sliced black olives
juice of 1/2 lemon
kosher salt, to taste
5 eggs
handful of fresh parsley
baguette or pita, for serving
Method:
Add the Finer Fin spicy chili tuna to a large skillet and stir in the tomato sauce. Add capers, olives, lemon and salt, to taste. Bring the mixture to a gentle simmer. Using a spoon, make 5 wells for the eggs and slide them in carefully. Cover the pan and cook over medium heat until the whites have set but the yolks are still runny, about 5 minutes. Garnish with fresh parsley.
This post has been sponsored by Finer Fin. All opinions are my own.
Related Recipes:
roasted eggplant shakshuka
Mexican quinoa shakshuka
beet, kale and goat cheese shakshuka
zoodle shakshuka,
garbanzo bean shakshuka with labneh
spaghetti squash shakshuka
stuffed portobello shakshuka