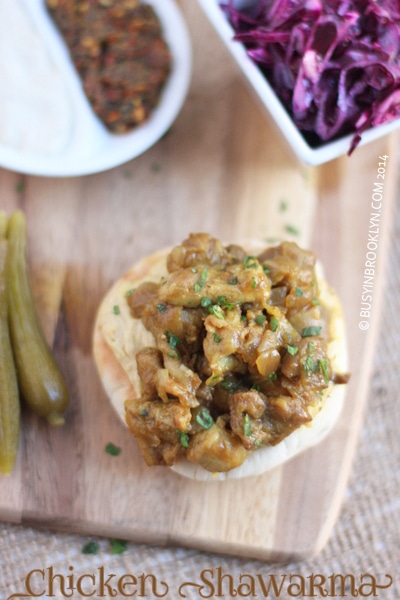 I was never much of a shawarma person. In fact, in my entire year of living in Israel, I don't think I even ordered it once. I'm more of a falafel girl. Fully loaded in a freshly baked laffa – pure heaven.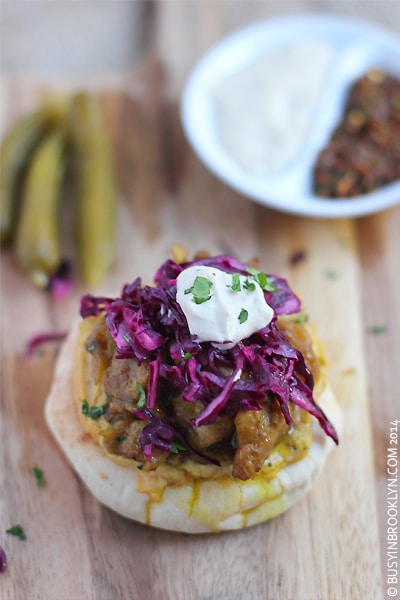 But something interesting happens when you have kids. Picky kids. Kids who don't like the BBQ marks on their grilled chicken, or the crumbs on their shnitzel. Kids who won't eat fish. Or most types of meat. When you have such kids, you start to make foods that you never imagined you'd be cooking – like shawarma.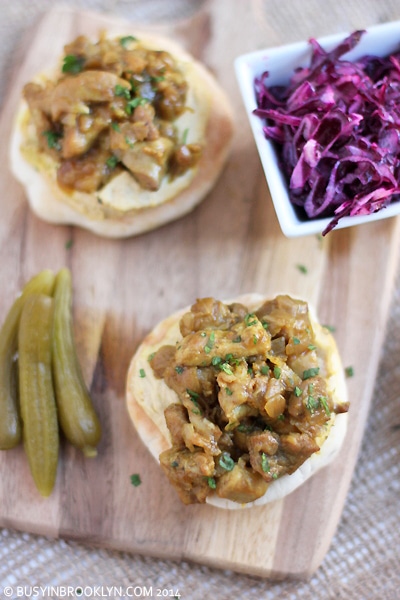 When said kid tasted a bite of my husbands shawarma and liked it (how he got her to do that is beyond me), I knew I had to learn to make my own. And that's exactly what I did. The first couple of times, said kid was licking her plate. Now she has decided she no longer likes it. And I have decided, I do. How's that for irony?
Chicken Shawarma
1.5-2 lbs. dark meat chicken
1 medium onion, finely diced
1/4 c + 1 tbsp olive oil, divided
2 tbsp shawarma spice (use a spice blend or recipe below)
salt, to taste
Method:
Dice the chicken into small pieces and place in a bowl with 1/4 cup of olive oil and shawarma spice. Set aside to marinate while you cook the onions.
Saute the onions in 1 tbsp of olive oil until caramelized. Add marinated chicken and saute until the chicken is no longer pink.
Serve with hummus, techina, Israeli salad, red cabbage salad (recipe follows)
TIP: Dice the chicken when it's partially frozen to make chopping easier.
Shawarma Spice
1 tbsp ground cumin
1 tbsp ground coriander
2 tsp paprika
1 tsp turmeric
1/2 tsp garlic powder
1/2 tsp allspice
1/4 tsp ground cinnamon
1/4 tsp black pepper
salt, to taste
Method:
Add all ingredients to a bowl and mix to combine.
Israeli-Style Red Cabbage Salad
shredded cabbage
olive oil
fresh-squeezed lemon juice
garlic powder
kosher salt
Method:
Add all ingredients to a bowl and mix until combined. Marinate until cabbage is slightly wilted.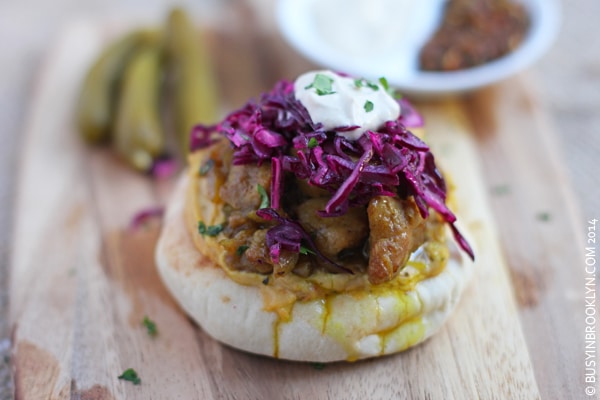 Other Israel-Inspired Recipes:
roasted eggplants with Israeli salad
malawach cheese pastries with zaatar
chestnut hummus with pita chips
sachlav rose water pudding
banana, date, milk & honey smoothie