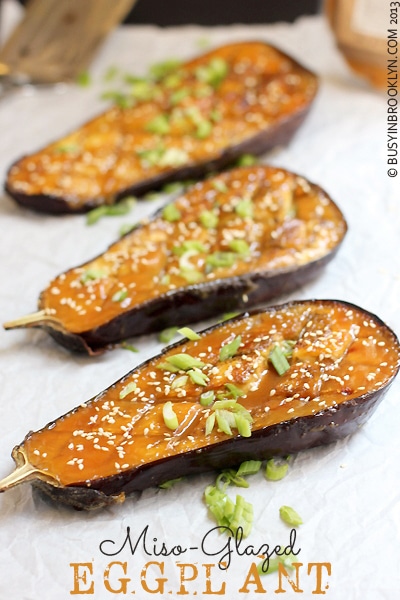 If you're anything like me, you might go home from a restaurant and dream about a dish you've had that was simply, stunning. (Forgive my adjective but having just watched a double episode of MasterChef, I must have heard Gordon Ramsay use it to describe food at least 5 times). Recently, I dined at the uber chic Prime Ko with my mom to celebrate Mother's Day. This is not something we do yearly, but my mom broached the idea, and since I love eating out (especially at upscale Japanese restaurants), I was more than happy to oblige. The food was so good, I'm thinking we  should make it our thing.
My mom frequents restaurants pretty often, so she was quite familiar with Prime Ko's menu. She highly recommended their eggplant dengaku, a roasted eggplant dish with a yuzu-sesame miso glaze. Her recommendation was spot on. The eggplant was so good, I couldn't stop thinking about it. The next day, I promptly googled "Dengaku sauce" and began my research for a copycat recipe. 4 eggplants and 2 bags of miso later, I hit the jackpot.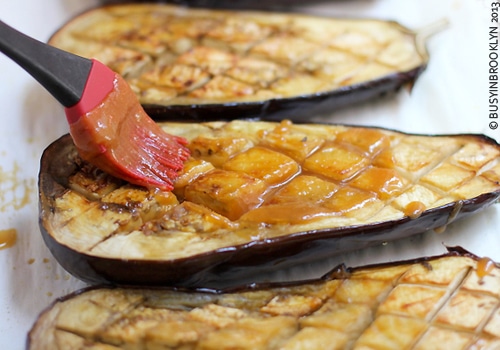 This was my first time working with Japanese ingredients like miso and sake. Miso is a fermented soybean paste mixed with rice or barley. The longer the miso is aged, the deeper the flavor. Young miso is white, light and sweet, while older miso is thick, dark and rich. Kosher miso is available through Eden Organics, ranging from Shiro and  Genmai (light) to Mugi and hacho (dark). Miso lends an amazing depth of flavor to dishes, giving food an umami flavor that keeps you coming back for more.
Sake is an alcoholic beverage of Japanese origin that is made from fermented rice. It is also referred to as rice wine. While sake is used in Japanese cooking, it is also served as a chilled beverage from ceramic flasks called tokkuri. You may have seen it served in small cups (called choko) in some Asian restaurants.
Miso-Glazed Eggplant
1 eggplant
1 tbsp sesame oil
3 tbsp white miso
1 tsp sugar
1 tsp soy sauce
1 tbsp sake
1 tbsp mirin
1 tsp sesame seeds
1/4 cup scallions, thinly sliced
Method:
Preheat oven to 400. Cut eggplant in half lengthwise. Using a small knife, score four or five diagonal cuts into the eggplant flesh, taking care not to cut through to the skin. Repeat at a 45-degree angle to get a diamond-shaped pattern. Brush the eggplant with sesame oil and sprinkle with salt. Bake, cut-size-up for 30 minutes. Remove the eggplant from the oven and turn it cut-side-down. Bake an additional 20 minutes.
While the eggplant is roasting, prepare the glaze. Put the miso, sugar, soy sauce, sake and mirin in a pan and bring to a simmer. Whisk the glaze and cook for several minutes, until thickened,
Remove eggplant from oven and turn cut-side-up. Brush the eggplant generously with miso glaze. Return to the oven and broil 3-5 minutes until caramelized.
Garnish the eggplant with sesame seeds and scallions. Serve immediately.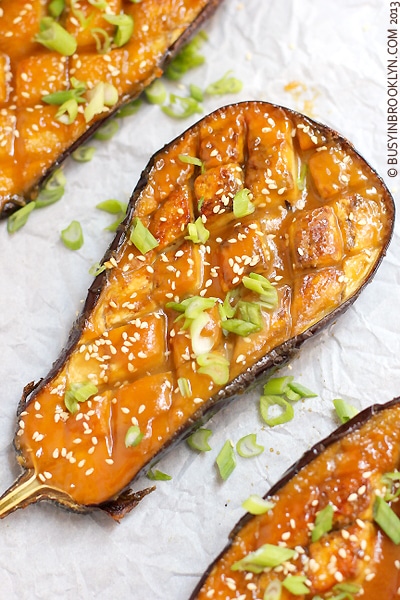 1 year ago: spaghetti squash with sauteed spinach & mushrooms
2 years ago: turkey & pastrami wrapped asparagus