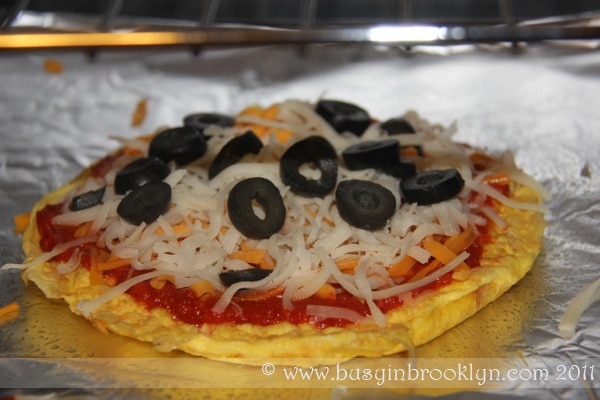 You know how they say "necessity breeds innovation?" That's kind of how this pizza omelette was born.  It was one of those days where I just could not look at another salad, but I also could not eat any bread. (You all might be feeling something quite similar in a couple of weeks!). The thought of pizza was making my mouth water and I had no portobello mushrooms to stuff with cheese. I ransacked the refrigerator until it hit me – the humble egg. Why not use it to make a crust? And the rest is history! I can't count how many times I've made this since.
So when Pesach comes around and you're craving some pizza, go ahead and whip up this easy recipe. It really hits the spot! You can also check out my updated Passover category for more Pesach recipes!
Pizza Omelette
3 eggs
salt and pepper, to taste
marinara, tomato sauce or ketchup
mozzarella cheese, shredded
cheddar cheese, shredded
olives, or toppings of choice
Method:
Check eggs for blood spots and whisk well. Season with salt and pepper. Heat up a 7″ frying pan* with cooking spray. Pour egg mixture into pan and let it cook until it sets around the edges. Flip the omelette, taking care that it does not break. Remove the omelette from the pan and set on a baking sheet. Top with tomato sauce, cheese and toppings of your choice. Bake at 400 until cheese is browned and bubbly.
*If you use a bigger pan, you may want to add a few more eggs to keep the "crust" substantial. If it's too thin, the pizza will fall apart.
VARIATION: spice up your pizza "crust" with herbs and spices for added flavor.
1 year ago: perfect pareve french toast