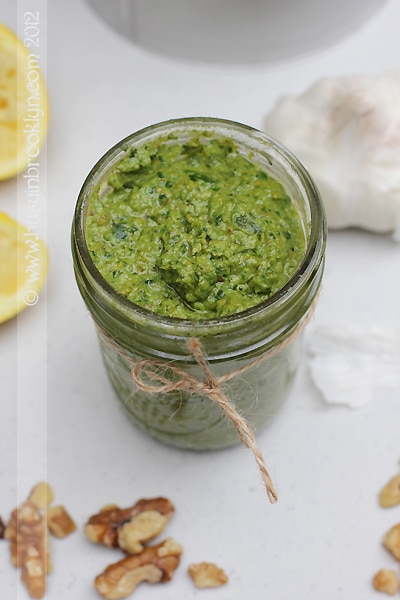 With Shavuous just two weeks away, I thought it would be a good idea to do a little tutorial on making pesto. I'm sure most of you have either tasted it or have at least seen it on a restaurant menu. The popular green sauce is traditionally made from a mixture of basil leaves, pine nuts, garlic, parmesan cheese, and olive oil. Pesto is surprisingly easy to prepare, as well as delicious and versatile. It can be used as a sauce for fish and pasta or as a spread over crackers and bread. It makes the perfect addition to your Shavuous menu.
Because pesto is a sauce made from raw ingredients, it's important to use those that are fresh and good quality. Fresh garlic (no frozen garlic cubes!), herbs and extra virgin olive oil are a must! It is also a good idea to toast your nuts beforehand as it brings out their natural oils and intensifies their flavor.
While pesto is usually made from basil, pine nuts and parmesan, you can make pesto using a combination of any greens, nuts and cheeses. The basic components of any pesto include the following:
–fresh leafy greens (basil, spinach, arugula) or herbs (parsley, mint, cilantro)  or mixed
–nuts (walnuts, hazelnuts, almonds, macadamia nuts, pumpkin seeds, pine nuts, pistachios)
–cheese (parmesan, romano, cheddar  or any dry, hard cheese)
–acid (lemon, lime, red wine vinegar, sherry vinegar)
–oil (extra virgin olive oil, grapeseed, walnut, hazelnut)
–seasoning (fresh garlic, salt, pepper)
Once you have your ingredients, the pesto can be prepared by hand, using a mortar and pestle, or with a food processor or blender.
Basic Pesto Measurements:
3 cups packed fresh leafy greens
½ cup toasted nuts
1/2 cup grated parmesan (omit if making nondairy)
2 garlic cloves, peeled
1 tbsp fresh squeezed lemon juice
1/3-1 cup extra virgin olive oil
kosher salt and pepper, to taste
Pesto Tips & Tricks:
* If you toast your nuts before using (it's worth the extra step), make sure to cool them off before adding them to the food processor. Otherwise, the heat from the nuts will start to melt the cheese and your pesto will turn gummy.
* To keep your pesto from turning black in the fridge, cover it with an inch of olive oil. Just pour off the excess oil before serving.
* Leftover pesto can be frozen for future use. Just pour pesto into an ice cube tray for individual servings. Once it's frozen, add the cubes to a ziploc bag.
What are some of your favorite pesto combinations? Share them with me in the comments below!
Spinach, Walnut & Cheddar Pesto
3 cups packed baby spinach leaves
1/2 cup chopped walnuts
1/2 cup shredded cheddar cheese
2 cloves garlic, peeled
2 tbsp fresh lemon juice
1/3-2/3 cup extra virgin olive oil
1 tsp salt, or to taste
1/8 tsp pepper, or to taste
Method:
Add the walnuts to a dry pan and stir over medium heat until toasted and fragrant. Let cool. In the meantime, add the garlic to the food processor and mince. Add the spinach leaves, walnuts, cheddar cheese and salt and pepper. While the processor is running, slowly drizzle in olive oil through the feed tube until all the ingredients are pureed. Start off with less oil and increase until your pesto reaches the desired consistency (you may want thicker pesto to use as a spread, or thinner pesto to use as a sauce). You may need to remove the lid and move the ingredients around to get the mixture going. For a chunkier pesto, pulse your food processor to control the puree. For thinner pesto, blend until smooth.
1 year ago: home-made fish sticks