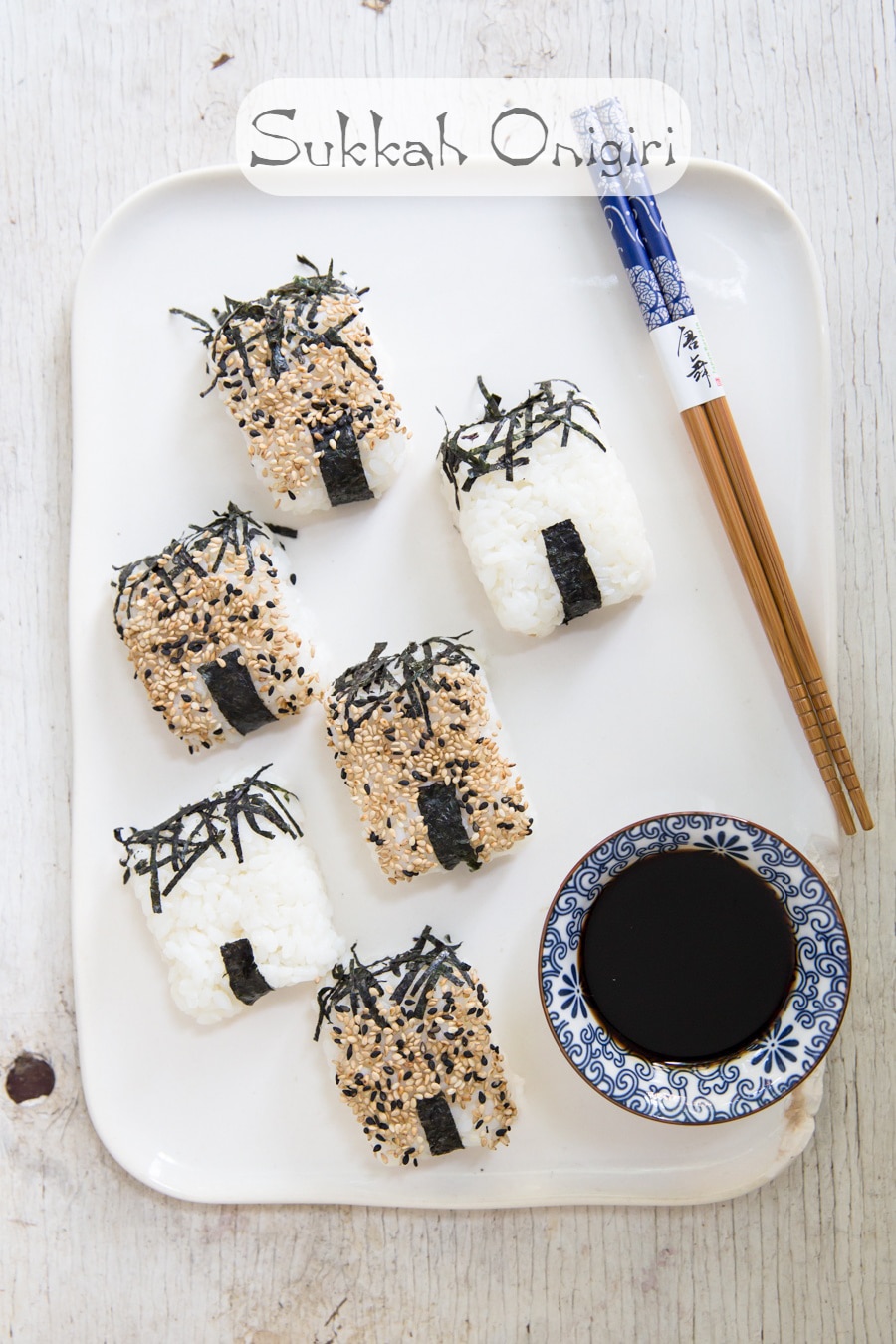 One of my kids is obsessed with sushi. You might call him a sushi monster. He's 7 and he makes his own avocado rolls because he just loves it that much. Every Friday, when I shop for Shabbat, i buy him a sushi roll for lunch and he devours it.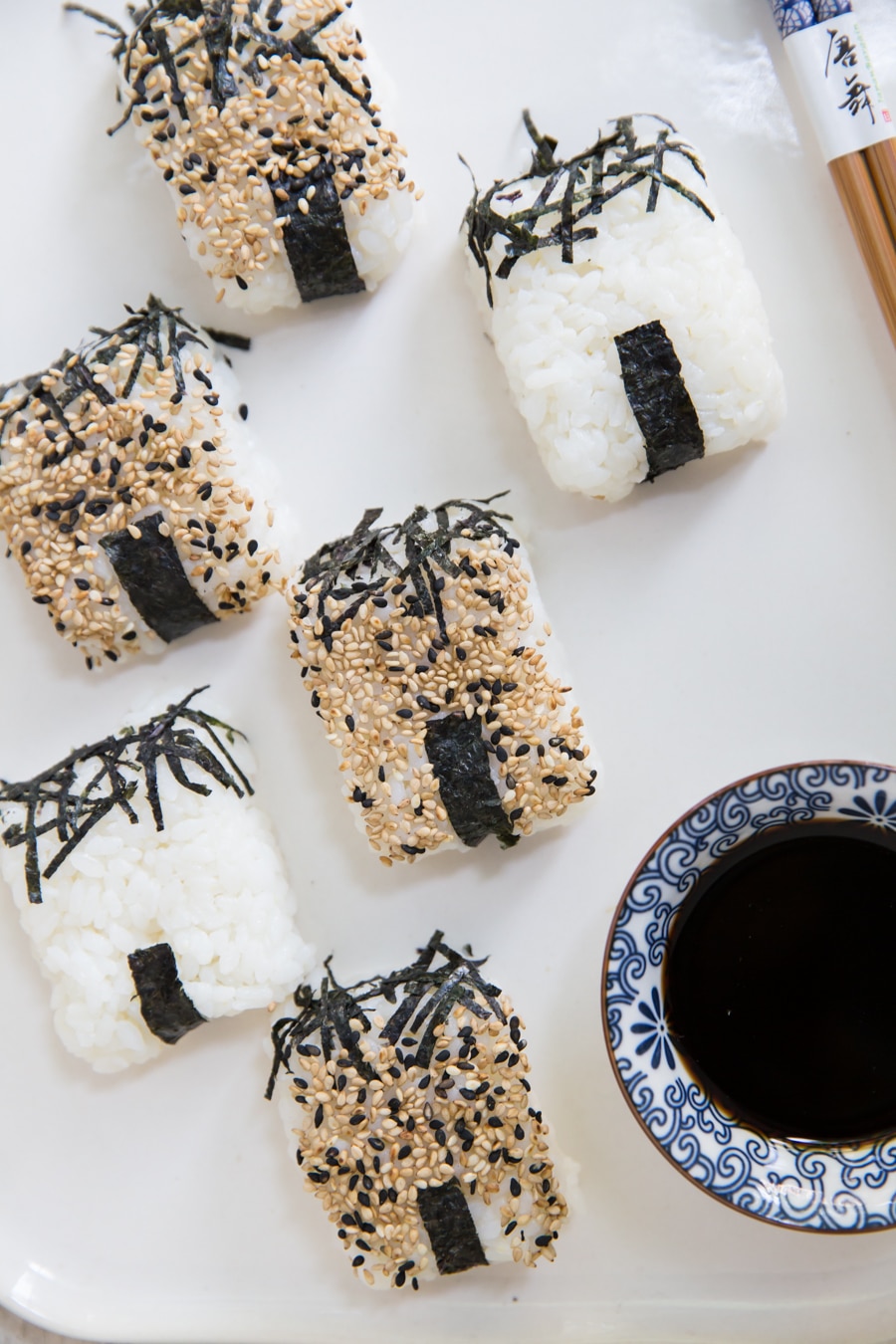 Sushi salad is also a staple in our house. Especially when I have leftover cooked salmon or kani. Sushi salad is a real #oldiebutgoodie around here, and I've since adapted the recipe so many times!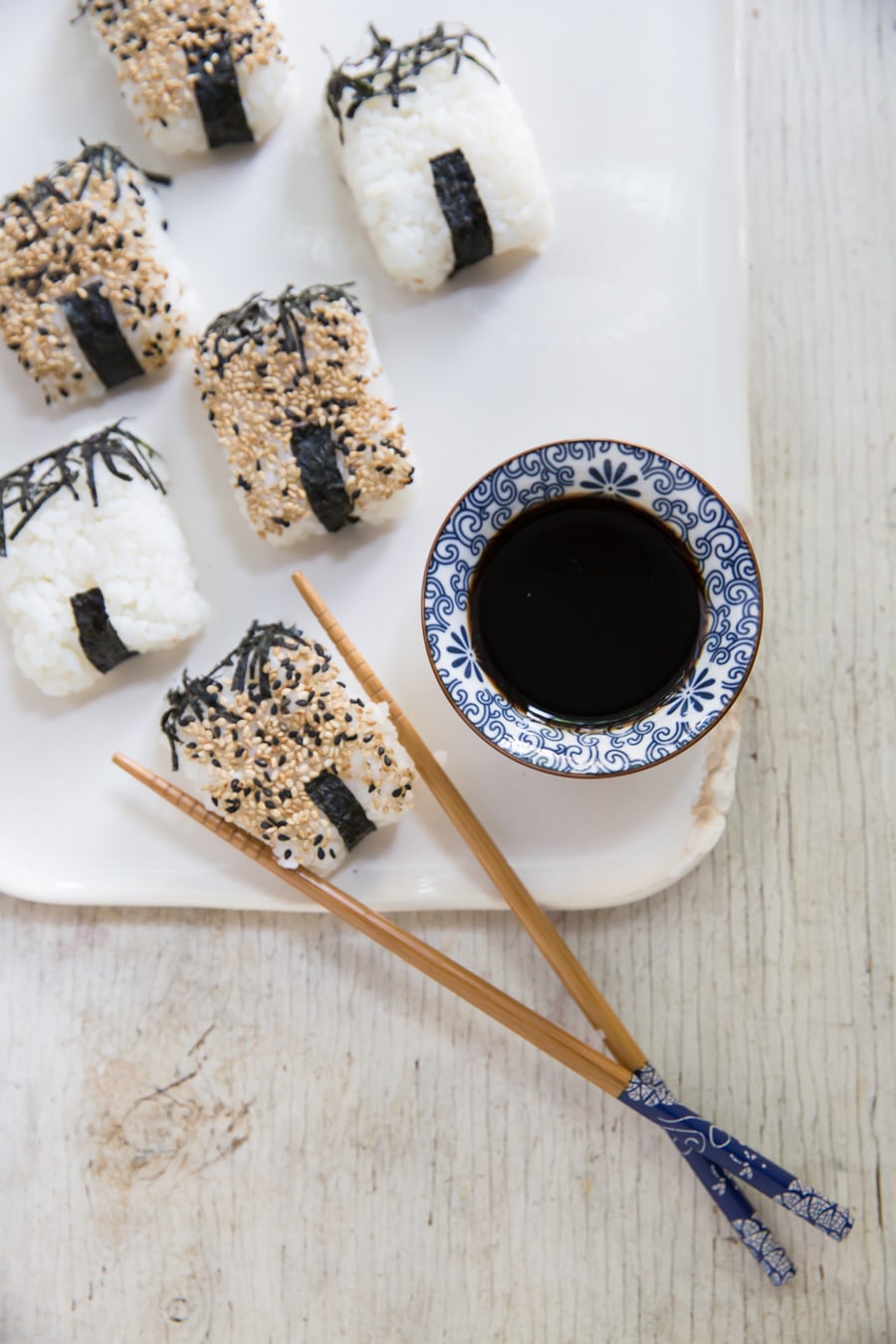 These days, our favorite is layered sushi rice, flaked salmon, kani, julienned carrots, julienned cucumbers, edamame, sesame seeds, french fried onions, and a generous drizzle of sweet sauce and spicy mayo. Every time I serve it for Shabbos lunch, the guests go gaga all over again – and I often set up a build-your-own-bowl on a lazy Susan so everyone can make their own.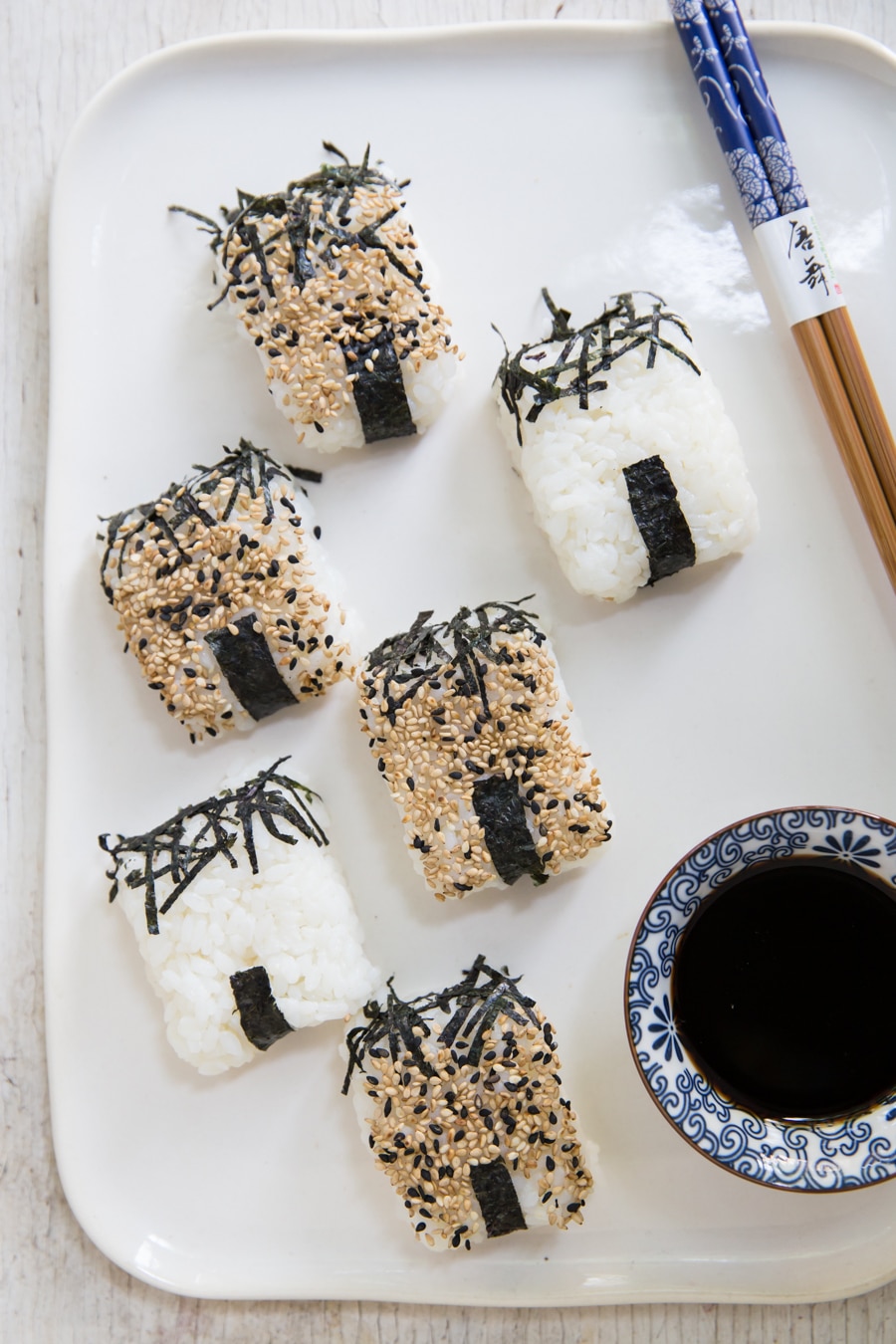 When it comes to Sukkot, "Sushi in the Sukkah" is a favorite theme of mine, and not just because I like alliteration! I'm all for any meal in a bowl and sushi is really so filling, it makes the perfect lunch.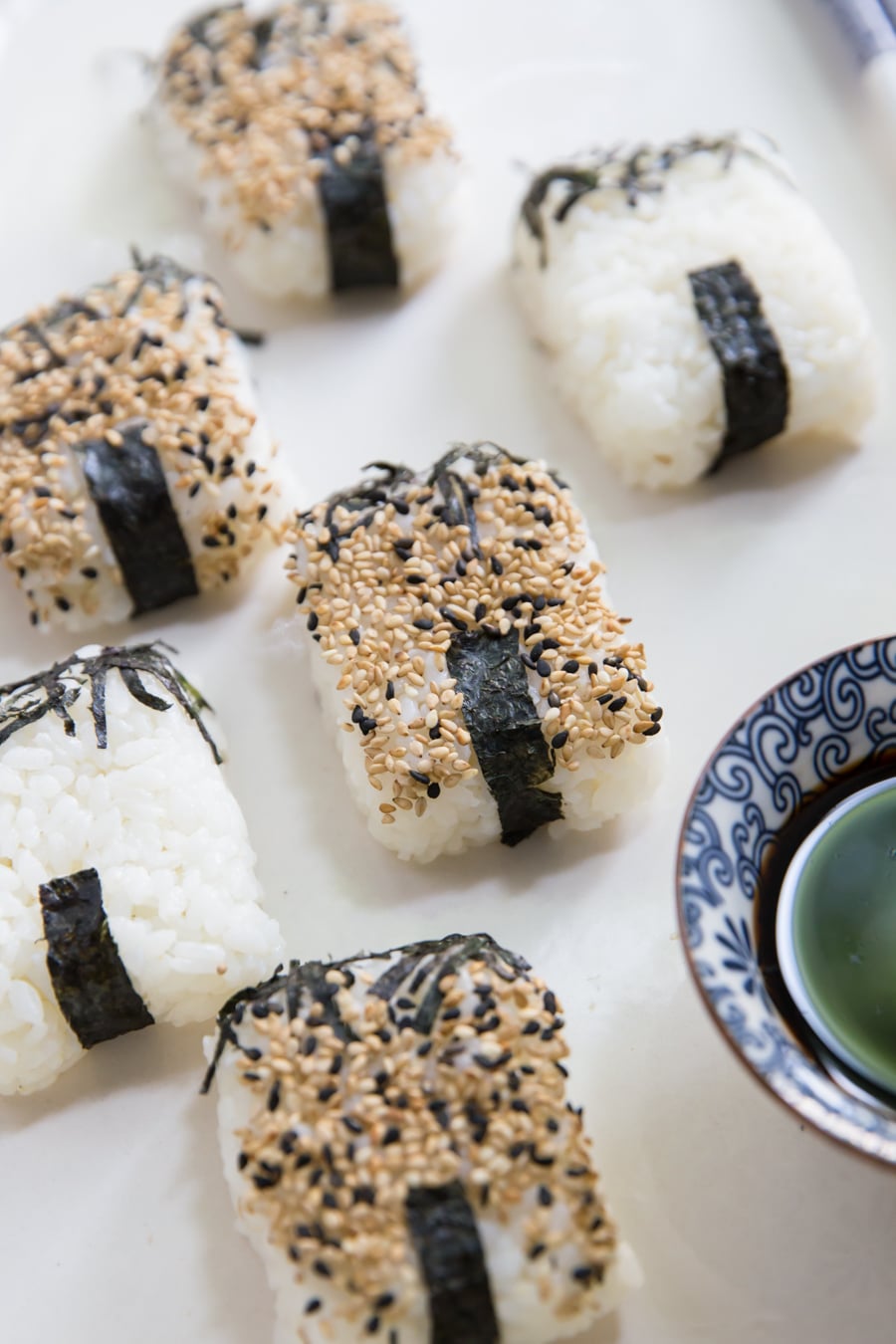 Years ago, I made these onigiri hamantaschen here on the blog, and the other night, this fun Sukkah idea came to me. I couldn't be happier with how they turned out! Of course my sushi-loving son started building tons of different Sukkot out of the leftover sushi rice – he pressed some into a ice cube tray to make a 3D version and then topped it off with mashed avocado and a nori "door". And then he ate them, of course. I took the leftovers and made some of these for breakfast the next morning – a very happy and sushi loving family indeed!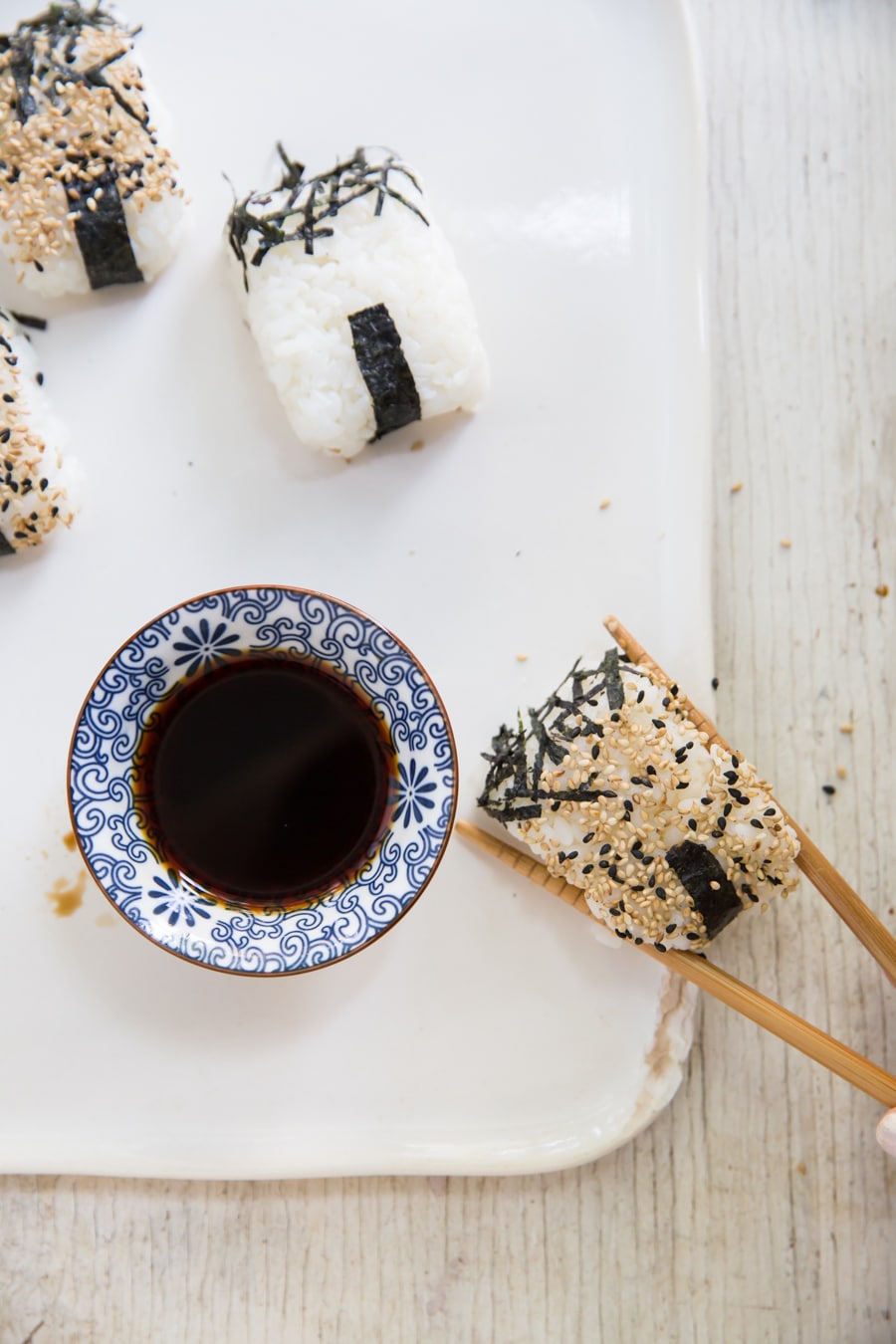 Happy Sushi in the Sukkah!!!
Sukkah Onigiri
2 cups sushi rice
3 cups water
2 tbsp rice vinegar
1 1/2 tbsp sugar
1 tsp salt
2 sheets nori
1/2 cup toasted sesame seeds
soy sauce, for serving
Method:
Rinse the sushi rice until the water runs clear. Place the sushi rice and water into a medium saucepan. Bring to a boil, cover with a tight-fitting lid, reduce heat to a low simmer and cook for 20 minutes. Remove from the heat and steam for 10 minutes.
In a small saucepan cook the the rice vinegar, sugar and salt until the salt and sugar dissolves. Pour the mixture over the cooked rice and stir gently.
To make the onigiri, form the sushi rice into a rectangular shape. Cut one sheet of nori into fine shreds and cut the second sheet of nori into strips. Fold the strips around one side of the sushi to resemble a door, and dip the opposite side into the nori shreds to resemble schach. If desired, dip the sushi rice into sesame seeds.
Serve with soy sauce for dipping.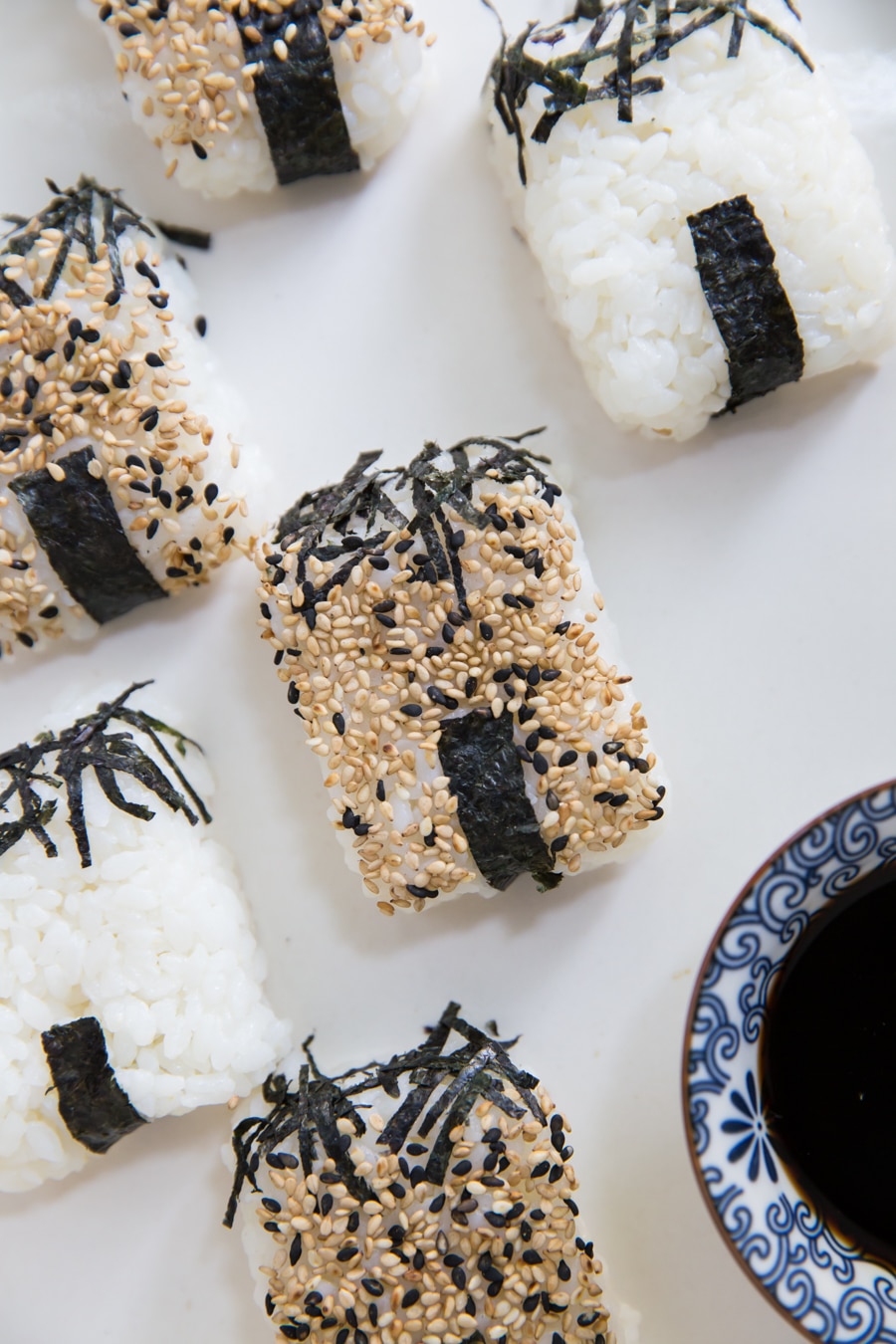 sushi salad
Asian kani bites
sushi hamantaschen
snowman sushi