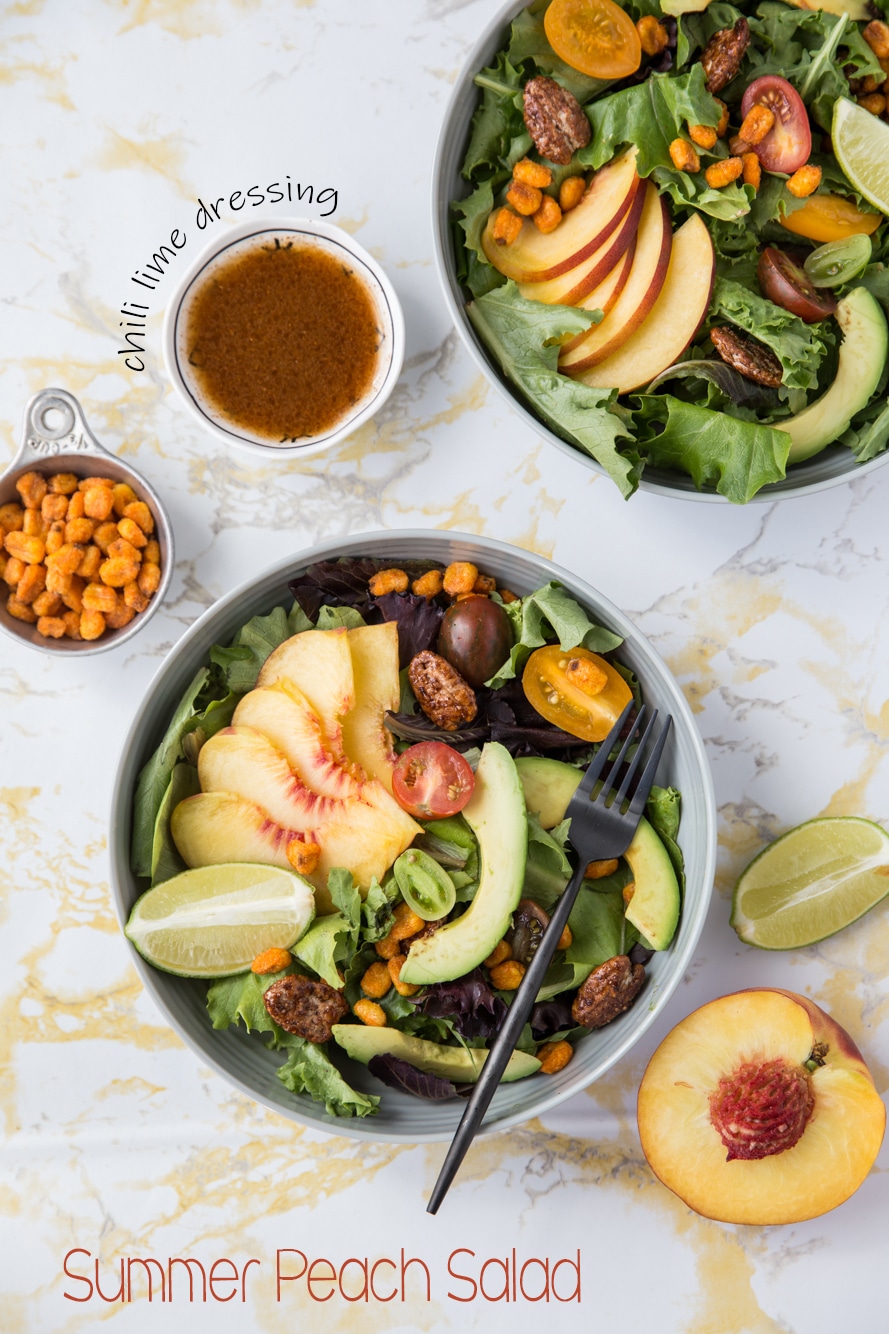 You can thank corn nuts for this salad. Actually you can thank Skopp's Supermarket in Fallsburg, New York where I purchased said corn nuts that totally inspired this salad!
When it comes to salads (or really most of the recipes I make for dinner), I'm not much of a planner. Inspiration hits at the grocery store or when I'm standing in front of my refrigerator trying to clear it out at the end of the week.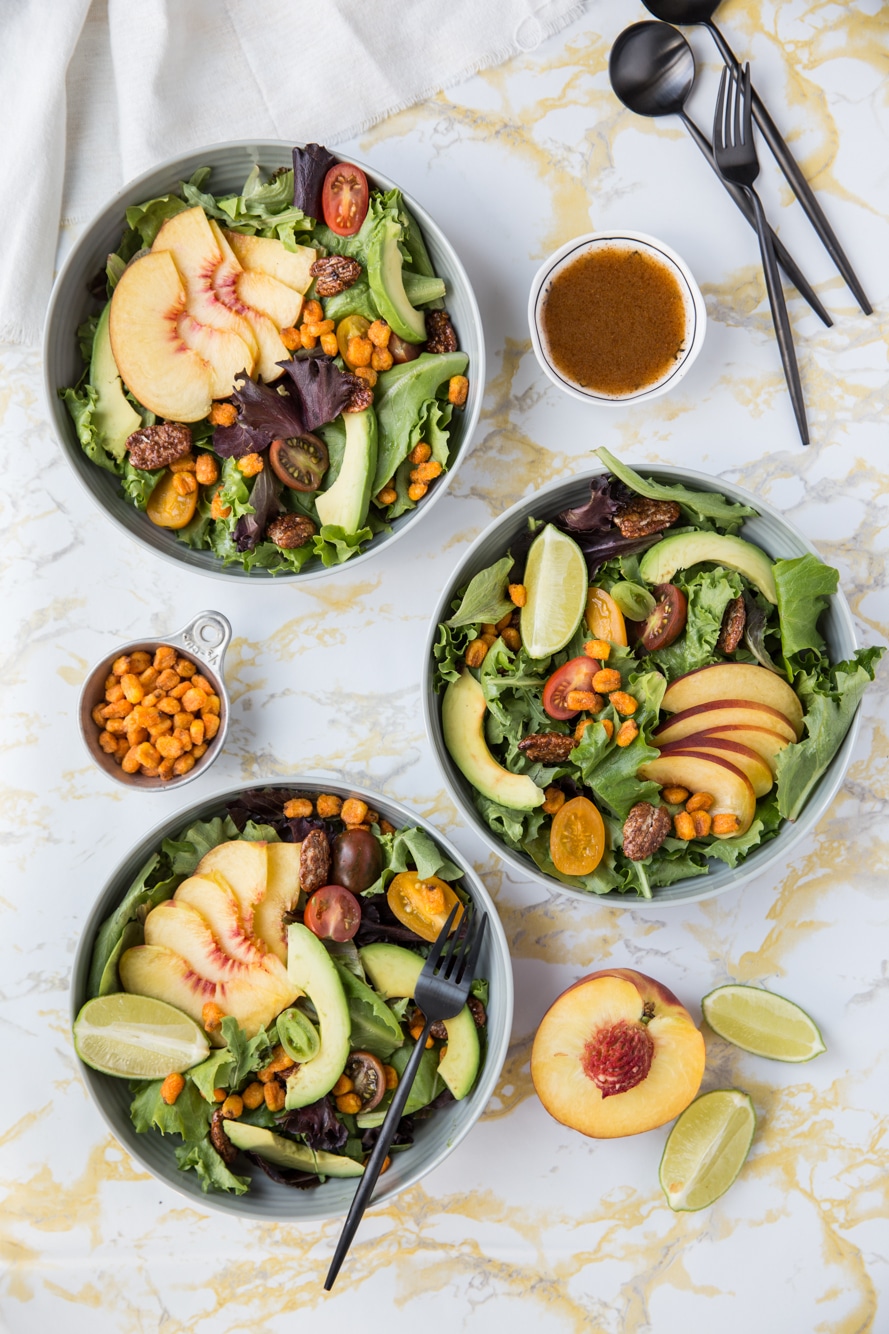 In this case, I was shopping at Skopp's for my weekly groceries upstate, and I eyed the nut cart with roasted corn nuts all warm and toasty. So I reached for the scoop and thought, "How good would these taste on a salad?!". I was already in the produce aisle where I caught sight of big beautiful summer peaches, and it hit me – yes!! Juicy peaches and crunchy corn nuts are a good idea, what else should I add? I happened to be standing near the avocados at that point and it was a match made in fruity heaven.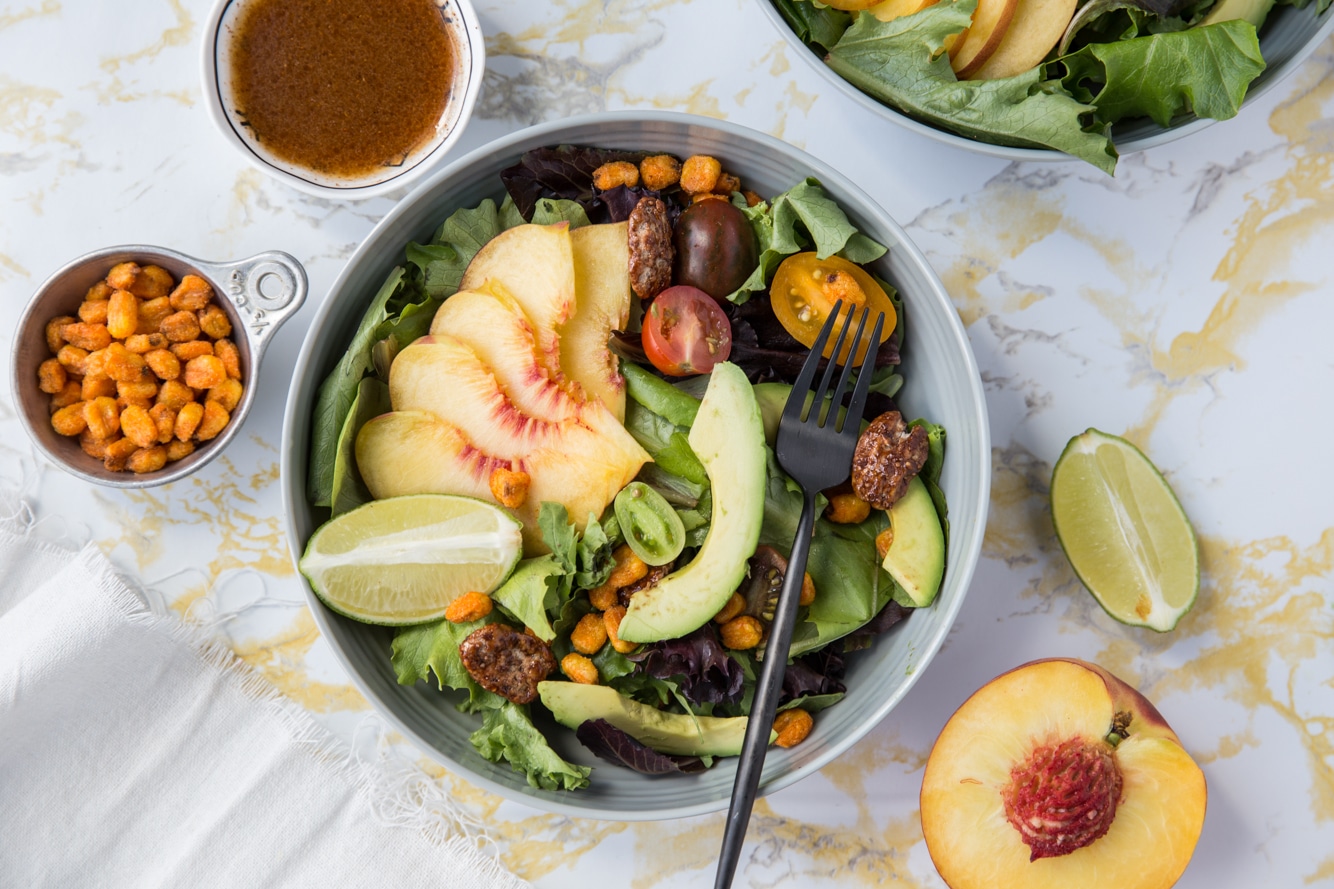 Off to the next aisle, the beautiful baby heirloom tomatoes looked so fresh and colorful and I knew they'd add the perfect balance to the sweetness of the peaches. Mixed greens were a given. And the maple candied pecans – well they are a favorite around here, and the flavors matched perfectly.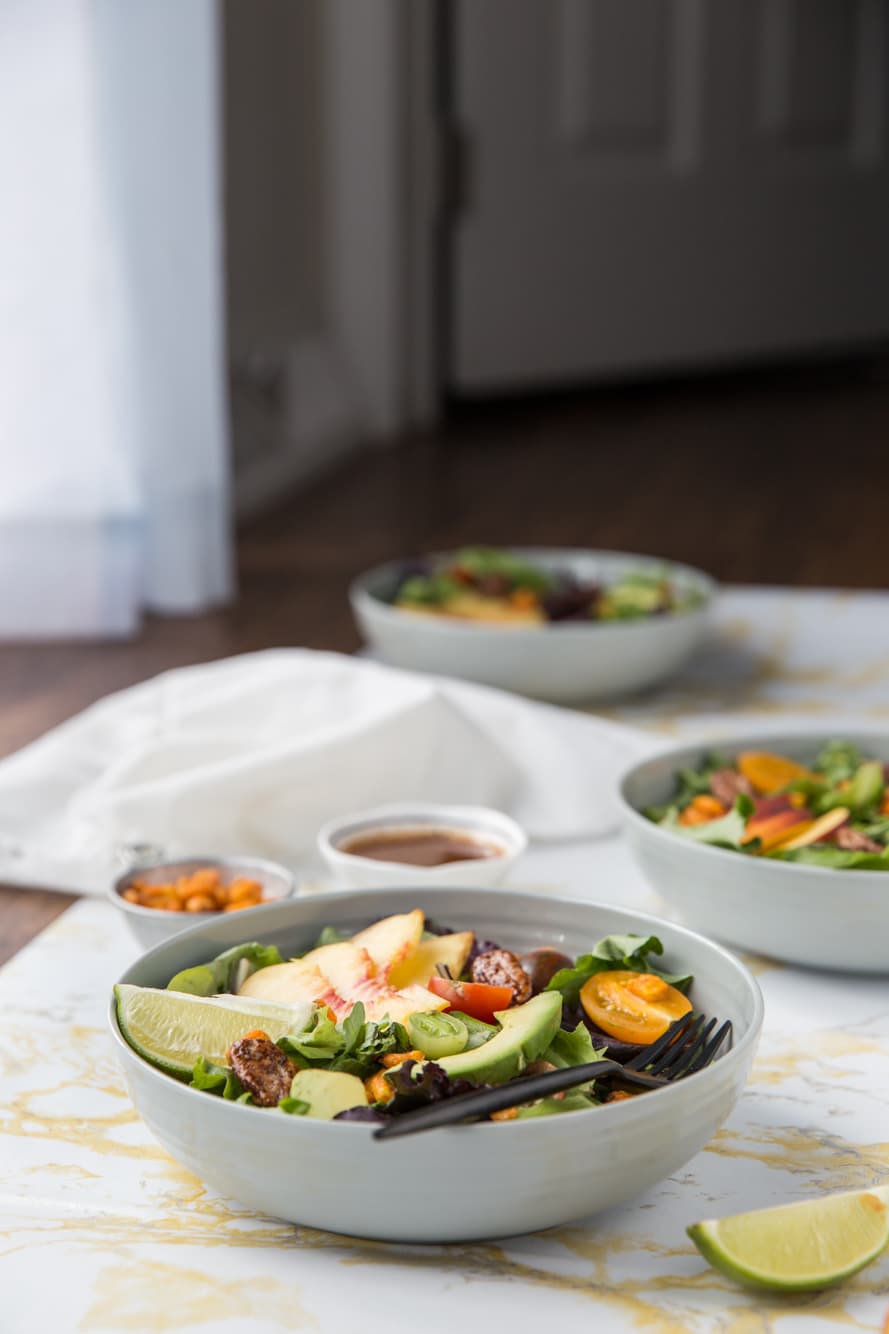 That, my friends, is how this Summer Peach Salad was born. It is also a lesson that everything is better with corn nuts!
Summer Peach Salad
YIELD: 6-8 servings
5oz. spring mix
8oz. heirloom grape tomatoes, cut in half
1 large peach, sliced
1 avocado, sliced
1/3 cup BBQ flavored corn nuts
1/2 cup maple candied pecans or store-bought candied pecans
Chili Lime Dressing
1/2 cup light olive oil or grapeseed oil
3 tbsp fresh squeezed lime juice
1 tbsp rice vinegar (unflavored)
2 tbsp maple syrup
1 tsp chili powder
kosher salt, to taste
Method:
In a bowl or platter, layer all the salad ingredients. Place all the dressing ingredients into a jar or container and shake vigorously until thickened. Pour over salad before serving.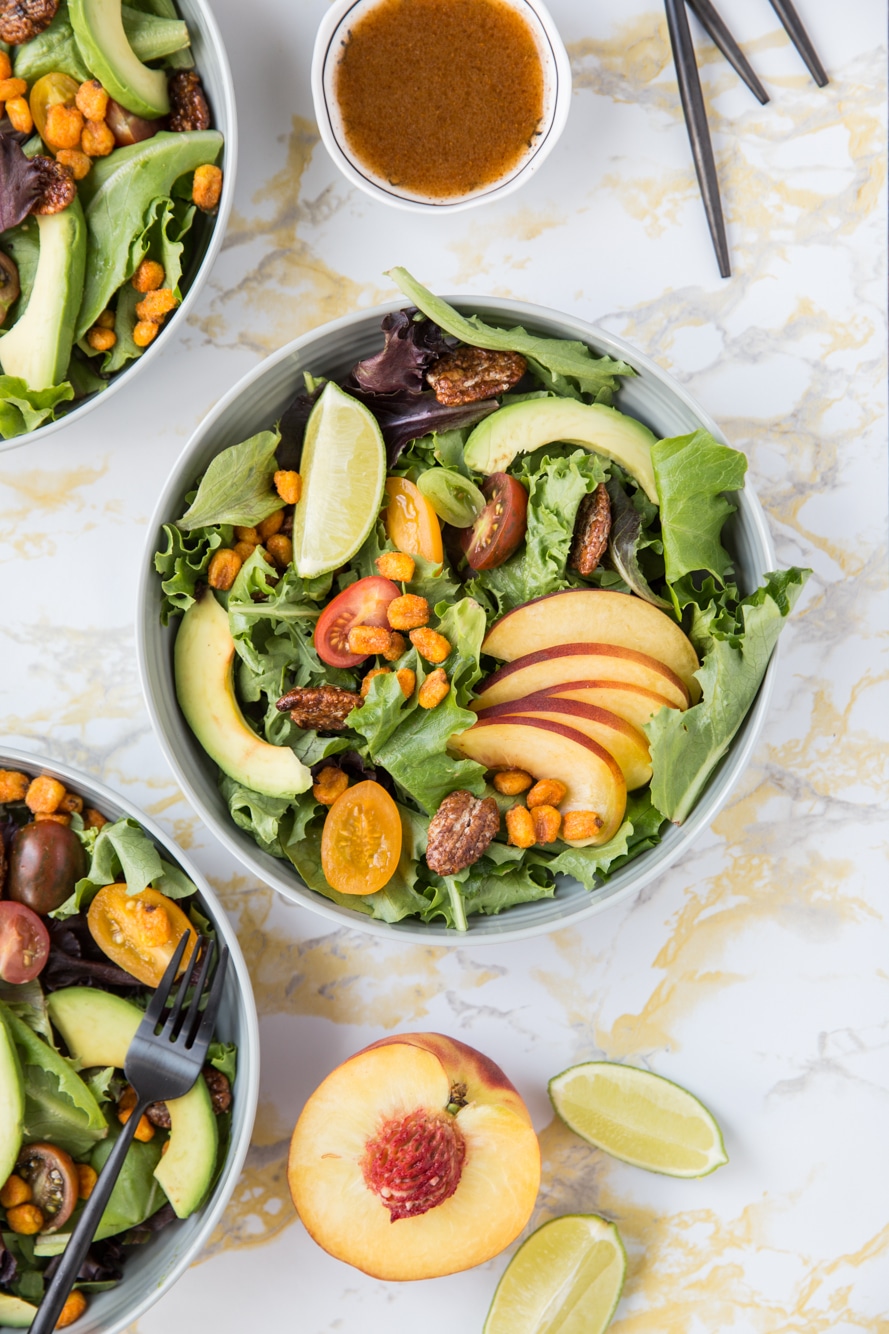 Related Recipes:
caramelized peach and gouda quesadillas
corn and heirloom tomato salad with basil lime vinagrette
fruit salad with basil honey lime dressing