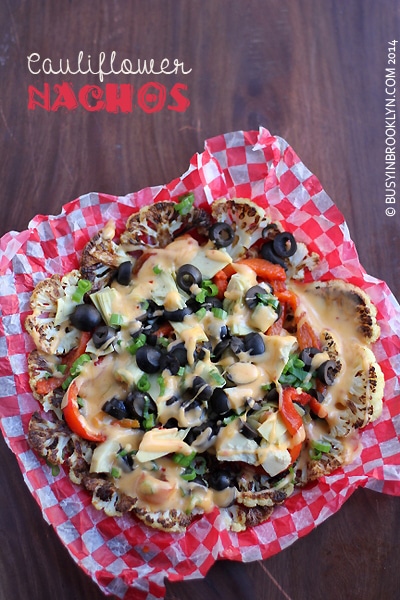 I'm not even going to pretend to know anything about football. Sports is not exactly one of my hobbies. I do know, however, that Superbowl parties require party food – and that, my dear friends, is most certainly one of my hobbies. When it comes to finger food, I'm the party queen – and I've got lots of yummy ideas up my blogger sleeve!
We'll start with my spicy roasted edamame or my roasted chickpeas, they're perfect for nibbling and won't pile on the pounds. My smoked paprika popcorn cauliflower is another favorite and if you must have your wings, my spicy ginger chicken wings are a sure crowd pleaser!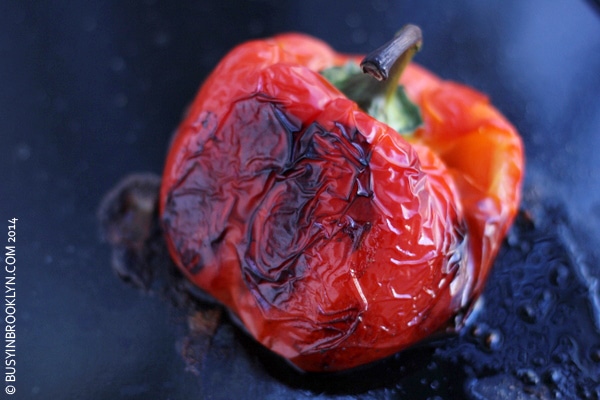 If you're craving dip, try my chestnut hummus with baked pita chips, crispy baby artichokes with balsamic aioli, salami chips with dijon dipping sauce or good old pretzels with my raspberry honey mustard pretzel dip,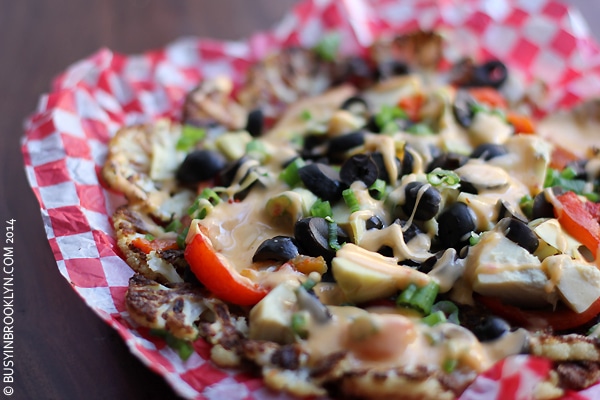 Now if you're looking for something a little bit more, well, cheesy, have I got some ideas for you! It's a good thing I teamed up with Natural & Kosher Cheese, purveyors of artisanal kosher cheese products, because I sure love my dairy!  Here are some hearty game day recipes that'll keep you going throughout the show!
} Natural & Kosher shredded cheddar adds cheesy goodness to my chili pie in jars,
} Natural & Kosher shredded mozzarella turns my malawach cheese pastries with zaatar, into a pizza-lovers dream.
} Natural & Kosher's camembert or brie work wonders in my puff pastry brie bites with dried fruit & jam.
} Natural & Kosher's aged parmesan can't be missed in my zucchini parmesan chips,
} Natural & Kosher's goat cheese makes the perfect garnish to my spinach & cheddar pesto crostini.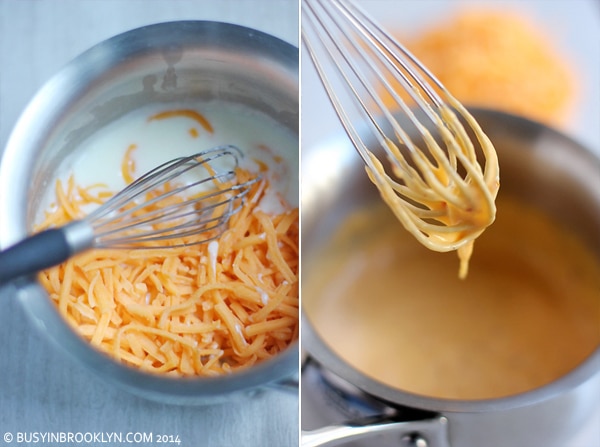 Of course, if you're looking for something cheesy that's still good for you – you've come to the right place. Yes, I know I might sound like a walking oxymoron but that's just what I do. In my kitchen, healthy & nachos are not a contradiction as creamy cheddar sauce drips down a healthy dose of roasted veggies.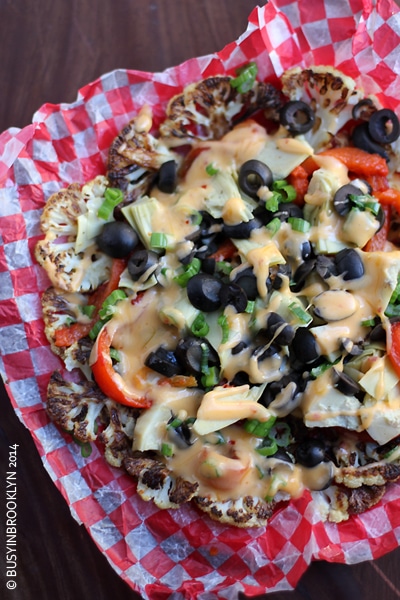 My Middle Eastern take on Mexican nachos will please even the purist of nacho fans. The harissa and cheddar make a perfect pair, creating a harmonious symphony of flavor, when drizzled over roasted cauliflower chips, marinated artichoke hearts, olives & roasted peppers. Note to yourselves: you may want to double the recipe!
Cauliflower Nachos
1 head cauliflower
olive oil
kosher salt
1 red pepper
1/2 cup sliced black olives
1 cup marinated artichoke hearts, chopped
2 scallions, chopped
1/2 cup feta, optional
harissa nacho cheese (recipe follows)
Method:
Preheat oven to 450 degrees. Separate the cauliflower into florets, taking care not to break them apart too much. Cut each floret into slices, 1/8″ thick. Lay the slices out on the baking sheet, drizzle with olive oil and season with salt. Roast for 20-30 minutes, until browned and crispy.
While the cauliflower is roasting, place the pepper on a baking sheet and place in the oven along with the cauliflower. Roast the pepper until blistered all around, turning every 5 minutes or so.  Remove the pepper from the oven and wrap in foil or place in a ziploc bag to steam for a few minutes. Unwrap the pepper and peel back the skin. Discard skin and seeds and slice the pepper into strips.
Arrange the cauliflower chips on a platter, top with artichokes, olives and red pepper strips. Garnish with scallions and feta, if desired. Drizzle with harissa cheddar cheese sauce.
NOTE: If you'd like the cauliflower chips to be very crispy, leave them to roast for an additional 10-20 minutes. Just keep an eye on them to make sure they don't burn.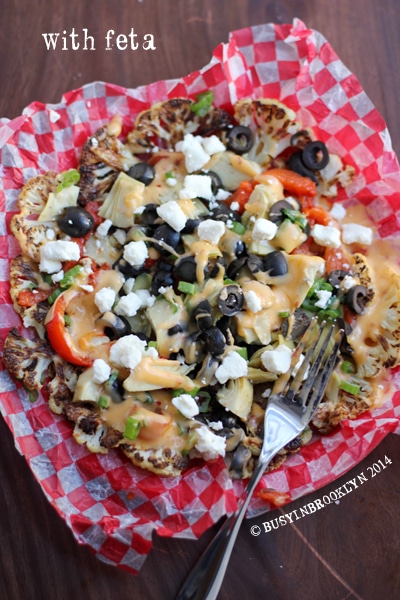 I'm a huge fan of the cabbage family. And I don't mean those sweet little dolls that we used to get for birthday gifts. I mean all those crunchy veggies like broccoli, cauliflower, brussel sprouts, cabbage and savoy, among others. But it's cauliflower and broccoli that really make me want to melt…some cheese. There's just something about sharp creamy cheddar over the tender veggies that makes them so delectable! So, without further ado, I give you my harissa cheddar cheese sauce ! Drizzle it over nachos, use it for fondue or mix it into mac 'n cheese – you can thank me later!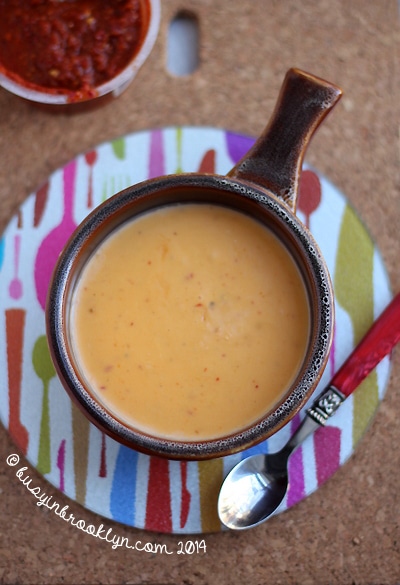 Harissa Cheddar Cheese Nacho Sauce
1 tbsp butter
1 tbsp flour
3/4 cup milk
1 cup shredded Natural & Kosher cheddar cheese
kosher salt, to taste
1-2 tsp harissa
Method:
In a saucepan, melt the butter and whisk in the flour until combined. Slowly add the milk, whisking to avoid clumps from forming. When the mixture has thickened, add the cheddar cheese and whisk until smooth and creamy. Season with salt and add harissa to taste.
This post was sponsored by Natural & Kosher Cheese. Follow them on Facebook, Twitter, Pinterest, Instagram, YouTube, Google+, or via their Blog