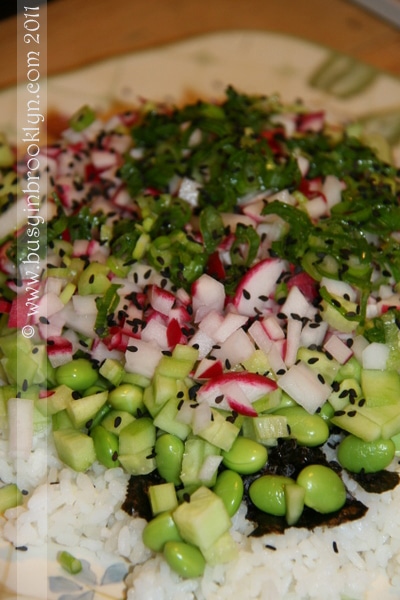 Google Analytics is a fascinating tool. It allows you to track who visited your website, how they found it and what they looked at, among other things. When I have time, I like to research how people came to Busy in Brooklyn, and which recipes are the most popular. Ever since starting my blog in February, the all-time most popular post is this sushi salad. Being such a crowd-pleasing recipe, I figured it was about time to try another variation. Now I am beginning to understand why just about every kosher pizza shop, restaurant (be it meat or dairy) and supermarket is carrying sushi! I thought the fad might pass at some point, but I think I can rest assured that it is here to stay!
I love making sushi salad because it takes all the hassle out of hand rolling the sushi, but it offers the same taste and texture with minimal effort. It is also visually appealing. For a beautiful presentation, choose vegetables with vibrant colors. I recently made a similar recipe to this one, using shredded carrots in place of the edamame. The bright orange carrots with the green cucumbers and vibrant pink radishes looked picture-perfect. Feel free to try whatever vegetables suit your taste. You can also add mock crab, flaked salmon, lox and/or pickled ginger.
NOTE: Edamame are soybeans that come in a pod. They are commonly served in Japanese restaurants with a dusting of sea salt. Edamame are tasty, fun to eat, and good for you. When served in their pods, just squeeze the beans out and they'll easily pop. I like to buy them already hulled. They can be found in the freezer section of most supermarkets.
Sushi Salad II
2 cups sushi rice
3 cups water
1 tsp salt
2 tbsp rice vinegar
2 sheets nori
1-2 cups frozen edamame, thawed
3 Persian cucumbers, peeled and diced into tiny pieces
4-6 radishes, diced into tiny pieces
2 scallions, thinly sliced
black sesame seeds
Dressing:
1/4 c extra light olive oil
1/4 c soy sauce
2 tbsp seasoned rice vinegar
1 heaping tbsp Gold's wasabi sauce
1 tbsp sugar
Method:
Rinse the sushi rice until water runs clear. Soak rice in 3 cups of water for 30 minutes. Add 1 tsp salt. Bring to a boil. Stir once. Cover with lid. Reduce heat to simmer and cook 20 minutes. Remove from heat. Let stand in covered pot for 10 minutes. Pour 2 tablespoons rice vinegar over rice and mix. Put into a Ziploc bag and refrigerate, or use immediately (when it comes to room temperature).
For the nori, with tongs, hold a sheet of nori over a low flame, moving it slowly over the flame to toast it. Be careful not to hold it too close or it will burn. Tear the nori into bite size pieces.
To plate, spread the rice out on a large platter. Top with nori. Sprinkle edamame, cucumbers, radishes, and garnish with scallions and a sprinkle of black sesame seeds. Mix the dressing ingredients and pour over salad.