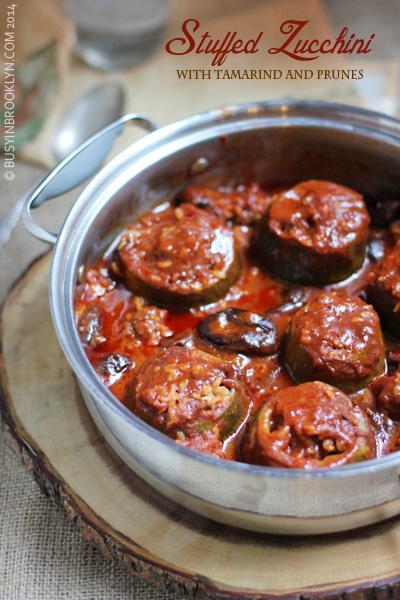 I've talked a lot about mechshie (a Syrian dish of stuffed vegetables) on my blog, especially around the holidays. I decided to keep up the tradition, and for the third year in a row, I'm sharing a stuffed vegetable recipe in honor of Sukkot. The tradition of eating stuffed foods on Succot is symbolic of an abundant harvest season. Since the wheat is harvested in Israel during the fall, we stuff foods to symbolize our desire for an overflowing harvest. This is popularly done with stuffed cabbage, or holipches, which some say are also made to resemble the scrolls of a Torah.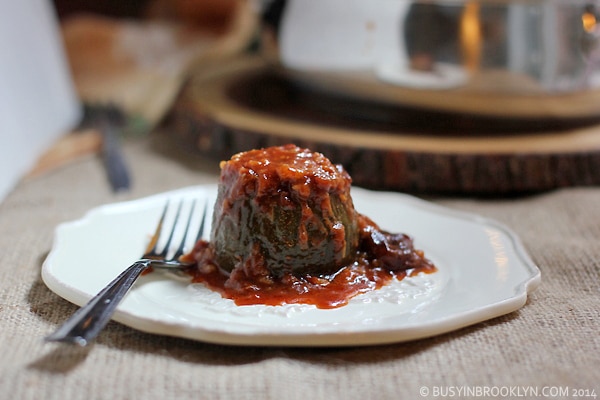 Ever since I married into a Sephardic family, I can't get enough of my mother-in-laws delicious mechshie dishes! I'm slowly learning to cook different variations, adapting my favorite recipe with the additions of tamarind, pomegranate molasses and different types of vegetables and dried fruit.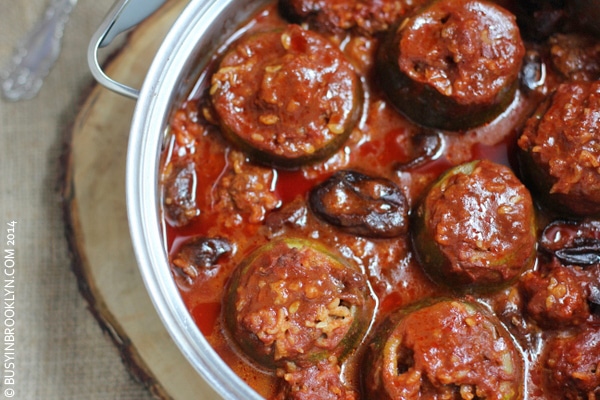 When I spotted beautiful globe zucchini in the market, I just knew I had to turn it into some kind of mechshie. The small, round zucchini were perfect for filling, and I decided to work in some tamarind paste, an ingredient essential to Sephardic cooking. It adds a hint of sourness to the sweet dish, a perfect pairing with the plump dried prunes.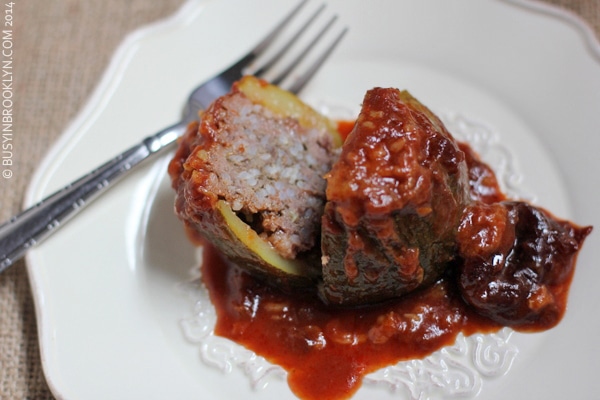 So let's get stuffin'!
Stuffed Zucchini Mechshie with Tamarind & Prunes
8 globe zucchini or 2-3 large zucchini cut in thirds
Filling:
1 lb ground beef
1/3 cup basmati rice
3/4 tsp allspice
1/2 tsp salt
3 tbsp water
Sauce:
1 15oz. can tomato sauce
1/2 can water
1/4 cup tamarind paste (available in Middle Eastern markets)
1/4 cup brown sugar
juice of 1/2 lemon
1/2 tsp allspice
1 tsp salt
1 10oz. container dried prunes
Method:
To prepare the filling, combine the meat, rice, allspice, salt and water in a bowl and mix well to combine (I like to do this by hand, using gloves). Try to handle the meat gently, don't squeeze it too much as this tends to toughen it up.
Cut the tops off the zucchinis and scoop out some of the pulp with a spoon, leaving a thick border. Place all the pulp in the bottom of a greased wide saucepan.
If using regular zucchini, use a paring knife (or a long vegetable corer, known as a ma'vdeh), to core them.
Stuff the zucchini with the meat filling, taking care not to fill them too tightly as the rice will expand during cooking. Place the stuffed zucchini's in the pot, and place prunes all around.
In a bowl, combine the sauce ingredients. Pour the sauce over the zucchini. Cover the pot and bring the liquid up to a boil over high heat. Lower the flame and simmer for 1-2 hours.
NOTE: If you have leftover meat filling, roll it into small meatballs and place in the pot alongside the zucchini.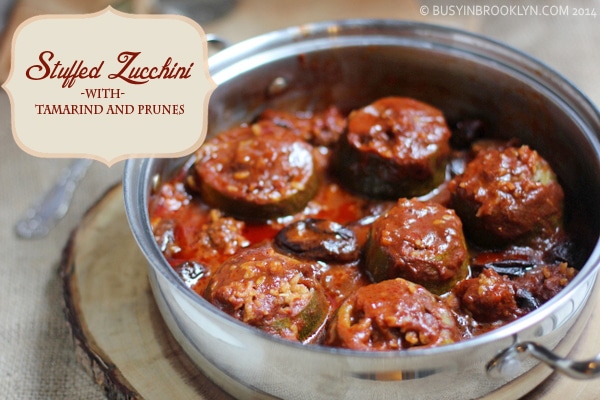 More Mechshie Recipes:
stuffed baby eggplant mechshie
zucchini and tomato mechshie "ratatouille"
More "Stuffed" Recipes:
corned beef arancini
Passover stuffed cabbage (replace potatoes with rice)
collard stuffed sweet potatoes
sausage and apple stuffed butternut squash
spinach stuffed mushrooms
stuffed chicken roulade
Israeli stuffed eggplants