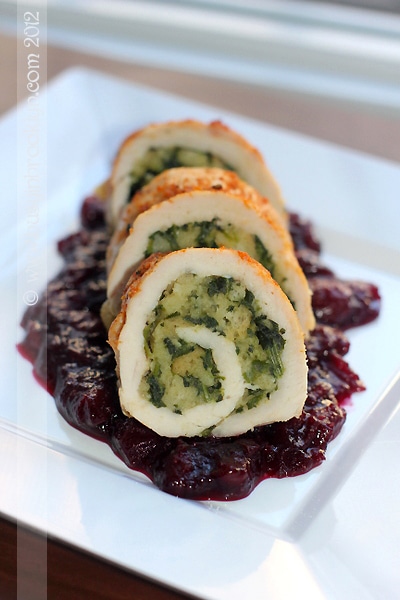 When the "Kosher Connection" Team decided to feature stuffing for the November LinkUp, I was so excited to post this recipe! I also happen to be doing a Thanksgiving demo tonight, so the timing was perfect to develop this dish to perfection. I prefer to make individual turkey roulades using turkey cutlets, but you can also make one larger one using a turkey london broil (essentially a skinless, boneless turkey breast half) that's been butterflied and pounded. The visual impact is enough to make everyone at the table ooh and ahh. And that's before they've even tasted it.
Now I love a beautiful plate of food as much of the other person, but I don't like to spend hours in the kitchen. To simplify this recipe, I decided not to sear the turkey breasts (this gives it a nice brown color all around) because that would require me to tie each one up with kitchen twine. Instead, I just rubbed them down with some paprika, garlic powder and olive oil, baked seam-side down in the pan. My 5-Minute (no-joke!) stuffing also keeps things simple, but you can easily stuff the roulades with any store-bought filling (even cold cuts, like in this recipe).
So, if you're making thanksgiving for a small group, and a whole turkey seems too large for your crowd (or like me, you're daunted by the thought of cooking the huge bird), give this beautiful and delicious recipe a try!
Gobble, gobble!
For more delicious Thanksgiving stuffing recipes, visit the Kosher Connection Linkup below. Happy Thanksgiving!
Turkey Roulade
1 pkg turkey cutlets
salt and pepper
5 minute stuffing (recipe below)
paprika
garlic powder
extra virgin olive oil
1/4 cup chicken stock
Method:
Preheat oven to 400 degrees. Place turkey cutlets between two sheets of plastic wrap and pound with a mallet or rolling pin to even thickness. Remove plastic wrap and season with salt and pepper. Place a spoonful of stuffing on the turkey breast and spread out over cutlet, leaving a 1″ border all around. Starting from the shortest side, roll the turkey breast tightly and place seam-side down in a baking dish. Repeat with remaining cutlets (use a second baking dish, if needed). Sprinkle the roulades with paprika and garlic powder and drizzle with olive oil. Lightly rub in the spices. Pour 1/4 cup chicken stock into the bottom of the pan (repeat with 2nd pan, if you are using). Cover, and bake for 15-20 minutes (more for thicker cutlets). Uncover and bake for an additional 5 minutes.
Slice each roulade and serve over cranberry sauce. My mulled wine version works wonderfully with this recipe!
VARIATION: Instead of cutlets, you can make a larger roulade using a butterflied turkey breast (or turkey london broil). Pound out the breast to even thickness and continue as above. Bake for approximately 1 hour, until thermometer reaches 160 degrees.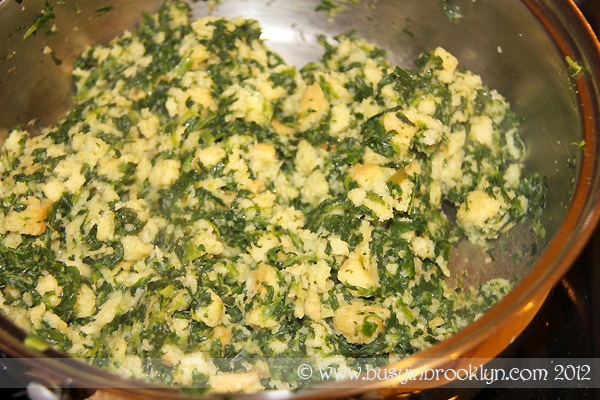 One taste of this fantastic stuffing and you'd never imagine it took only 5 minutes to make! There are few tricks here! Firstly, instead of sauteing up onion and garlic, I just use onion and garlic flavored croutons! Nifty, right? Then, I add just a touch of poultry seasoning (a little goes a long way!) to give it that been-stuffed-into-a-bird-for-hours quality! Using frozen spinach not only eliminates work, it also adds a beautiful touch of green – so festive and autumnesque!
5-Minute Stuffing
1 10oz. box frozen chopped spinach, thawed
2 tbsp olive oil
salt and pepper, to taste
2 cups chicken stock
1 5.25oz. bag onion & garlic flavored croutons
1/4 tsp poultry seasoning
Method:
Using gloves, squeeze out spinach to remove water. Heat up olive oil in a skillet and add spinach. Season with salt and pepper, and stir until heated through. Add chicken stock, stirring to incorporate, and heat through. Add the croutons and poultry seasoning and stir until croutons soften and soak up the chicken stock.
1 year ago: creamy pareve mashed potatoes