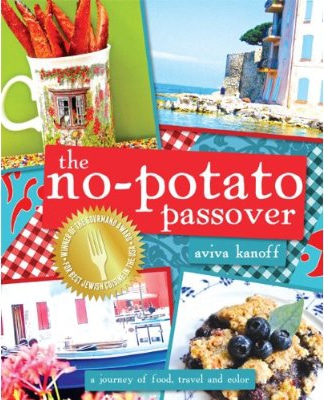 The concept of a Passover without potatoes has been a long time in coming. I'm so glad that Aviva Kanoff has embraced it in her cookbook, The No-Potato Passover. Aviva takes us on a journey of food, travel and color, allowing us to think outside the spud with her internationally-inspired menus. Her recipes span the globe, from Jamaica to Morocco, Croatia to Hungary, and so many places in between. As an avid traveler, Ms. Kanoff takes us along on her travels through colorful pictures and unique recipes that are great for Pesach and all year long. With recipes like pesto chicken "pasta" and eggplant "lasagna" and desserts like chocolate chip biscotti and hazelnut cream cookies, you'll almost forget you're on the Passover diet!
Instead of the traditional carb-laden Pesach fare we are used to having, The No-Potato Passover cookbook focuses on healthy options, making use of quinoa, spaghetti squash, parsnips and other creative ingredients to give you original dishes that you will relish and enjoy. While Aviva's recipes leave me truly inspired, I am personally unable to make most of them on Pesach due to my family's dietary customs. Still, I look forward to making some of dishes throughout the year, including her heirloom tomato salad with honey basil vinaigrette, roasted garlic soup with flanken, stuffed zucchini blossoms, southwestern sweet 'n spicy meatballs, strawberry glazed chicken, salmon croquettes with wild mushroom sauce, and coconut cream pie in a macaroon crust.
While The No-Potato Passover Cookbook is filled with colorful & vibrant imagery, I don't feel that the design is up to par with today's sophisticated & modern cookbooks. That aside, I think the recipes are truly unique and delicious. Many make use of hard-to-find Passover ingredients (like imitation soy sauce or mustard), however, they are easily adaptable during the year using readily-available ingredients.
The No-Potato Passover cookbook is the winner of The Gourmand Award for the Best Jewish Cuisine in 2012. It has been newly revised and edited just in time for Passover 2013.
As my Passover gift to you, Busy In Brooklyn is giving away a free copy of The No-Potato Passover Cookbook! To enter the giveaway, you must:
1. Share you favorite Passover recipe in the comments below.
2. Follow Busy In Brooklyn on Facebook.
Winner will be chosen at random on Wednesday, March 13th at 10:00 PM.
FREE SAMPLE RECIPES FROM THE NO-POTATO PASSOVER COOKBOOK:
POACHED PEACH & CHICKEN SALAD
reprinted with permission from THE NO-POTATO PASSOVER by Aviva Kanoff
(February 2013, Hardcover, $29.99)
Ingredients:
¾ cup balsamic vinegar
2 sprigs fresh thyme
Kosher salt & ground black pepper
2 peaches (12 oz. total), halved & pitted
4½ tsp. olive oil
4 cups baby greens
Chicken:
1 lb. chicken breasts
1 tsp. salt
1½ tsp. paprika
1⁄8 tsp. garlic powder
1⁄8 tsp. onion powder
2 tbsp. honey
2 tbsp. olive oil
2 tsp. cumin
2 tsp. rosemary
salt & pepper
Directions:
1. Prepare a medium gas or charcoal grill fire. (Note: If you don't have a grill, you can cook the chicken in a sauté pan in its marinade.)
2. Combine vinegar and thyme in a 2-quart saucepan. Bring to a boil over medium heat.
3. Reduce the heat to a simmer and cook until the mixture is thick, syrupy, and reduced to ¼ cup, about 6-9 minutes.
4. Cook peaches in the syrup for 2 minutes until soft. Remove from the heat, discard the thyme sprigs, and season with a pinch of salt and a few grinds of black pepper.
5. Season chicken and grill or sauté in a pan until cooked.
6. In a medium bowl, toss the baby greens with the remaining 2½ tsp. oil and season to taste with salt and pepper. Arrange on a platter.
7. Top with the chicken and peaches. Drizzle with about 2 tbsp. of the reduced balsamic, adding more to taste. Season to taste with salt, pepper, and remaining juice from chicken and peaches.
Tip: Substitute chicken with 1/4 cup feta cheese for a dairy meal.
CABBAGE SOUP WITH MATZOH MEATBALLS
reprinted with permission from THE NO-POTATO PASSOVER by Aviva Kanoff
(February 2013, Hardcover, $29.99)
Ingredients:
1 large onion, diced
4 garlic cloves, chopped
5 tbsp. canola oil
1 tbsp. sugar
4 tomatoes, diced
1 large green cabbage, chopped
8 cups chicken stock
1 tbsp. honey
2 cups tomato sauce
Matzo Meatballs:
½ cup matzo meal
½ lb. ground beef
3 eggs
salt and pepper
1 tbsp. oregano
1 tsp. cumin
Directions:
1. Sauté onion and garlic in canola oil until brown.
2. Add sugar and caramelize.
3. Add remaining ingredients and bring to a boil.
4. Let boil for 30 minutes and then simmer.
5. While the soup is boiling, mix all ingredients for the matzo meatballs.
6. Form into balls, then add the matzo meatballs to the boiling soup. Cook for 20 minutes.
Related Recipes:
spinach matzo ball minestrone soup