Levana Kirschenbaum, author of The Whole Foods Kosher Kitchen, is a cook after my own heart. She likes to cook healthy food, with minimal ingredients, in a short span of time. That's not to say that this cookbook is filled with quick-fix dinners. It certainly is not. While it may include 15 variations of 3-ingredient chicken dishes (which I'm thrilled about!), it's also got plenty of gourmet recipes that require an array of flavorful ingredients.
With an on emphasis on healthy, whole, minimally processed ingredients, Levana still manages to pull out delicious dishes that require little more than fresh produce, herbs and spices. Even her decadent desserts maintain a healthy perspective, without requiring a trip to the health food store for specialized ingredients.
The Whole Foods Kosher Kitchen is extremely thorough. I now understand why Levana refers to it as her magnum opus, a comprehensive compilation of her life's work. In the first chapter, "The Pantry", Levana guides you in the building your pantry, making each and every recipe look so easy. From dressings to jams and sauces to liquors, this chapter lacks for nothing. While titled "Edible Gifts to Yourself and Beyond", I find this section to be Levana's gift to the reader. What greater gift is there to a cook than to be able to learn many of the basic recipes required to build a dish?
The cookbook continues with Soups, Salads, Fish, Poultry/Meat, Vegetable Dishes, Grains/Pasta, Breakfast/Brunch, Breads and finally Desserts. While the recipes mostly stay true to Levana's Morrocan roots, her dishes span the globe, including internationally-inspired recipes like creole chicken with rice, pad thai, cucumber raita chai and tilapia nicoise en papillotte, among many others.
I love Levana's addition of suggested menu's, including feasts by cuisine (Moroccan, French, Italian, Israeli, Asian, Latin and Indian), dietary preferences (dairy-free, vegetarian, vegan) as well as themed menu's (salads, chocolate, kids). You'll also find three separate indexes – standard, gluten free and passover.
The Whole Foods Kosher Kitchen has a little something for everyone. As for me, I'm looking forward to making the Kabocha sweet potato soup, baked snapper with raisins and pine nuts, chicken with apples, millet fritters, blueberry scones and Indian sweet potato pudding.
If I could critique anything about this cookbook, it would only be to say that I would appreciate more beautiful pictures!
Busy In Brooklyn is happy to be giving away a copy of The Whole Foods Kosher Kitchen!
To Enter:
1. Share your favorite Rosh Hashana food/recipe in the comments below.
2. "Like" Busy In Brooklyn on Facebook!
Winner will be selected at random on September 13th, 2012.
BONUS ROSH HASHANAH RECIPES
from The Whole Foods Kosher Kitchen: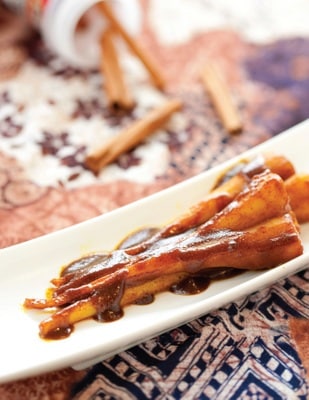 Hot & Sweet Parsnips
1 dozen very thin parsnips, peeled and left whole (settle for 5–6 larger ones, peeled and quartered lengthwise)
2 cups water
3 tablespoons olive oil
3 tablespoons sugar or Sucanat
1 tablespoon paprika
1 teaspoon turmeric
1/4 teaspoon cayenne pepper, or less to taste
1 tablespoon ground cinnamon
Salt and pepper to taste
Place all the ingredients in a wide heavy pot and bring to a boil. Reduce the heat to medium, cover, and cook for about 20 minutes, or a drop longer, until the parsnips are tender and the liquids in the pot have thickened. Pour the sauce over the parsnips. Serve hot or at room temperature. Makes 8 servings.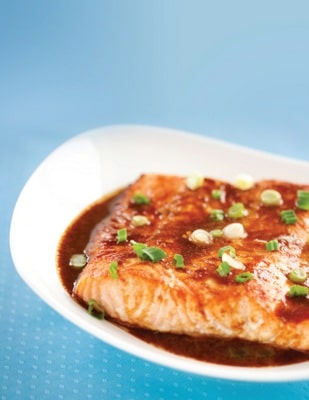 Roasted Salmon with Maple Glaze
1/3 cup maple syrup
2 tablespoons soy sauce
3 tablespoons Dijon-style mustard
3 tablespoons toasted sesame oil
1 tablespoon cracked pepper, or less to taste
1 whole side salmon, about 3. pounds, skin off, bones out, trimmed
Preheat the oven to 500F. Mix all but last ingredient in a bowl. Place the salmon skin side up in a baking pan just large enough to fit it snugly in one layer (if you have empty spaces, the liquids will burn). Pour the sauce evenly over the fish. Bake 18 minutes, or a minute or two longer, until the fish is tender but firm to the touch. Transfer to a platter and pour the cooking juices over the  fish. Serve hot, or at room temperature. Makes 8 main course servings, or a dozen ample first course servings. 
Recipes & photos excerpted with Permission from The Whole Foods Kosher Kitchen Cookbook By Levana Kirshenbaum www.levanacooks.com