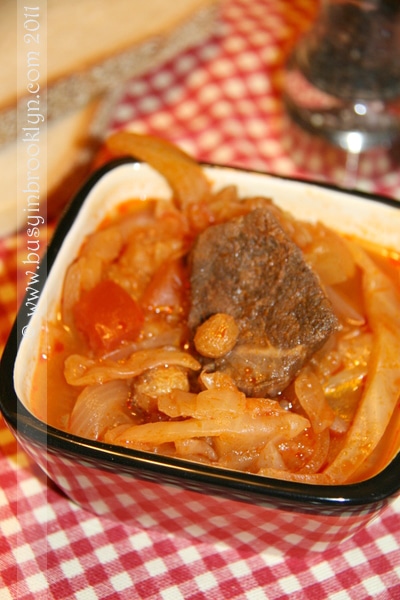 Succos is one of my most favorite times of year. I love the smell in the air, the breeze in my hair, the fall harvest and the brilliant autumn leaves. The crisp air is the perfect backdrop for this warm, hearty soup. With cabbage, apples, tomatoes, onions and flanken in a sweet tomato broth, this bowl of goodness is sure to be a star at your Yom Tov table. The more you cook this soup, the better and thicker it becomes, so don't mind rewarming it for several meals!
Bubby's Cabbage Soup with Flanken
1 medium head of cabbage, sliced
1 onion, sliced
2 green apples, peeled and diced or grated
2 soft tomatoes, diced
1/2 cup golden raisins
2 pieces flanken
2 marrow bones
3 15 oz. cans tomato sauce
7 canfuls of water
1/3 cup sugar, or to taste
salt and pepper, to taste
juice of 1/2 lemon
Method:
Add all ingredients to the pot and bring to a boil. Lower the heat and simmer for a few hours, until the broth has thickened and the meat has softened.