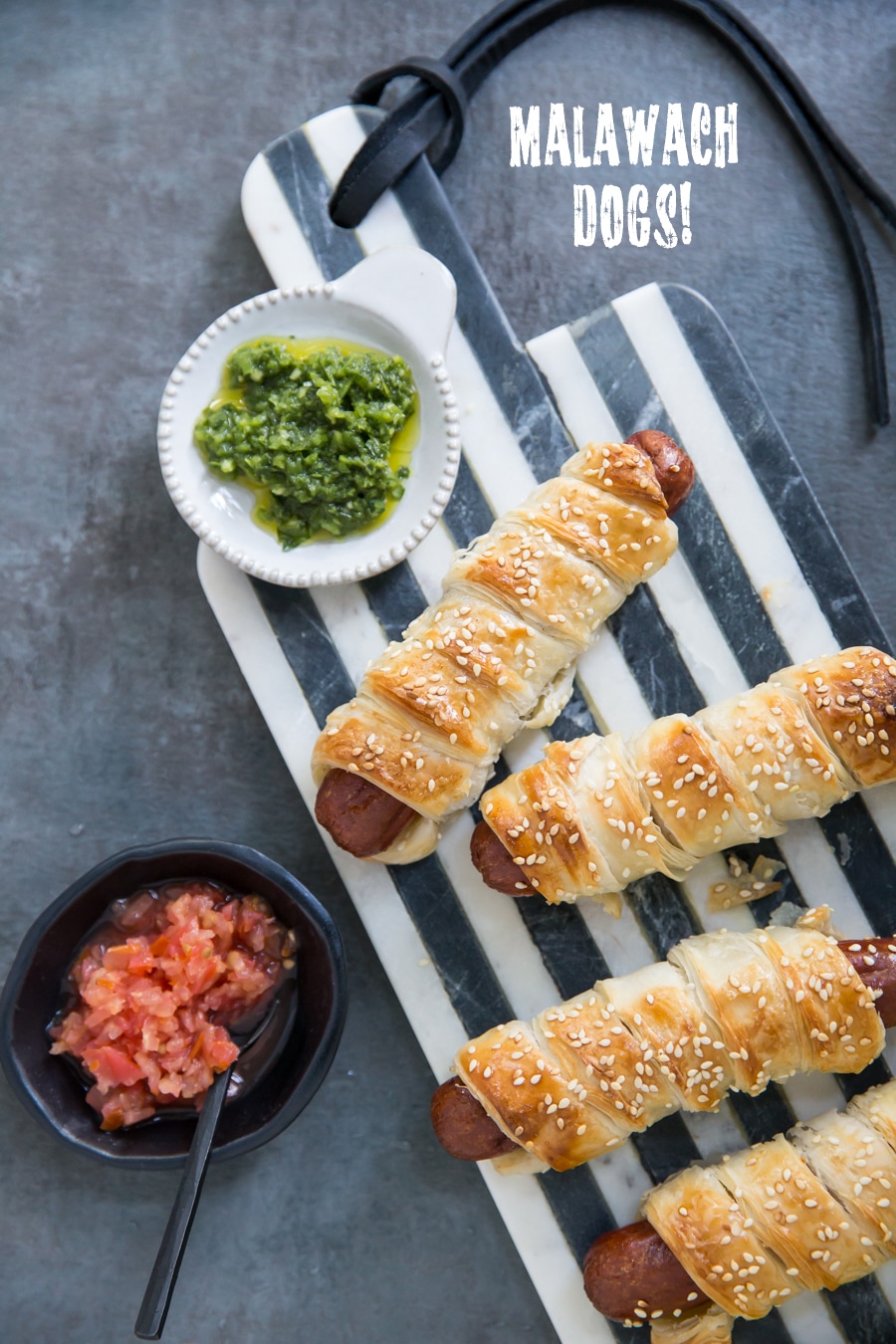 THIS. MAKES. ME. SO.  HAPPY.
Sigh (the good kind).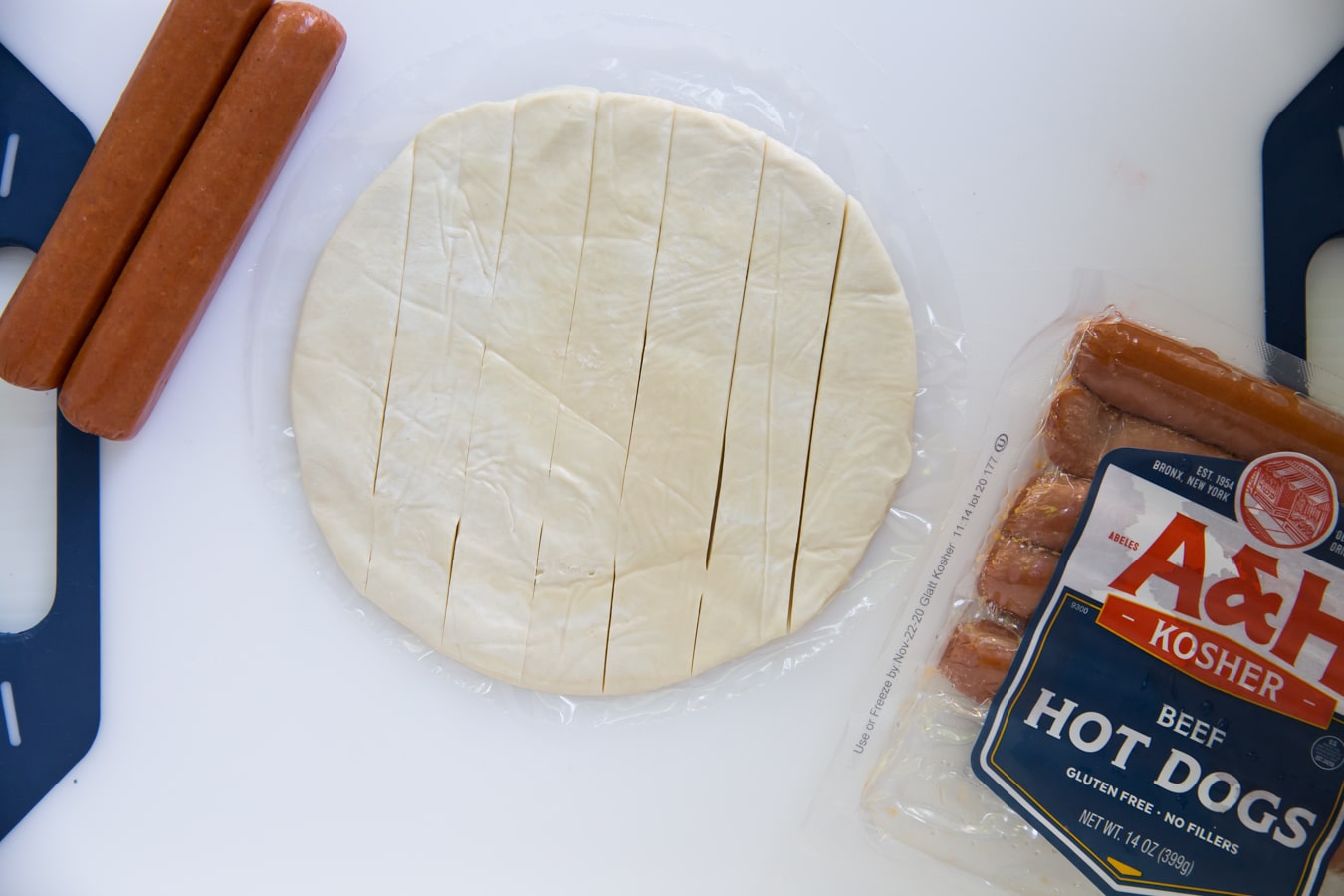 If you missed it, there's big news on the Abeles & Heymann front – they've made it to Trader Joes, and at $5.99 a pack, it's a total steal! Not only that, their hot dogs are now available nationwide, so you can ALL get a taste of the BEST kosher hot dog in town!!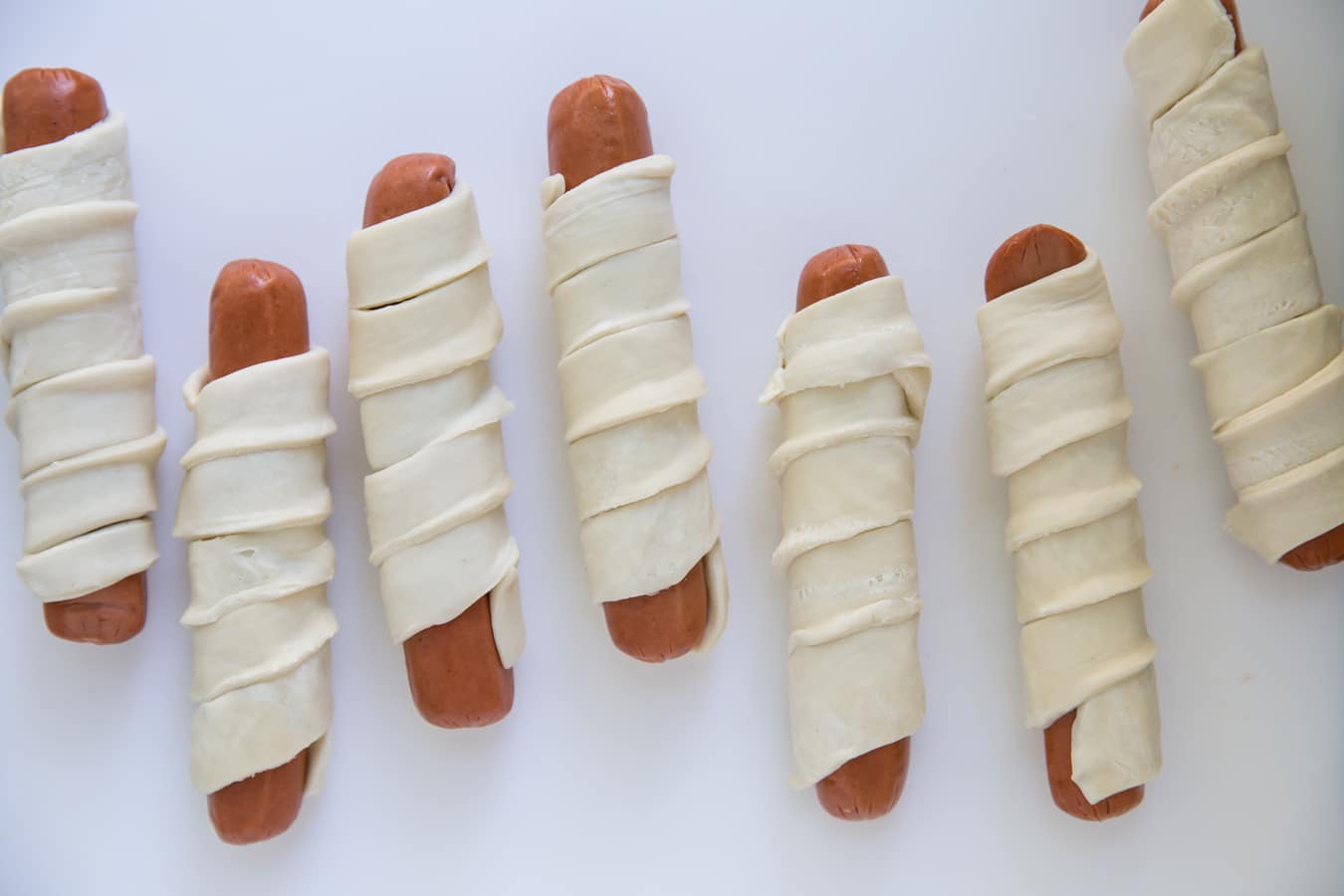 This news had me so stoked that I had to celebrate with something extra special, so I went EN CROUTE (literally: wrapped in pastry). But not just any pastry.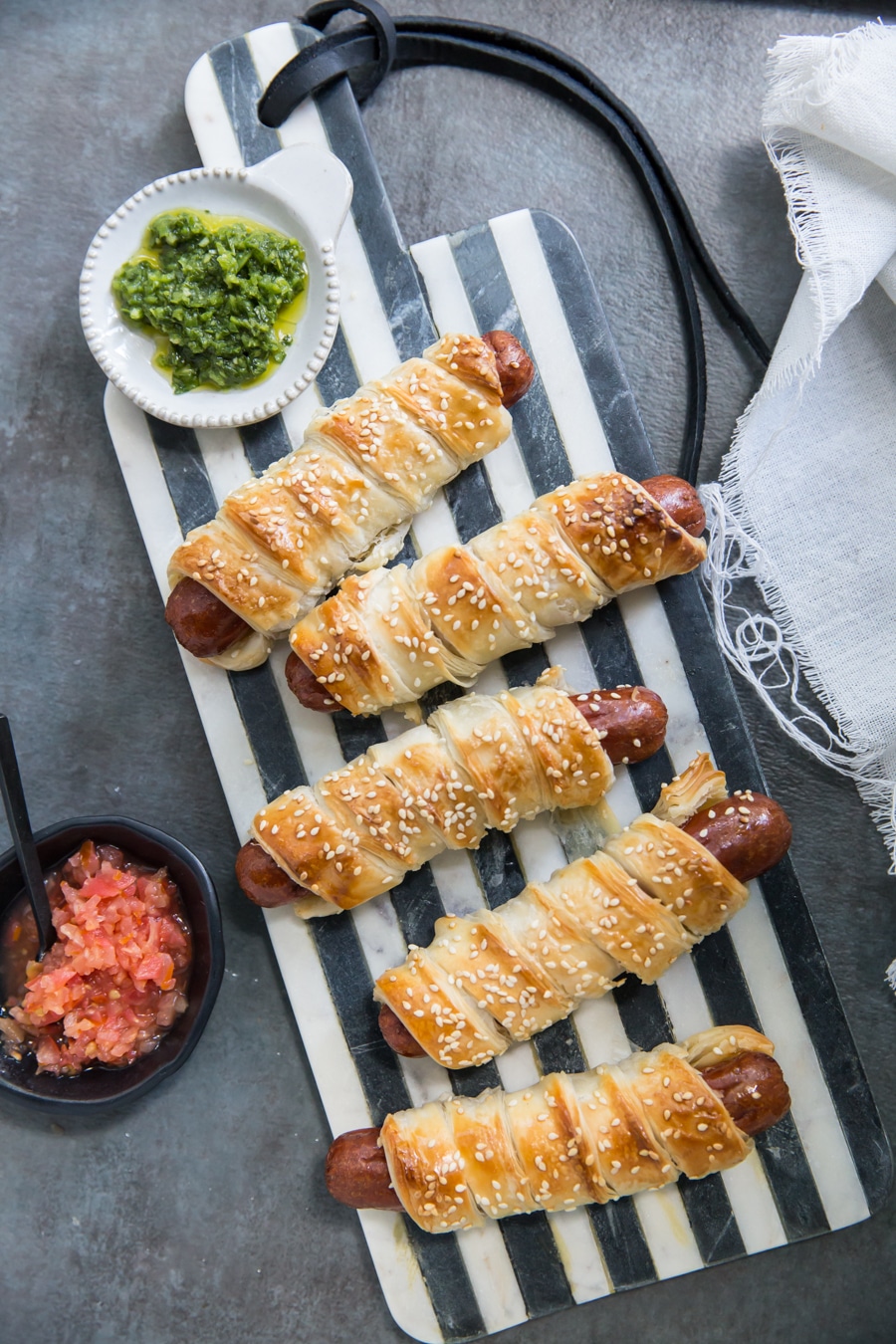 Malawach pastry. The Yemenite stuff of dreams that puffs up into buttery goodness, and gets dipped into the ultimate pairing: resek (grated tomato) and schug (jalapeno dip).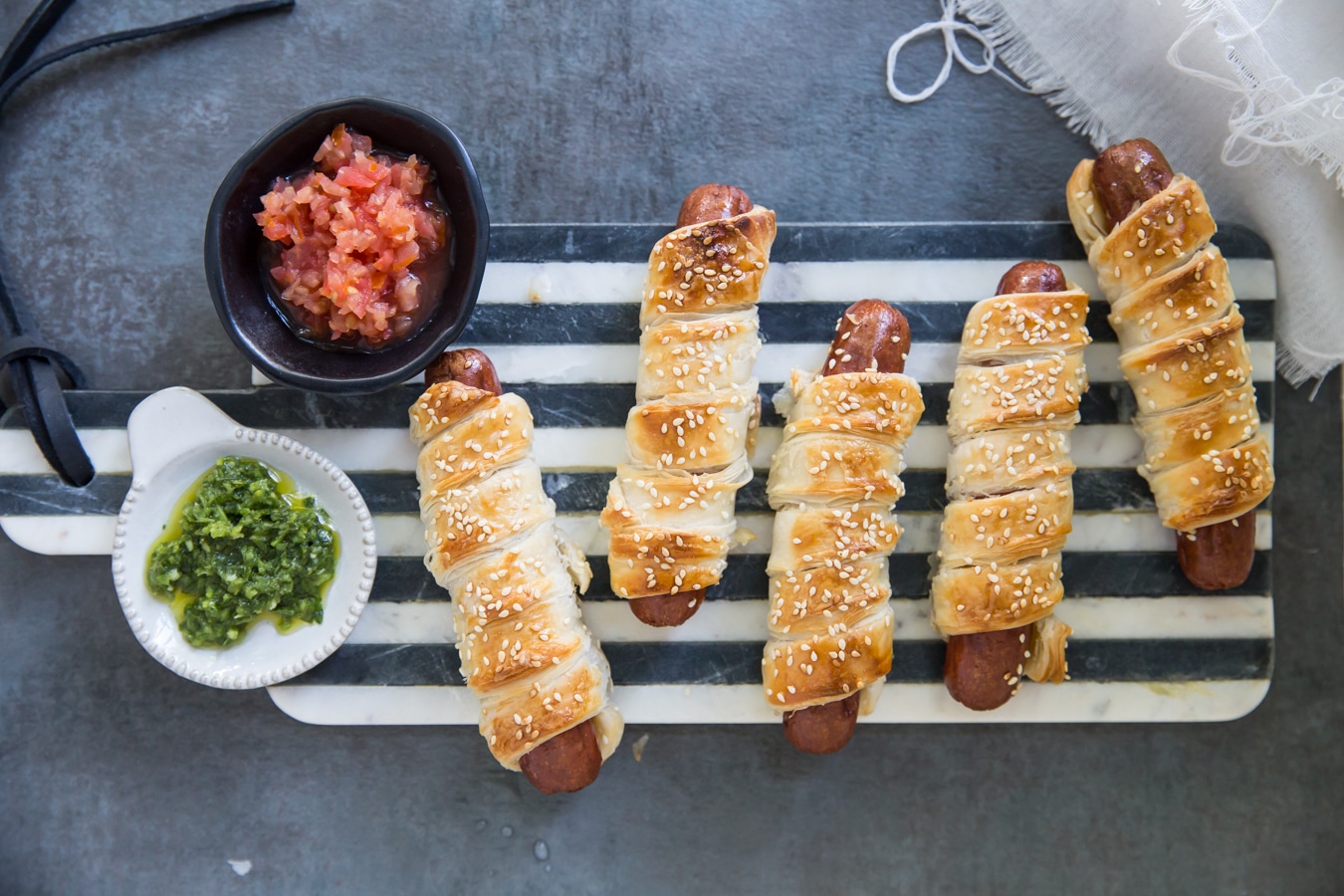 Malawach with resek and schug, plus some hard boiled eggs on the side, is something you'll find on many Middle Eastern menus, at loads of stalls at the Shuk and AT MY HOUSE. I'm convinced I must have been Yemenite in another life because their food just speaks to my soul.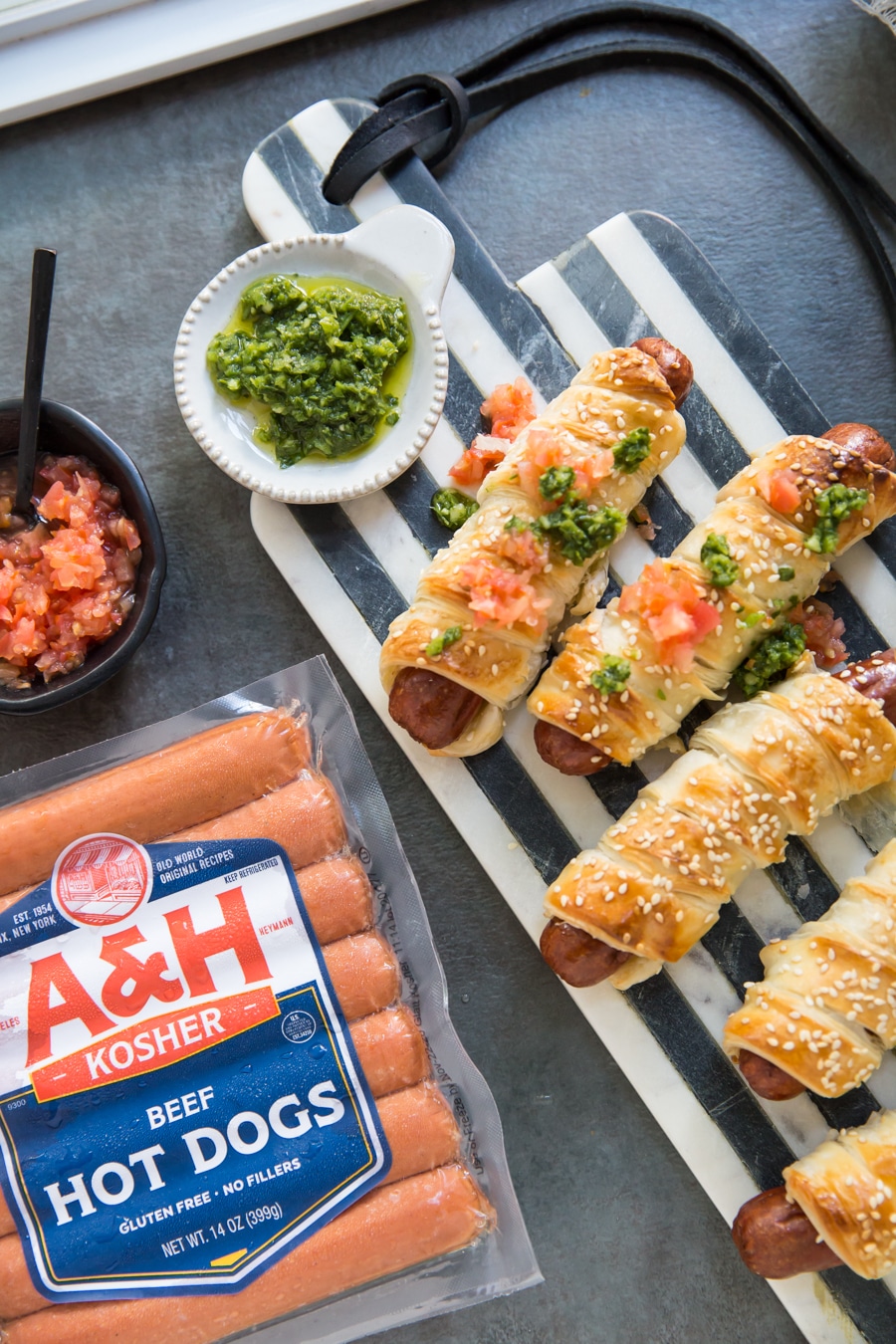 Yemenite chicken soup, lachuch with butter and honey, jachnun, kubaneh… I can't get enough. The traditional hawaij-spiced soup has become a Shabbat staple in my home, and whenever I can make it to Zion in Borough Park, I load up on spongey lachuch for my freezer. Jachnun gets stuffed into my cholent, and kubaneh is the one recipe I have yet to master, but consider it done.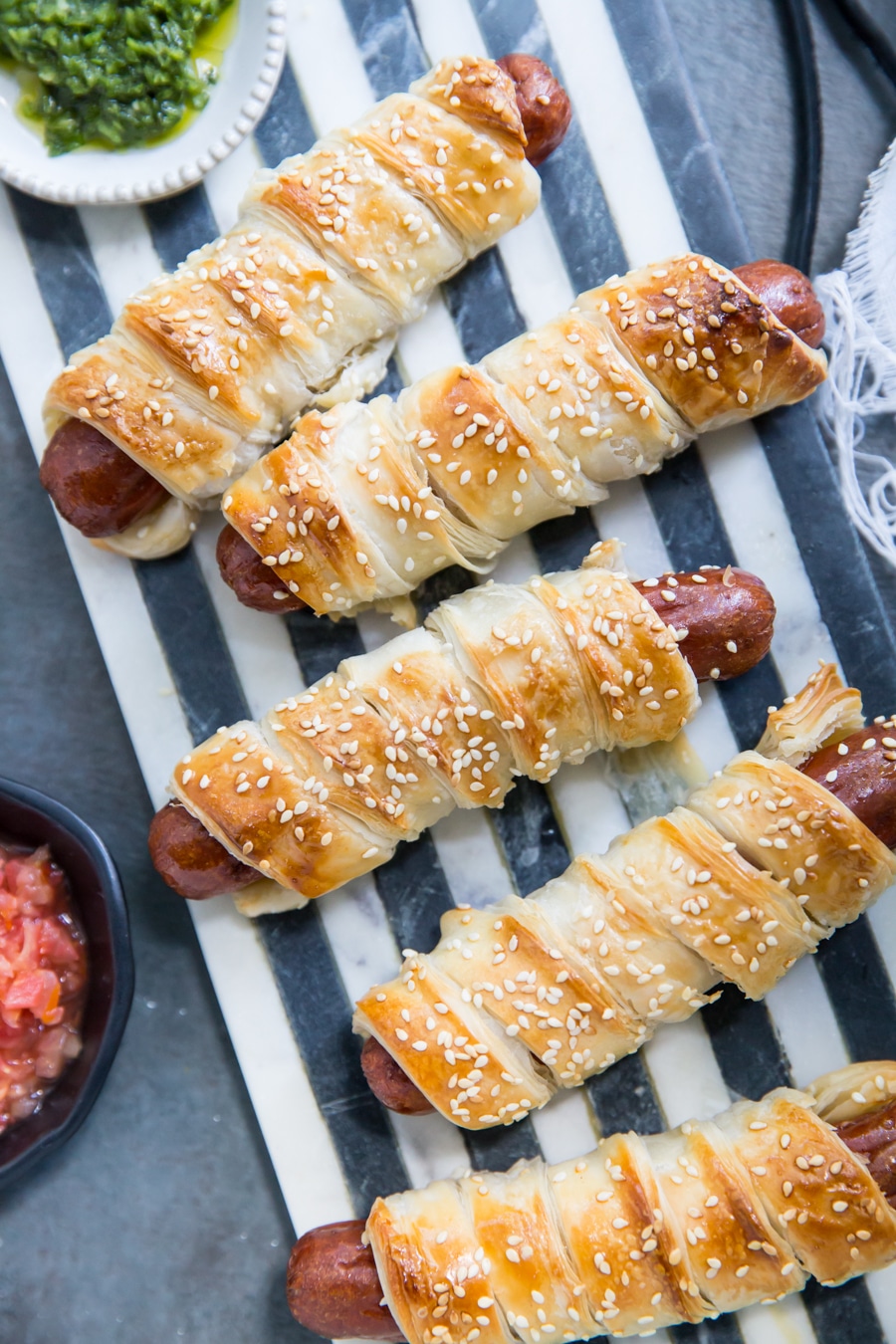 And the beautiful, light and refreshing dips of tomato and jalapeno – well they've become an essential fridge stock and I always have jars on hand! Paired with tahini and pita, they make a delicious breakfast, lunch or dinner, with eggs on the side.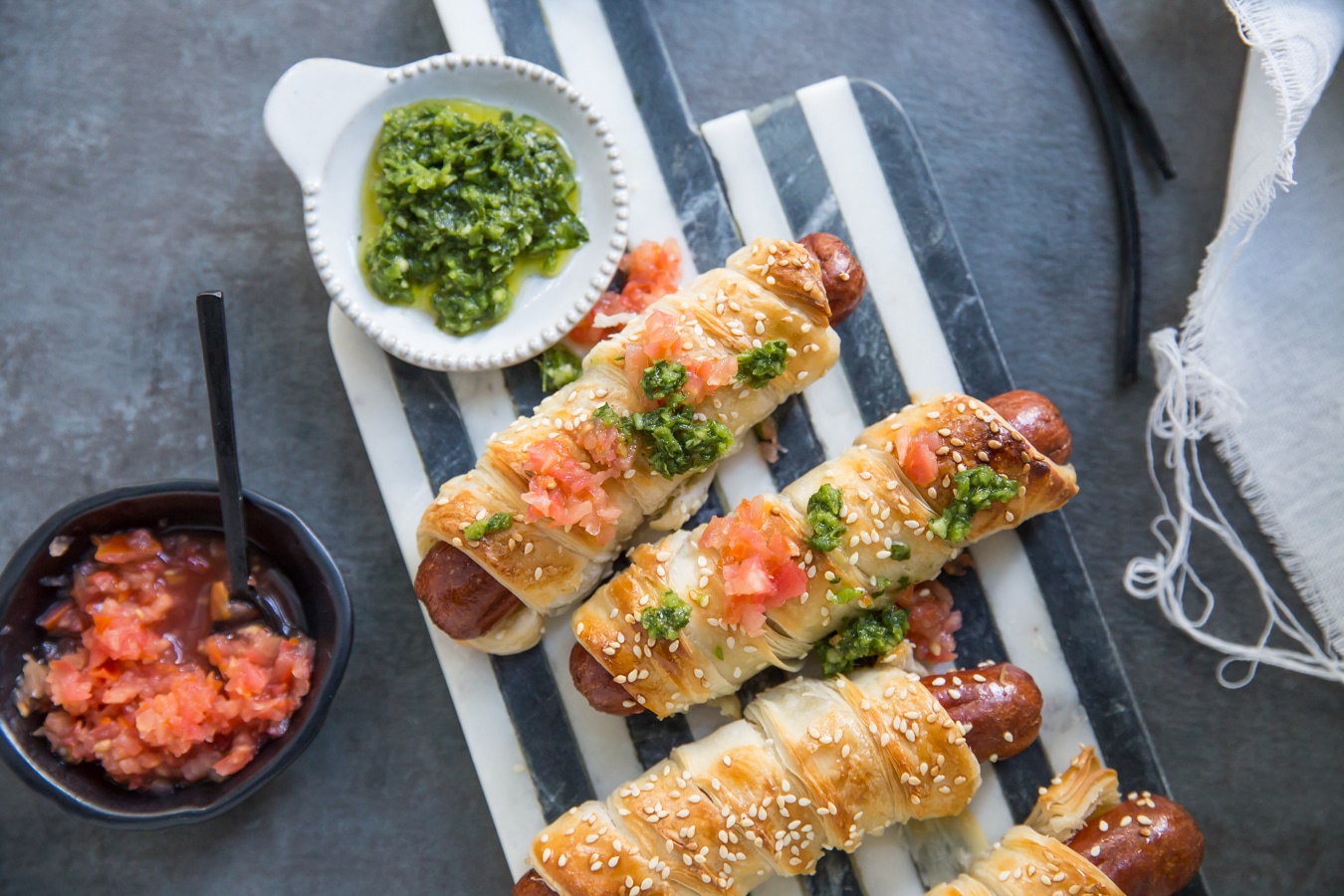 So yes, I am in love with Yemenite food. I am in love with Abeles & Heymann hot dogs. And that, my friends, is what makes the perfect recipe. Enjoy!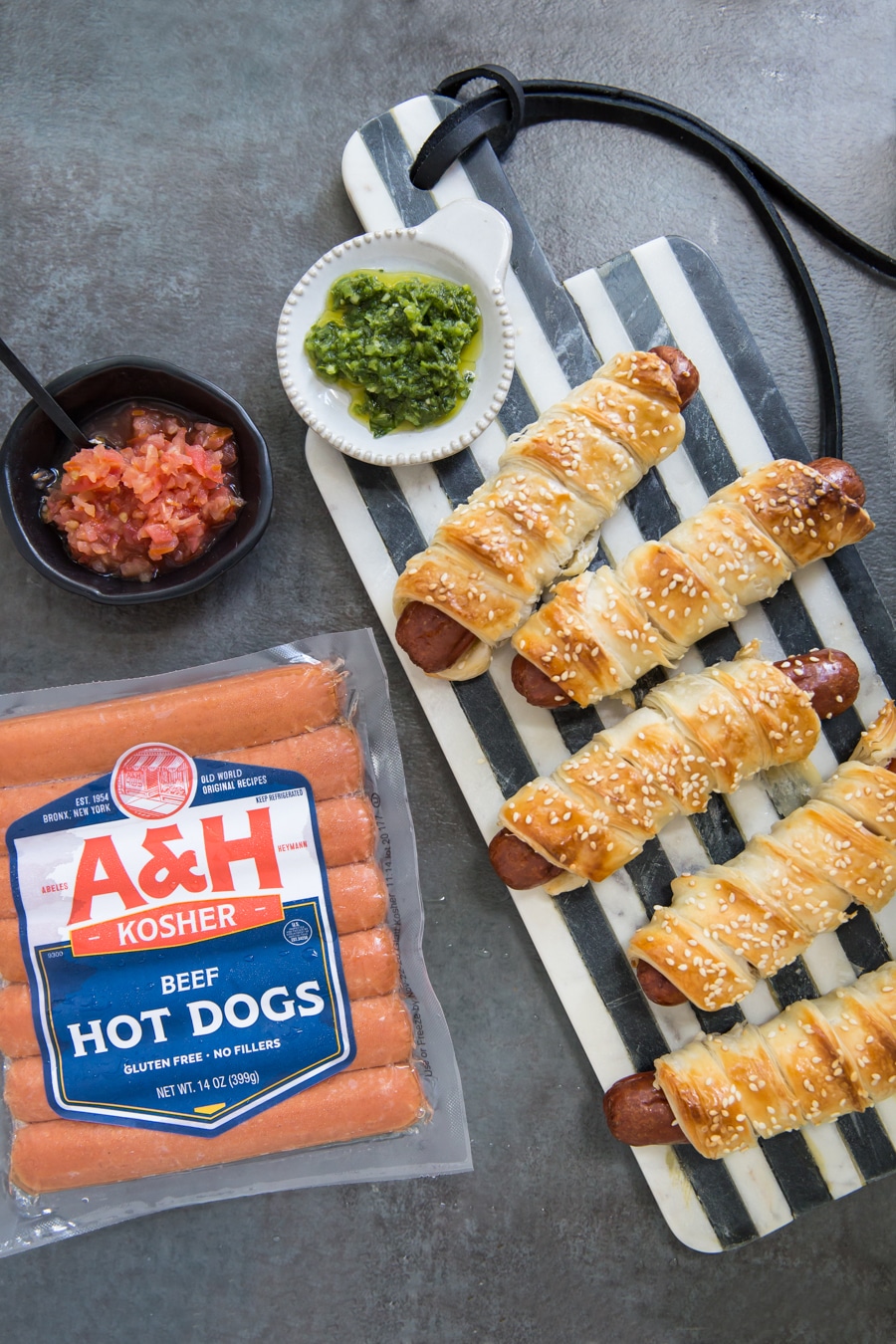 Malawach Dogs
1 package Abeles & Heymann beef hot dogs
2 discs malawach dough, thawed
1 egg, beaten
sesame seeds
Preheat oven to 400 degrees. Line a baking sheet with parchment paper, and lightly coat with oil. Cut the malawach dough into strips and wrap them around the hot dogs, stretching lightly as you go. If the strips are too short, just continue wrapping with a second strip. Brush the malawach with egg and sprinkle with sesame seeds. Transfer to baking sheet and bake until puffed and golden, 20-25 minutes.
Serve with resek and schug.
Resek
2 plum tomatoes
salt, to taste
Grate the tomatoes on a box grater or pulse in a food processor until finely minced. Season, to taste, with salt.
Schug
5 jalapeno peppers (see note)
1 large bunch fresh parsley or cilantro or a mix
3 cloves garlic
1 tsp cumin
1 tbsp olive oil
1 tsp lemon juice
salt, to taste
Add ingredients to a blender or food processor and pulse until finely minced.
NOTE: You can control the heat of the schug by the amount of veins and seeds that you put in the sauce. For a mild schug, remove all veins and seeds. For a spicy kick, add a little at a time until desired spice level is reached.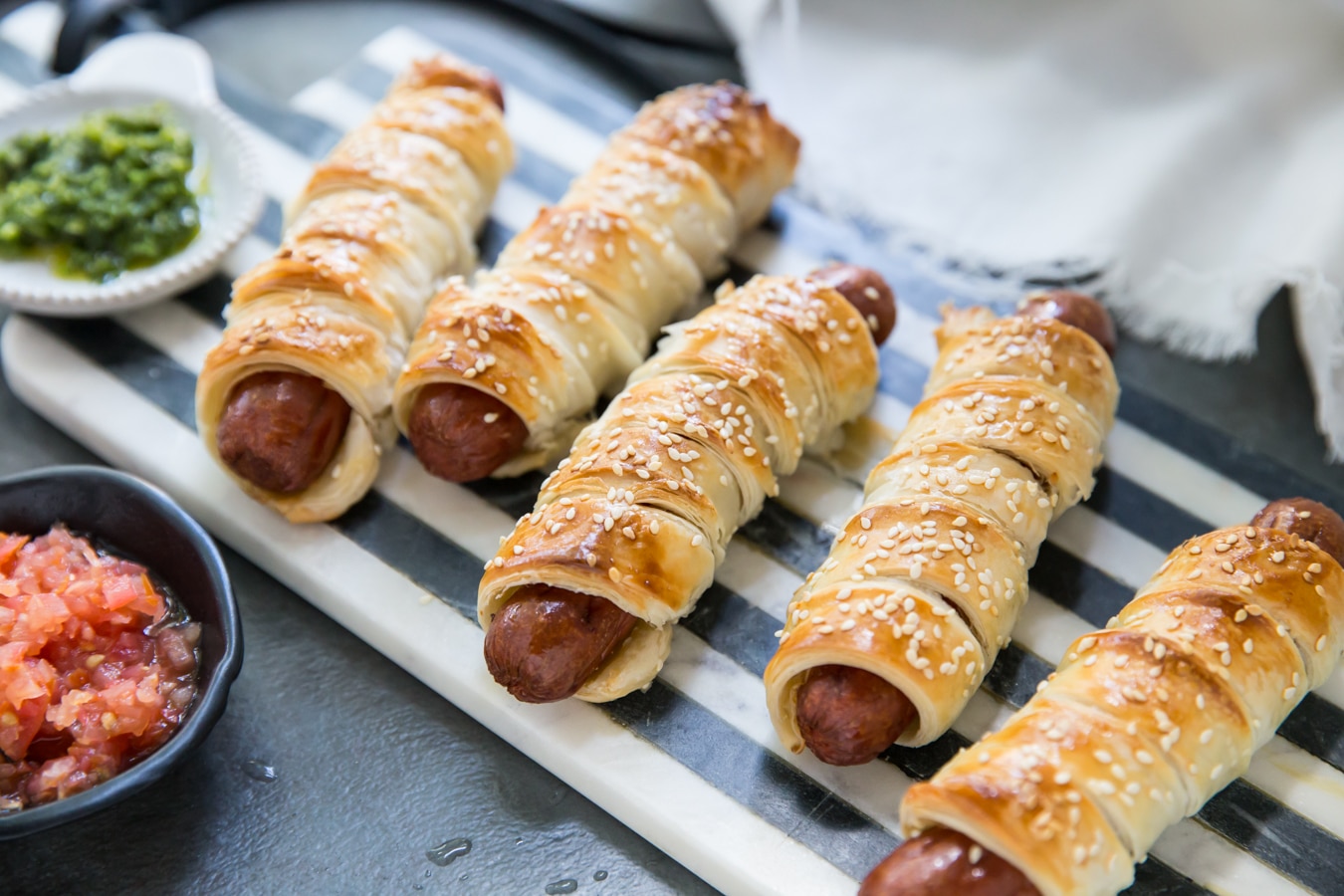 Related Recipes:
bunless fajita dogs
hot dog eggrolls
spiralized spud dogs