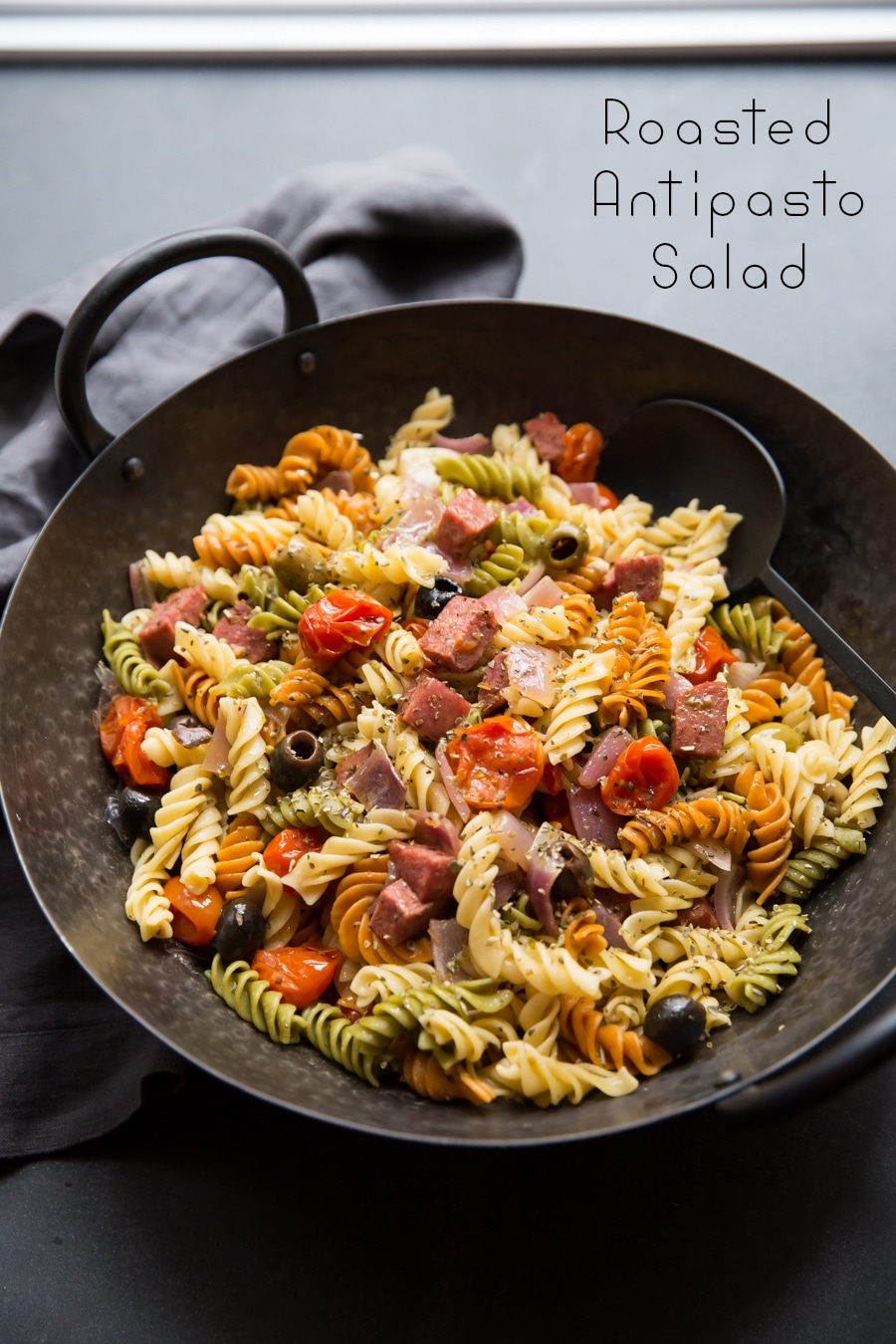 I never thought I'd say this but Tiktok is actually good for SOMETHING. The viral baked feta pasta that took the internet by storm last week got me thinking!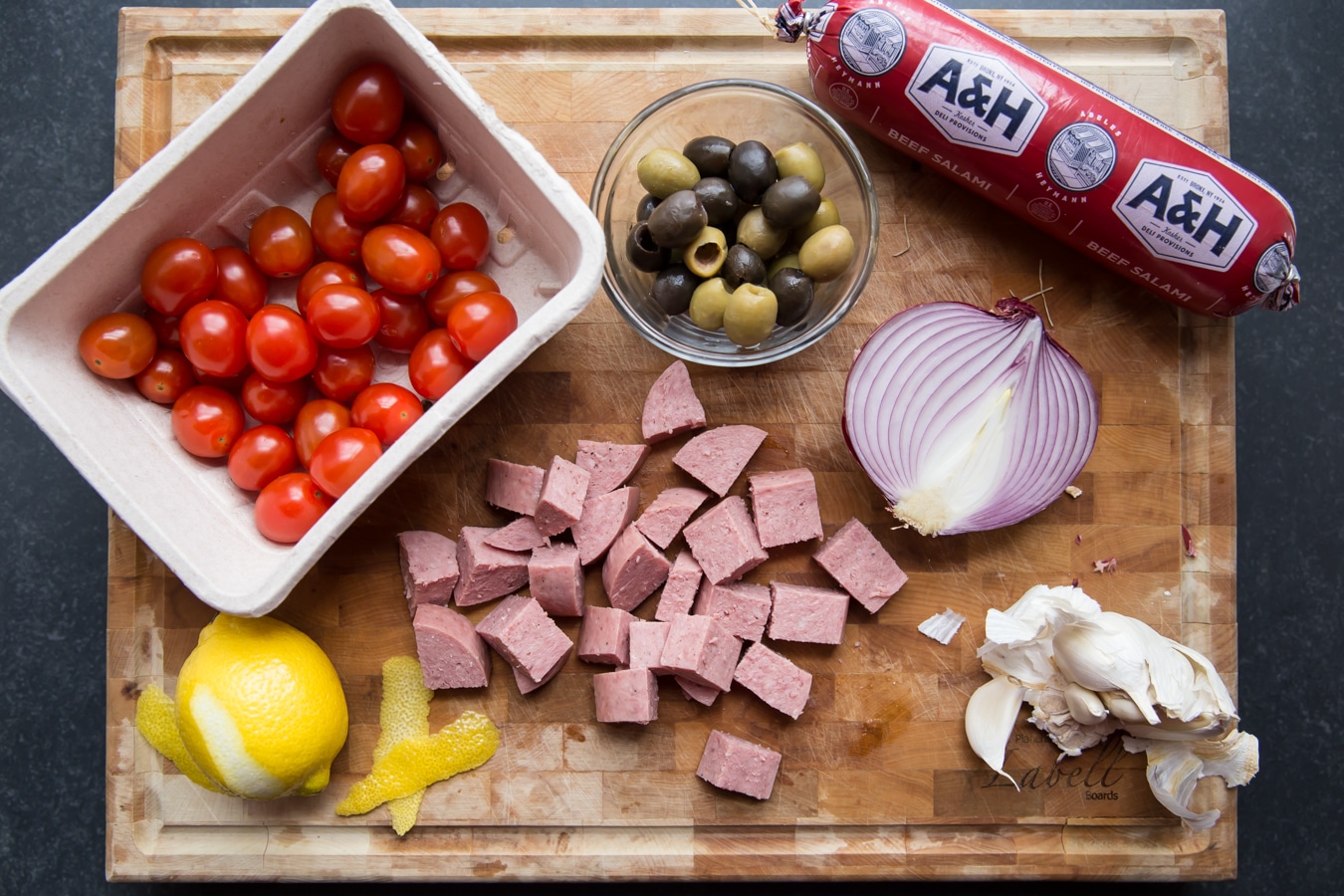 It's salami o'clock here at Busy in Brooklyn, which means it's that time of year that I make something WOW with Abeles & Heymann salami in honor of Purim (since salami is hung like the evil Haman in the Purim story!).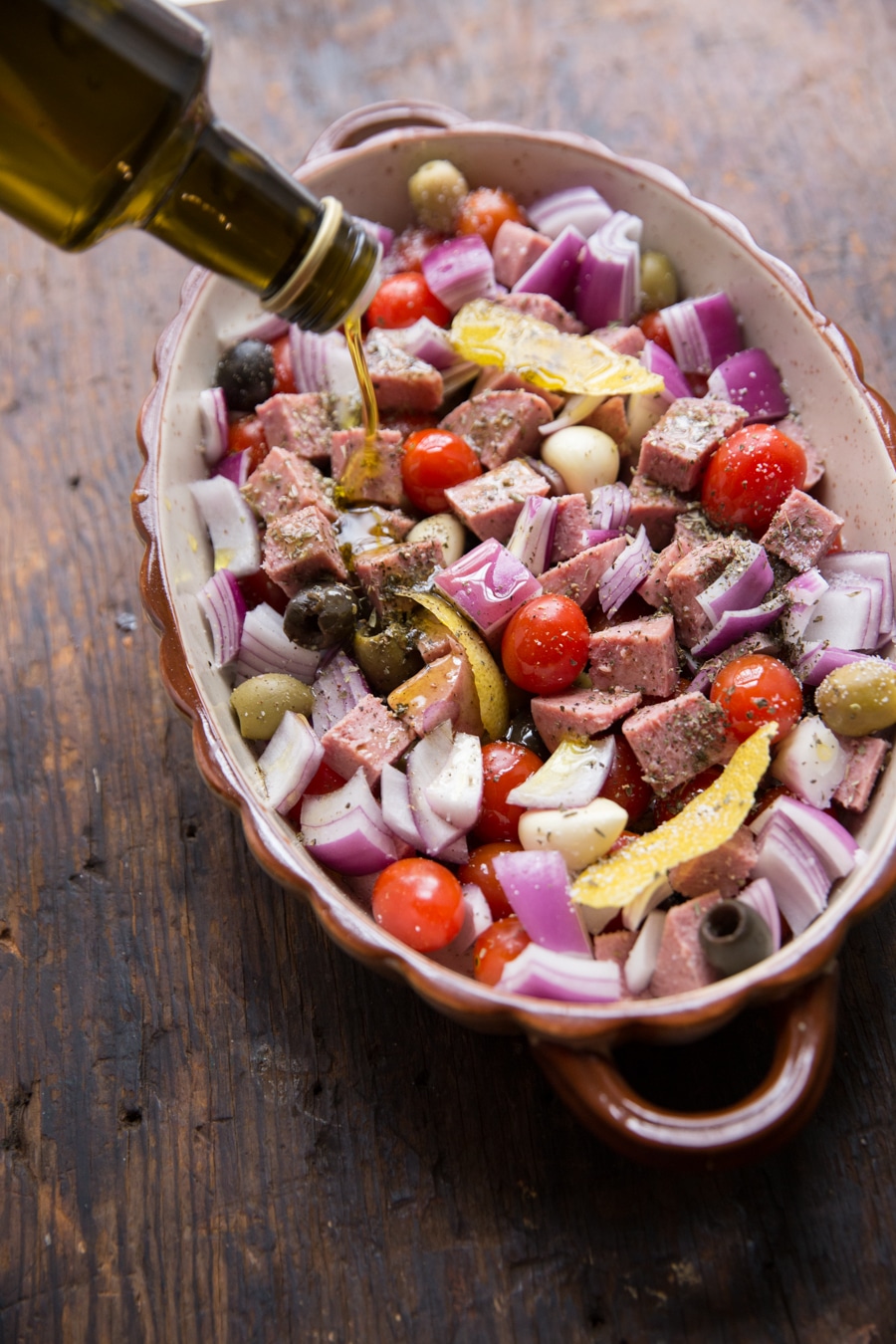 So what do you think I did? I roasted up those tomatoes with olives, onions, garlic and yes, SALAMI,  a la ANTIPASTO. I mean, HOW. GOOD. DOES. THAT. LOOK. (no that's not a question!)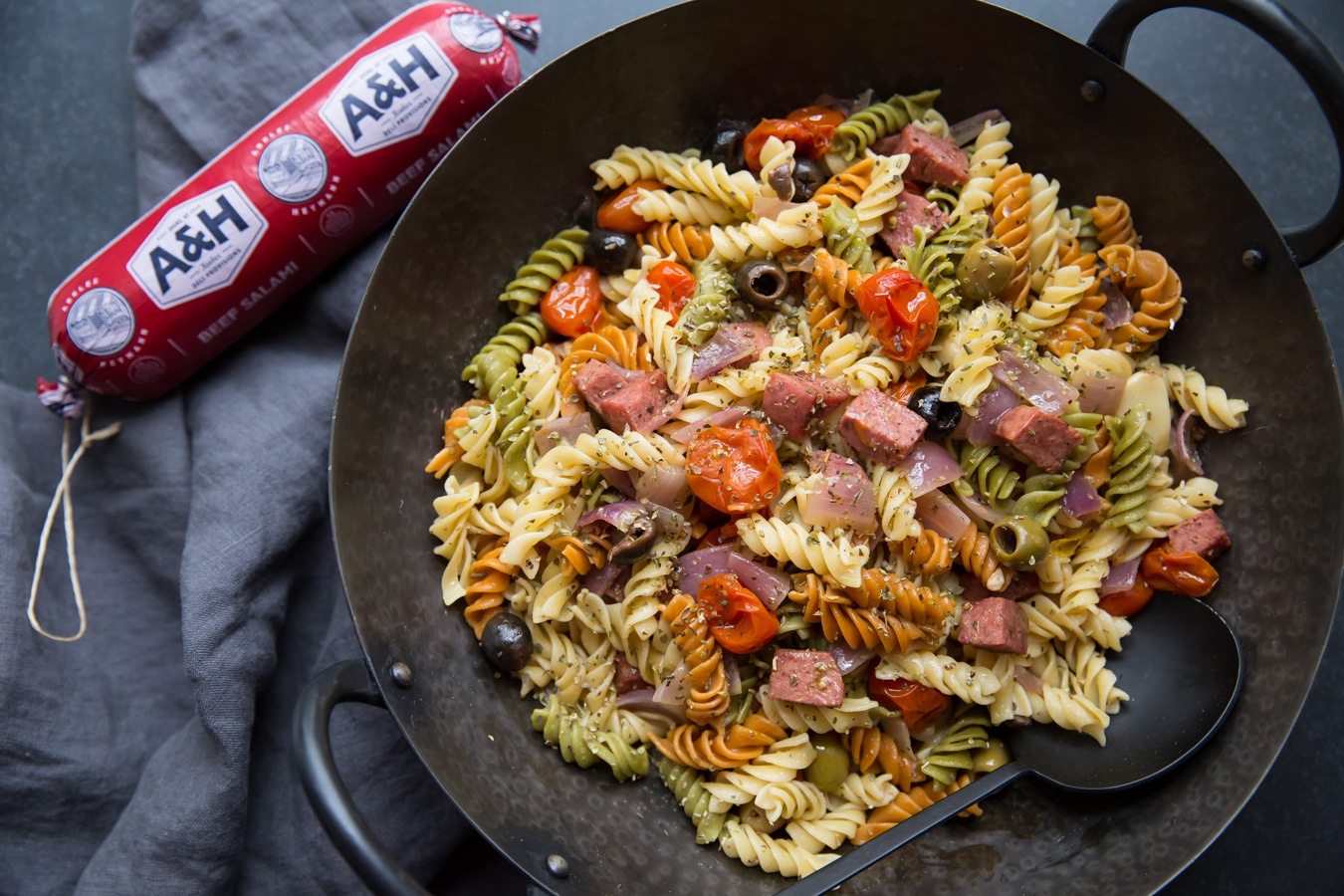 So, I toss up that roasted antipasto medley with some tricolor pasta for a BOMB appetizer that is just perfect for your Purim meal. I am in love. Thank you TikTok.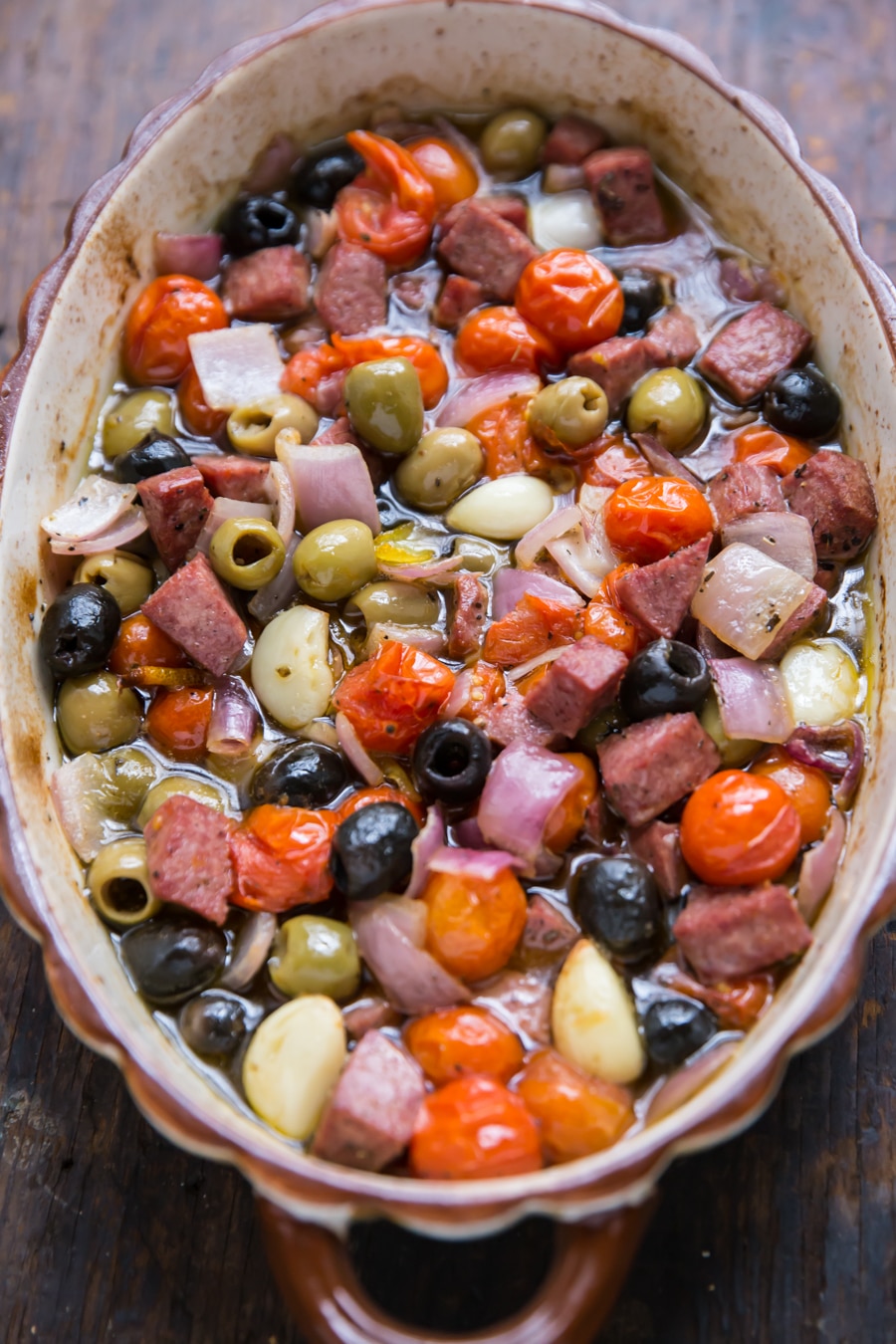 So, a few things about this "recipe", it's not really a "recipe". Go ahead and roast whatever you like in there – artichokes, mushrooms, peppers, chickpeas. Just give it all a nice drizzle of oil and let it go for a while until it's all soft and tender.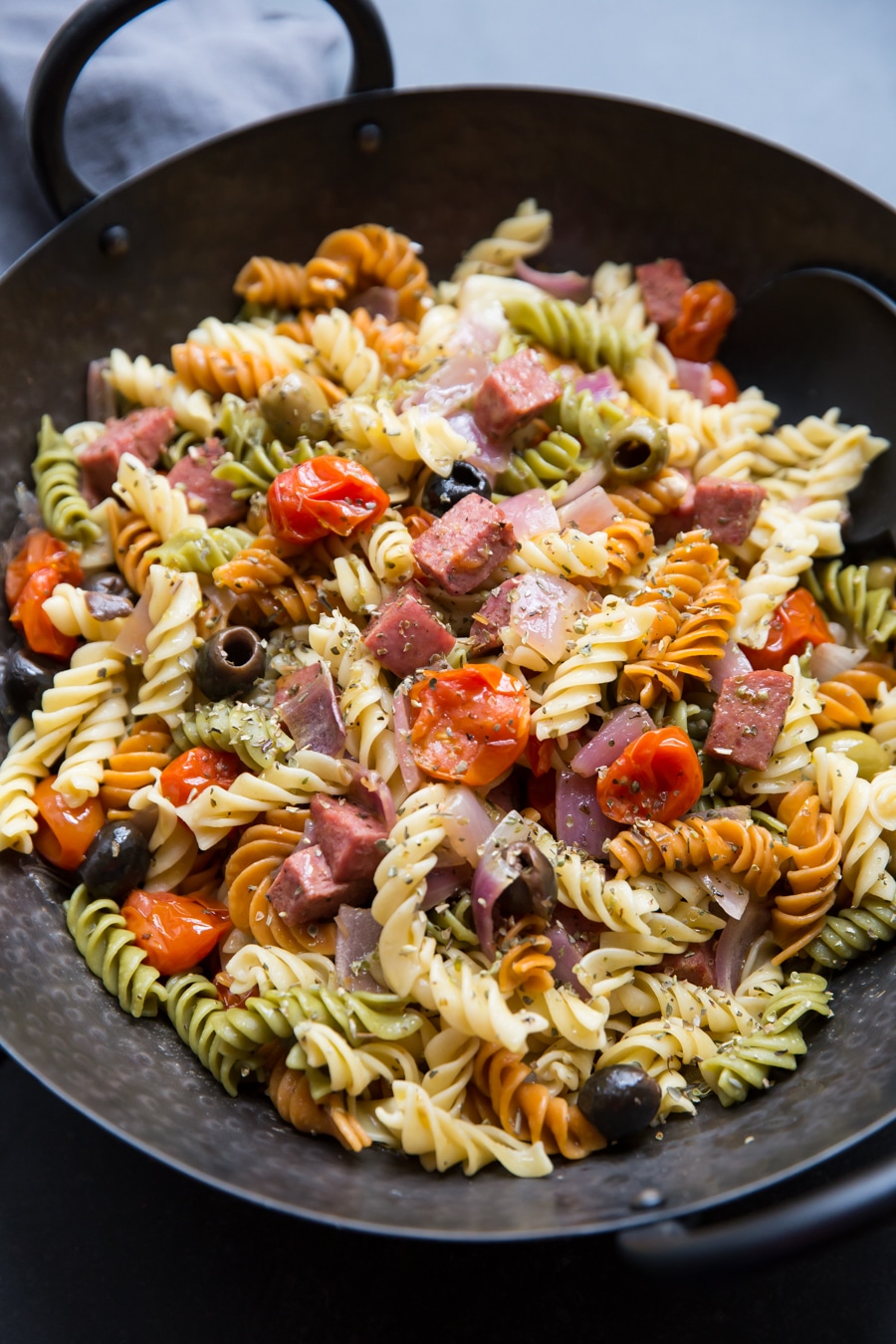 And feel free to use some bowtie pasta, or whatever shape you like, or for a no-carb version, toss it with some hearts of palm spaghetti!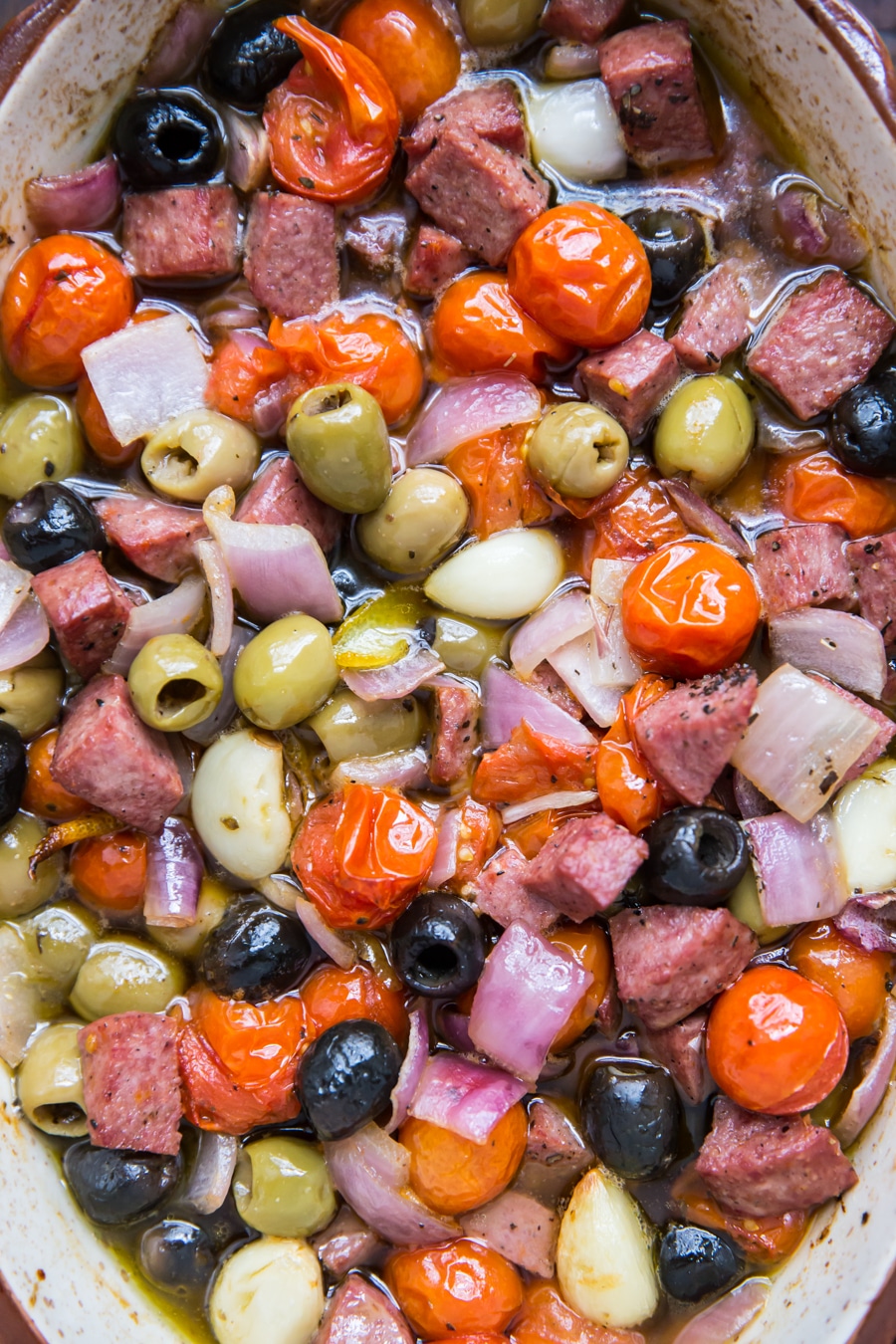 Or just serve as an appetizer with some crusty bread. SALAMI HAS NEVER LOOKED SO GOOD!
Roasted Antipasto Salad
YIELD: 8 servings
12oz. tricolor rotini, cooked according to package directions
1 1/2 cups grape tomatoes
7oz. salami, cut into cubes
1 small red onion, cut into chunks
1 cup mixed black and green olives
handful of garlic cloves
3 strips lemon zest
1/2 cup olive oil
1/2 tsp dried basil
1/2 tsp dried oregano
salt and pepper, to taste
2 tbsp red wine vinegar
juice of 1/2 lemon
Method:
Preheat oven to 375 degrees. Place tomatoes, salami, red onions, olives, garlic, lemon zest, olive oil, basil, oregano, salt and pepper into a baking dish. You want everything in one layer, with plenty of room around (my dish was a bit snug!). Bake, uncovered, for 40-50 minutes until the vegetables are tender.
Mix the roasted vegetables with the pasta, and toss gently to combine. Add in the red wine vinegar and lemon juice. Season, to taste with more salt and pepper.
VARIATION: for a carb-free version, use hearts of palm pasta instead of rotini.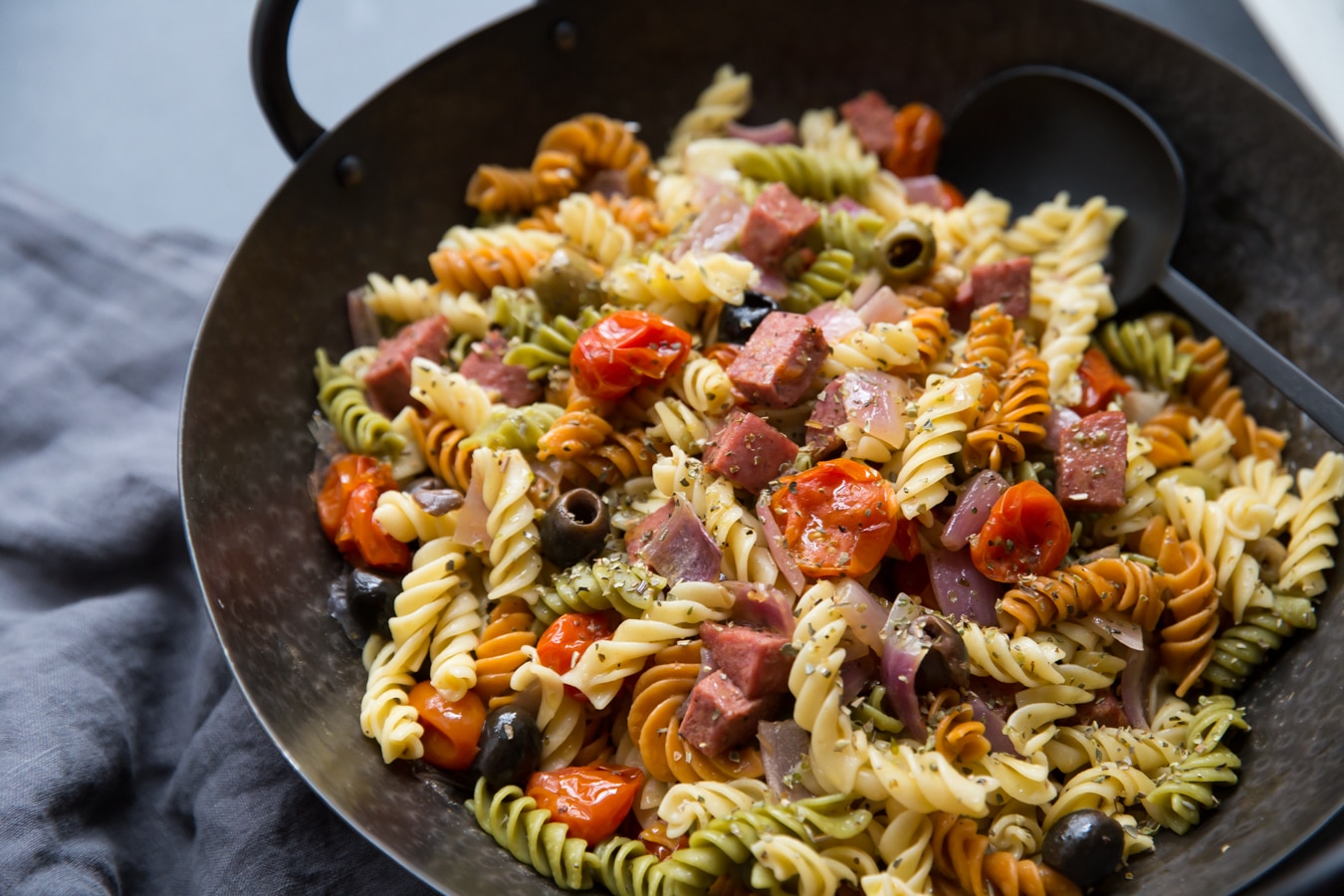 Other Salami Recipes:
last year: salami nduja
two years ago: salami tarte tatin
three years ago: salami potato latkes
four years ago: salami babka
five years ago: salami quiche
six years ago: beer battered salami chips with beer mustard
seven years ago: drunken hasselback salami
eight years ago: salami chips