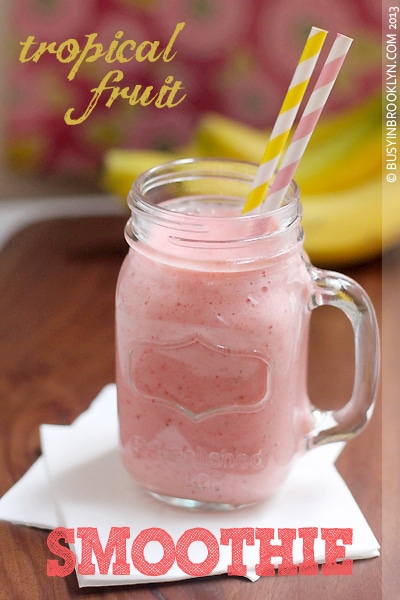 Technically it's only been about a week and a half since my last post, but somehow it feels like an eternity. Thankfully, the weather has FINALLY turned around here in Brooklyn, and the sun is starting to peak through the clouds. With the warm weather making it's entrance, it's time to lighten up our menu's and keep things simple and healthy before summer comes around. Smoothie's are a great start!
Most of the time, I tend to skip breakfast altogether as I don't have much of an appetite in the morning. With smoothies being ice cold and refreshing, I'm able to get in some nutrients without feeling like I'm filling up too much. This tropical fruit smoothie is one of my favorite blends. It's just so refreshing!
Some of my other favorite smoothie combinations include:
banana+dates+almond milk + honey
persismmon + yogurt + cinnamon/nutmeg + honey
peaches+oatmeal+vanilla+milk+agave
avocado+raspberries+pomegranate juice
kale+kiwi+banana+orange juice
What are some of your favorites? Share them with me in the comments below!
Tropical Fruit Smoothie
1 large ripe banana
8 strawberries
1/2 cup canned pineapple*
1/2 cup coconut milk
pineapple juice, for consistency
Method:
Add banana, strawberries, pineapple and coconut milk to a blender and puree until smooth. If mixture is too thick, add pineapple juice (from the canned pineapple) until you reach desired consistency.
*Look for canned pineapple in 100% pineapple juice instead of a sweetened syrup.
TIP: Instead of adding ice cubes (which water down your smoothie), use prefrozen leftover bananas or frozen strawberries instead.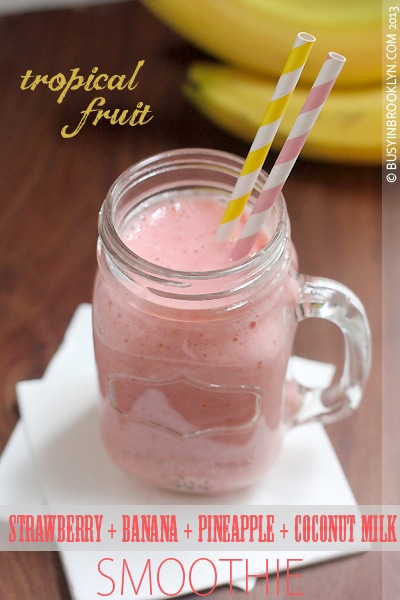 1 year ago: pepper steak with plum sauce
2 years ago: sesame linguini with marinated chicken breast