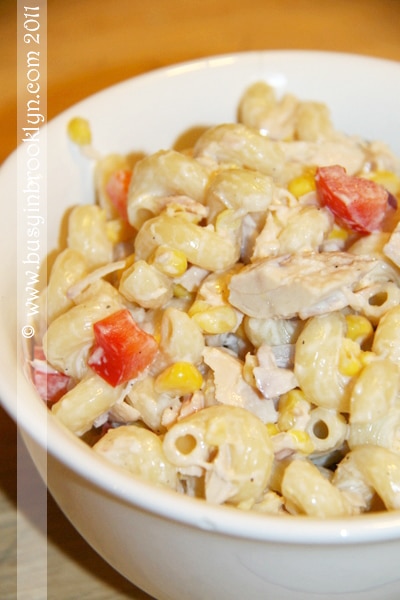 I love to make this salad for lunch when I have leftover pasta in the fridge. It's a definite upgrade from a tired tuna sandwich! It also makes a great one-dish lite dinner. Experiment with pasta shapes – kids love them! If you have different types of leftover pasta, you can even do a fun mix. Any shaped pasta works well. Try wheels, shells, bowties, rotini, or cavatappi (like I used here).
In this recipe, I use a mixture of corn, red peppers, onions and hearts of palm. Feel free to play around with different veggies, or use whatever you have available in the fridge. Peas, cucumbers, celery, tomatoes, pickles, radishes, scallions and fresh dill are all good additions.
Tuna Pasta Salad
1/2 box shaped pasta
2 cans albacore tuna in water, drained (don't flake, leave chunky)
1 11 oz. can corn niblets (do not drain)
1 red pepper, diced
1/2 red onion, diced
4 hearts of palm, chopped
1/2 cup mayo (or more, if needed)
squirt of mustard, optional
juice of 1/2 lemon
1 tsp garlic powder
salt, to taste
pepper, to taste
Method:
Cook pasta according to package directions, drain and add to a bowl. Add tuna, corn (with liquid), peppers, onions and hearts of palm. Mix in mayo, mustard, lemon juice, garlic powder, salt and pepper. Add more mayo, if needed, to make it creamy. Chill and serve.
NOTE: Using the liquid from the canned corn helps make the pasta salad creamy. I use the Green Giant corn niblets which use less water. If you are using a different company, and the corn comes packed in a lot of liquid, use only about 1/8 of a cup of the liquid.