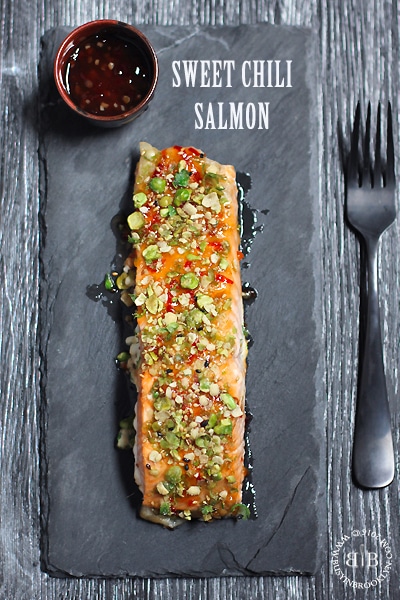 It's just one of those days. I got the kids out of the house on time for a change, and I was hoping to sit down early this morning to get a head start on work. But it was not to be. After making my rounds to the girls' school, boys' school and daycare for the little one, I was finally on my way back home when my daughter called me to say she had left her lunch. Oh, Mommyhood.
As a blogger, recipe developer, food photographer and full time mom, it's hard to set a schedule for myself because kids are just so unpredictable. On the one hand, I'm SO thankful to have a job where I can make my own hours and work around my Mommy duties, but on the other hand, there's so much to do and so little time. My husband is always telling me to hire help but I'm literally the worst delegator on earth. You know how they say if you want something done, do it yourself?  Well that's kind of my M.O. I'm a perfectionist, and rather than dealing with someone doing something that is not up to par with my standards, I'd rather just do it myself. Can any of you relate?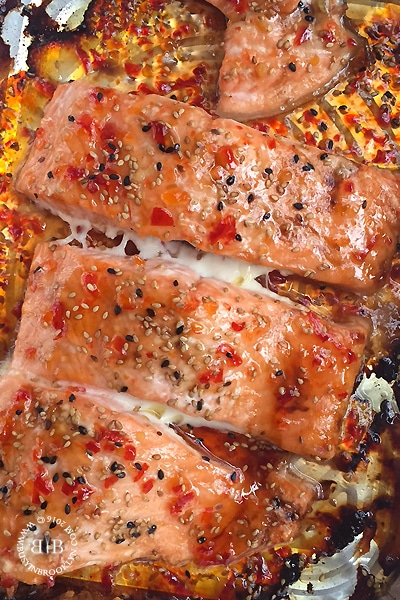 I'm the same way in the kitchen. If I'm having lots of guests or prepping for big holiday meals or a cooking demonstration, the reasonable thing to do would be to have someone help me. But stubborn me just does it all myself because God forbid someone will slice something the wrong way. (Insert hands-over-eyes emoji) I know I've gotta learn to let go and be more flexible, I'm just not sure how. Ideas, anyone?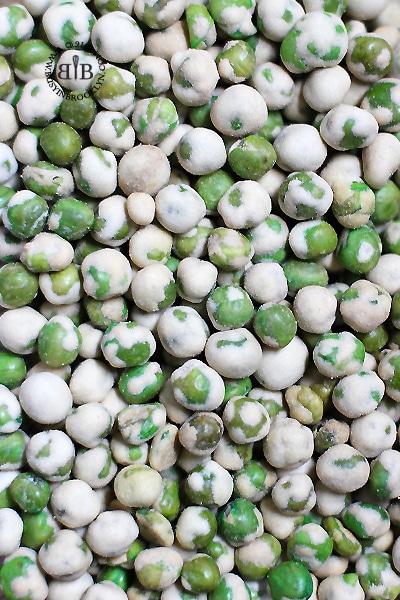 In the meantime, I'm going to go wake myself up with a big handful of spicy wasabi peas. It's one of those snacks that I used to eat with abandon, and then suddenly one day, I found that I couldn't look at them anymore. It's been a while, but they're back on my addictive snack list – I even put them on my salmon for an amazing spicy crunch!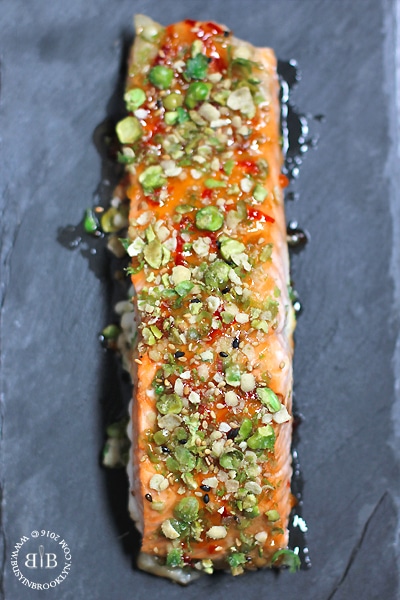 This salmon recipe is super quick and easy – perfect for a weeknight dinner with some rice, and pretty enough for company with a side of sushi salad. Chop sticks optional.
Sweet Chili Salmon with Wasabi Crust
4 slices salmon fillet
1 tbsp olive oil
1 tbsp soy sauce
1 cup sweet chili sauce
1 tbsp roasted sesame seeds
1/2 cup wasabi peas (optional)
Method:
Preheat oven to 400 degrees. Place salmon fillets in a baking dish and drizzle with olive oil and soy sauce. Pour sweet chili sauce generously over the salmon and sprinkle with sesame seeds. Bake for 15 minutes, or until the fish is opaque and flakes easily with a fork.
Pulse the wasabi peas in a food processor or blender and spread generously over the salmon before serving.
VARIATION: for a hint of sesame flavor, you may brush the fillets with a bit of sesame oil instead of olive oil.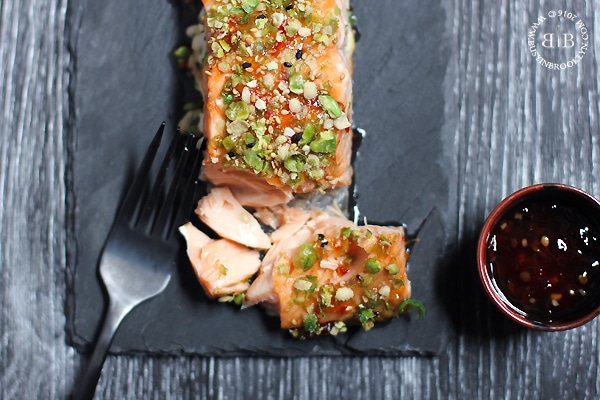 Related Recipes:
spicy roasted edamame
teriyaki salmon
kani salad