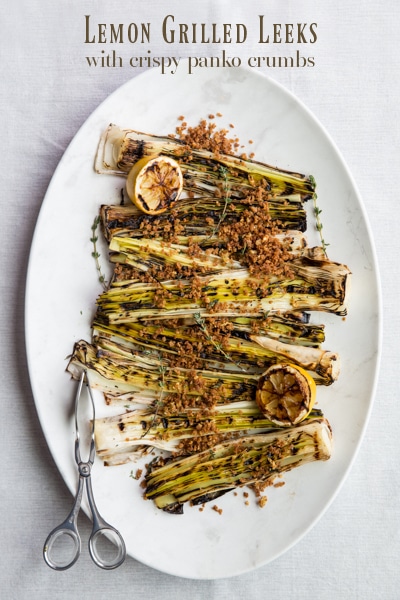 I've said it before and I'll say it again: leeks are an underrated vegetable. Thankfully, they are one of the symbolic foods that is customary to eat on Rosh Hashanah, so once a year people actually take the time to pay attention to them!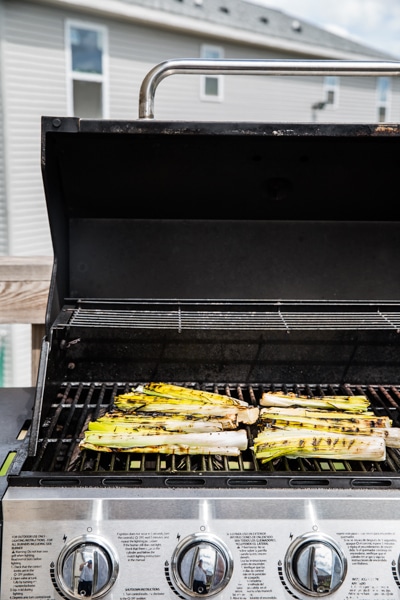 Leeks are buttery soft when braised, crispitty crunchy when fried and smoky when grilled. In a word: they are versatile. And I'm so happy to share this method + recipe with you!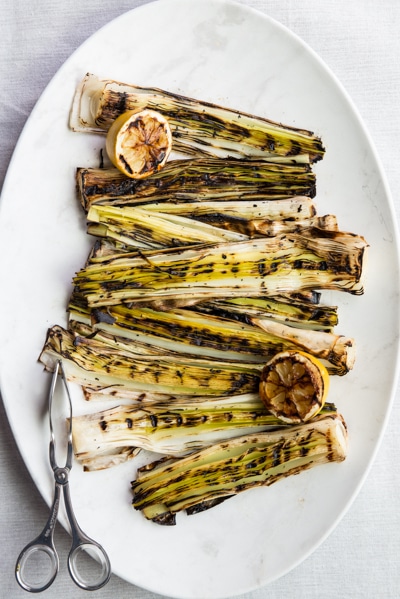 First, let us consider that since Rosh Hashanah is so early this year, we can still make use of our grills, and if you don't have one, there's still time to savor some al fresco dining. PC Richard & Son has everything you need for outdoor grilling – like these Traeger grills that I'm personally hoping to upgrade to, and some more affordable Weber models. I've been grilling so much this summer and I can honestly tell you that there's nothing quite like it. You keep the mess outdoors, the food is full of flavor and meals come together in minutes. It's a win-win.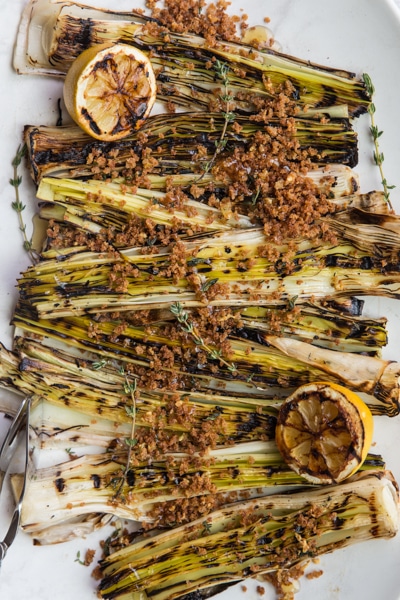 I'll tell you what else is a win-win: the combo of lemony leeks with a hint of sweet honey and garlicky crispy crumbs makes this humble vegetable the star of the holiday table. It also makes the perfect side to some braised brisket, a leg of lamb or grilled rib eye steak. So lets get grillin!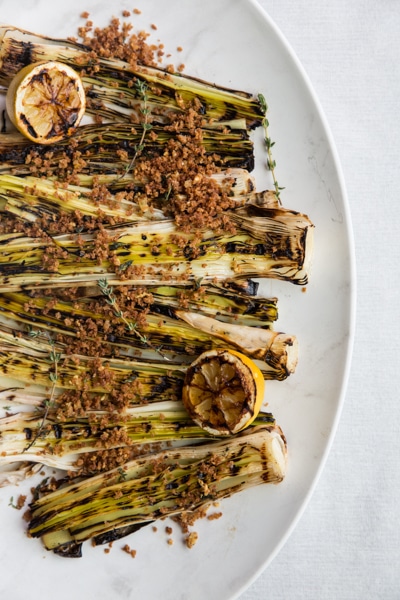 Lemon Grilled Leeks
5 leeks
3 tbsp grapeseed oil
2 cloves garlic, crushed
1/2 tsp lemon zest
1 tbsp lemon juice
salt and pepper, to taste
honey, to taste
crispy panko crumbs, recipe follows
Method:
Bring a pot of salted water to a boil.
While the water is boiling,  prepare the leeks. Cut off the upper portion of the leeks, keeping the white and pale green portion at the bottom. Cut off the opposite end, as close to the root as possible. Peel off the tough outer layers. Cut the leek in half vertically. Wash the leek thoroughly, carefully peeling back the layers to clean the dirt on the inside.
Fill a bowl with ice water; set aside. Place the leeks into the pot of boiling water and blanch for 4 minutes. Remove the leeks with tongs and place into the ice bath. Once cooled, drain and pat dry thoroughly.
Preheat your grill to medium heat.
In a small bowl, combine the oil, garlic, lemon zest, lemon juice, salt and pepper. Brush the mixture over the leeks, coating on all sides. Place the leeks on the grill and grill for 3 minutes on each side.
Place the leeks on a platter and drizzle lightly with honey. Top with crispy panko crumbs.
NOTE: If you don't have a grill you can also roast the leeks in the oven. To do so, skip the blanching, brush the leeks with the oil mixture and roast in a 425 degree oven for approximately 30 minutes, or until tender and caramelized.
VARIATION: For added spice, drizzle the leeks with hot honey. To prepare, add honey to a pot with sliced fresh chilies. Simmer for 1 hour, strain and cool.
Crispy Panko Crumbs
3 tbsp olive oil
2 cloves garlic, minced
1 tsp fresh thyme
1/2 cup panko crumbs
salt and pepper, to taste
1/2 tsp lemon zest
Method:
Heat olive oil in a frying pan set over medium heat. Add garlic, cook until softened. Add thyme and panko crumbs; sauté until crisped and golden. Remove from heat. Add lemon zest, salt and pepper.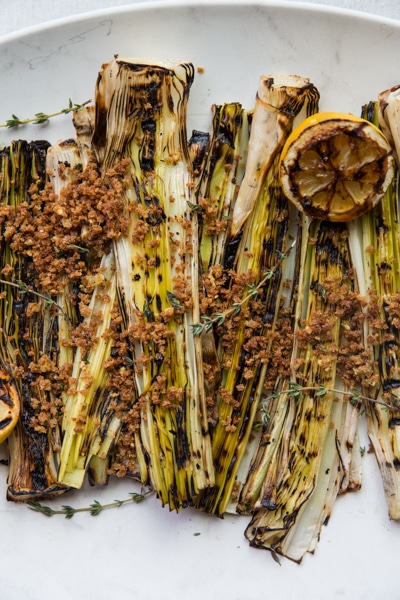 This post is sponsored by P.C. Richard & Son. All opinions are my own.
Related Recipes:
salmon en croute with creamed leeks
roasted smashed potatoes with leeks
cream of leek soup