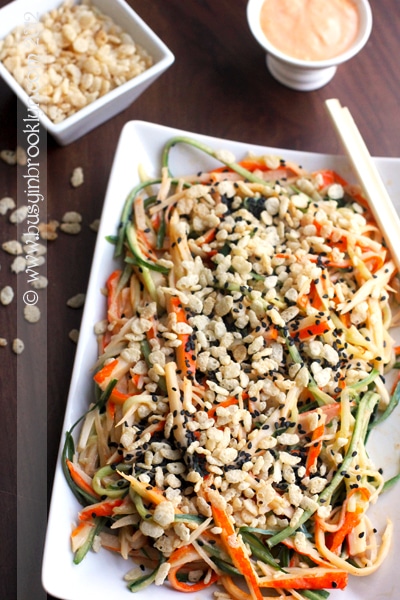 This kani salad recipe (courtesy of my cousin Chana, a great hostess!) converted me into a mock-crab fan. It's that good. If you go back to this post, you can read in my own words how much I used to dislike those orange colored surimi sticks. I'd always pick them out of California sushi rolls. But not anymore. Does the idea of eating mock-crab freak you out too? Well then do yourself a favor and make this salad. Trust me, you'll never look back!
I'm not the only one who's gaga over this recipe. I had my friend Dina and her family over during the holidays, and I served this among the appetizers. I hadn't known, but apparently Dina and her husband have sampled kani salad at just about every kosher restaurant in (and out of) town. They were excited to see how this recipe would measure up to their favorite. Not only did it measure up, it exceeded their expectations by far. In fact, they no longer order it at restaurants, they make it at home instead!
There's just something about the stringy texture and spicy dressing that makes you want to eat it all up with chopsticks. And chopsticks are fun. So, if you're looking for a colorful, spicy and delicious dish, give this kani salad a try!
Kani Salad
1 pkg mock crab surimi sticks, cut or pulled apart into thin strips
1 English cucumbers, jullienned (see tip)
1/3 cup mayo
3 tbsp rice vinegar
1-2 tbsp sriracha
2 tsp black sesame seeds, plus more for garnish
1/4 cup Rice Krispies or french fried onions
Method:
Add kani and cucumber to a bowl. In a separate bowl, combine mayo, rice vinegar, sriracha and sesame seeds. Pour dressing over kani salad and mix. Garnish with additional sesame seeds and Rice Krispies.
NOTE: Sriracha is an Asian hot sauce, typically made from chili peppers, vinegar, sugar and salt. I prefer my kani salad to be spicy so I use 2 tbsp.
TIP: The simplest method to julienne a cucumber is by using a julienne peeler. First, I cut the cucumber in half so that I can get shorter pieces (you don't want your strips the entire length of the cucumber). Then, I peel the cucumber all around, once for the peel, and another time around the inside. I discard the rest. If you don't have a julienne peeler, cut the cucumber lengthwise, and using a spoon or melon baller, scoop out the seeds. Cut the cucumber in half so that you have 2 u-shaped pieces. Place the cucumber face-down on the cutting board and cut lengthwise into thin slices. Keep the slices stacked and cut the stacks into thin strips.
VARIATION: If it's too hard for you to cut the crab and cucumbers into sticks, you can dice them up instead.
1 year ago: pan seared tuna steak
Post a Comment