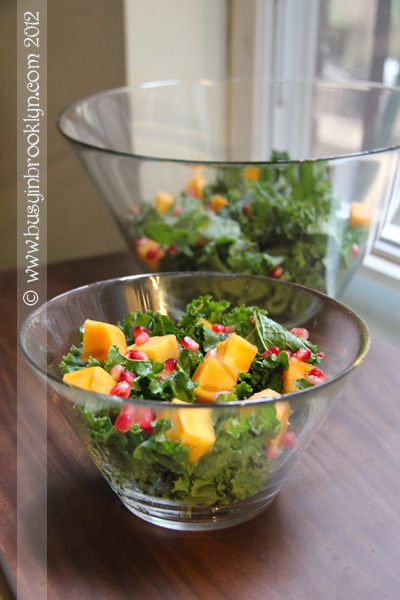 I've blogged about persimmon before, but I couldn't help exploring the overlooked fruit again since I just. can't. get. enough. I first fell in love with persimmon when I went to seminary in Israel, where they can be found in abundance.
The most important thing to know about persimmon is this: there are 2 different types, fuyu and hachiya. They can both be enjoyed during the fall months, you just need to know how to eat them.
Don't worry, I've pretty much got it all down pat. Read on and you'll soon be on your way to persimmon heaven.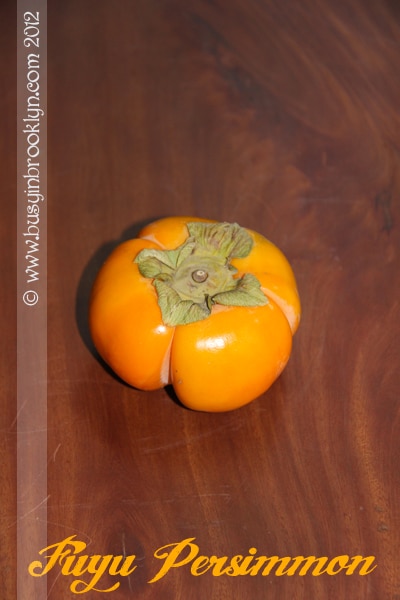 Fuyu persimmon have a squatted flat shape, almost like a tomato. They can be eaten when firm, but are best when they are just the slightest bit soft and orange in color.
My favorite way to enjoy fuju persimmon is in a salad. Use it as you would mango or papaya.
Fuyu persimmon also benefit from roasting with warm spices like cinnamon and allspice with a drizzle of honey.
Kale Salad with Persimmon & Pomegranate
1 bunch kale leaves, center ribs and stems removed
2 fuyu persimmon, hulled, peeled and chopped
1 pomegranate, deseeded (how to deseed a pomegranate)
1 avocado, cubed
1 small red onion, sliced thinly into half rings
Dressing:
1/4 cup extra light olive oil
2 tbsp pomegranate molasses
2 tsp balsamic vinegar
1 tbsp honey
salt & pepper, to taste
Method:
Tear kale into pieces and place in a large bowl, Add persimmon and pomegranate and mix to combine.
Add dressing ingredients to a bowl and whisk to emulsify. Pour over salad before serving.
VARIATION: If persimmon are not in season, you may substitute with mango or peaches.
TIP: I have read that massaging the kale helps to get rid of it's bitter aftertaste.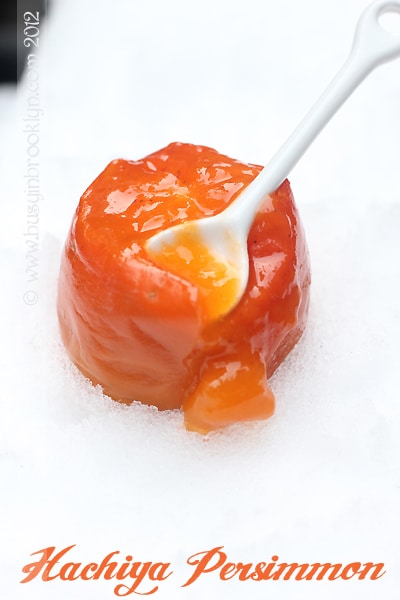 Hachiya persimmon are oval-shaped and cannot be eaten unless they are incredibly ripe – almost to the point of looking rotten. Unripe hachiya persimmon will leave a dry, pithy substance in your mouth that will make you want to scream :)
My favorite way to enjoy hachiya persimmon (short of eating the silky smooth pulp with a spoon) is freezing them for a few hours until the liquid turns into a creamy sorbet. One taste and you'd never imagine it was that easy!
The silky pump of hachiya persimmons can also be mixed into baked goods like cakes and pies as well as puddings and smoothies.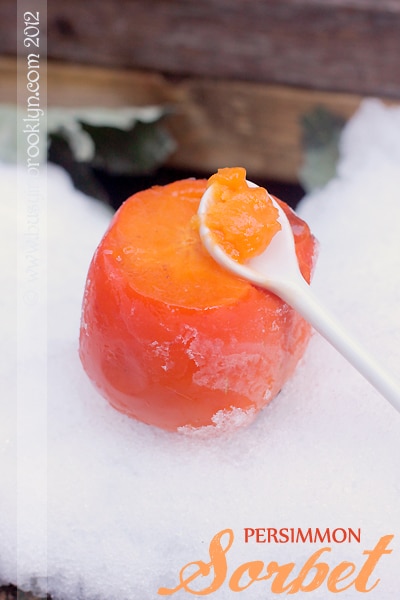 Hachiya Persimmon Sorbet
1 very ripe hachiya persimmon
Method:
Wash the persimmon and place in the freezer for 2-4 hours, until slushy, but not frozen solid. Turn upside down and slice off the tip. Scoop out the creamy flesh and enjoy.
1 year ago: apple celery veggie dip