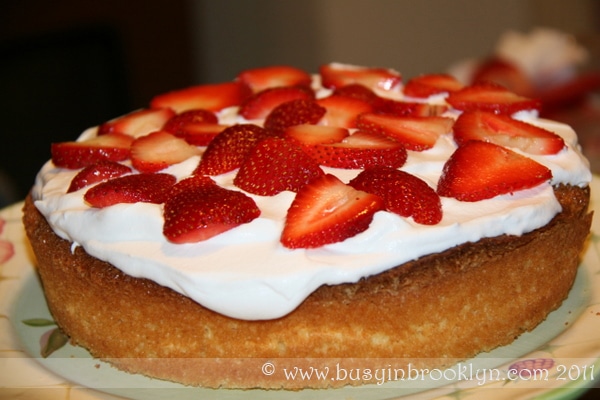 Having two daughters born in the spring and summer, this time of year just feels like birthday season to me. Well that, and the fact that my kids seem to be coming home with birthday bags every other day. I've mentioned before how I'm not the biggest baker, and most definitely not a cake decorator either. Birthday cakes, however, are the exception. I feel like it's that one momentous day when I get to make something special for the ones that I love. So depending on the day, week, or how hectic life is at the time, I decide on how much of a patchke that cake will be :)
Recently, we celebrated my daughters third birthday. She absolutely adores strawberries, so the kind of cake was a no-brainer. I wasn't even planning on blogging about it, until my sister-in-law called me for the recipe. I decided if it was good enough to want to make again, I might as well share it with you guys :)
This cake recipe has become a favorite of mine because it uses oil as opposed to margarine, and it is super quick and easy. It's a one bowl recipe that does not require a mixer. The batter works well in cupcakes, a sheet cake, or a round birthday cake. The orange juice adds a nice, mellow citrus flavor as well.
Easy Strawberry Shortcake
3  cups flour
2 cups sugar
3 tsp baking powder
4 eggs
1 cup oil
1 cup orange juice
2 tsp vanilla extract
1  16oz container whip topping
1 container strawberries
Method:
In a large bowl, mix all ingredients besides for whip and strawberries. Pour into 2 greased 9″ round pans. Bake at 350 degrees until toothpick inserted comes out clean (about 50 minutes – 1 hour).
For whip topping, thaw the topping in the refrigerator overnight. It is best to whip topping when it is cold (some people actually put the bowl and beaters in the freezer for 15 minutes before whipping as well). Pour topping into a large mixing bowl. Beat on low until small bubbles form, about 30 seconds. Increase to medium and beat until beaters have a trail, about 30 seconds. Increase to high and move beaters around the sides of the bowl, using a rubber spatula to scrape down the sides as you go. Stop beating when the whip has doubled in volume and forms stiff peaks.
For the strawberries, remove the leaves and slice lengthwise.
To prepare the cake, make sure it has cooled completely. Place one of the cakes on your cake stand, and check to make sure it is leveled. If needed, trim with a bread knife until you have a perfectly flat surface. Spread whip topping over cake. Top with strawberries (use the ends for this part and save the pretty pieces for the top of the cake). Add second cake, and check to make sure it is leveled. Trim if needed. With an icing spatula, spread whip around the top and sides of the cake. Decorate the top of the cake with strawberries.
Some of my more memorable birthday cakes!