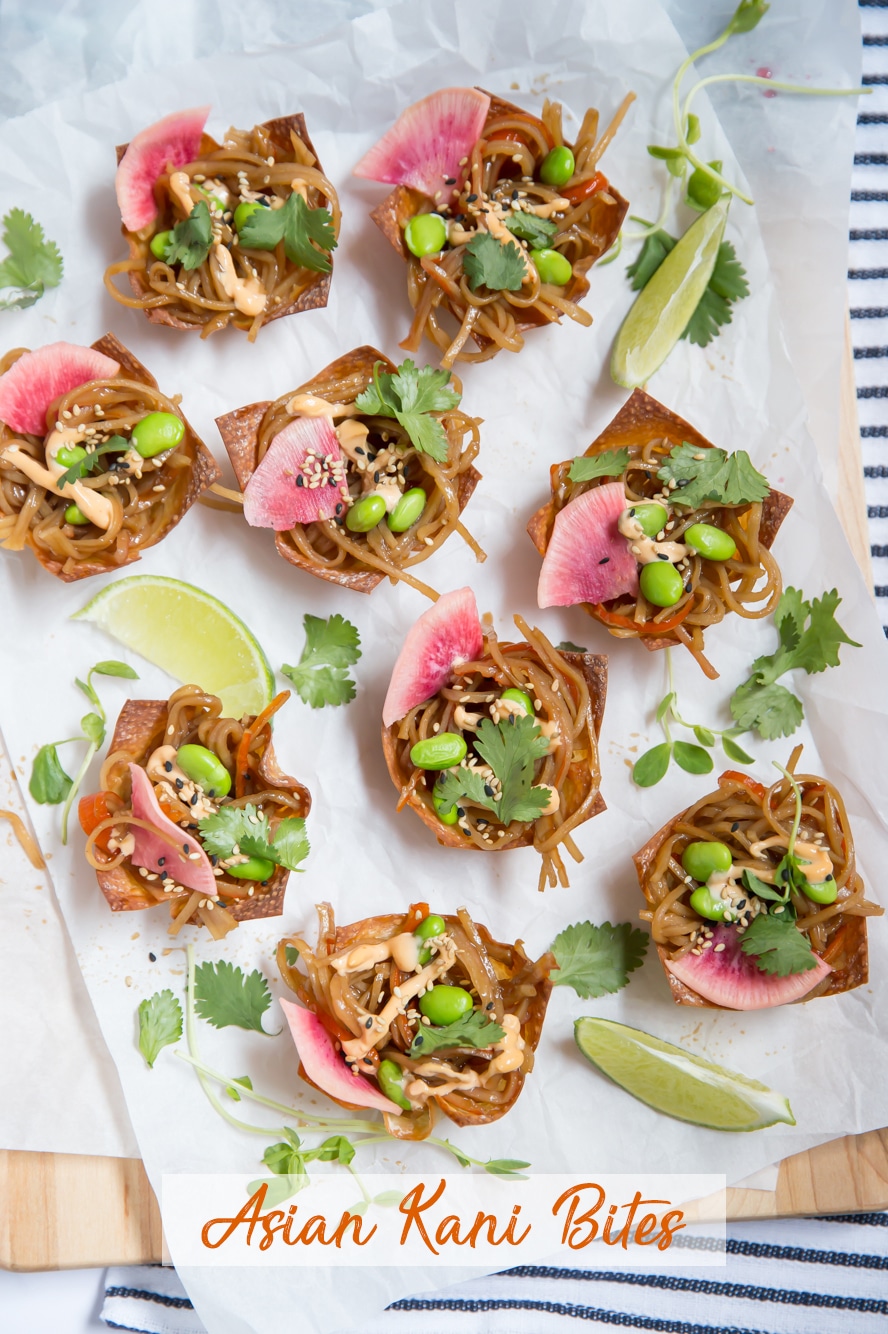 Ahhhh!!! I'm so so excited for this recipe, sponsored by one of my favorite brands, Kikkoman®! And that Yom Kippur is over, and we can all take a collective sigh of relief that the serious holidays are behind us, we've all been inscribed for a healthy, happy year, and on to the celebrations…Sukkot!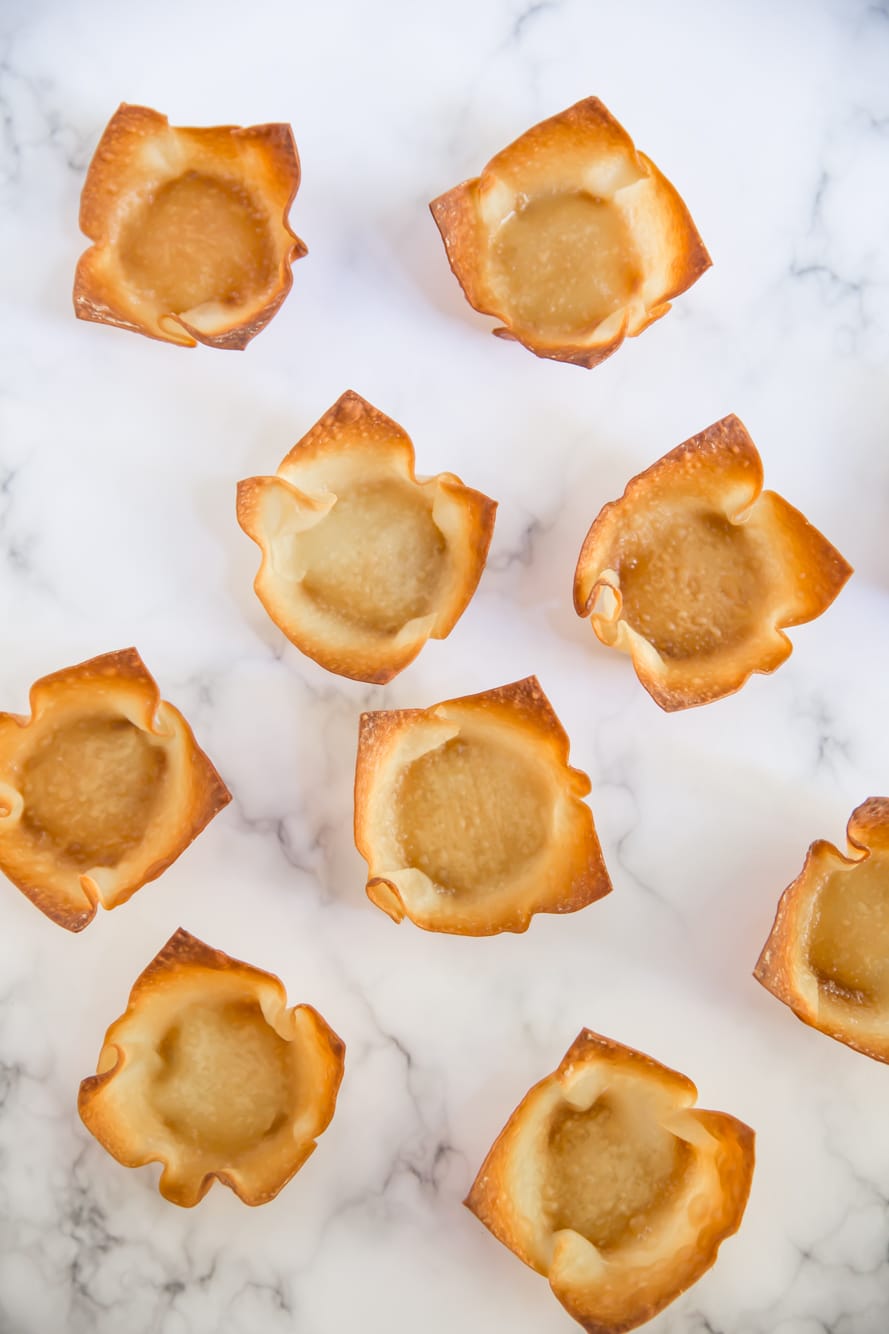 Sukkot has always been one of my favorite holidays! The weather is cool but not cold. There's this wonderful spirit in the air, and we get to hang out with family and friends just eating, singing and rejoicing. I mean, does it get any better than that?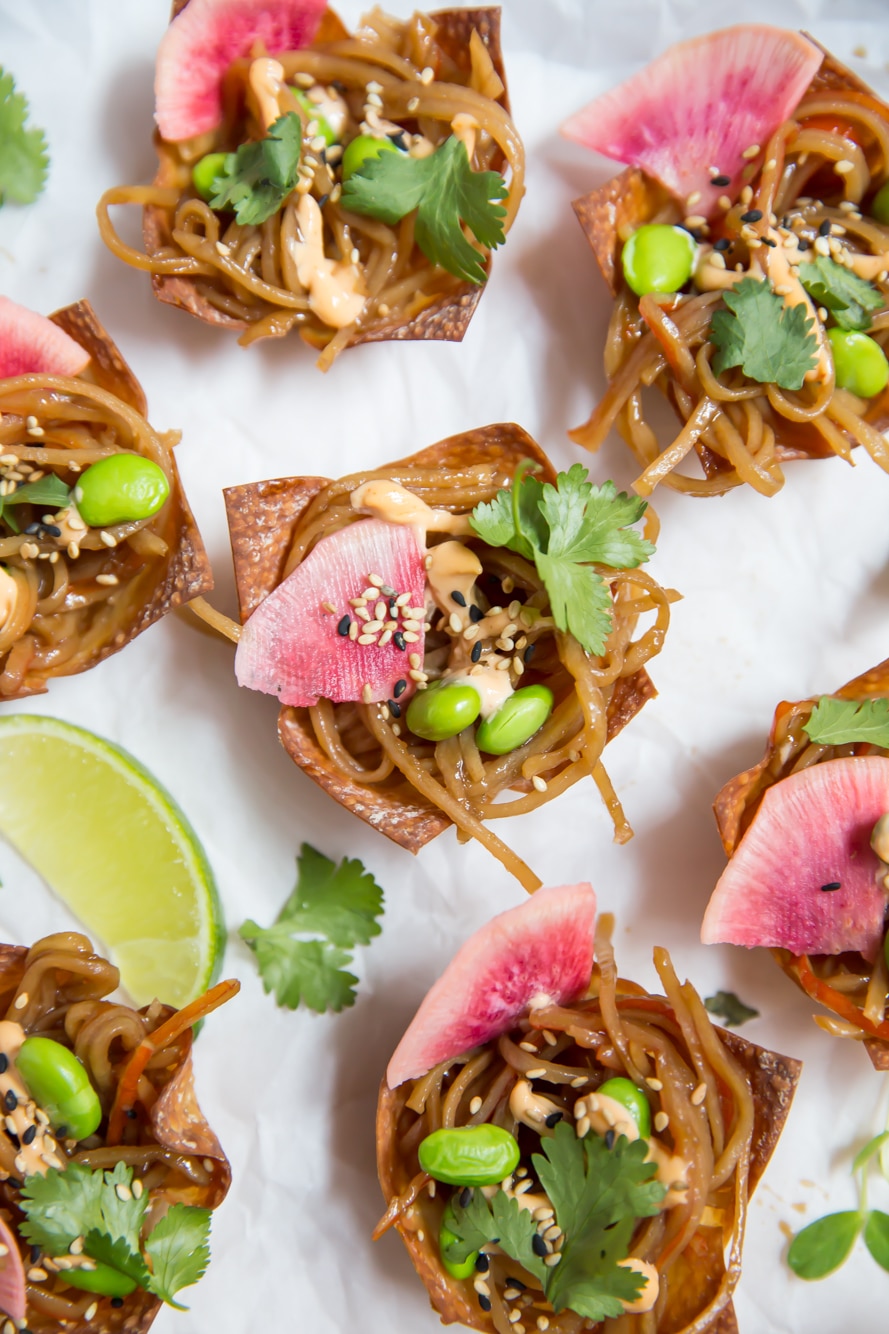 Sukkot is so special that I *almost* don't mind getting back into the kitchen, again, because I get to make my Bubby's cabbage soup, all sorts of mechshie (Syrian stuffed vegetables), my kofta stuffed dates (from Millennial Kosher) and of course, Torah cannoli for Simchat Torah!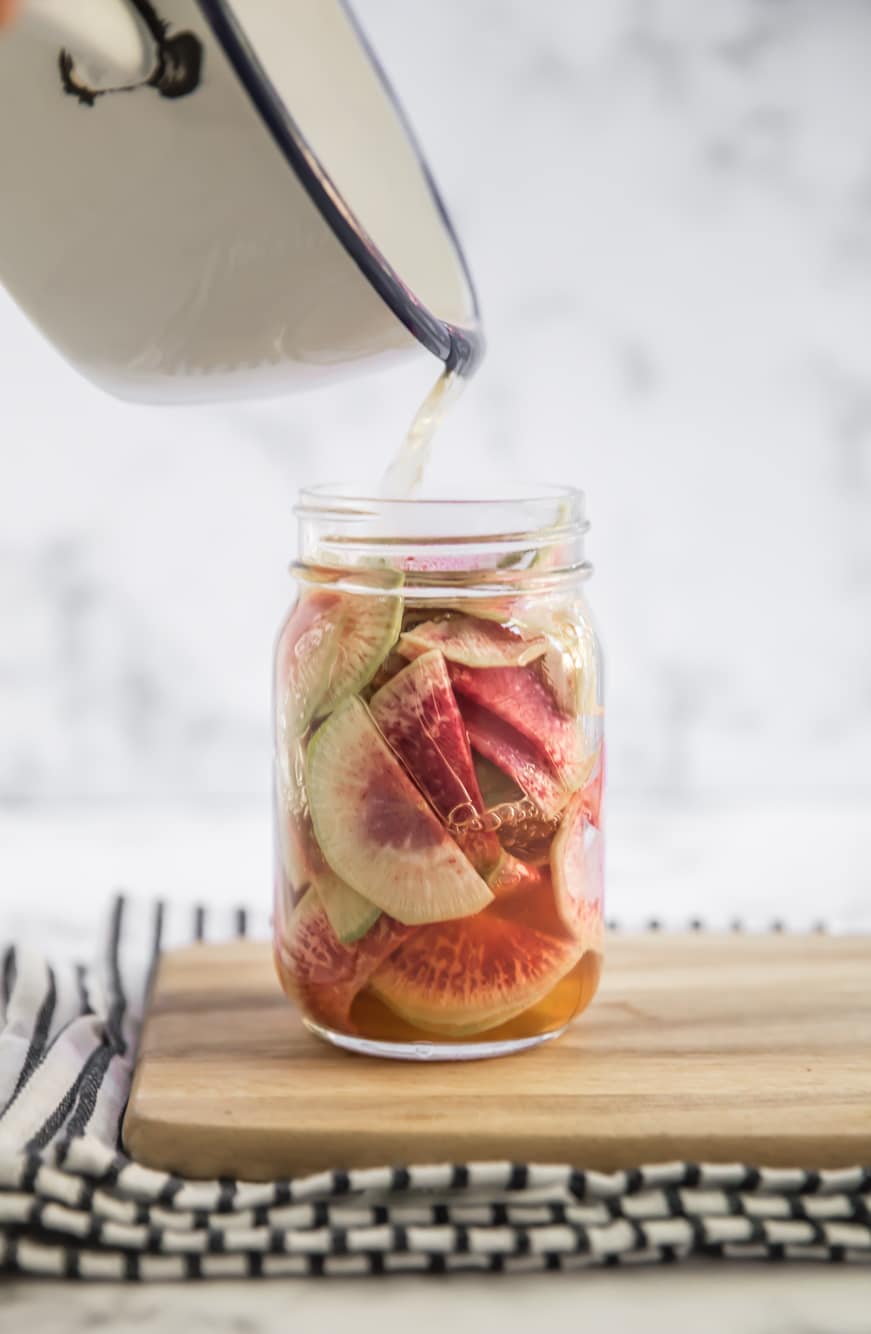 I've talked a lot about the tradition of eating stuffed foods in honor of Sukkot. The tradition is symbolic of an abundant harvest season. Since the wheat is harvested in Israel during the fall, we stuff foods to symbolize our desire for an overflowing harvest. This is popularly done with stuffed cabbage, or holipches, which some say are also made to resemble the scrolls of a Torah.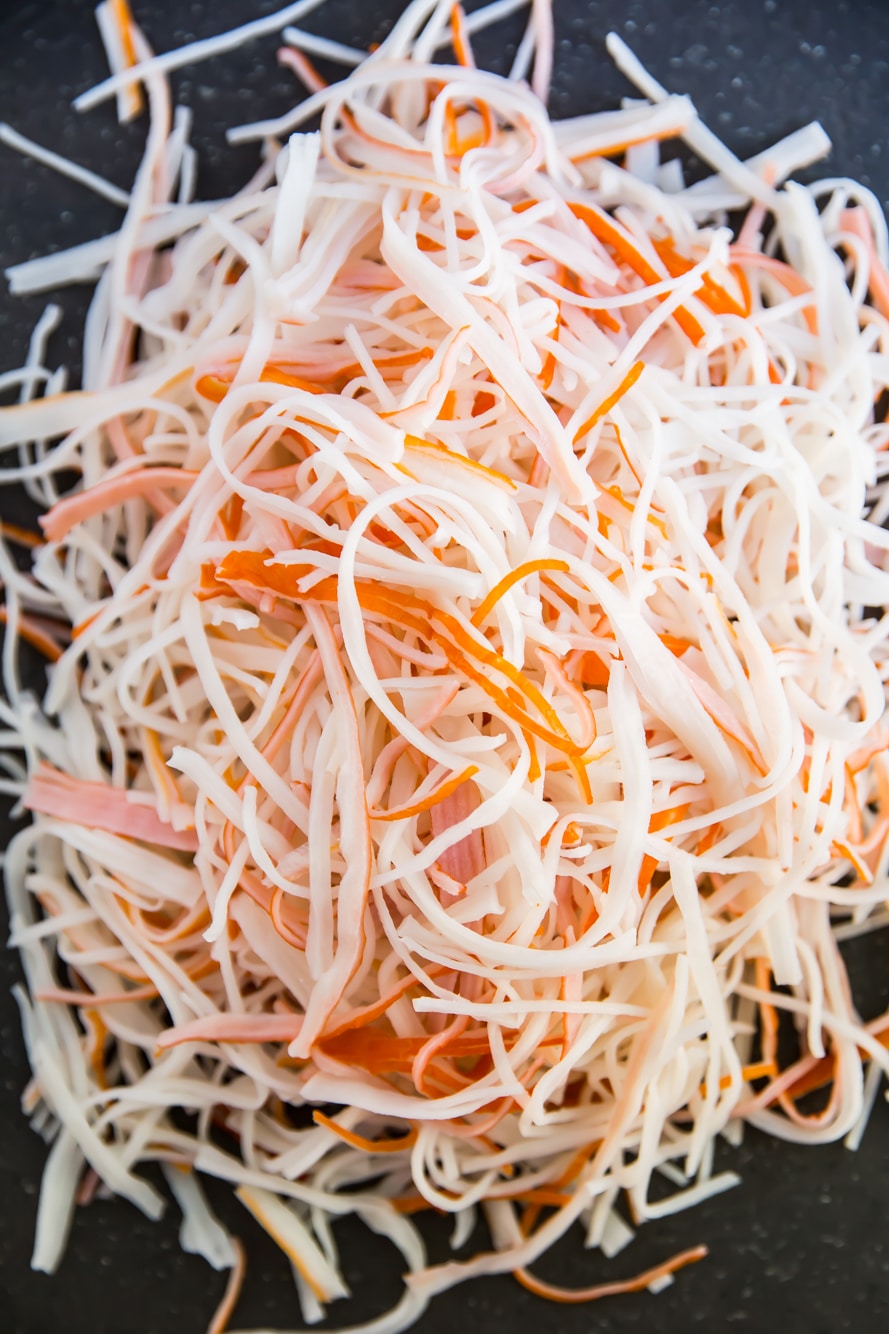 I know it's a bit of a stretch, but this year, I decided to do something new, and instead of stuffing a vegetable, I'm stuffing wonton cups with pulled kani aka surimi, or mock crab! Pulled beef has been in the spotlight for a while, and lets just say I'm bored of it. It's been on every recipe menu, at every party and holiday meal, and it's just so heavy! I wanted to lighten things up and kani is JUST THE THING.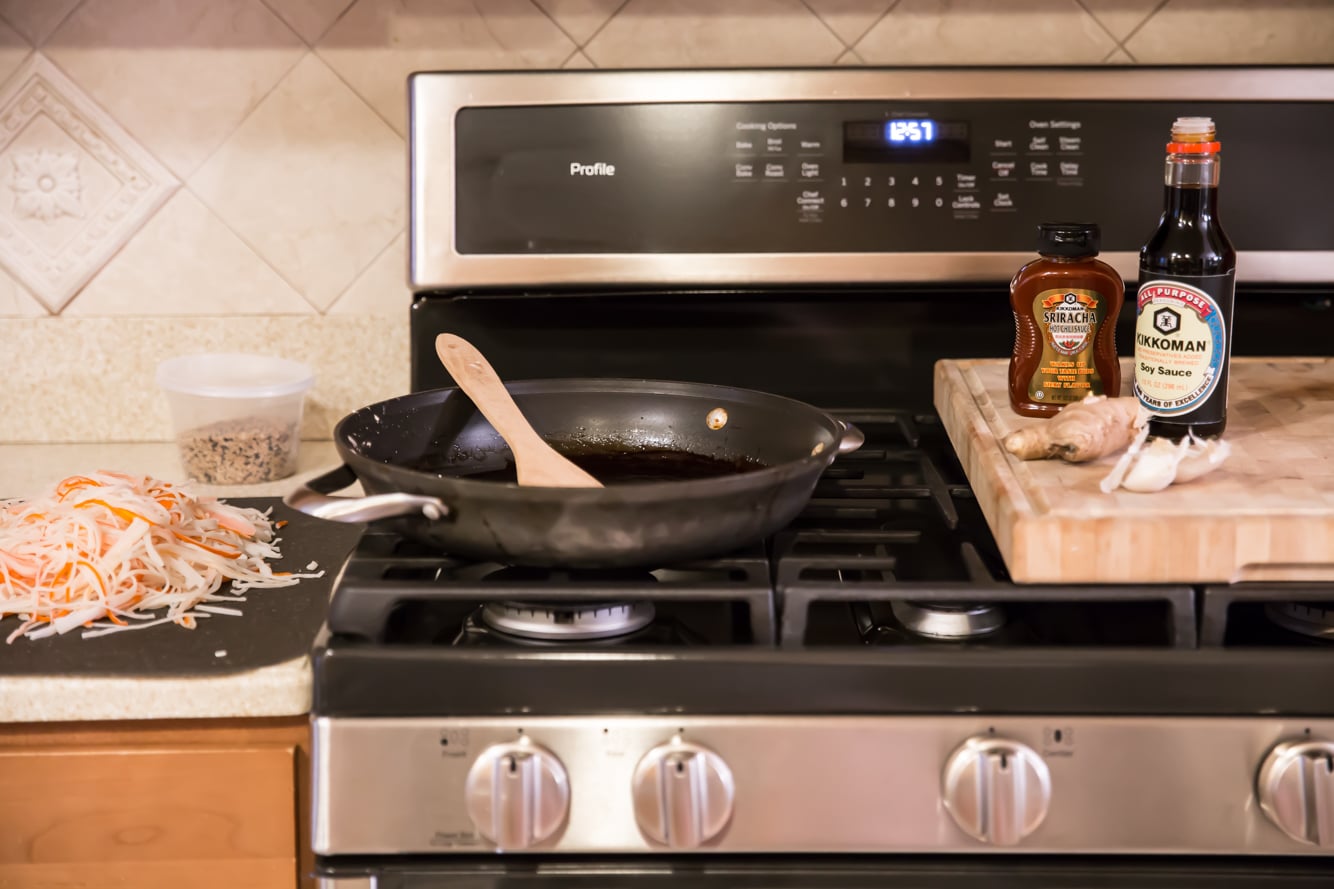 I love that surimi is a fish that you don't have to buy fresh, and I always have it in my freezer for Kani or sushi salad! My kids love my kani fried rice from my cookbook, and it's an easy appetizer you can pull together when you have last minute guests. Which happens a lot on Sukkot by the way!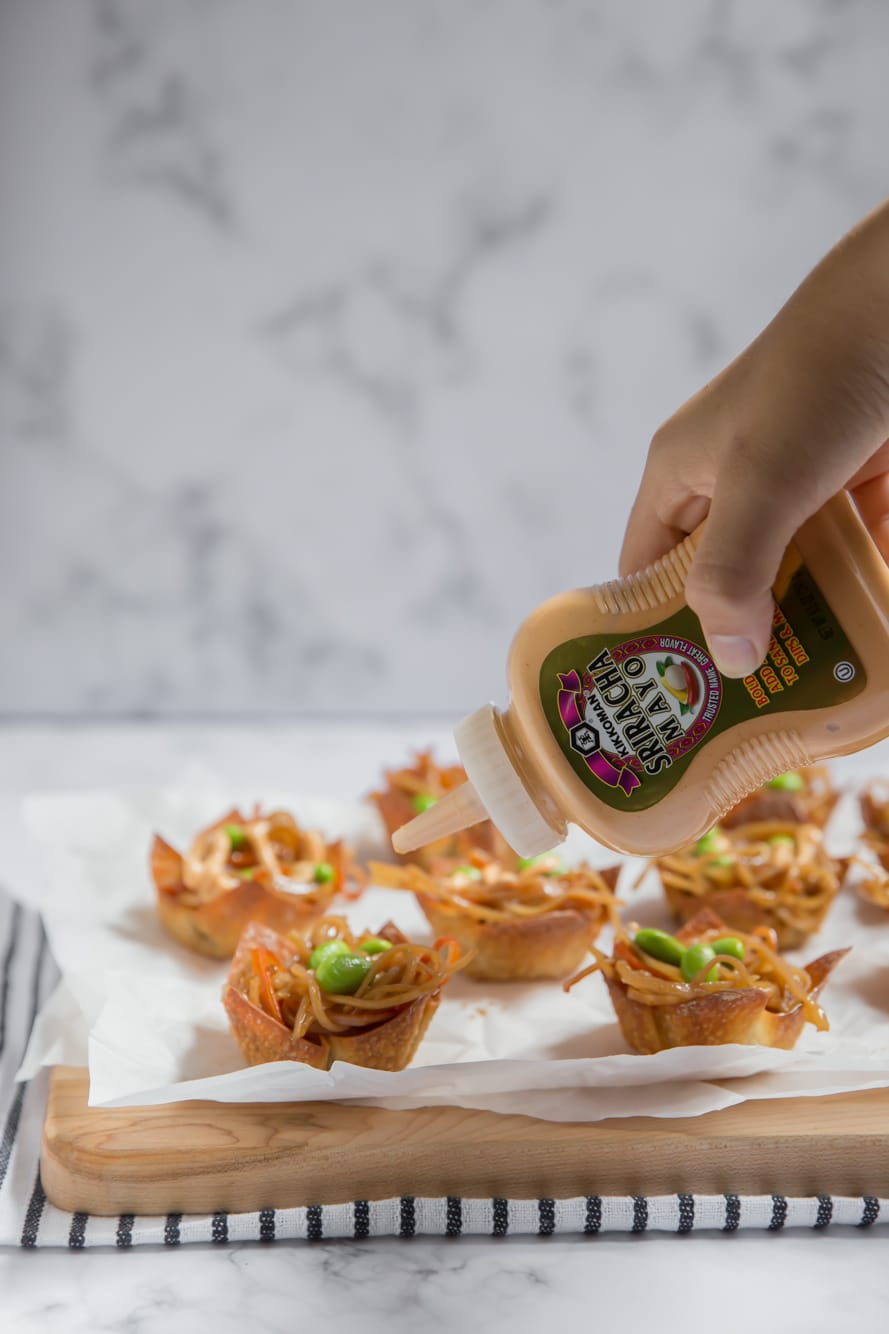 The great thing about this recipe is that it makes a lot, which is a must for holiday dishes, you can prep all the components ahead of time and just assemble before serving. If the wonton cups last that long 'cuz they're pretty addictive!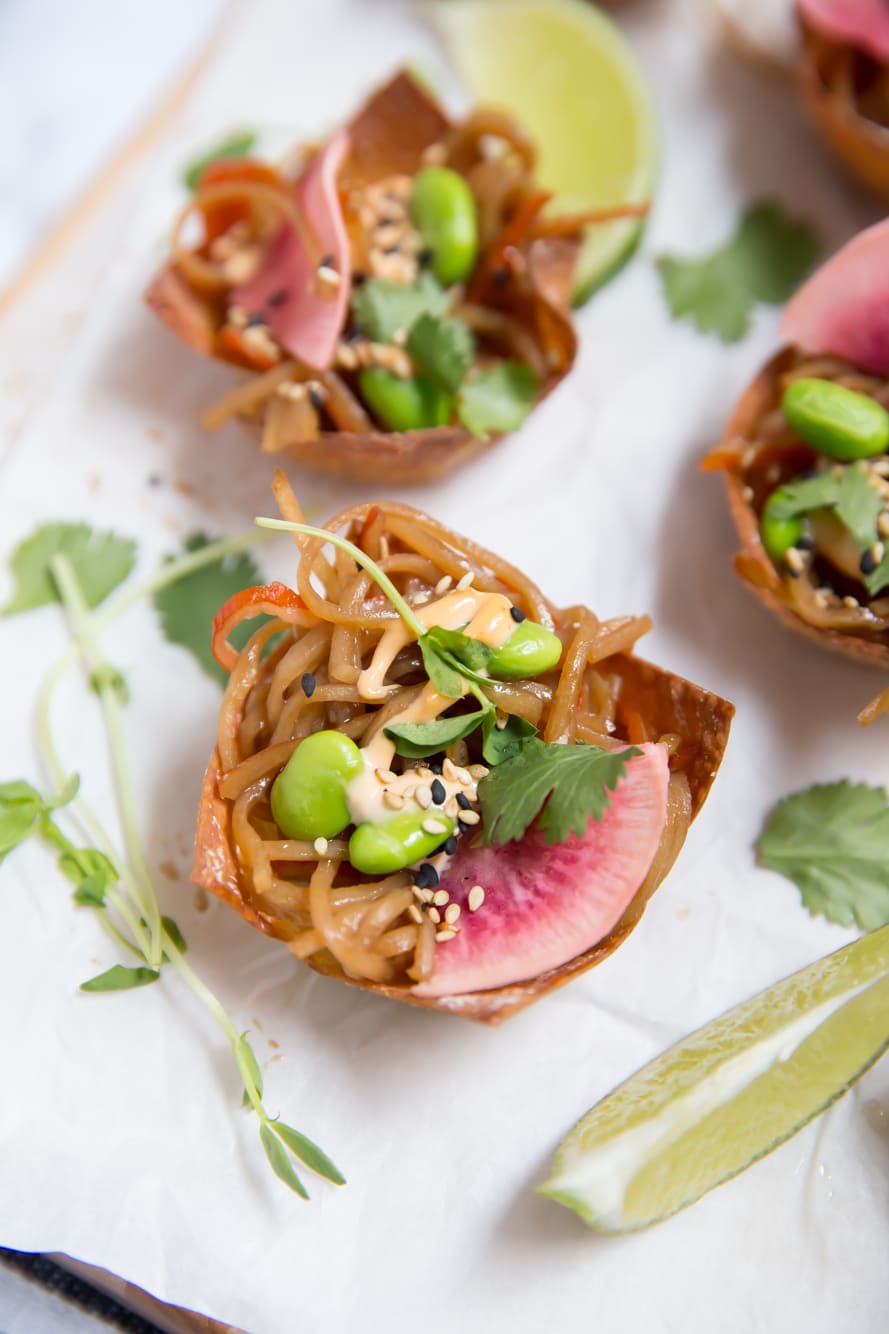 This recipe is also totally customizable – add whatever toppings you like, or stir the kani into linguini or fried rice instead of wonton cups. There are so many directions to go with this, and the Asian sauce works really well for stir fries too!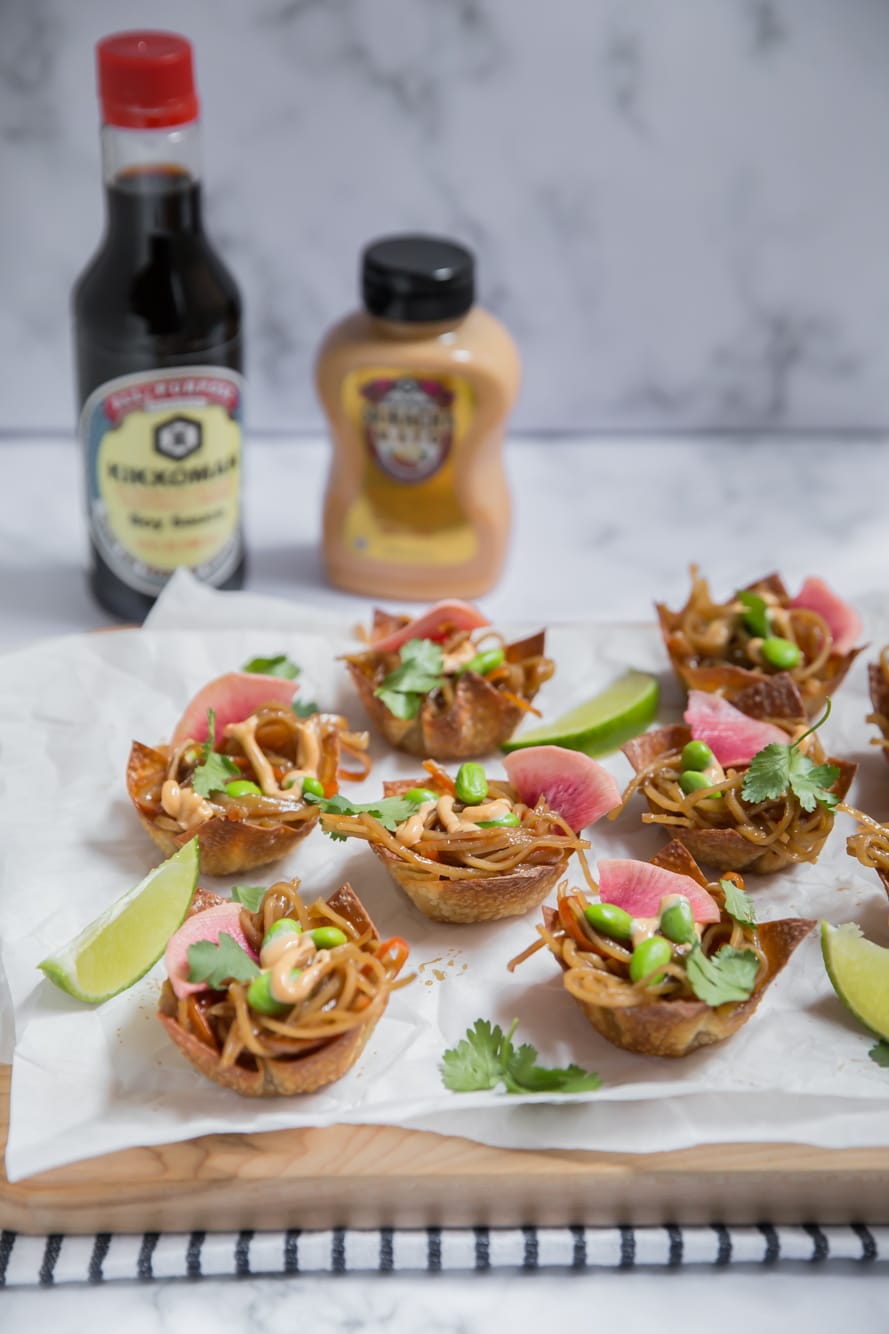 I love that Kikkoman has such a large selection of kosher ingredients, you can even buy a prepared sauce instead of making your own! A great trick for drizzling on sriracha or spicy mayo is to unscrew the Kikkoman cap and replace it with the cover of a squeeze bottle (see photo above!), it works wonders!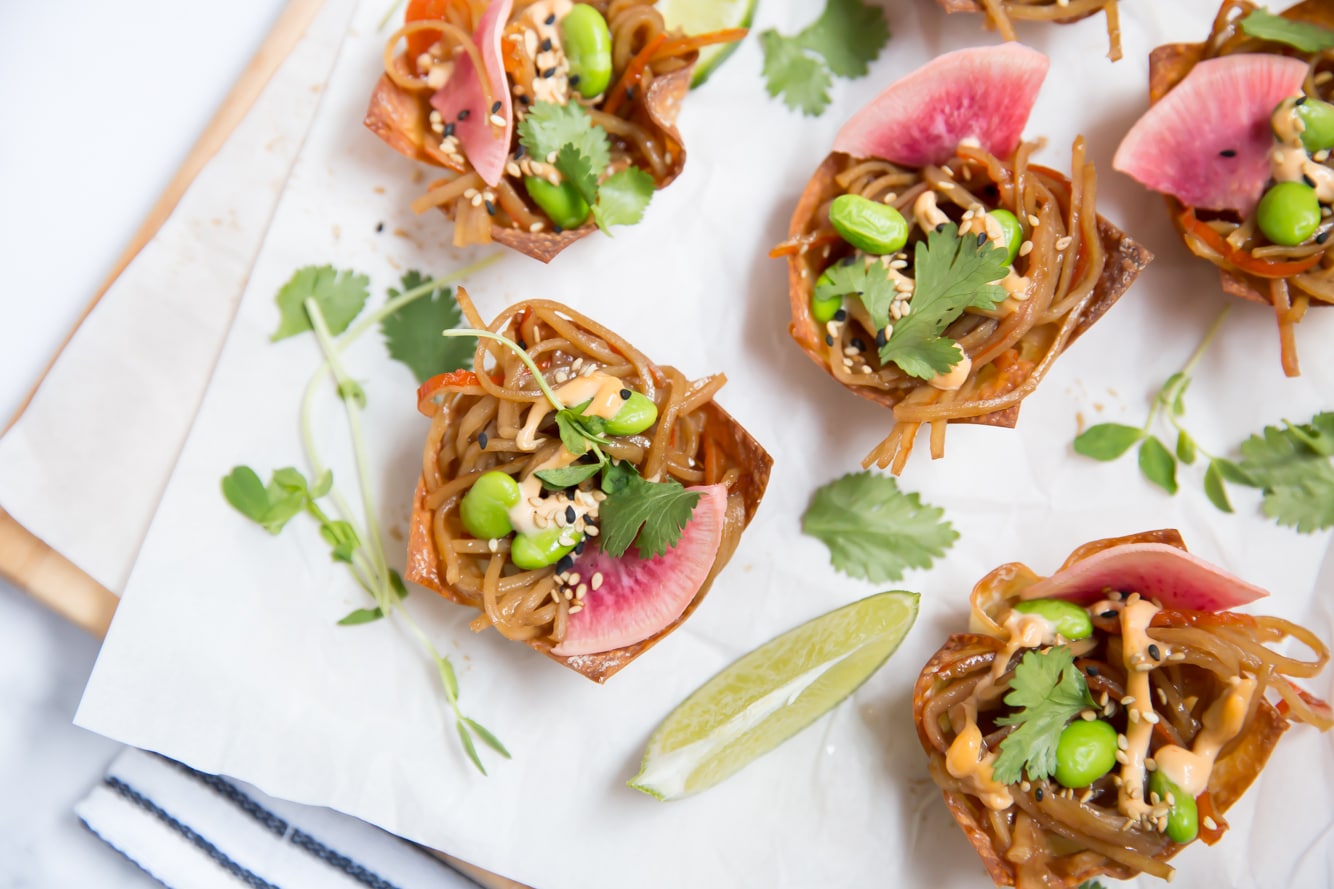 If you're feeling extra fancy, try the pickled radishes,  you can even use onions, daikon or carrot instead!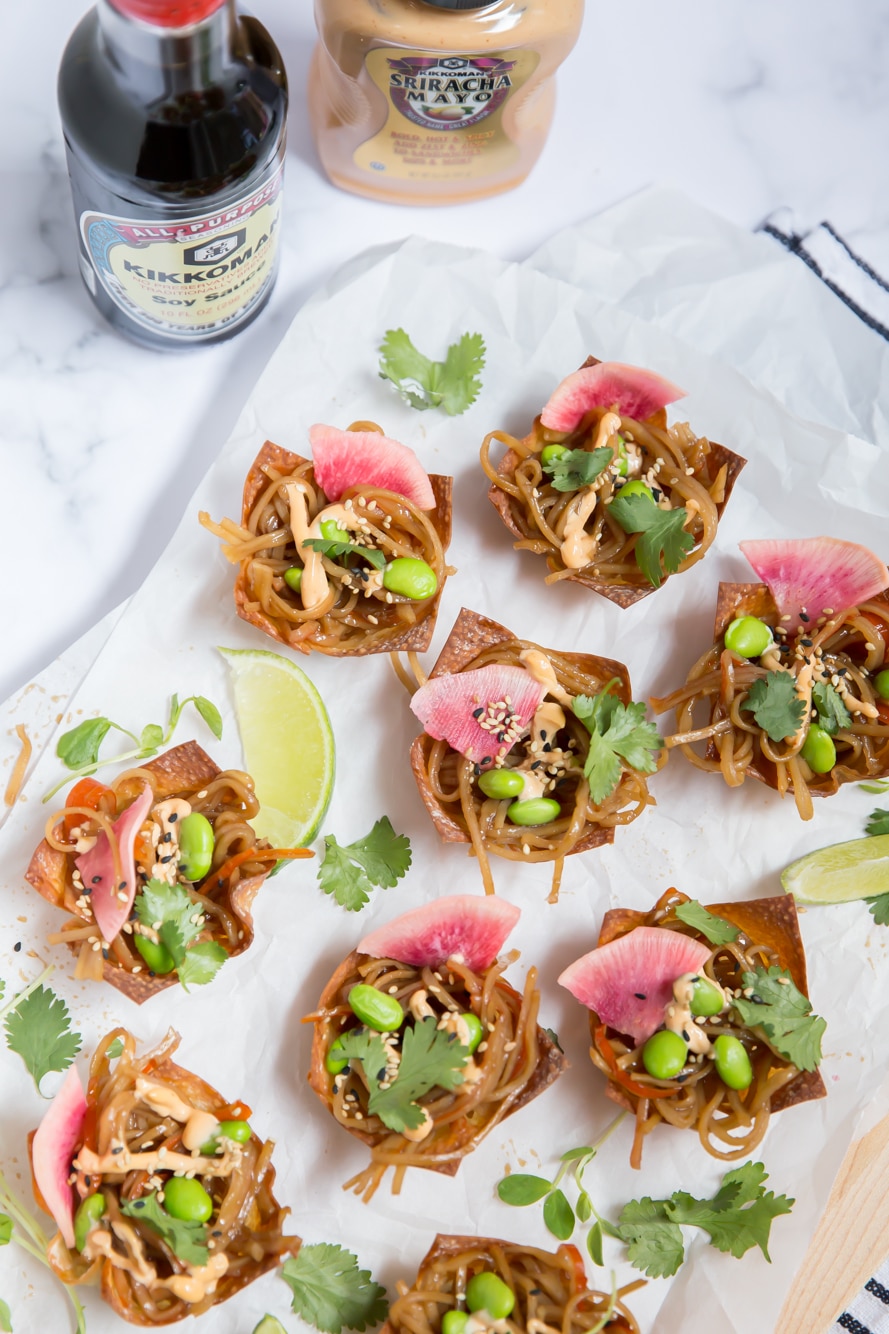 Wishing you and yours a very happy Sukkot!
Asian Kani Bites
Yield: approximately 48 cups
12oz. wonton wrappers
1 tbsp cornstarch
2 tsp Kikkoman Sesame oil
3 cloves garlic, finely minced
1″ piece of ginger, grated
1/4 cup Kikkoman Soy Sauce
1/4 cup honey
1 tsp Kikkoman Sriracha Hot Chili Sauce
2 tbsp lime juice
2/3 cup water
16oz. surimi, shredded
12oz. frozen shelled edamame, thawed
3 tbsp black and white sesame seeds
2 small watermelon radishes, thinly sliced on a mandoline (pickled, if desired, see below)
fresh cilantro, for garnish
Kikkoman Sriracha Mayo, for garnish
Preheat oven to 375 degrees. Coat four 6-cup muffin tins with cooking spray.
Gently press 24 wrappers into the muffin tins, pressing and folding against the sides. Spray the wrappers with more cooking spray. Transfer the pans to the oven and bake until the wrappers are starting to turn golden brown and are crispy and bubbling, 8 to 9 minutes. Cool completely. Repeat with the remaining 24 wrappers.
In a small bowl, mix the cornstarch with 1 tbsp water to form a paste. Set aside.
Heat the sesame oil in a skillet over medium heat and add the garlic and ginger, stirring until fragrant, but not burned. Add the soy sauce, honey, sriracha, lime juice and water and bring to a simmer. Add the cornstarch mixture, stirring with a whisk to incorporate it into the sauce. Simmer until the sauce thickens and coats the back of a spoon.
Remove the pan from the heat and stir in the shredded surimi, tossing until evenly coated.
When ready to serve, fill the wonton cups with surimi, edamame, sesame seeds, radishes and cilantro. Drizzle with sriracha mayo.
NOTES: I am not a fan of cooking surimi as it takes on a spongey texture. To prep this recipe ahead of time, prepare the sauce and the shredded kani separately. Stir together before serving. It may be served cold, or you can heat the sauce and stir with room temperature kani. You can prepare the wontons ahead of time and store in a Ziploc bag or airtight container.
VARIATION: for a quick and easy version, use Kikkoman's Sweet Soy Glaze instead of making your own.
Pickled Radishes
2 small watermelon radishes (or a few garden radishes), thinly sliced on a mandolin
1/2 cup Kikkoman Rice Vinegar (unseasoned)
1/2 cup water
2 tbsp honey
1 1/2 tsp kosher salt
pinch of red pepper flakes
Fill a glass jar with sliced radishes (halve, if necessary). Bring the vinegar, water, honey and salt to a boil. Remove from the heat, add red pepper flakes. Pour the brine over the radishes. Refrigerate until ready to use.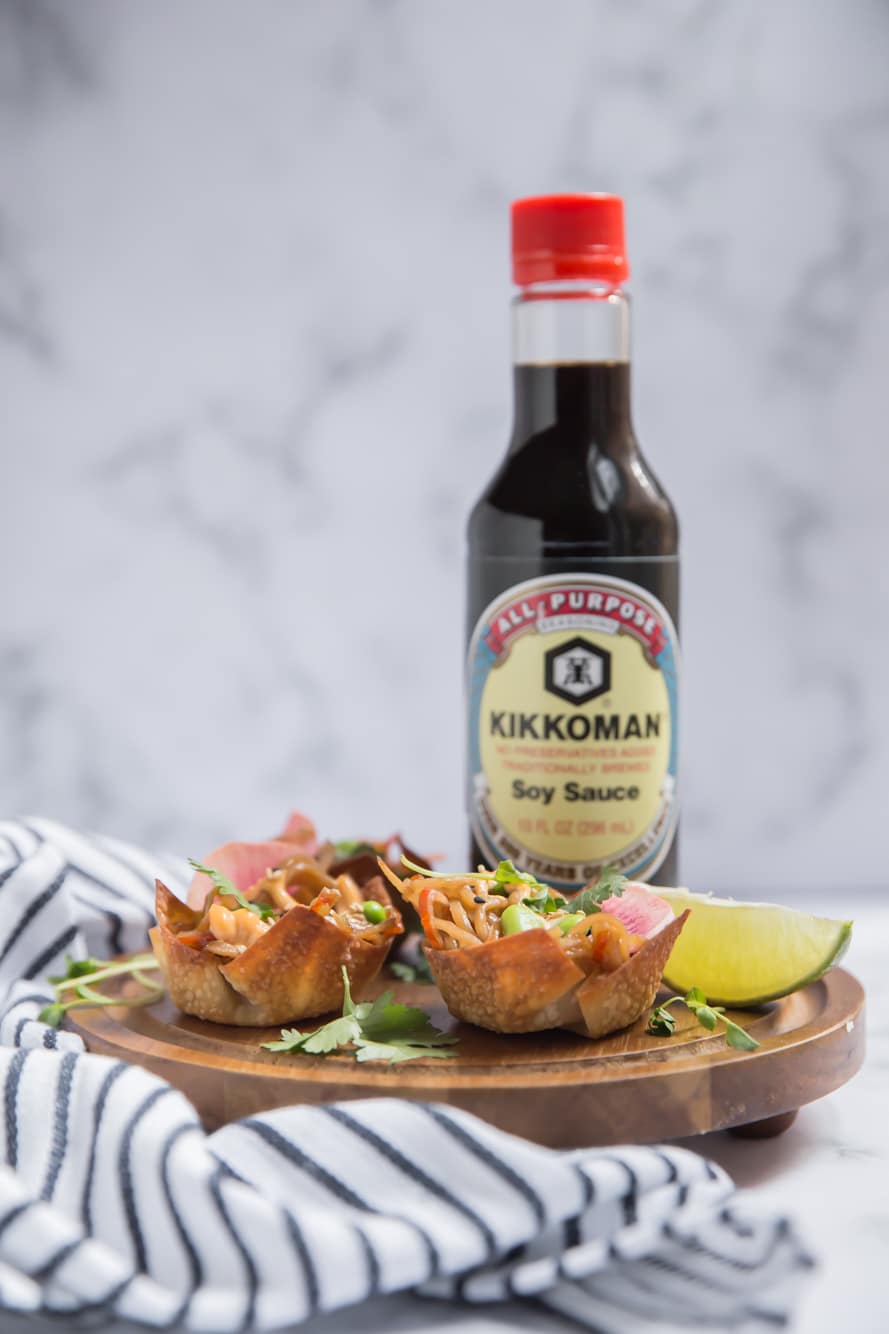 This post is sponsored by Kikkoman®.
Related Recipes:
kani salad
kani caesar salad with nori croutons
sushi salad
sushi salad II
sushi burrito