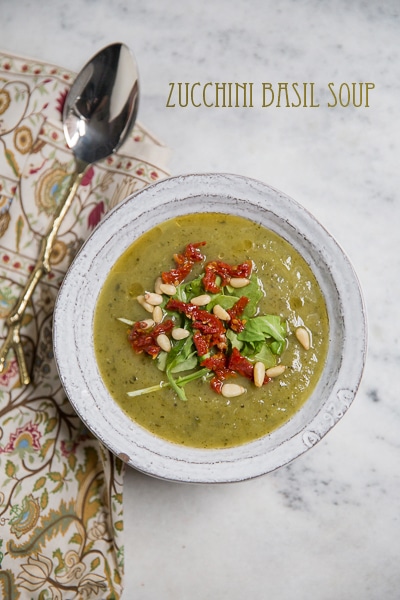 I've dreamt about this day for a very very long time. In just a few short months, I'm officially going to add cookbook author to my resume! I can't believe this is really happening, somebody pinch me! The truth is, this news isn't exactly new. It's been almost a year in the planning. But I'm finally able to spill the beans and share it with you all! My cookbook is being published by Artscroll Publications and is set for release in May 2018. It's going to KNOCK YOUR FREAKIN SOCKS OFF!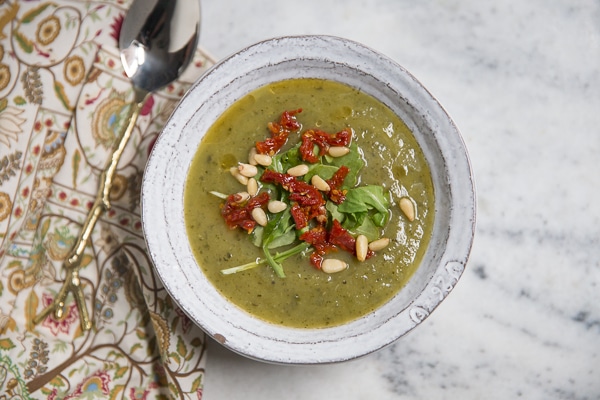 It's no surprise that I'm avid cookbook collector, and something I see a lot in kosher cookbooks is the same traditional recipes made over and over again, with slight tweaks and changes. I can't give away my cookbook theme quite yet, but let me just say, there's going to be something for everyone. The cookbook will have fresh, new recipes that you haven't seen before, and there's going to be a mix of healthy recipes, indulgent recipes, everyday recipes, holiday recipes, quick and easy recipes, and slightly more gourmet recipes. The book will have some of your favorite recipes from the blog (about 20%), but mostly brand new recipes that you've never seen before (80%!). I've been testing and retesting recipes for months, and as I near the end of the testing stage, I'm going to move on to recipe writing and photography. I'm both nervous and excited for this huge undertaking, but mostly I'm anxious to share it all with you!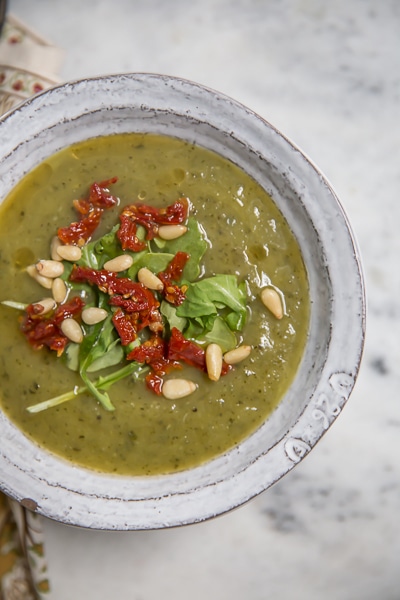 I'm going to do my best to keep things exciting here on the BIB blog, but if I don't post as much as usual, just know that it'll all be worth it in the end. I'll keep you posted with more details as they become available!
Zucchini Basil Soup
1 tbsp olive oil
1 small onion, diced
3 cloves garlic, minced
3 large zucchini, roughly chopped
4 cups vegetable stock
salt & pepper, to taste
handful of fresh basil
fresh basil or arugula, pine nuts and sundried tomatoes, for garnish
Method:
Heat the oil in a large saucepan and add the onion, saute until translucent. Add the garlic and saute until fragrant. Add the zucchini, stock, salt and pepper and bring to a boil. Reduce the heat and simmer until the zucchini is tender. Add the basil and puree with an immersion blender until smooth and creamy. You can adjust the consistency by adding water, if needed. Serve and garnish with greens, pine nuts and sundried tomatoes.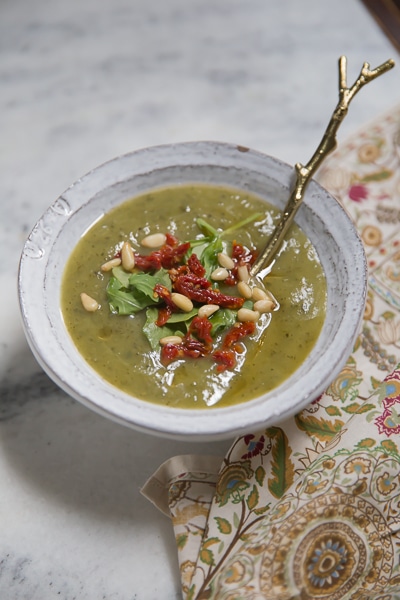 Related Recipes:
spinach white bean minestrone with zoodles
roasted tomato soup
roasted butternut squash soup