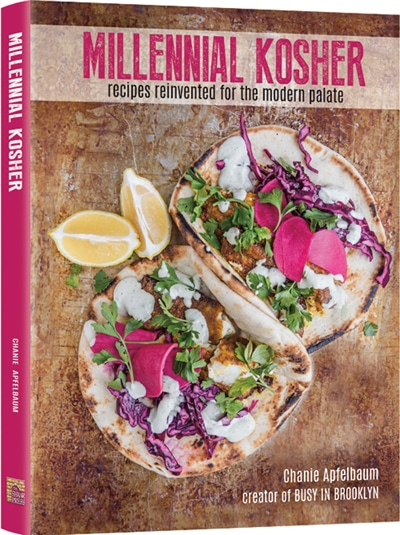 Ahhhh!!!! I cannot believe this day is really here, somebody pinch me!! My very own cookbook, Millennial Kosher, is scheduled for release on April 26th, and is available for presale! (see below for how to order!)
[Quick links: Amazon or Artscroll for a signed copy, using code BIB for free shipping.]
For years I've been posting reviews of other cookbooks on my blog, and I never imagined the day would actually come when I'd be able to post my own. Being a cookbook author has been a dream of mine for a long time, but as a mom of five, I just didn't know how to make it work. I was waiting for the right time – when I had no babies at home, when my schedule would clear up, when I…when I…when I…. Last year, I finally decided that there's no such thing as a good time to write a cookbook, and if I wanted to truly actualize my dream, I had to just bite the bullet and go for it! Here I am, just about 15 months later and I'm just two weeks away from holding that dream in my hands.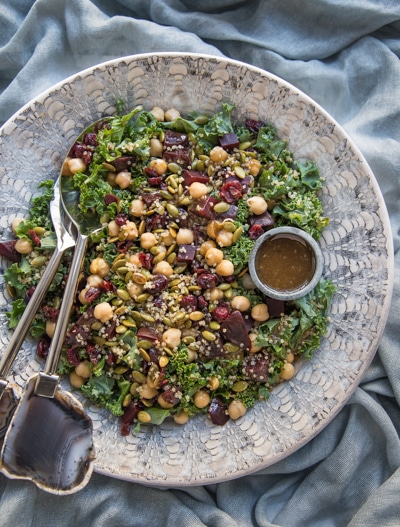 Busy In Brooklyn house salad
How it all started
A few years after starting my blog, I began to entertain the idea of writing a cookbook. I loved collecting and reading them, but the idea of writing one myself seemed too daunting and out of reach. I added "write a cookbook" to my bucket list of things I'd hope to achieve some day, and started a spreadsheet of ideas that I thought might work. As months turned into years, that list continued to grow. Last year, I decided it was finally time and I scheduled a meeting with my publisher, Artscroll Publications, in November 2016. They had a few books lined up, so I was given a tentative publication date of May 2018.
I quickly got to work consolidating the excel sheet and mapping out a concept for my book. Over the next few months, I changed my concept several times and structured and restructured that sheet more times than I can count! I started to write up all the recipes that had already been tested, and created a new list of recipes that had to be developed based on my ideas. I spent most of my summer developing those recipes in the kitchen of my summer home in Upstate New York, testing and retesting until they were perfect.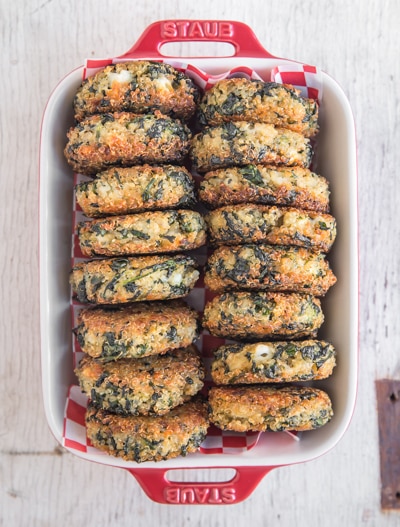 spanakopita-quinoa-patties
In October, I was finally ready to share the news of my cookbook on social media – and it all started to feel so real! I began to work with my editor on perfecting each written recipe, and when I traveled to Australia for my nephews Bar Mitzvah in December, I wrote all my intros and other introductory chapters on the plane.
As soon as I got back, I got to work turning my dining room into a photography studio. Over the years, I had amassed an impressive collection of props, and I set out to organize them by color so that I could style my photos more easily. I hired an assistant to help me cook the recipes for the shoots, and in a few short weeks, we cooked our way through Millennial Kosher, 5-8 recipes per day. I styled and photographed each dish amid pick-ups, snowstorms and diaper changes, and each night as I lay in bed looking through the photos of the day, I couldn't believe what I had accomplished. My kids were super happy to have endless options for dinner each night, my cleaning help got a hefty goody bag by the end of the week, and we ate our Shabbos meals in the middle of my tiny kitchen until we wrapped up shooting ahead of schedule, on February 1st.
The last few months have been a blur of testing, editing, decision making, stressing, and very. little. sleep. Slowly the book started to come together as a tangible thing, and not just an excel sheet. My dreams are coming true and I am so grateful for it!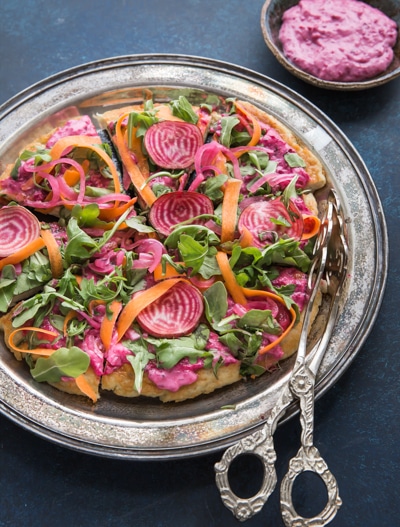 gefilte fish "pizza"
The Concept
Over the years, I've come to find my niche in the world of kosher food blogging – putting my own spin on traditional Jewish foods. There's a plethora of great kosher cookbooks out there – but I always felt that they seemed to include a lot of the same recipes over and over again, with small tweaks and changes. I felt like the kosher food world needed something fresh and new – food influenced by international cultural cuisine, recipes using bold ingredients and spices, and dishes without the dreaded margarine and onion soup mix of our youth. I wanted to make cooking fun again, brighten dishes up with color and do away with the heavy, overly sweet Ashkenazi food I grew up with. I came up with the name Millennial Kosher – a title that embodies my passion for new food for the new generation.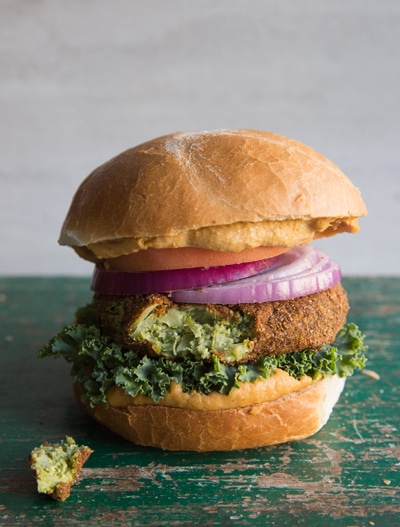 broccoli burger with cashew "cheddar" sauce
What's in the book?
When I thought about the dishes I wanted to include in the book, I realized that I had to appeal to a wide spectrum – people who love my healthy recipes, people all over the world who make my not-so-healthy hasselback salami, those who want holiday recipes, people who want quick and easy dinners, and those who want recipes that are more involved. Of course I also needed to appeal to those who wanted to introduce fresh and new ingredients into their dishes, and those who wanted to use basic pantry staples. I think I found a good balance, and there is truly something for everyone in this book!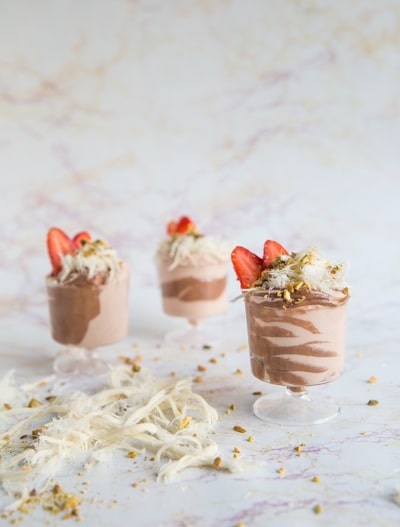 marbled halva mousse
Here's a breakdown of what you'll find in Millennial Kosher:
How to Cook Millennial Kosher
explaining my outlook and philosophies on cooking kosher in today's day and age.
The Millennial Kosher Kitchen: Tools & Equipment and Ingredients
how to stock your kitchen and pantry with Millennial equipment and ingredients.
Staples
some of the basics I always have on hand like pickled onions, bone broth and preserved lemons.
Breakfast & Brunch
fun recipes for everyday or Sunday splurges like marble cake pancakes, sweet and savory toast and overnight oats affogato.
Appetizers
bite-sized dishes that are great for parties or Shabbos and Yom Tov, like kofta stuffed dates, lachmagine flabreads and hasselback potato salad bites.
Salads & Spreads
some of my favorite salads for everyday and holidays like spiralized beet noodle salad, kale caesar salad and deli pasta salad.
Soups
seasonal soups for cold winter days and lighter summer recipes like curried coconut corn soup, ramen bowls and kale, ale and kielbasa soup.
Fish
fun twists on classic gefilte fish plus everyday recipes like everything bagel tuna patties and kani fried rice. 
Poultry
roasted, braised and stuffed – all types of chicken like olive chicken for a simple dinner, pineapple rotisserie chicken that will knock your socks off, and Ma's amazing stuffed cornish hens that you can dress up or down.
Guide to Kosher Meat Cookery
demystifying the various cuts and cooking methods for kosher meat, to help you understand what to buy and how to cook it.
Meat
basics like pulled beef and hasselback salami (3 ways! + a fun way to serve it) and holiday worthy dishes like fall harvest roast and sticky silan short ribs.
Meatless Meals
Meatless Mondays are a huge passion of mine, so I dedicated a chapter to meat and dairy-free meals that are great for vegetarians and vegans alike. Recipes include basics like vegetarian chili, fully loaded stuffed eggplants, plus ethnic foods like quinoa pad thai and tempeh fajita lettuce cups.
Dairy
a delicious assortment of everyday and fancied up options like baklava blintz bundles, nish nosh mac 'n cheese and roasted vegetable and goat cheese calzone buns.
Sides
colorful and flavorful side dishes like sugar free butternut squash pie, roasted tricolor beets with grapefruit gremolata, confetti cabbage and roasted sweet potatoes with gooey pecans.
Cakes, Pies & Tarts
showstopping desserts that will wow your family and guests like orange creamsicle cheesecake, red wine chocolate cake with poached pears and chocolate hazelnut ganache tart with a macaroon crust.
Sweets & Treats
a combination of healthy and indulgent snacks for the family or special holiday treats like pecan pie bites, cowboy biscotti, babka straws, date peanut chews and persimmon fritters.
Savory Snacks
I much prefer salty and savory snacks over sweet ones so I incorporated a whole chapter to crunchy, salty and spicy snacks that are great to have on hand, like honey za'atar granola clusters, roasted chickpeas three ways and smoky sumac almonds.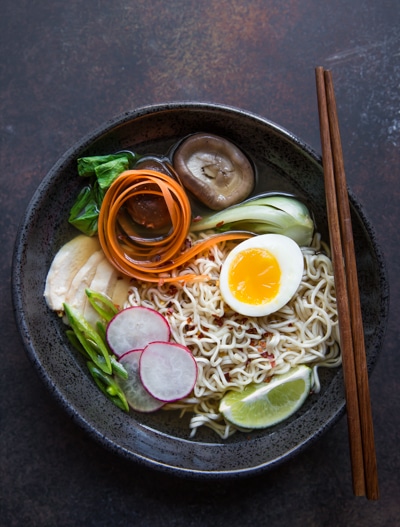 ramen bowls
How to Order
The cookbook is available on Amazon currently for $27.92. Free Shipping for Prime members only. Book ships a few days after the release date.
You can also order on Artscroll for $31.49 plus free shipping using coupon code BIB. All orders through Artscroll will receive a signed copy. Book will ship out immediately on the release date of April 26th.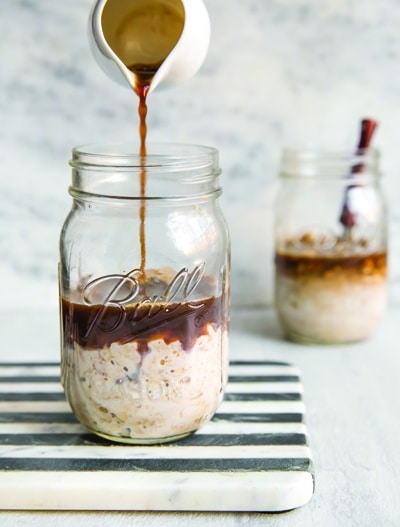 overnight oats affogato
Frequently Asked Questions
Are there mostly new recipes in the book or are they from your blog?
Most of the recipes in the book are brand new, with a few blog favorites as well as recipes that have been featured at my cooking demos and classes over the years.
Do the recipes use hard to find ingredients?
Some of the recipes in the book (a small percentage) use ethnic ingredients like sriracha, tamarind paste, harissa or pomegranate molasses. The chapter on kitchen ingredients makes note of where you can find these products. Some of the recipes offer substitutions, where possible.
What can I expect to find with each recipe?
Many of the recipes include variations and notes on how to simplify the recipe or prepare it a different way. Recipes also include a note if they are freezer friendly (with instructions when necessary). Many recipes also include helpful tips.
Are you available for book signings and cooking demos?
Yes! I love to bring my passion for reinventing kosher foods to audiences worldwide. Email busyinbrooklyn@gmail.com for more information.
Will the book be available in stores?
Of course! The book will be sold in Judaica stores all over the world including Canada, Australia, South Africa, Israel and Europe. If you do not see the book in your local store, ask your book seller to bring it in.
What is the cover photo of and why did you pick that one? 
The cover photo includes shawarma fish laffos (laffa+taco) with pickled turnips, cabbage slaw, parsley and a Greek yogurt tahini crema. It was one of the first photos I took of the book and I knew it would be my cover shot from the second I took it! I felt this dish really embodied what Millennial Kosher is all about – fresh, colorful food that is reinvented and influenced by cultural cuisine.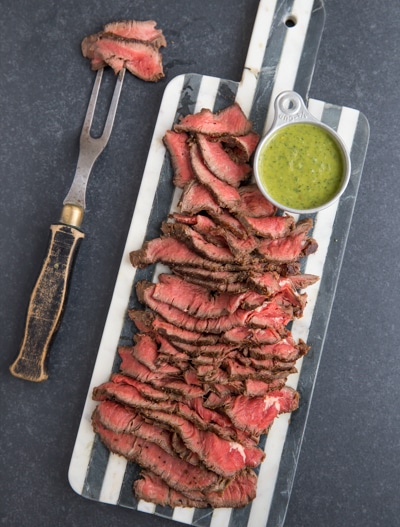 beer marinated london broil with arugula chimichurri
Got more questions about the book? Leave a comment below or email me at busyinbrooklyn@gmail.com.
All photos from Millennial Kosher ©Chanie Apfelbaum and Artscroll Mesorah Publications.