When the Kosher Connection team (a group of Kosher Food Bloggers that I belong to) decided on the theme of "cold soups" for this month's Link-Up challenge, I was thrilled. I had made these poached apricots a few times already, and I knew I just had to share them. Granted, poached apricots in moscato, honey & vanilla bean syrup is a bit of a stretch for a soup, but I think we're covered. Cold fruit soups are all the rage in the summer, and this elegant take on a fruit soup is the perfect way to celebrate apricots – summer's sweet and tart bounty.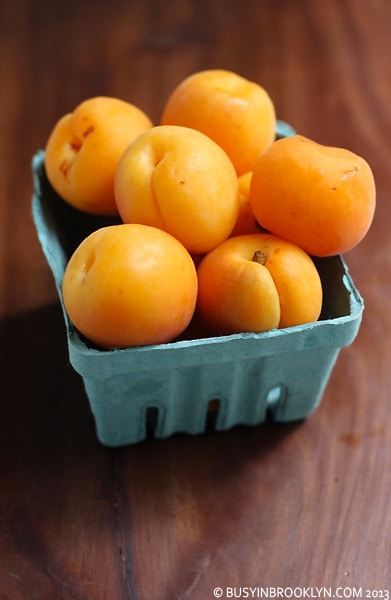 Fresh apricots are available from mid-June to mid-July and are best tree-ripened (it doesn't ripen after it's picked). Try to find them at your nearest farmers' market for optimum flavor. Apricots should be purchased ripe or slightly under-ripe, yielding slightly to gentle touch.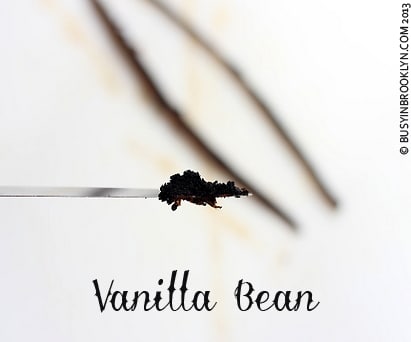 Poaching is one of the best ways to prepare apricots, but they can also be grilled. The addition of honey helps to balance out the apricot's tartness. Vanilla bean and Moscato wine add an amazing depth of flavor that complements the apricots perfectly. The syrup is so unique and flavorful, you'll want to drink a cupful all by itself!
What is your favorite way to prepare apricots? Share your ideas with me in the comments below.
For more great cold soup recipes, check out the Kosher Connection Cold Soup Link-Up Challenge below! You can also view my recipe for cold strawberry rhubarb soup here.
Moscato, Honey & Vanilla Bean Poached Apricot
10 fresh apricots
2 cups Moscato wine
1 cup water
1/2 heaping cup honey
1/2 vanilla bean
juice of 1/2 lemon
Method:
Cut apricots in half and remove pits. Scrape the seeds off the vanilla bean and place the seeds and the bean in a pot. Add moscato, water, honey, and lemon juice. Bring the mixture to a boil, stirring to make sure the honey and vanilla bean seeds are incorporated throughout. Add the apricots and reduce to a simmer. Cook for approximately 5 minutes (depending on ripeness) until apricots are fork-tender. Using a slotted spoon, carefully remove the apricots from the pot. Bring the sauce to a boil and cook over high heat until it is thick and syrupy (reduced by half). Set the apricots and syrup aside to cool. Add to a jar and refrigerate until chilled. Serve with frozen yogurt and chopped nuts.
NOTE: If desired, you may gently remove the skins of the apricots after poaching. I prefer to leave them on as they are quite thin and don't bother me.
VARIATION: To make apricot sauce, do not remove the apricots from the sauce. Instead, let the apricots continue to cook until they fall apart and the sauce begins to thicken. If you prefer to peel the apricots for the sauce, poach for a few minutes, remove and carefully take off the skins. Return to the pot and continue to cook until apricots fall apart and sauce thickens.  Serve over ice cream or yogurt.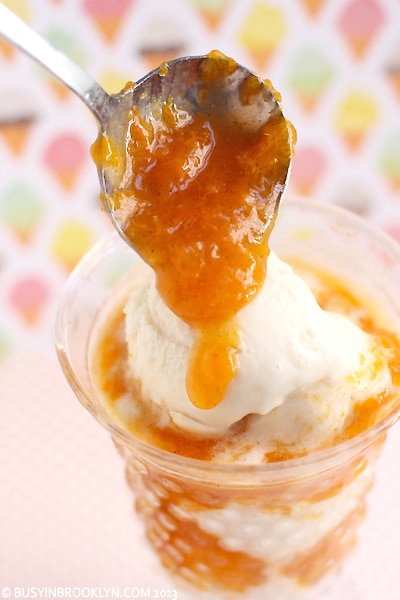 1 year ago: shlishkes
2 years ago: tuna salad with a twist