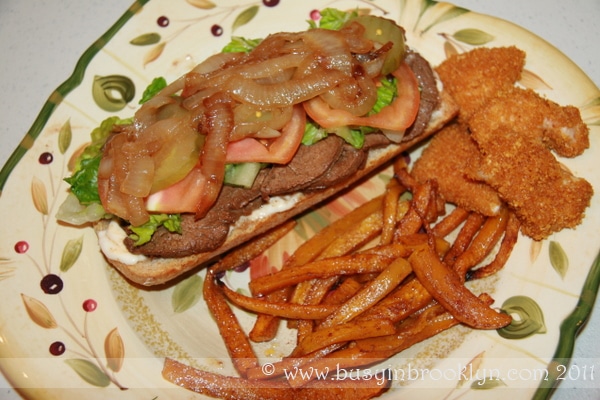 At least for this week! :) After all that cheesecake, lasagna and blintzes, I think we all need to lighten up our menu's just a bit. My husband decided to join the diet bandwagon as well, and I wanted to make him feel good about it. I figured for his first day of dieting, I would treat him to a special dinner. But not just any dinner. A dinner that would show him that you can have your fast food and eat it too!
This was my plan – make his favorite fast food, have it look delicious, taste even better, and keep it lighter than the deep-fried version!
The Steak Santiago sandwich from Subsational is among my husband's favorites. It includes rib steak with lettuce, tomato, onion and their spicy mayo. To lighten this up, I made an open-face sandwich on a half of a whole wheat baguette with lean sandwich steak, lettuce, tomatoes, pickles and sauteed onions. I whipped up some easy garlic mayo with a lowfat canola variety.
Next, onto the fries. Of course fried anything was out of the question. And I had to give the potatoes the boot as well. Instead, I roasted some butternut squash fries with some chili powder and smoked paprika. They came out delicious.
Finally, just for fun I had to throw in a few chicken nuggets. I dipped a few pieces of chicken breasts into light olive oil and flavored corn flake crumbs and baked until crispy (about 15 minutes at 400 degrees – 8 minutes on one side, 5 on the other).
Needless to say, my husband was more than satisfied with this lightened up version of his favorite fast food. Of course I won't be doing this regularly, but it's good to know that our favorite comfort foods can still be eaten, albeit on special occasions, and a little on the lighter side!
Marinated Sandwich Steak
Sandwich steaks are quite lean. Marinating them helps to tenderize the meat by holding the moisture in the thin slices.
1 pkg sandwich steak
2 cloves garlic
2 tablespoons lime juice
1 teaspoon chili powder
1 teaspoon ground cumin
¼ cup soy sauce
1 tablespoon canola oil
salt and pepper, to taste
Method:
Mix ingredients for marinade and pour into ziploc bag. Add sandwich steak and refrigerate for a few hours (or less if you don't have the time). Saute on high heat for about 2 minutes on each side.