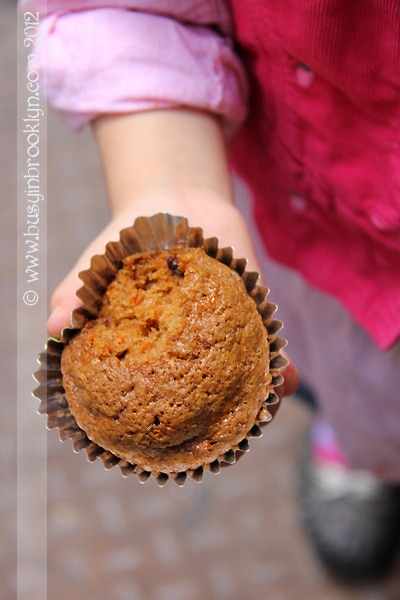 You all know that I'm not that much of a baker, so if I decided to make carrot muffins, there must have been a reason for it. Well, here it goes…
Sometimes things just don't go as planned. Take this past Shabbos, for example. I had a full house for the weekend, and my menu was planned down to the tee. I usually leave the salad prep to right before the meal, preparing only what needs to be checked or processed in the blender beforehand. I had planned on making a slaw, so I shredded my carrots in my food processor and put it aside in a ziploc. Fastforward a couple of hours and I'm about to prepare the salad. I grab a jar of mayo from my pantry and open it up to find that someone has taken out a spoonful and returned it to the pantry instead of the fridge. I'm afraid to admit that that someone was probably me getting a headstart on my cooking at 12 PM the previous night! So now that there was no mayo, there was no slaw (or caeser salad…or deviled eggs…). Then I realized that we were also out of horseradish for the gefilte fish. While I would normally whip up a russian style dressing, that was not in the cards either. So I served the gefilte fish with wasabi sauce, stashed the shredded carrots back into the fridge, and redid my menu just as my guests were walking through the door.
My mayo-less meal turned out just fine, and that lonely bag of carrots had a calling after all – moist and delicious carrot muffins. You can also bake this into a cake and top with some cream cheese frosting (which I would have done, had I not shredded my carrots in my fleishig food processor). Either way you choose to serve it, you'll find this recipe delicious. My kids were so excited to come home to freshly baked muffins. I think I have to start doing this baking thing more often!
Carrot Muffins
2 cups flour
1 1/2 cups brown sugar
2 tsp baking soda
1 tsp cinnamon
1/2 tsp salt
1 cup oil
3 eggs
2 tsp vanilla extract
2 cups grated carrots (about 3 carrots)
1/2 cup chopped walnuts or pecans (optional)
1/2 cup raisins (optional)
1/2 cup chocolate chips (optional)
Method:
Add flour, baking soda, cinnamon, salt and brown sugar to a bowl and mix to combine. Add oil, eggs and vanilla and mix with a hand blender until smooth. Stir in carrots, walnuts, raisins and/or chocolate chips and mix to incorporate. Scoop batter into baking cups and bake at 350 degrees for approximately 18 minutes or until toothpick inserted comes out clean.
NOTE: Feel free to adjust the add-ins to your desired taste. You can choose to leave out the walnuts, raisins or chocolate chips, or adjust amount as desired.
1 year ago: sundried tomato olive tapenade