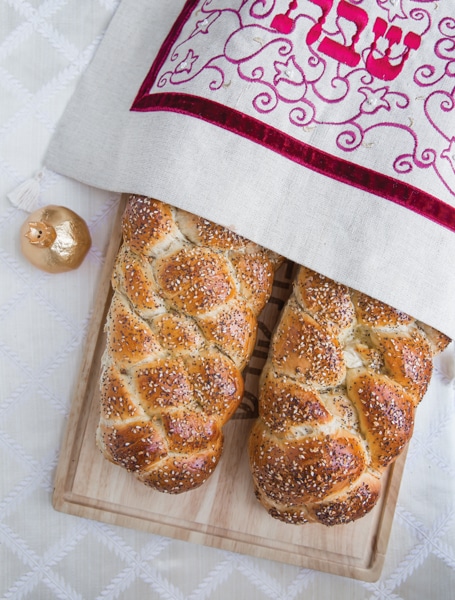 Of course I had wanted to get this post up before Rosh Hashanah, but it wasn't meant to be. Still, most people continue to eat sweet round challah until after Succos, so I'm sure this recipe will prove useful (and there's always next year!).
My sister-in-law Ruti used to make challah each and every Shabbos. She was always looking for new recipes, so I bought her Tamar Ansh's challah book. After trying many different recipes, she came up with her own variation and my adapted version has been my go-to recipe ever since! I truly believe that delicious challah is a result of the love you put into it. If you just dump the ingredients into a bowl and mix it, the challa with turn out dense and heavy. For soft and fluffy challa, you need to take the care to sift the flour and knead the dough. I don't have a bread machine, so I make my challah by hand. For me, it's a labor of love. I'm happy to share Ruti's recipe with you, but keep in mind that your altitude, humidity, and other factors all affect the dough.
Personally, when it comes to challah, I want to taste purely the bread. I don't mind something sprinkled over the top, but I don't play around with the dough. However, if you'd like to experiment, here are some filling ideas to mix into the dough before braiding:
– craisins and orange zest
– garlic and rosemary or sage
– raw or caramelized onions & poppy seeds
– fresh fruit (apples, blueberries, strawberries)
– dried fruit (apricots, figs)
– raisins and nuts
– chocolate chips
– olives
– oats
Toppings:
– honey (see below)
– maple syrup (see below)
– sprinkles or nonpareils
– brown sugar
– cinnamon-sugar
– sweet crumbs (see recipe below)
– za'atar
– sesame seeds
– poppy seeds
– minced onion flakes
– minced garlic flakes
– "everything" (my favorite!) : sesame seeds, poppy seeds, minced onion, minced garlic, coarse salt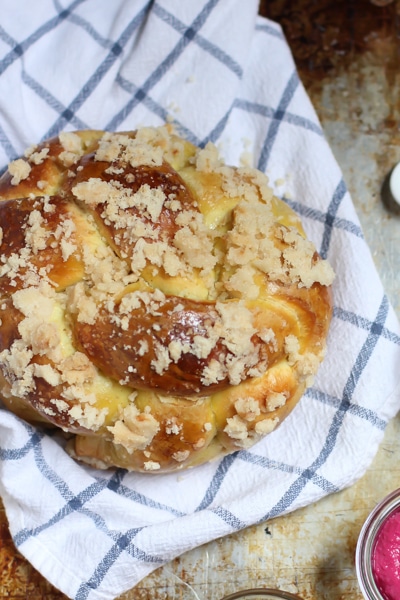 Honey Challah with assorted toppings
adapted from my sister-in-law, Ruti Apfelbaum

Yield: 6 large or 8 medium challahs
4 packets (or 3 tbsp) rapid rise yeast (see note)
2 tbsp sugar
4 cups lukewarm water, divided
1 1/2 cups honey
2 tbsp salt
1 1/4 c + 2 tbsp canola oil
1 egg
5 lbs. high gluten or bread flour, sifted
1 egg + 1 egg yolk, beaten, for eggwash
toppings of choice (see options above and recipes below)
Method:
Add the yeast, sugar and 1 cup lukewarm water to a bowl and rest for a few minutes until the yeast starts to bloom. Add the honey, salt, 1 1/4 c oil and egg and mix to incorporate. Stir in 3 cups of lukewarm water.
Add half of the flour and mix with a spoon until creamy. Add almost all of the rest of the flour (leaving over 1/2 cup or so) and knead with your hands until your dough is smooth and elastic, adding more flour as needed, until the dough is no longer sticky.
When you are done kneading, grease the dough with remaining oil and cover it with a towel. Put it in a warm place (I like to put my oven on 200 degrees and put it on top of the oven). Leave the dough to rise for 1 1/2-2 hours. Pound it down, take challa for hafrashas challah, and braid. When you are done shaping the loaves, leave them to rise for 30 minutes. Brush with egg and topping of your choice. Bake at 350 until golden brown, about 35 minutes. (check the bottoms of the challahs, they should be browned and hollow when you tap on them).
NOTES: the yeast come in envelopes of 3, use 1 3-pack plus a fourth packet from another 3-pack.\
to halve the recipe, simply divide all the ingredients in half besides the egg and use 1 full egg in the recipe.
ALLERGY NOTE: I have prepared this recipe without any eggs, and it works great!
Sweet Crumb Topping:
1 cup flour
1 cup sugar
1/3 – 1/2 cup canola oil
1 tsp vanilla extract
pinch sea salt
Mix with a spoon until crumbly and sprinkle over challah.
Honey or Maple Syrup Glaze:
You can mix some honey or syrup in with the egg wash and brush over challah. For more of a sticky glaze, eggwash the challah as usual and bake. As soon as the challah comes out of oven, brush liberally with honey or maple syrup (you can warm it on the stovetop or microwave it to make it easier to spread). You'll have a sweet and sticky glaze.