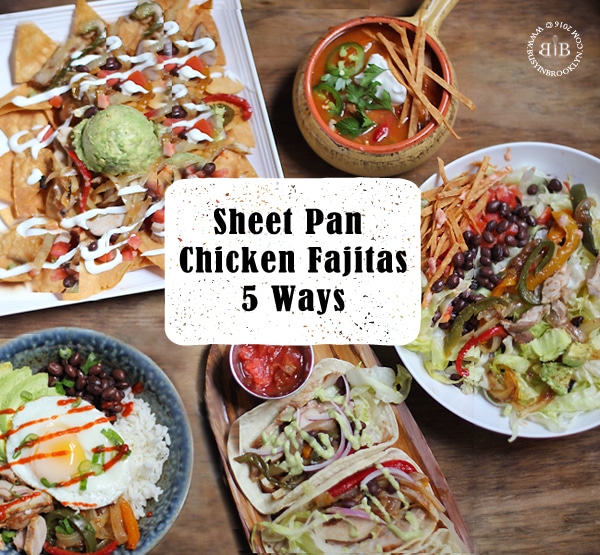 I have been waiting to post this recipe for months! I kept trying different variations,  cooking temps and times until I found the easiest and most delicious version. I love this dinner because of how simple it is (duh) and because there is just so much you can do with it. I think the chicken fajita bowls are my favorite (because I'm obsessed with food in bowls right now), but the nachos are pretty addictive too.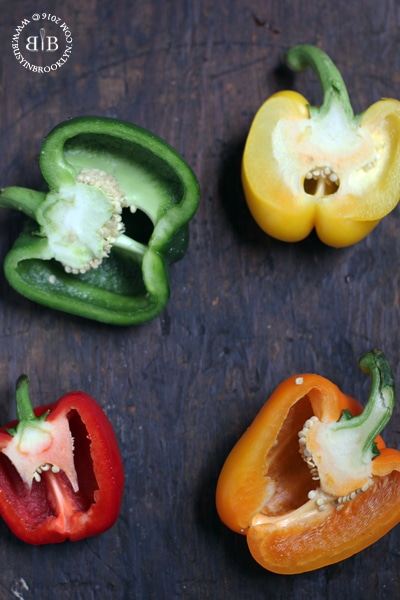 A lot of thought went into this recipe, including what type of chicken to use. I'm not a fan of skinless roasted chicken breast because it's just. so. dry. Chicken thighs, on the other hand, are pretty impossible to mess up. Even if you overcook them a little, their fat content keeps them super moist. I also decided to keep these whole for roasting, because cutting them into strips would dry them out. Like I said, lots of thought people, lots of thought.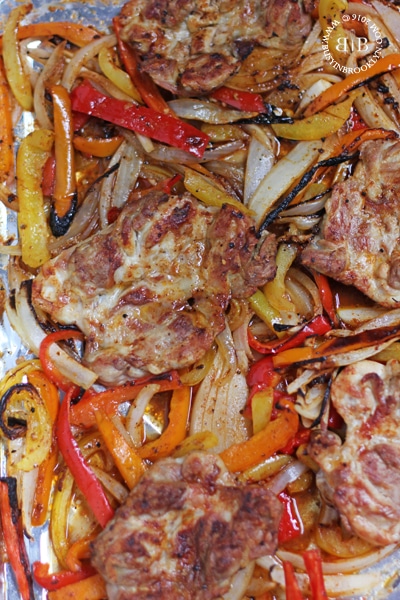 I've also tested this recipe with store bought fajita seasoning (which has added cornstarch, soybeans and wheat) and my homemade version won by a landslide. I love that this recipe is "clean" so if you choose to trash it up with homemade tortilla chips, no one is judging you :)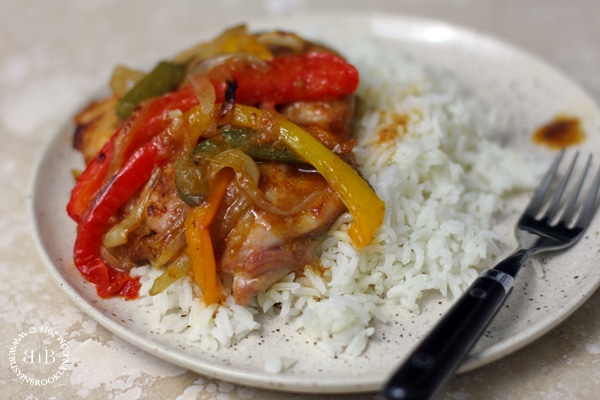 Sheet Pan Chicken Fajitas
1 medium spanish onion, peeled and thinly sliced
1/2 red pepper, sliced into strips
1/2 yellpw pepper, sliced into strips
1/2 green pepper, sliced into strips
1/2 orange pepper, sliced into strips
6 dark meat chicken cutlets (deboned chicken thighs)
2 1/2 tbsp olive oil
2 tbsp fajita seasoning (recipe follows)
salt and pepper, to taste
Method:
Preheat oven to 425 degrees.
On a greased sheet pan, mix the peppers and onions with 1 1/2 tbsp olive oil, 1 tbsp fajita spice, salt and pepper. Spread out over the tray. Place the chicken over the peppers and sprinkle with the remaining 1 tbsp fajita spice, 1 tbsp olive oil, salt and pepper. Bake, uncovered, for 20 minutes. Mix the peppers and place them over the chicken. Return to the oven and broil on high for 5-8 minutes, stirring every few minutes, until peppers and onions are caramelized and crisped around the edges.
For a simple dinner, serve over rice or check out the other 5 ways below!
Homemade Fajita Spice
2 tbsp chili powder
1 tbsp cumin powder
1 tbsp smoked paprika
2 tsp garlic powder
1/8 tsp cayenne
1 tsp kosher salt
Mix to combine and store in an airtight container. Makes 5 tablespoons.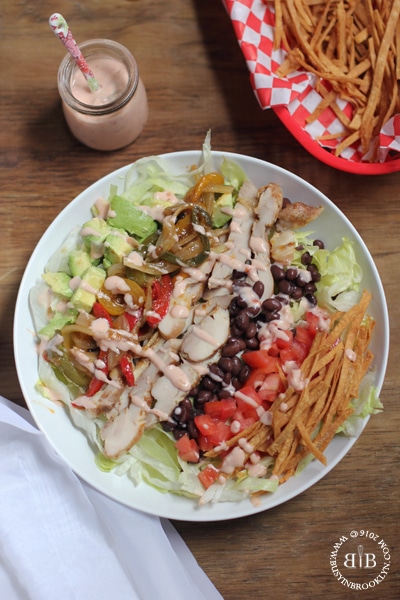 Chicken Fajita Salad
1 head Rommaine or iceberg lettuce, chopped
3 plum tomatoes, diced
1 cup black beans, drained and rinsed
1 avocado, diced
3 pieces fajita chicken, cut into strips
sheet pan peppers and onions
tortilla strips (store bought or homemade, recipe follows)
Method:
Spread the lettuce out on a large platter. Top with tomatoes, black beans, avocado, peppers and onions, chicken and tortilla strips. Drizzle with salsa dressing. Alternatively, serve in individual bowls.
Creamy Salsa Dressing
1/2 cup mayonnaise
1/2 cup salsa
Mix the mayo and salsa until creamy and serve over salad.
Homemade Tortilla Strips
1 pkg corn tortillas
oil, for frying
Cut the tortillas into thin strips and fry in hot oil until golden. Drain on paper towels.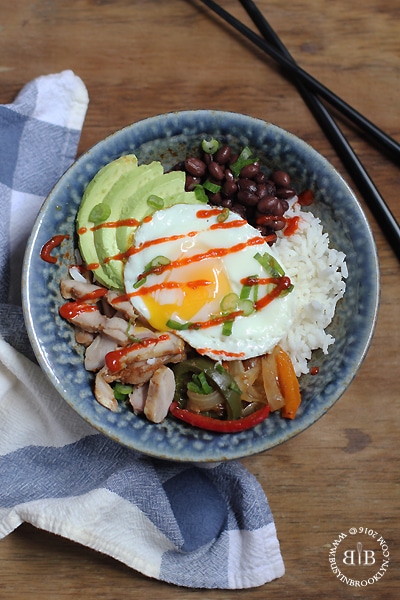 Chicken Fajita Bowls
2 cups long grain rice, cooked according to package directions
1 can black beans, drained and rinsed
2 avocados, thinly sliced
6 pieces fajita chicken, cut into strips
sheet pan peppers and onions
6 eggs, prepared sunny side up
sriracha and scallions, for garnish
Method:
Divide the rice into 6 serving bowls. Add black beans, avocado, chicken, onions and peppers. Top with a fried egg and garnish with scallions and sriracha.
Chicken Fajita Tacos
1 package soft corn tortillas
fajita chicken, cut into strips
sheet pan peppers and onions
shredded iceberg lettuce
avocado crema (recipe follows)
salsa
lime wedges
Method:
Warm the corn tortillas in a dry skillet over medium heat, until pliable. Fill each tortilla with chicken, peppers, onion and lettuce. Drizzle with avocado crema and garnish with salsa and lime wedges.
Avocado Crema
1 large avocado
1/2 cup mayonnaise or nondairy sour cream
juice of 1 lime
1 clove garlic
kosher salt, to taste
Puree the ingredients in a food processor or blender, adding water, if needed, to reach desired consistency.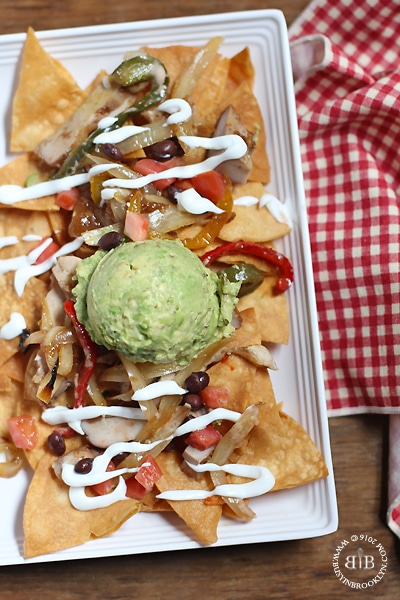 Fajita Nachos
1 pkg soft corn tortillas
oil for frying
sheet pan peppers and onions
fajita chicken, cut into strips
2 plum tomatoes, chopped
1 can black beans, drained and rinsed
1 container nondairy sour cream
2 avocados
juice of 1/2 lemon
kosher salt
Method:
Cut the corn tortillas into wedges. Heat oil in a skillet and fry the tortillas until golden. Drain on paper towels.
Mash the avocados and add lemon and salt, to taste. Set aside.
Spread the chips out on a platter and top with onions and peppers, chicken, diced tomatoes and black beans. Drizzle sour cream over the nachos and top with a scoop of avocado.
EASY OPTION: Use store-bought tortilla chips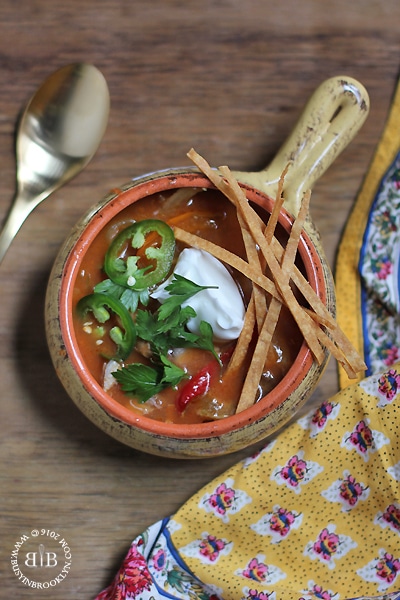 Chicken Fajita Soup
sheet tray peppers and onions
2 tsp fajita seasoning (recipe posted above)
2 tbsp tomato paste
1 14.5 oz. can diced tomatoes
1 32 oz. carton chicken or vegetable stock
salt and pepper, to taste
jalapeño, avocado, red onion, cilantro, nondairy sour cream, and tortilla strips, for topping
Method:
Place the onions and peppers in a medium sized pot and cook over medium heat until warmed through. Add the fajita seasoning and tomato paste and stir until the spices are fragrant and the tomato paste starts to caramelize. Add diced tomatoes, stock, salt and pepper and bring to a boil. Lower the heat and simmer for 10 minutes. Slice the chicken into strips and add to the soup. Ladle into bowls and top with desired toppings.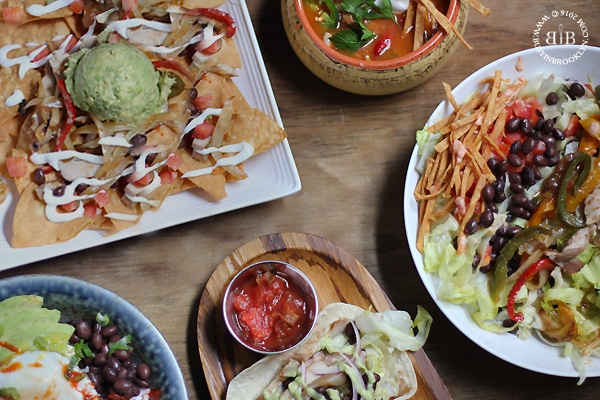 Related Recipes:
bunless fajita dogs
tortilla crusted chicken fingers
grilled chicken shawarma salad
grilled chicken salad with jalapeno honey mustard dressing