Sukkot is one of my favorite holidays. I have such amazing memories of my family Sukkah, always filled to the brim with guests, amazing homemade food and bottles and bottles of mashkeh (Yiddish for alcoholic beverages) to go around. The men would drink L'chaim and sing Hassidic melodies, banging on the table in their drunken stupor. It was beautiful.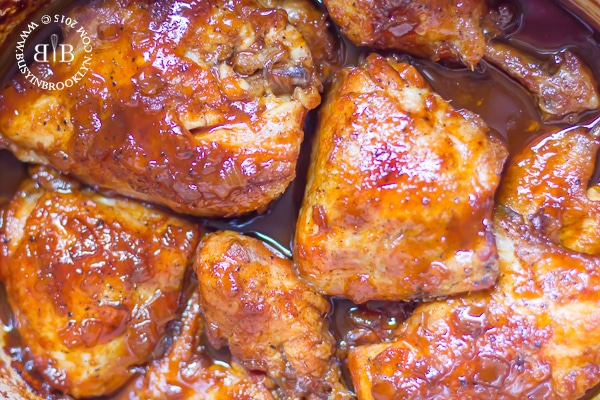 Simchat Torah, the holiday where we conclude and begin a new annual Torah reading cycle, is just a few days away. It's a time of great rejoicing, when we take to the synagogue, kick up our feet and dance with the Torah. Of course the drinks are free-flowing, and so is the food. I can't think of a better way to celebrate the Chag than with this bourbon-spiked BBQ chicken. The chicken is braised in a luscious sauce that is so good, you'll want to eat it straight with a spoon (or drink it out of a L'chaim glass)! Make it for Simchat Torah dinner, and it will become a staple on your holiday table.
L'chaim!
Bourbon Apricot BBQ Chicken
1 chicken, quartered or cut in 8
2 tbsp olive oil
1 medium onion, diced small
1 1/2 cups bourbon
6 oz hickory brown sugar BBQ sauce
15 oz apricot jam
1/2 cup water
Method:
Preheat oven to 325 degrees.
Heat the olive oil in a dutch oven, or oven-safe pot. Pat the chicken dry and sear the chicken, skin-side-down, until browned. Brown the other side and remove from the pot.
Saute the onions in the fat (you can pour off some fat if there is too much) and cook until golden. Add the bourbon, BBQ sauce, apricot jam and water and bring to a boil. Boil the sauce for a few minutes, so the alcohol cooks off, lower the heat and simmer until the sauce thickens. Return the chicken to the pot, cover and bake for 1 1/2 hours.
NOTE: You may use any BBQ sauce, but I love how the hickory and brown sugar flavor pairs with the bourbon.
Related Recipes:
drunken hasselback salami
beer battered salami chips with beer mustard
turkey meatballs with red wine cranberry marinara
honey roasted za'atar chicken in wine
whiskey cider