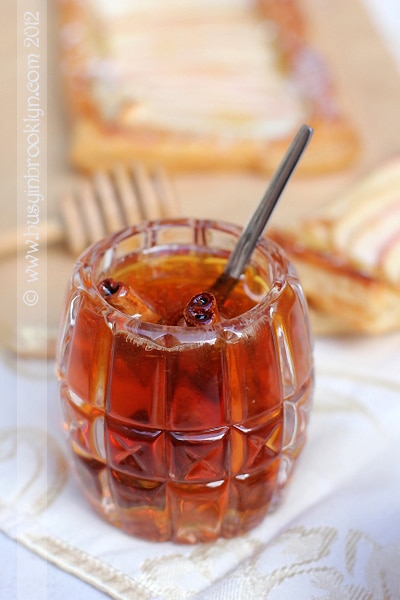 Have you ever seen those honey straws that the stores start carrying around the holidays? I can't get enough of the delicious honey flavors! Every year, I buy a large assortment and place them in a vase at the center of my table. I also like to add a honey straw to each person's place setting. Usually, I tie a bow around some gold napkins with raffia and slip a straw inside.
Honey straws come in an array of flavors from caramel to chamomile. But you don't have to buy them to enjoy the taste of flavored honeys. You can make your own flavored or infused honey at home by following a few simple steps (see method below).
I love the combination of cinnamon and honey, but feel free to make your flavor of choice. I like to drizzle thyme honey over figs and cheese or vanilla honey over poached pears. The possibilities are endless, here are just a few…
rosemary
thyme
lavender
cumin seeds
fennel seeds
cardamom seeds
chamomile blossoms
rose petals
mint
lemon
vanilla
chile
What's your favorite honey flavor?
This post is part of the Kosher Recipe Linkup for the month of September, featuring HONEY recipes. Scroll down for more!

Cinnamon Infused Honey
1 cup good quality pure floral honey
5 sticks cinnamon
Method:
Add honey and cinnamon sticks to a pot (running some warm water over the honey jar will make it easier to pour) and warm over low heat. Make sure the honey does not come to a boil (you'll lose some of it's health benefits and it will also create a huge mess if it boils over!). Cook for 10 minutes, stirring occasionally. Remove honey from heat and cool (but keep it warm enough that it's still easy to pour). Pour the honey and a few of the cinnamon sticks into a glass jar and seal. The longer the honey sits, the more of a cinnamon flavor it will take on. You can taste it periodically and remove the cinnamon sticks once the honey has reached your desired taste.
VARIATION: For other honey flavors, use approximately ½ cup herbs (unless they are very pungent) to 1-2 cups honey. Strain the honey from the herbs or spices when you are done steeping.
1 year ago: rosh hashanah roast