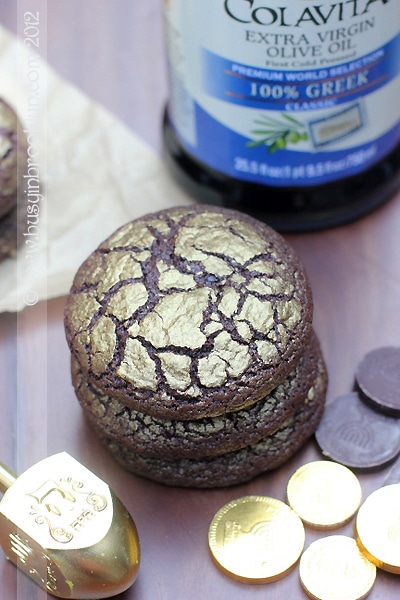 I don't think I've ever been so excited about a post before. I mean, have you seen these cookies? If you think they look gorgeous in the picture, JUST. WAIT. TILL. YOU. MAKE. THEM.
My excitement over baked goods needs some explaining, I know. You see, as I've mentioned many times on my blog, I'm not the biggest baker. But I had this epiphany one night. I was thinking about crinkle cookies, and how you get those beautiful cracks in the cookie when it bakes. Traditionally, crinkle cookies are rolled in confectionary sugar, so they result in a beautiful zebra-like design. I figured, if I spray the cookies with edible gold spray paint, they'll kind of look like a crumpled up foil wrapper from those chocolate Chanukah gelt coins. Am I right?
I thought about this one night last week and I was so excited, I couldn't sleep. First thing the next morning, I ran to the store to collect my ingredients. My friends over at Colavita had recently sent me a few samples of their amazing olive oil, and I knew I had to incorporate it into the recipe. After all, isn't it the miracle of olive oil that we celebrate on Chanukah? Luckily, Colavita included their 100% GREEK olive oil, and that just put it over the top. Olive oil and chocolate make a wonderful combination, so I set out developing a recipe for fudgy and delicious crinkle cookies. A few hours and a messy kitchen later, I hit the jackpot. To intensify the chocolate flavor without having to melt down chocolate over a double-boiler (I'm always looking for the easy way out, aren't I?), I added some coffee and used dutch process cocoa powder. The result is a chewy, intensely-flavored chocolate cookie that's reminiscent of brownies, but oh so much prettier!
To round out my Hanukkah cookie theme, I topped the cookies off with some real chocolate gelt coins. They've gone a long way since the waxy variety that used to be available. Nowadays, some of the chocolate gelt is made from real Belgian dark chocolate. So tell me, does it get any better than fudgy chocolate cookies topped with real dark chocolate?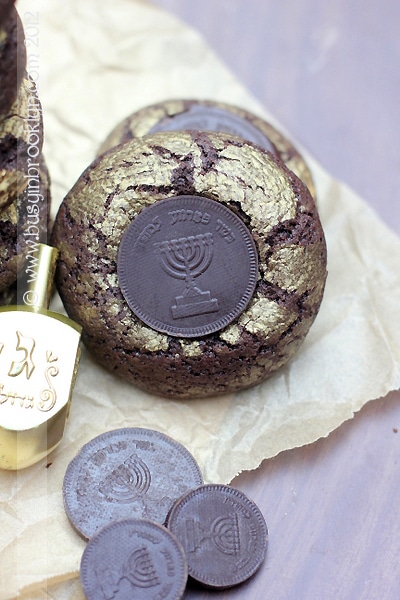 In my special kosher package from Colavita, I received 4 bottles of their amazing premium world selection first cold pressed extra virgin olive oils, including:
Colavita 100% Argentinian Fruity
Colavita 100% Greek Classic
Colavita 100% Californian Mild
Colavita Private Selection 100% Italian
To celebrate Chanukah and these delicious cookies, Colavita is giving away free olive oil samples to one of my readers!
To enter the giveaway, and to get into the Hanukkah spirit, leave a comment letting me know your favorite deep fried foods! Also, if you don't already follow me on facebook, like the BIB page here. Winner will be chosen at random at 11:00 PM Wednesday, December 12th.
Colavita is also generously offering a 25% discount to all my readers in honor of Hanukkah. Use coupon code BIB25 at checkout. Off expires 1/31/13.
Chanukah Greek Olive Oil Crinkle Cookies
2 cups flour
1 cup dutch process cocoa powder
2 tsp baking powder
1/2 tsp salt
2/3 cup Colavita 100% Greek olive oil
2 cups sugar
2 eggs
2 tsp vanilla
2 tsp instant coffee dissolved in 1/4 cup water
Wilton gold color mist food spray
chocolate Chanukah gelt coins
Method:
In a bowl, whisk the flour, cocoa, baking powder, and salt. In a separate bowl, combine the olive oil, sugar, eggs, vanilla, and coffee. Add the dry ingredients to the wet ingredients and stir well to combine. If any lumps remain, stir the mixture with a hand-mixer until all the ingredients are well incorporated. Place the dough in the refrigerator for a few hours or overnight.
Roll 1 heaping tablespoon of batter into a ball and place on a parchment-lined baking sheet. Make sure to roll the batter quickly (otherwise the heat of your hands will make it sticky). Repeat with remaining batter.
Spray the cookies with gold spray paint and bake at 350 degrees for approximately 12 minutes. Set aside to cool.
While the cookies are still a little warm (but not too hot that they will melt the chocolate), press chocolate coins into the center of each cookie.
VARIATION: Spray the cookies with silver color mist and top with milk chocolate coins. If you prefer not to use color mist, you can roll the cookies in turbinado or powdered sugar instead.
NOTE: If you do not have Colavita 100% Greek olive oil, you may substitute with any other olive oil.
YIELDS: 3 dozen cookies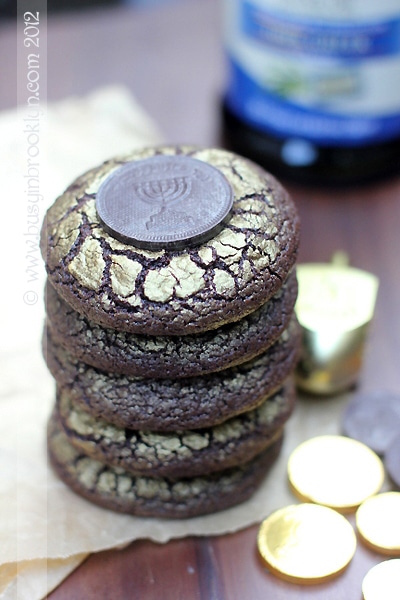 1 year ago: chanukah cookies
Post a Comment